Kanye West has been conspicuously absent throughout girlfriend Kim Kardashian's pregnancy, but he's been keeping close to her family apparently. Well, close enough for it to be appropriate for him to gift Kim's younger stepsister, Kendall Jenner, with a $2,000 pair of Alaia boots.
Like anyone excited over a lavish gift, Kendall Jenner promptly tweeted a picture of her sitting in a car's driver's seat and wearing the boots, captioning the pic with a message that read "the tallest. Alaia does it best! thanks Ye!"
Kendall Jenner's Instagram photo where she shows off the new Alaia boots that she got as a gift from Kanye West, posted on May 29, 2013
Kendall Jenner's Instagram photo is giving us major shoe envy, but it's also got us thinking, "girl, driving isn't the best way to break in a new pair of shoes." Especially one with thick lug-soled platforms and over 6 inches of heels. You'd hardly be able to feel the pedals in those!
We're not going to pretend we haven't driven in heels, but they weren't brand new like Kendall Jenner's Alaia boots.
How about you? What's your take on driving in heels? Do you think it's dangerous, or is it just a matter of getting used to it?
Apparently, enough people have wondered about the same thing that driving in heels warranted an episode on Mythbusters. The conclusion isn't very clear, but, as you can imagine, Jamie and Adam's experimental process of trying to prove whether driving in heels is dangerous or not is hilarious. Watch:
As for Kendall Jenner's boots, they are these sold-out lug-soled platform boots from Alaia: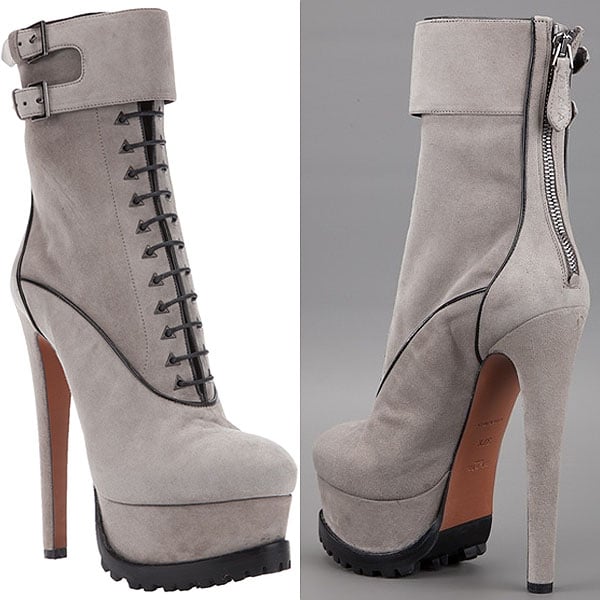 Alaia Grey Chamois Leather Platform Boots, $2,376 (sold out)
You'll find current Alaia boot styles at Farfetch.
Credit: Kendal Jenner's Instagram