Khloe Kardashian was spotted making her way through the terminal at Los Angeles International Airport (LAX) after arriving on an incoming flight on Saturday afternoon. She returned from Ottawa after spending a few days in the Canadian capital.
Khloe Kardashian in black jumpsuit featuring feline ears at LAX after arriving on an incoming flight in Los Angeles on November 1, 2014
The 30-year-old reality star sported a black jumpsuit featuring feline ears on the hoodie paired with black sunglasses.
She completed the outfit with the same Timberland boots that she wore to Kim's birthday bash in Las Vegas.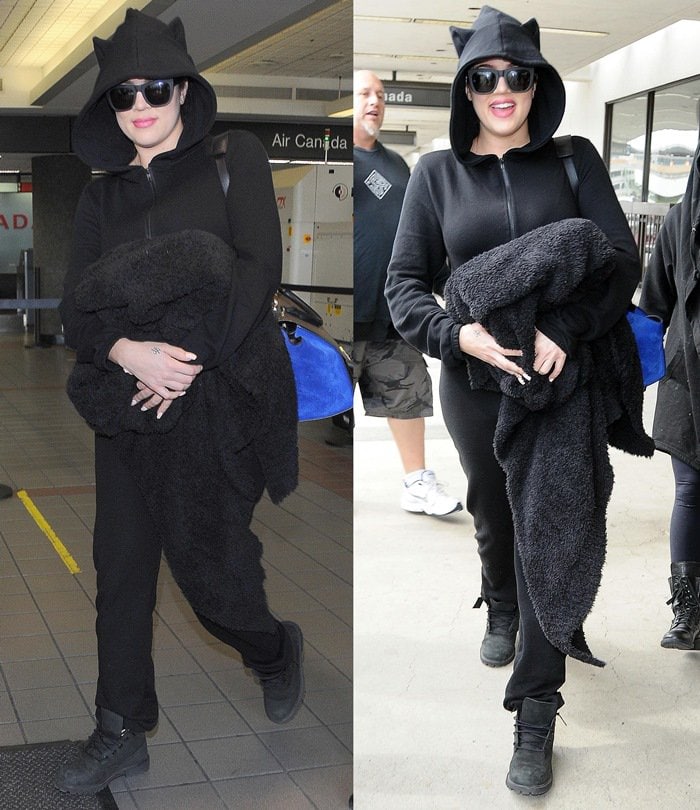 Khloe Kardashian rocking Timberland boots with a black cat jumpsuit featuring feline ears
If you ever need to travel around Halloween, now you know how to get through security in a seasonally themed outfit.
Khloe's timeless 6-inch "Premium" boots in waterproof nubuck leather feature durable laces with Taslan fibers for long-lasting wear, rustproof hardware, and embossed tree logos on the sides. You can find them in several variations at Amazon and Nordstrom.
Timberland Classic 6″ Premium Boots, $83.18–$291 at Amazon and Nordstrom
Credit: WENN