Remember when Kim Kardashian said that she and Kanye will have a "super, super small, intimate" wedding? She must have a different definition of those words because their nuptials, which is being dubbed as the "wedding of the century," is looking to be anything but. In fact, Kim's bachelorette party alone was already extravagant, having taken place at the fancy Hotel Costes on rue Saint-Honoré, the Louvre, and the Eiffel Tower.
Kim Kardashian's Instagram pictures of her bachelorette party in Paris, France, on May 22, 2014 – posted on May 23, 2014
To match the ostentatious occasion, Kim fittingly wore one of Balmain's Fabergé-egg-inspired mini dresses. Embellished with pearls, studs, chains, and embroidery, the luxurious $20,000 couture dress was the embodiment of what Kimye's wedding is shaping up to be so far. Maybe Kim felt like she had too much extravagance surrounding her already, so she just went for her trusty ol' Giuseppe Zanotti pumps when it came to her shoes. Or maybe not. Maybe all Kim could pack in her luggage was her most versatile footwear to make space for all her new wedding-related outfits.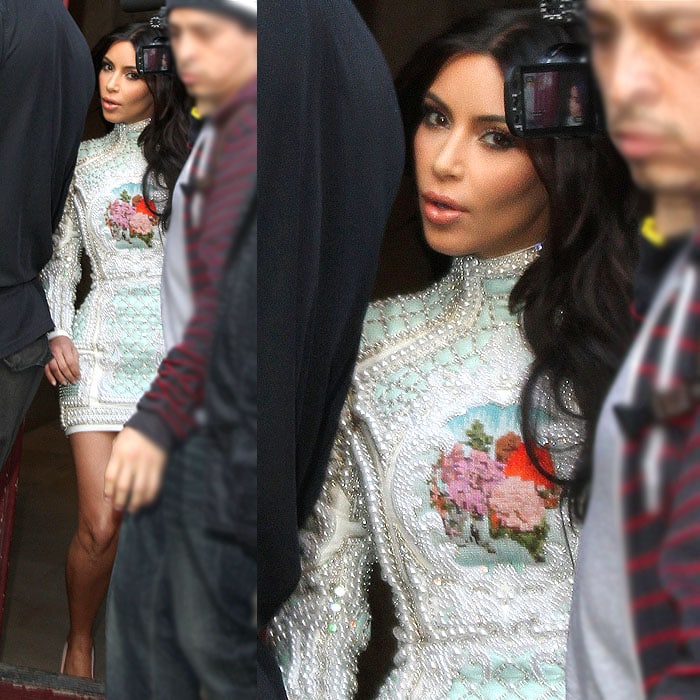 Kim Kardashian heading out of her Parisian residence for her bachelorette party in Paris, France, on May 22, 2014
Giuseppe Zanotti "Yvette" Pumps, $750 at Shopbop
Are you ready for the Kimye "wedding of the century" frenzy that's about to happen? The two are set to get married in Versailles or in Florence — or both! — today.
Credit: WENN/Kim Kardashian's Instagram