Kim Kardashian's pregnancy may still be in its early stages, but it's already very well documented despite her efforts to hide her baby bump.
To be fair, we weren't expecting much else from the queen of reality TV… we anticipate hearing every detail about this pregnancy for the next 5,379 years.
Kim Kardashian wears her hair down as she arrives at Charles de Gaulle Airport in Paris on March 2, 2013 (Credit: WENN)
Most mothers-to-be manage to keep their pregnancy under wraps for at least the first trimester, but it's important to know what to wear.
Kim has been open about her struggle with pregnancy weight gain, and how the harsh criticism about her new body has led her to focus on concealing her baby bump rather than dressing it.
Right now, her preferred slimming trick seems to be wearing one color from head to toe.
Kim Kardashian leaves the Diesel+Edun's launch party for Studio Africa Live held March 3, 2013, at Theatre Gaite Lyrique in Paris (Credit: WENN)
For her recent trip to Paris, Kim hid her baby bump in a pristine all-white outfit and then wore a somber all-black tuxedo outfit the very next day.
The all-white outfit has a very couture look to it, while the all-black one is on-trend with menswear inspiration.
The pants in both outfits do look ill-fitting, but that's obviously because they haven't been fitted to accommodate Kim's growing baby bump.
Kim Kardashian and Kanye West wear black and white ensembles in Paris (Credit: WENN)
The wrinkling on the pants kind of defeats the purpose of trying to hide a pregnancy with a monochromatic outfit.
Instead of concealing the baby bump, all we notice is how ill-fitting Kim's pants are.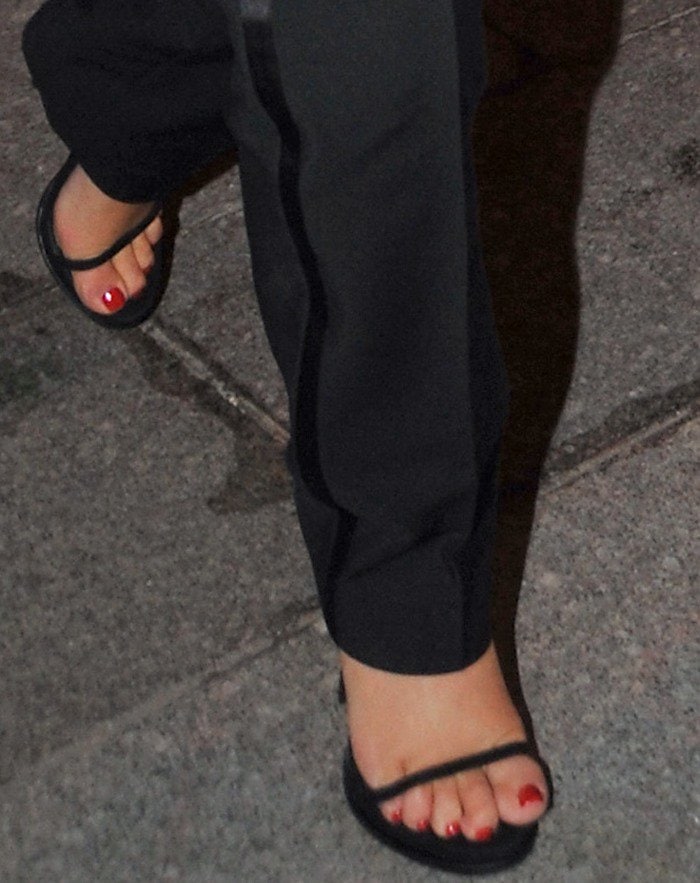 Kim Kardashian's feet in strappy black Saint Laurent sandals (Credit: WENN)
Which outfit do you think does a better job of hiding Kim's growing baby bump?
Referred to as a Hobbit in South Park, Kim rocked nude suede Jimmy Choo "Anouk" pumps in to accent her all-white outfit.
Jimmy Choo "Anouk" Suede Pumps, $595
And she matched these Saint Laurent "Jane" sandals to her all-black outfit:
Black Saint Laurent "Jane" Sandals, $795
Bets are on for how far along in her pregnancy Kim Kardashian will keep wearing high heels!