Of the ladies who graced the Grammy Awards last evening, it was probably Kim Kardashian who turned the most heads.
The reality TV star arrived at the event with her husband, Kanye West, in a highly revealing golden ensemble that looked more like a glorified robe. The piece was cut sinfully low to reveal Kim's cleavage, and was split all the way up to her crotch for major leg exposure.
Kim teamed the glitzy number with a side-swept do and a pair of gold slim-strap sandals. Altogether, the look was truly risqué — and to a certain degree, perhaps not appropriate for the occasion.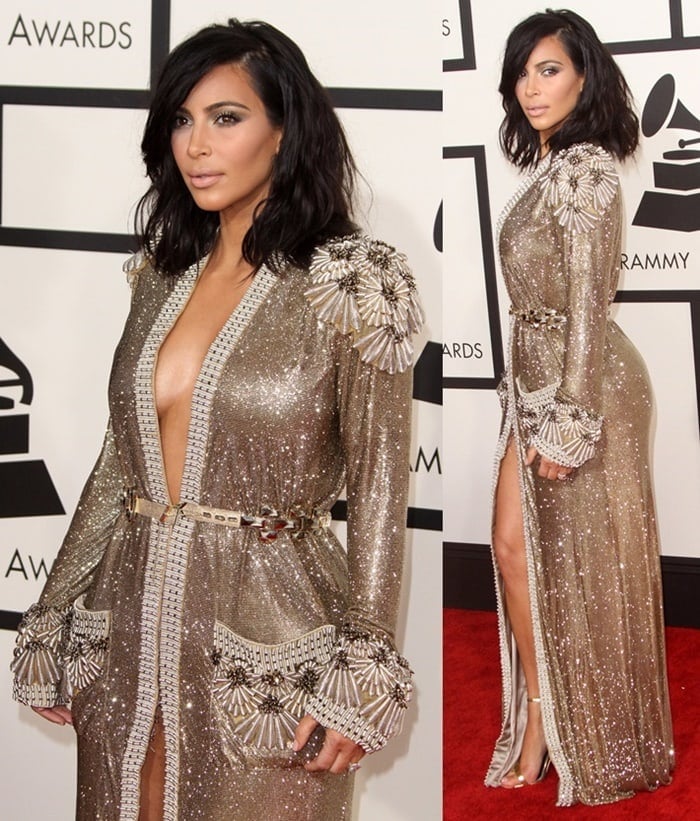 Kim Kardashian sports a glorified robe at the 2015 Grammy Awards held in Los Angeles on February 8, 2015
Kim flaunts major cleavage in the low-cut piece detailed with beads and metallic ornaments 
A full front view of the split-front detail of the dress 
Kim pairs the dress with gold metallic ankle-strap sandals
Kim's ultra-glam frock, a spring 2015 Jean Paul Gaultier creation that weighs about 100 pounds, was reportedly chosen by Kanye himself. In fact, the rapper was quite enamored with his wife's sexy getup. At one point, he couldn't help but grab Kim's derriere as he planted a kiss on her lips.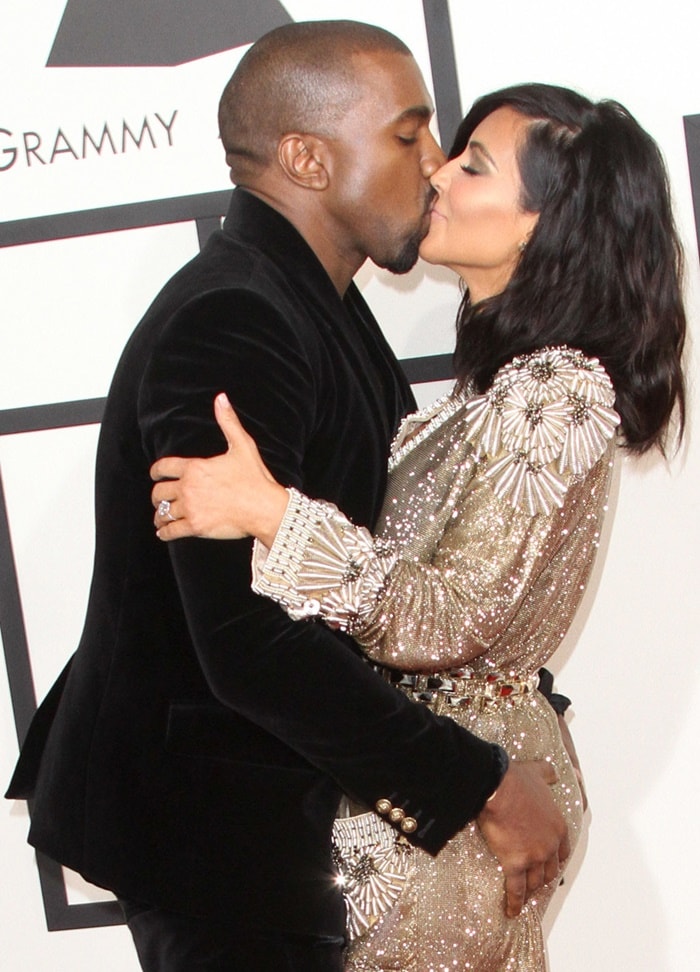 Kanye West can't keep his hands off Kim Kardashian's derriere as they arrive at the Grammy Awards
So what's the verdict, people? Do you approve of Kim's robe-like ensemble for the Grammys?
We think she should have just used the piece as a statement topper. A simple slip gown underneath the item would have made a huge difference. Would you agree?
As for Kim's sandals, they're by Tom Ford — the "Ankle Lock". They're simple, elegant, and sexy. And while the silhouette may seem ordinary, what sets it apart from the usual are the heels and the padlock details at the ankle straps.
The stilettos on the ankle lock are shaped differently, like cigarettes with flat circular discs at the tips, while the back of the shoes are detailed with top-stitching through the center.
Tom Ford Ankle Lock Sandals in Gold, $1190 at Neiman Marcus
You can find Kim's Tom Ford sandals online. They're also available in silver if you want the option. Price to own is a high $1190.
Credit: Adriana M. Barraza/Apega/WENN