Kim Kardashian's look at this year's Met Gala was a step up from last year's couch couture dress, but it was still not without its own fashion fail moment.
Unbeknownst to Kim, the high slit on her custom Lanvin dress went up a little too high and exposed her black underwear as she walked to her car. And she just came from getting fitted and styled at the Lanvin store, too. With a slit as high as that, her glam squad should've been able to foresee that wardrobe malfunction and prevented it from happening. Maybe Kim was in a hurry to get to the Metropolitan Museum of Art?
Kim Kardashian unknowingly flashing her underwear while leaving the Lanvin store to head to the 2014 Met Gala at the Metropolitan Museum of Art in New York City on May 5, 2014
There were also a few moments on the Met Gala red carpet when Kim came dangerously close to flashing her underwear to the cameras again. If there was a time for Kim to have a dress-fixer-assistant with her, this was it.
Kanye West and Kim Kardashian at the 2014 Met Gala held at the Metropolitan Museum of Art in New York City on May 5, 2014
You may have noticed that Kim is wearing different belts and shoes in the wardrobe malfunction picture and the red carpet pictures. En route to the Met Gala, Kim performed a switcheroo and changed her edgy accessories to more clean and classic pieces.
Kim later explained by issuing this statement:
"It was such a tough decision on how to accessorize. I left the store with a chunky belt and leather cuffs. We were going back and forth for hours if the chunky belt was right. In the car on our way there we got a glimpse of the carpet, and I decided the accessories were a bit too "rock n' roll" and I wanted to go for something more simple and elegant. I switched to a clean black satin belt and strappy heels at the last minute because to me it felt more classic and fit the Forties theme better. Kanye also liked it better too. Overall I thought it was the right decision and I loved the way everything came together. Xo"
Do you agree with Kim's change of accessories? And which shoes do you prefer, the Lanvin Spring 2014 ankle-strap sandals that were Kim's first choice or the Lanvin strappy t-strap sandals that she changed into?
Kim Kardashian sporting the sleek satin belt and the strappy t-strap sandals she changed into on the red carpet at the 2014 Met Gala
Kim's not-so-little sister, Kendall Jenner, who attended the Met Gala for the first time this year, also had her share of fashion fails at the event. Dressed in a Topshop mermaid gown, Kendall posted a picture on Instagram showing how she couldn't even sit up straight in the tight dress.
Kendall Jenner's Instagram pic captioned, "nope. can't sit." – posted on May 6, 2014
Kendall also had inexplicably messy hair on the red carpet. Her hairdo looked more windblown than blown-out. Perhaps it got messed up when she lay down on her car seat?
Kendall Jenner posing on the red carpet at the 2014 Met Gala
Even with all their fashion malfunctions, the fact remains that the two sisters still got invited to the very exclusive Met Gala. They also got to go together, and they looked like they had a ball at the ball.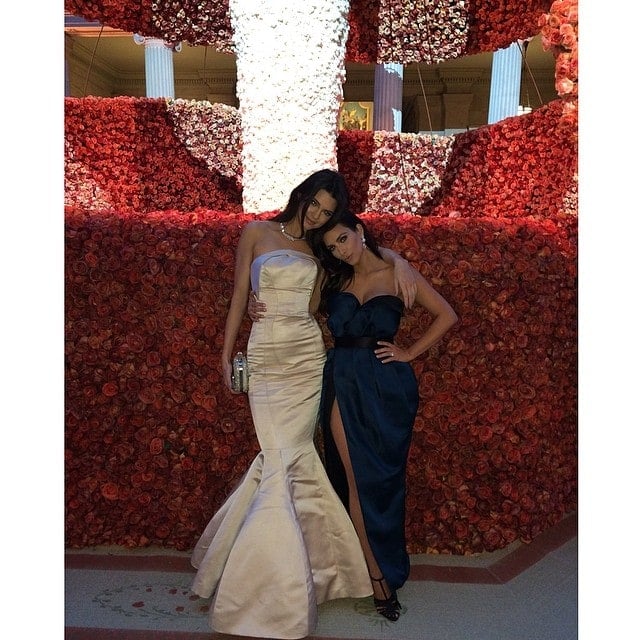 Kim Kardashian's Instagram pic of her and Kendall Jenner captioned with, "Best thing in life is sharing memories with the ones you love! From getting ready together to experiencing the night I'm happy you were at my side@kendalljenner I love you my model baby!!!" – posted on May 6, 2014
Credit: SIPA/Andres Otero/WENN/Kendall Jenner's Instagram/Kim Kardashian's Instagram