Kylie Jenner has released the commercial slash music video for her new lip glosses — and if you're like us — you also want to know what she's wearing in it. We're going to try to ignore the fact that the three-minute clip glamorizes violence and drugs… and also seems to have nothing to do with makeup at all. Instead, we're going to focus on the fashion, which is what we're really here for anyway.
The first shot shows Kylie driving a Rolls Royce with the top down on an empty highway. She has a Louis Vuitton "Monogram Shine" shawl tied around her head like a do-rag to keep her blond hair from flying all over the place. When she reapplies her shiny gloss on her puckered lips, we see a glimpse of a low-cut bra made of snakeskin leather. The 18-year-old then shields her peepers with brown oversized sunglasses, and waits for the action to begin.
Watch what happens in the rest of the "drugs, guns and goons (and lip gloss!)"-themed video here:
As Kylie's girl gang is dealing with the bad guys (smugglers? thugs? drug dealers?) inside the motel room, we get to see the rest of the beauty mogul's outfit. When she steps out of the driver's seat, the camera captures generous views of her booty encased in a pair of Roberto Cavalli spring 2011 snakeskin pants. She then puts on a big, black fur coat grabbed from her Rolls Royce's trunk.
This is where we finally get a glimpse of Kylie's black suede pointy-toe pumps, which you can see in the stills below.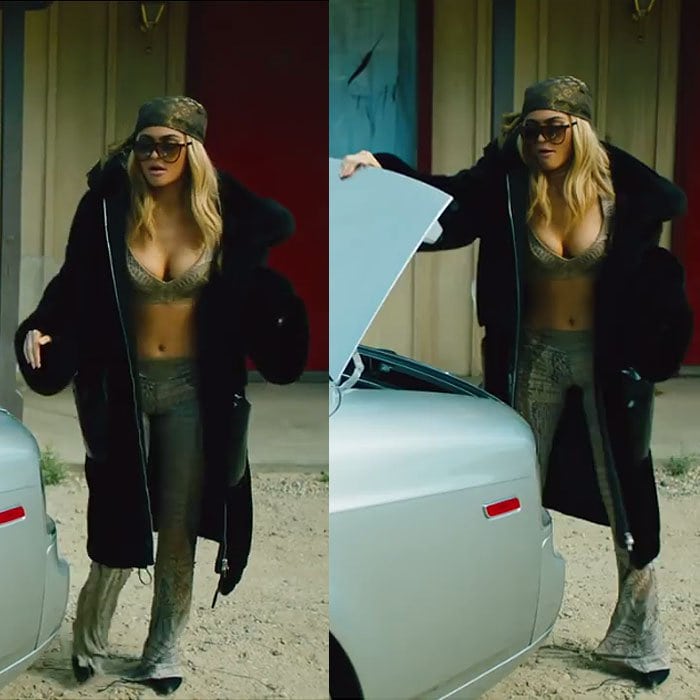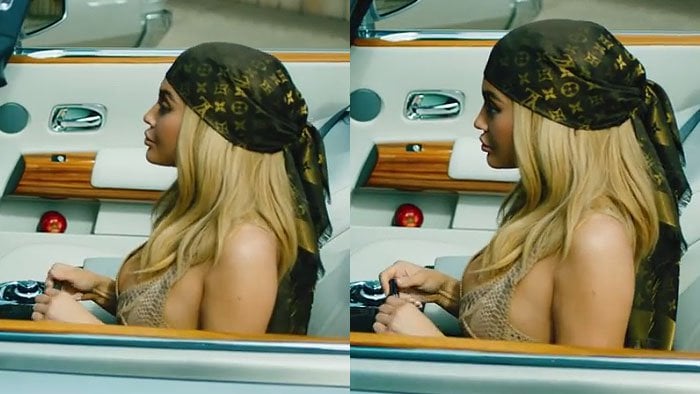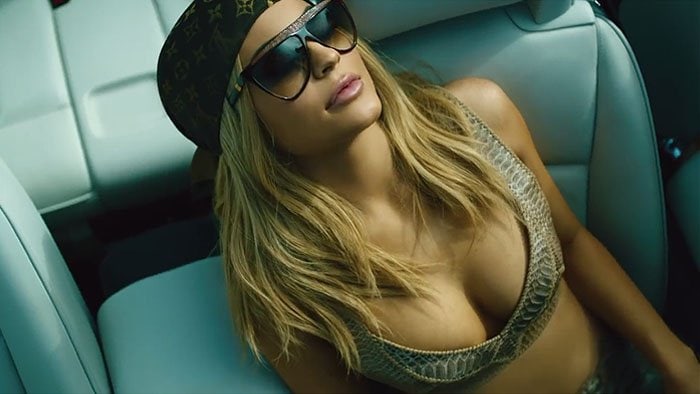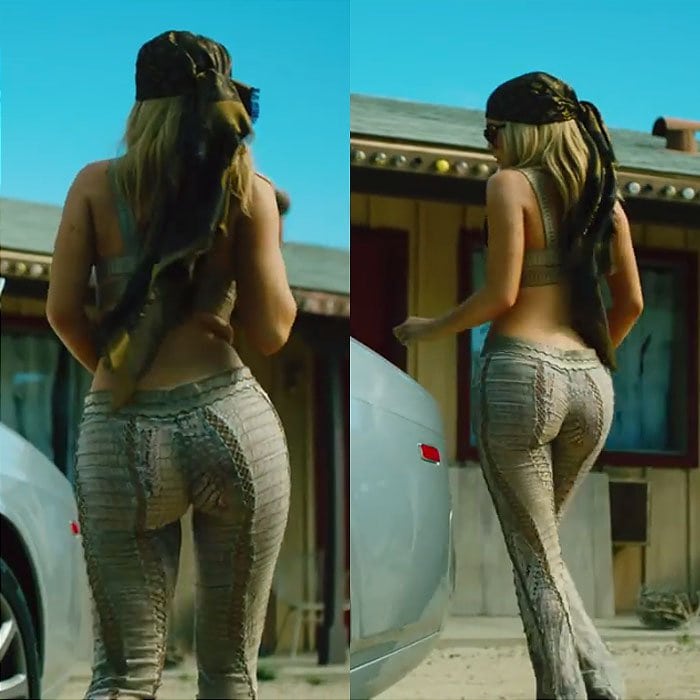 Stills captured from the "Glosses" commercial for Kylie Jenner's new lip gloss line
Fan sites were also able to get these behind-the-scenes pictures of the "Glosses" video that show more views of Kylie's black suede pumps, including some PDA with Tyga:
Behind-the-scenes pictures from the making of Kylie Jenner's "Glosses" commercial
Judging from the pointy toes, the stiletto heels and the beige soles, Kylie's shoes could either be the Manolo Blahnik "BB" pumps or the Gianvito Rossi "Gianvito" pumps. Kylie owns both pairs and has been spotted in each numerous times. You can purchase a pair of your own at the links below.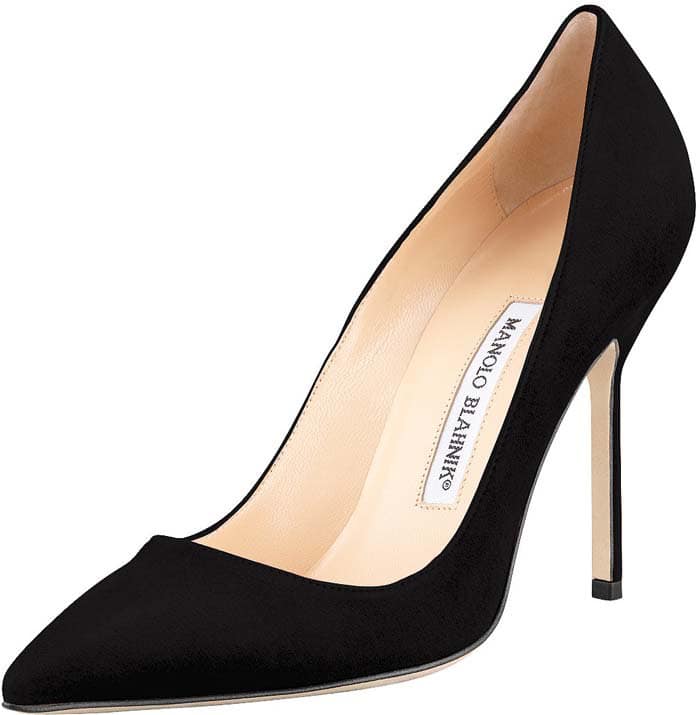 Manolo Blahnik "BB" Suede Pumps, $595 at Neiman Marcus and SaksFifthAvenue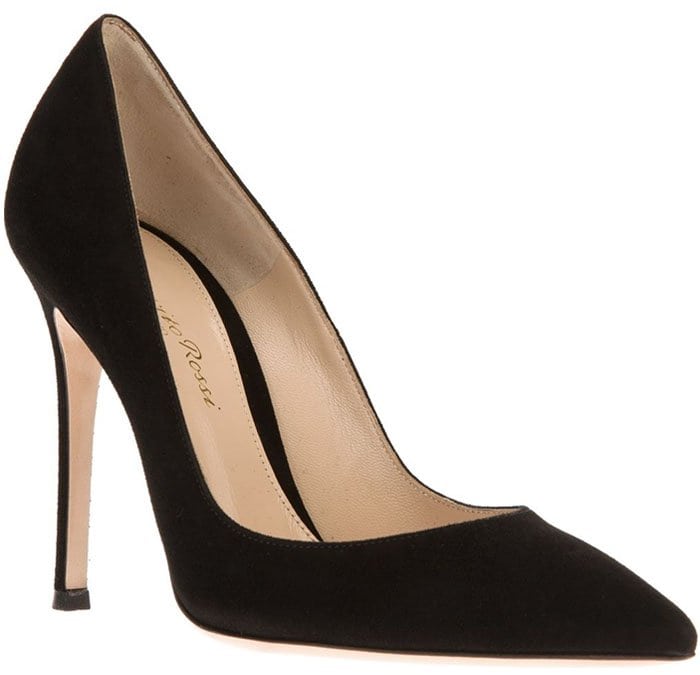 Gianvito Rossi "Gianvito" Suede Pumps, $527.76 at Farfetch