With Coachella over, Kylie Jenner is back to dressing up in her usual designer duds. She was seen wearing Christian Louboutins just to to visit the salon and get her hair done on Wednesday. A $225 3×1 coated crop top (available at Shopbop), a gray marled knit long-back skirt, a $1,698 Balenciaga "Classic City" tote, a Rolex watch, a $7,200 Cartier " Juste un Clou" bracelet, and various edgy rings completed her daytime look.
Kylie Jenner leaving LeCompte Salon in West Hollywood, California, on April 23, 2014
Kind of excessive just for a visit to the salon, wasn't it? But that's how the Kardashian-Jenners roll. And, come to think of it, the salon is a great place to wear 4 inch Louboutins because she's just going to be sitting in them the whole time. Then, when she steps out of the salon, she can flaunt them to the waiting paparazzi in her short walk to her car. Good call, Kylie!
Kylie Jenner sporting her newly cut hair, which she can't seem to stop touching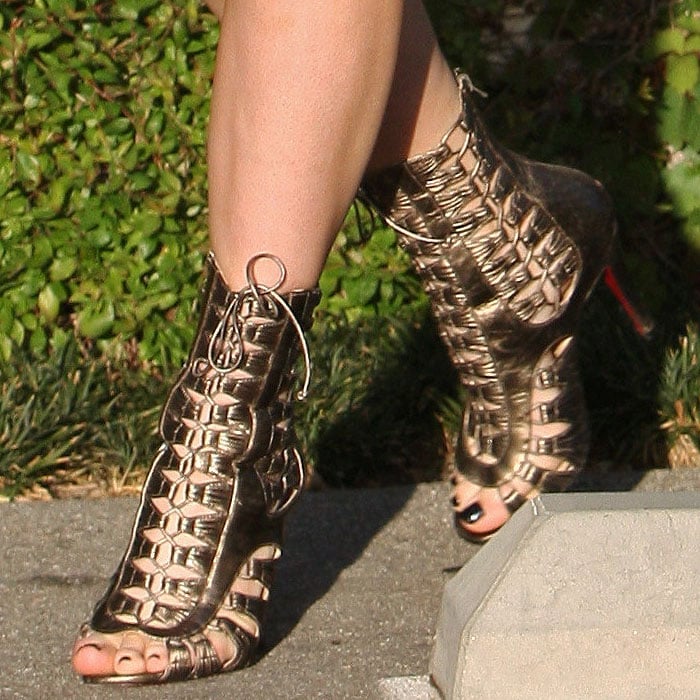 Kylie Jenner's Christian Louboutin "Azimut" cage booties
Kylie Jenner's love for Louboutins has been noted here on Your Next Shoes, but she seems to be extra infatuated with the "Azimut" cage booties. She has the black ones and wore them everywhere. It looks like those weren't enough because she just had to have the bronze pair, too!
The Christian Louboutin Azimut booties are from the Fall 2013 collection and are now sold out. You can shop the latest Christian Louboutin collection at Neiman Marcus and Barneys New York.
Christian Louboutin "Azimut" Cage Booties
Credit: WENN