Spring fashion means color, and it looks like Balenciaga took that memo to heart! The high fashion brand revealed multiple pairs of stretchy thigh-high boots on its Spring 2017 runway, and we think these boots — available in bright colors such as ultraviolet, neon yellow and hot pink — will definitely give any outfit a much-needed pop of color. And, if you're as bold as Kylie Jenner and Pixie Lott, you can definitely use these Balenciaga "Knife" boots to channel a bit of superhero.
Kylie Jenner tapped her inner Psylocke when she wore the purple pair to the PrettyLittleThing Campaign Launch for PLT SHAPE in Los Angeles on Tuesday night. She balanced the skintight boots with an Amen spring 2017 couture white oversized tee featuring heavily embellished sleeves. The Puma ambassador then completed her high-low look with a $250,000 Cartier Ballon Bleu de Cartier Serti Vibrant watch and a limited edition silver Louis Vuitton Monogram Miroir Lockit PM bag that looks like it came straight out of the early 2000s.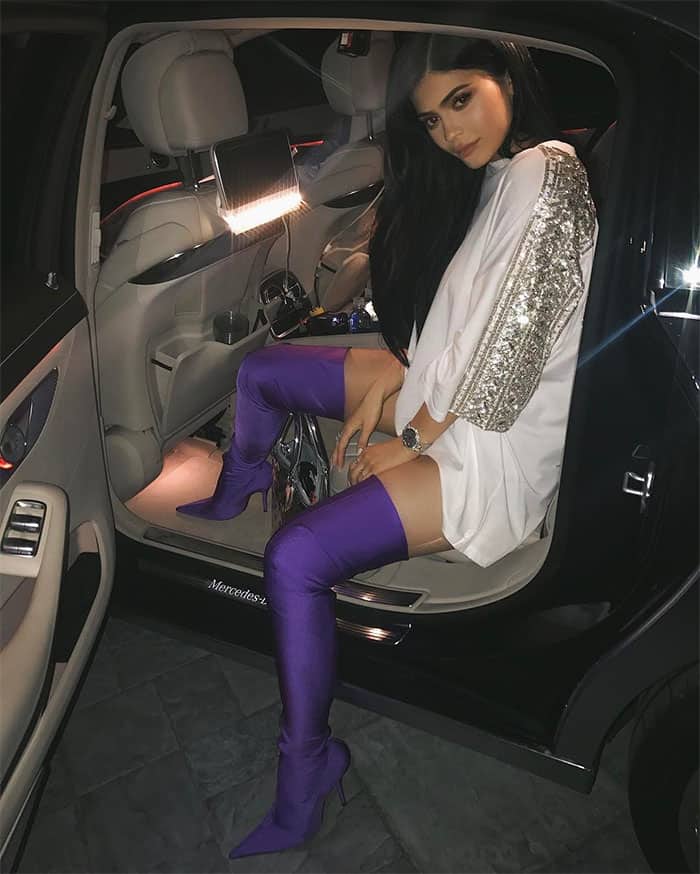 Kylie Jenner's Instagram post of her outfit with purple Balenciaga stretch thigh-high boots for the PrettyLittleThing Campaign Launch for PLT SHAPE — posted on April 11, 2017.
Kylie Jenner's Snapchat of her purple Balenciaga stretch boots.
Pixie Lott, on the other hand, took the boots' superhero inspiration quite literally for the outfit she wore to a secret gig at a London nightclub last night. The English singer made like a comic book character in a fuchsia bodysuit with belted straps and a zip-front closure. She kept the pink theme going with her wig, sunglasses, face paint, and, of course, the Balenciaga stretch boots on her legs. Pixie had a blush fur coat with her, but it did nothing to keep her warm as it was uselessly dangling down her arms… kind of like a cape.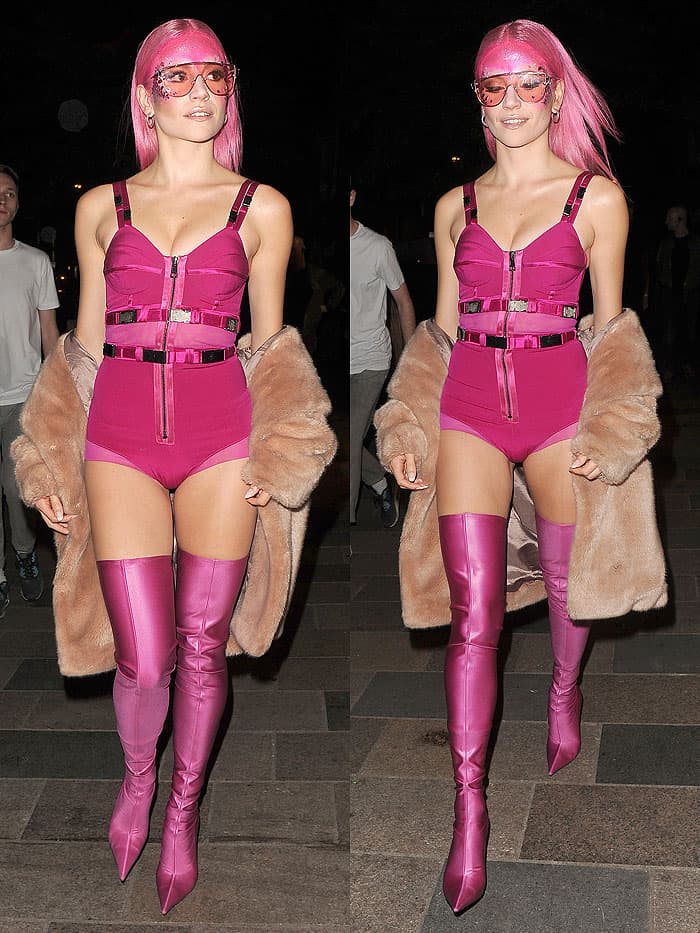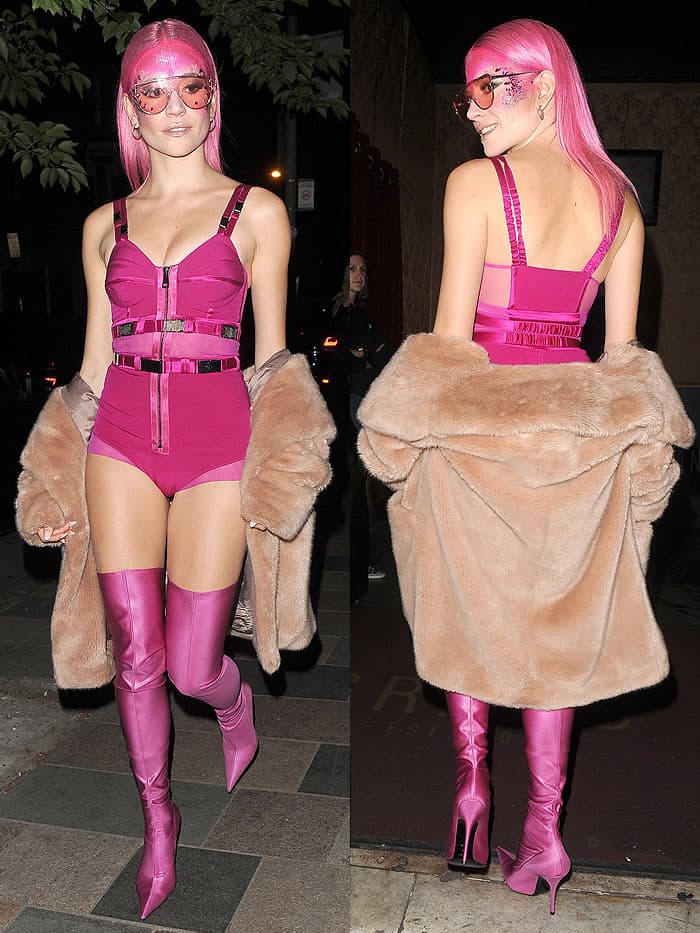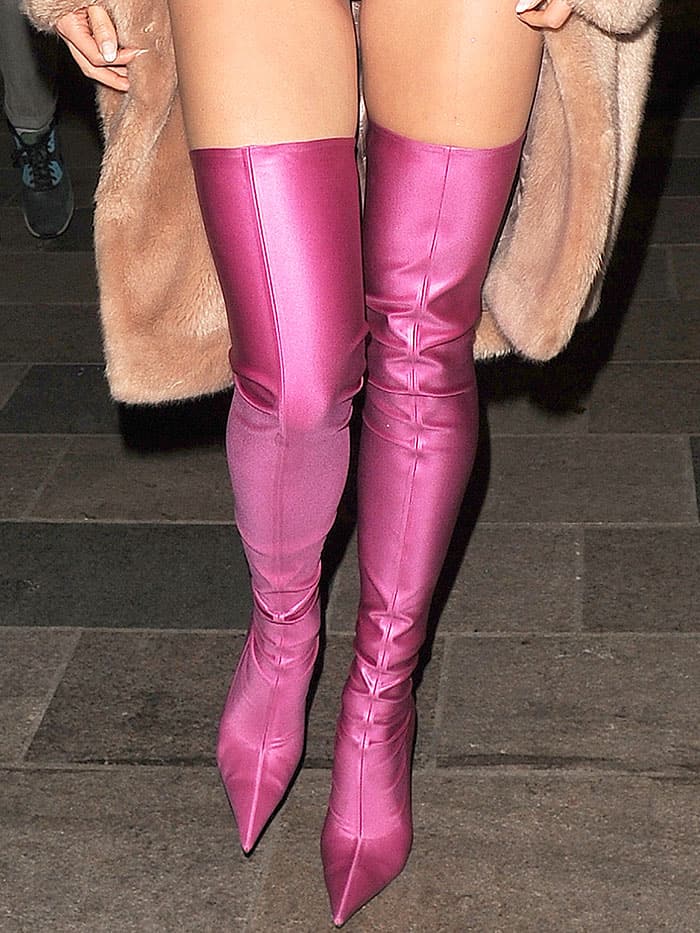 Pixie Lott wearing a pink superhero-inspired outfit with pink Balenciaga stretch thigh-high boots for a secret gig as part of the "Sink The Pink" club night at The Clapham Grand in London, England, on April 14, 2017.
So who gets your vote? Did Kylie Jenner or did Pixie Lott wear Balenciaga "Knife" stretch thigh-high boots better?
Check out some more eye-popping colors of the Balenciaga boots below.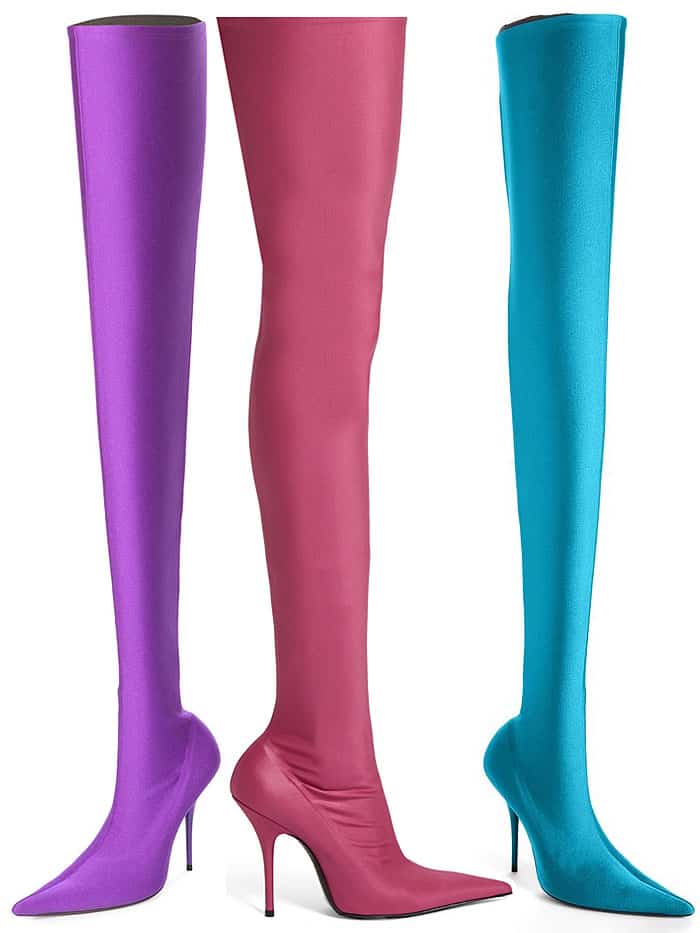 Balenciaga "Knife" boots in Ultraviolet, Hot Pink and Aqua Blue, $1,395 at Neiman Marcus, Matches Fashion and Nordstrom
Credit: Will Alexander/WENN-Kylie Jenner's Instagram and Snapchat