Last year, Lady Gaga opened up about her own experiences of sexual assault in an interview with Howard Stern about her song "Swine," which she claimed to be about demoralization and rape. While she curtailed the details on her own experiences, she admitted that she went through some horrific experiences that left her in a very dark place at one point in her life. She is able to laugh at them now, thanks to years of therapy and healing. Proving that she is also a woman of action, the 29-year-old recently co-wrote an essay with New York Governor Andrew Cuomo on the urgency of addressing and battling sexual assault, pushing for a bill earlier filed by Cuomo to establish stricter policies and regulations to protect students on college campuses.
On Monday, the pop star made a very, err, bold statement in London by wearing a dress that covered pretty much nothing. We cannot say for certain whether this was a statement that Lady Gaga was making in connection to her freshly published essay, but there is one thing we are sure of: Kids, proceed with this outfit with caution. Gaga has a knack for making eyebrow-raising outfits look like art, which may or may not work for the rest of us. Surprisingly, however, her tacky-looking heels are actually from the brilliant Saint Laurent. Go figure.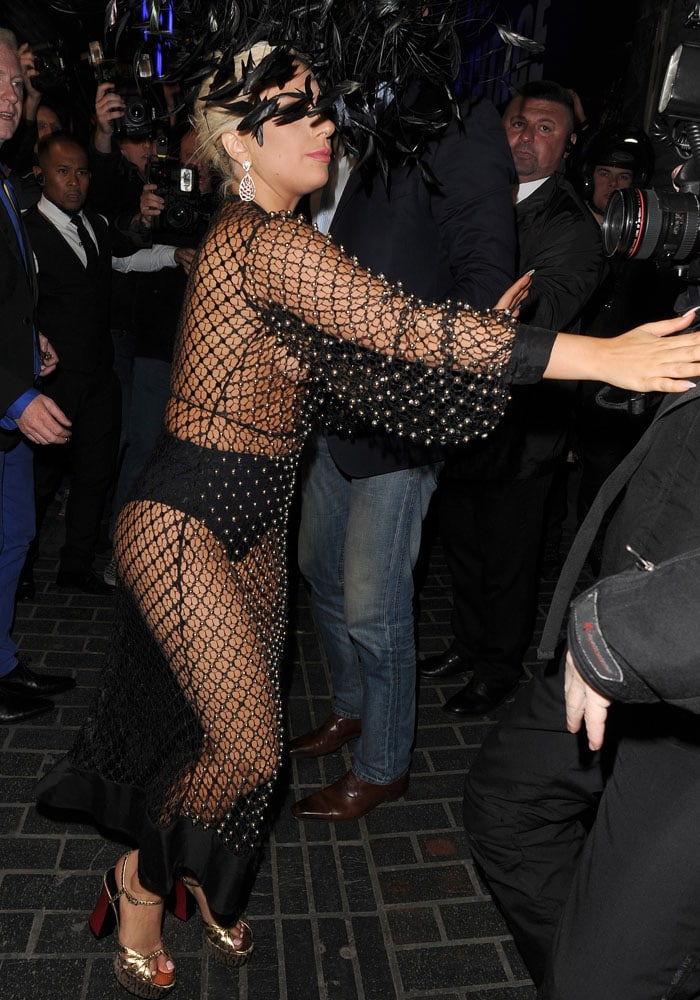 Lady Gaga leaving the Royal Albert Hall and heading to hat designer Philip Treacy's shop in London, England, on June 8, 2015
We cannot quite figure out what went on in the design of these hoochie-mama-inspired shoes, but because Saint Laurent has spoken, we shall keep the rest of our comments to ourselves. Check out this crazy pair over at Luisa Via Roma.
Saint Laurent 125 mm Candy Elaphe & Ponyskin Sandals, $1,046 (before: $1,495)
Credit: Will Alexander/Tim McLees/WENN