Anyone who was around for the glory days of early 2000's reality TV already knows all about Lauren Conrad.
However, for those who don't, or who need a quick refresher on what she's been up to in the years since, Lauren Conrad is a 35-year-old celebrity best known as a reality TV star, though she has also been involved in several other business ventures since.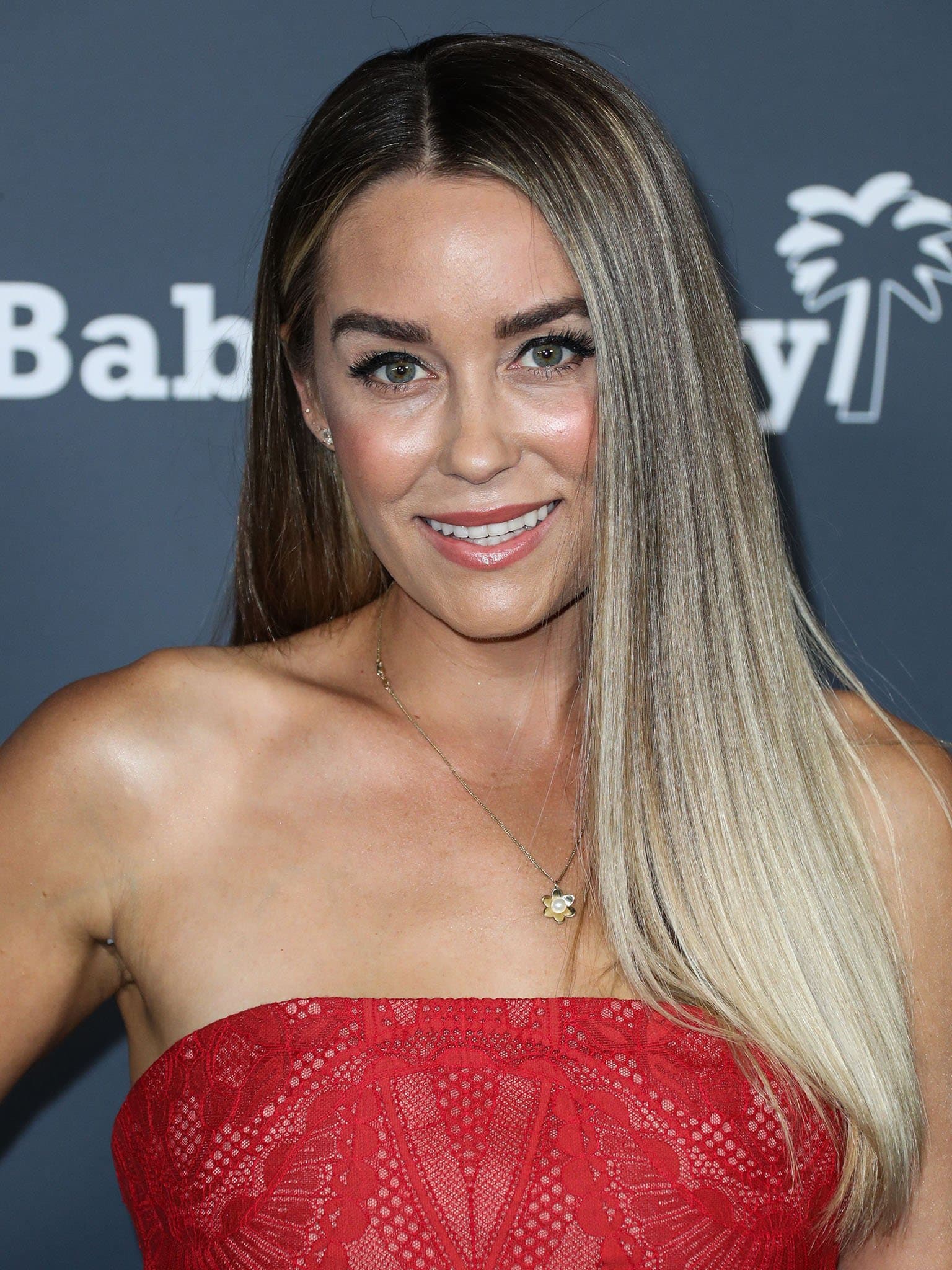 Lauren Conrad is best known for starring in the reality series, The Hills (Credit: Avalon / WENN)
Beyond being a famous TV personality, Lauren Conrad is a New York Times bestselling author, a fashion designer, and a philanthropist.
She has successfully avoided being cast into the elephant graveyard of forgotten TV stars from the early 2000s and maintains a social media following of over 10 million.
Lauren Conrad is also a fashion designer and an author with several autobiographical and fiction novels under her belt (Credit: WENN)
Since her two famous MTV reality shows, Laguna Beach and The Hills, ended, Lauren has launched a fashion brand with Kohl's, has written fiction and autobiographical novels published by Harper Collins, and launched The Little Market, an LA-based initiative that connects global artisans through sustainable partnerships.
All in all, Lauren Conrad has had an overwhelmingly successful career so far- and she's still young!
What is LC Lauren Conrad?
In 2009, Lauren Conrad launched LC Lauren Conrad, a fashion brand sold exclusively at Kohl's.
The brand was launched at the height of Lauren's celebrity status before The Hills' final season aired in 2010. However, it's safe to say that LC Lauren Conrad has officially stood the test of time.
Lauren Conrad presenting her Spring 2016 collection during New York Fashion Week (Credit: Jeff Grossman / WENN)
Still active in 2021, the brand has been running for over a decade now. Within the collection, LC Lauren Conrad offers a plethora of items such as: "Apparel (regular, plus, petite), fashion and fine jewelry, fashion accessories, footwear, handbags, bedding, bath, giftables, cold-weather accessories, and ornaments."
Aside from jeans and apparel, LC Lauren Conrad also offers jewelry and accessories, footwear, handbags, bedding, bath, and more (Credit: LC Lauren Conrad / Instagram)
Among the apparel designed by LC Lauren Conrad are some of the best-fitting and affordable jeans on the market.
With a wide variety of sizes and styles available, everyone and their mother will be able to find a pair of jeans that suits them perfectly at LC Lauren Conrad.
LC Lauren Conrad Jeans: Styles and Sizes Available
Although Lauren Conrad grew up and entered the limelight in the early 2000s, during which low-rise jeans were all the rage, you won't find many of those hip-grazing styles at LC Lauren Conrad today.
Instead, Lauren Conrad's style has elegantly changed and evolved with the rest of the world, resulting in styles that prioritize comfort while remaining stylish.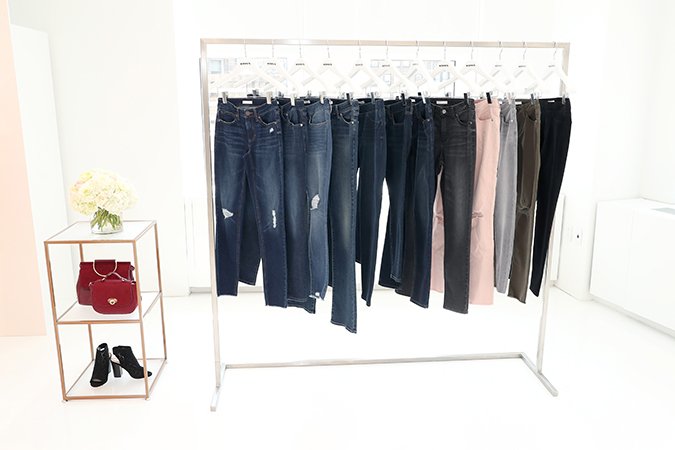 LC Lauren Conrad offers different styles of jeans that are comfortable and stylish (Credit: LaurenConrad.com)
Most LC Lauren Conrad jeans are found in mid-to-high rise waists, which can often be more flattering (and don't put you at risk of accidental whale tail).
These styles, particularly high-waisted jeans, have risen in popularity since the 2010s and seem to be here to stay. Though, there are rumors about low-waisted jeans making a comeback…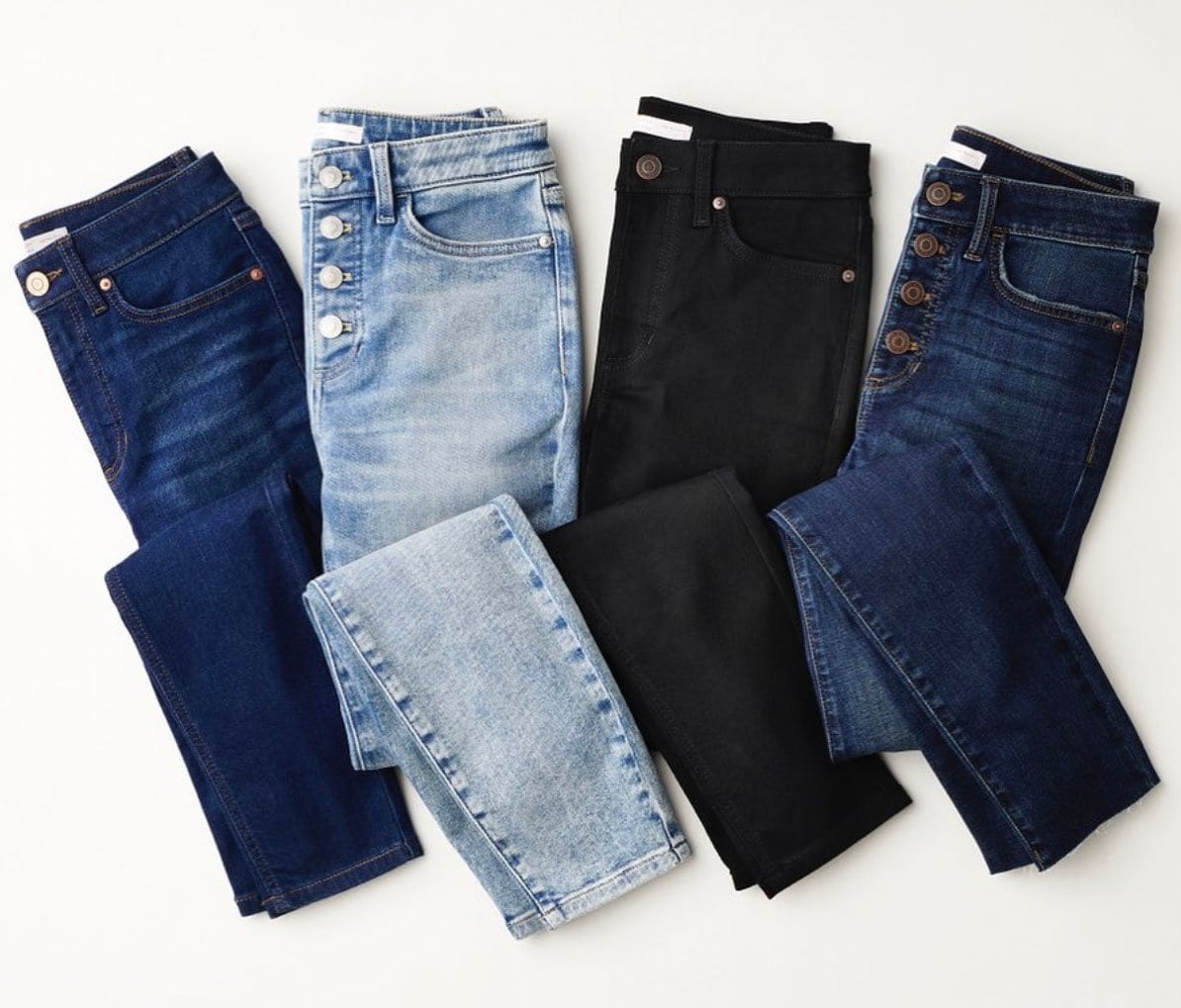 LC Lauren Conrad has everything from light wash, dark, button-fly, or zippered jeans (Credit: LC Lauren Conrad / Instagram)
The shape of the jeans at LC Lauren Conrad also varies, with a few nods to Lauren Conrad's Y2K fashion comeuppance, such as bootleg styles, though a majority of the line is effortlessly classic, with skinny and tapered legs.
Furthermore, Lauren Conrad is proudly dedicated to size inclusivity in her clothing line. All jeans within the LC Lauren Conrad collection run from petite to plus sizes, as well as a variety of lengths from short to long.
No matter your body shape or size, you'll be able to find a pair that make you feel and look amazing.
LC Lauren Conrad Jeans: Sizing
If her varied career path wasn't enough proof that Lauren Conrad is the queen of adaptability, her fashion design approach will be.
Lauren has purposely sought out and listened to reviews from real customers of her brand and made changes based on their feedback, as well as her own experience.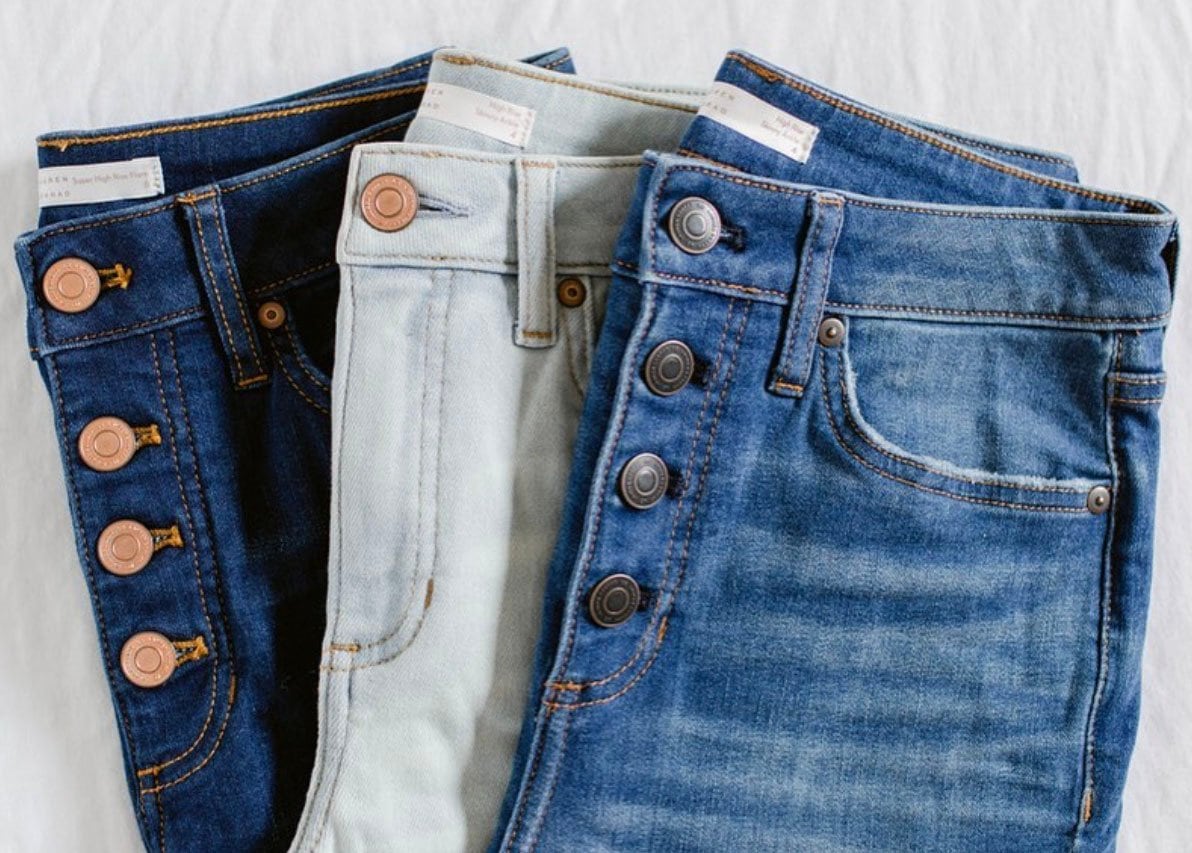 LC Lauren Conrad uses a 4-way-stretch Lycra to enhance comfort and ensure that their jeans are form-fitting (Credit: LC Lauren Conrad / Instagram)
These changes include making sure that the top block of all the jeans at LC Lauren Conrad are standardized so that consumers will maintain the same size across styles, making repeat purchases much easier.
She has also incorporated 4-way-stretch Lycra into the collection's skinny jeans to enhance comfort and ensure that they're form-fitting, but not form-squishing.
LC Lauren Conrad Jeans: Reviews
LC Lauren Conrad jeans have received a variety of rave reviews, such as:
"The Lauren Conrad jeans are GREAT! I always get the same size but like to try different colors, styles, etc. and every single pair has always fit so perfectly! I can't say that about any other brand, ever! I recommend these to everyone now!"
However, other users noted that the skinny jeans in particular tend to run a bit small. So, if you have a curvier body type, or you simply prefer slightly comfier jeans, you might want to go up a size just to make sure the jeans hug you gently in all the right places.
LC Lauren Conrad: Production
While the production information of LC Lauren Conrad is not publicly available, Lauren has shown public support for sustainable initiatives.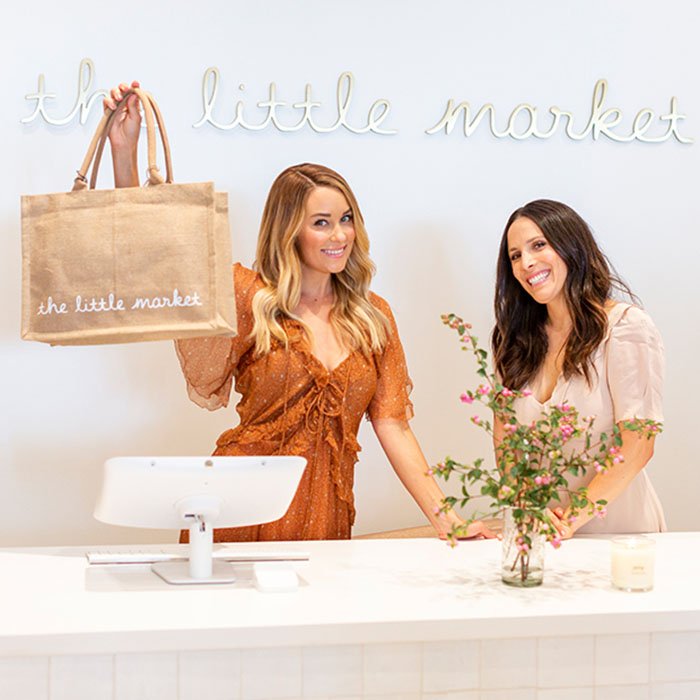 Lauren Conrad co-founded The Little Market dedicated to connecting sustainable artisan and producer groups with customers online (Credit: Lauren Conrad / The Little Market)
She co-founded The Little Market, which is a non-profit organization dedicated to connecting sustainable artisan and producer groups with customers online. The organization also has a physical flagship location in Los Angeles.
So, although it is unclear what the production conditions of LC Lauren Conrad are, one can hope that it matches The Little Market's dedication to environmental causes.
Lauren Conrad's Point of View
All in all, Lauren Conrad has shown the world that she has the talent and work ethic required to manage numerous brands. She is also quite self-aware and told Glamour that every category that she's entered into, from jeans to home goods, has always felt natural and authentic.
Given that she's now a busy mom and always on the go, she told Glamour in a separate interview that her designs have increased in comfort and flexibility to match her stage of life.
Head to your local Kohl's and check out a pair of LC Lauren Conrad jeans to test their comfort and style for yourself!
Hello, 2000s flashback! If you were around in the mid-to-late 2000s, Lauren Conrad was a household name. Prior to "Keeping Up With the Kardashians," shows like "The Hills" and "Laguna Beach" dominated the airwaves.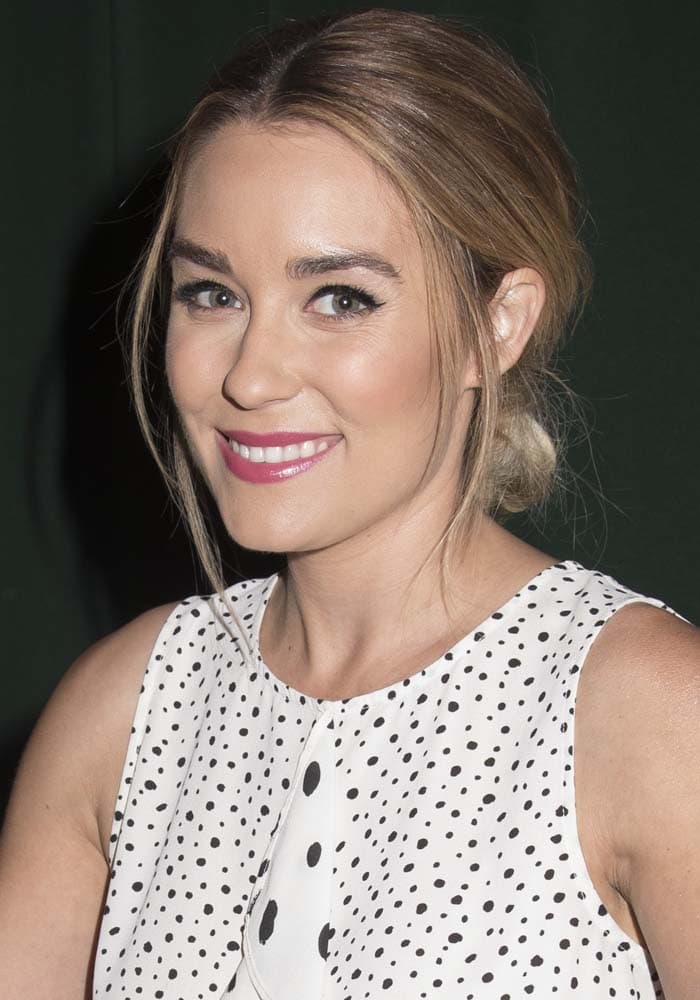 Lauren Conrad clips her hair back at the signing of her new book "Celebrate" held on March 28, 2016, at Barnes and Noble in New York (Credit: RWong / WENN)
The former reality star has found her niche in entrepreneurship, and she's been busy cranking out both clothing lines and books.
In March 2016, she launched her latest party planning book called "Celebrate" at Barnes & Noble in New York. It is also available on Amazon.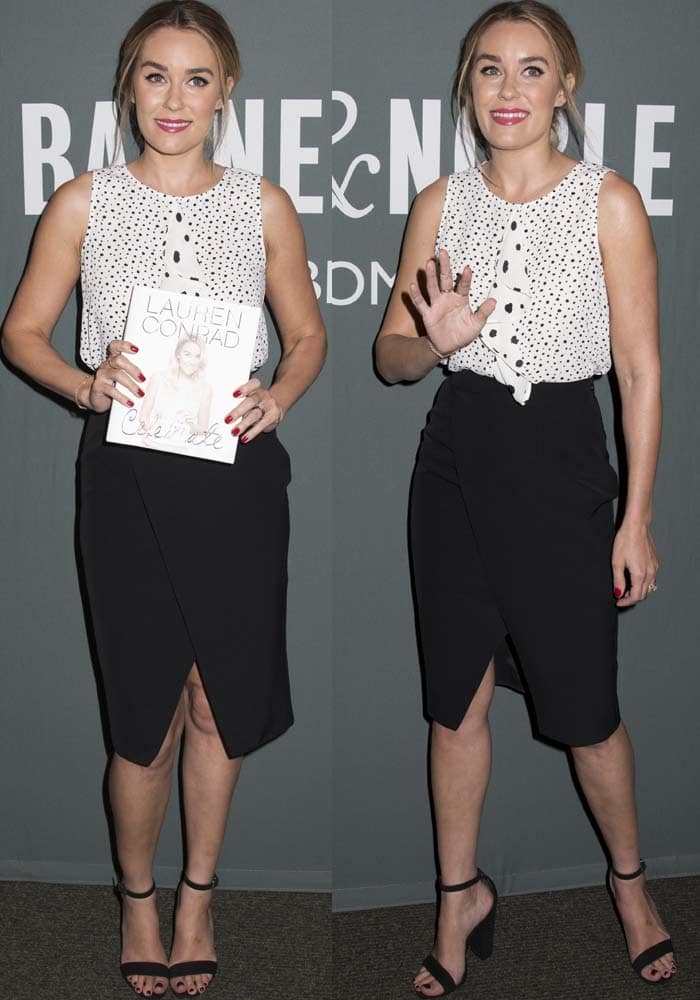 Lauren wears pieces from her third fashion line Paper Crown to her book signing in New York (Credit: RWong / WENN)
Lauren wore an adorable printed ruffle top with a black overlay skirt, both from her third fashion line, Paper Crown.
The American television personality wore her designs with the Schutz "Enida" sandals in black suede.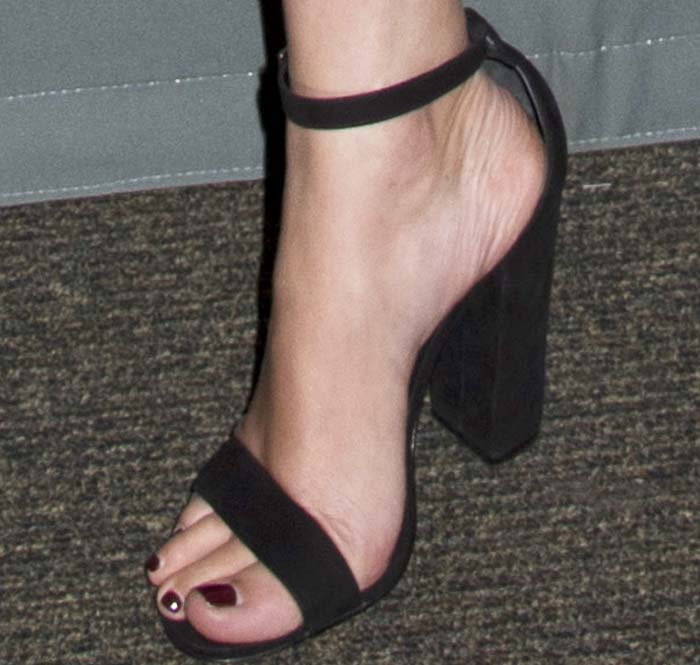 Lauren Conrad's feet in block-heeled Schutz sandals (Credit: RWong / WENN)
Lauren couldn't help but reminisce on her "The Hills" days. She let us know that she's just like everyone else.
She said she went through what any 20- to 30-something usually goes through; experiencing career changes and soul-searching.
Lauren Conrad smiles for the cameras as she signs copies of her latest book (Credit: RWong / WENN)
You can order Lauren's Schutz "Enida" suede sandals at Zappos and Shopbop. Check out the cork and nude versions below, too.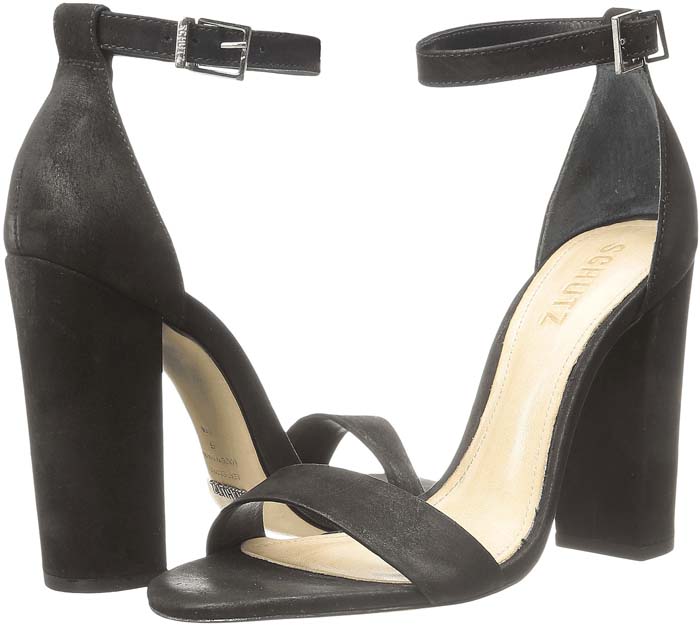 Black Schutz "Enida" Dress Sandal, $170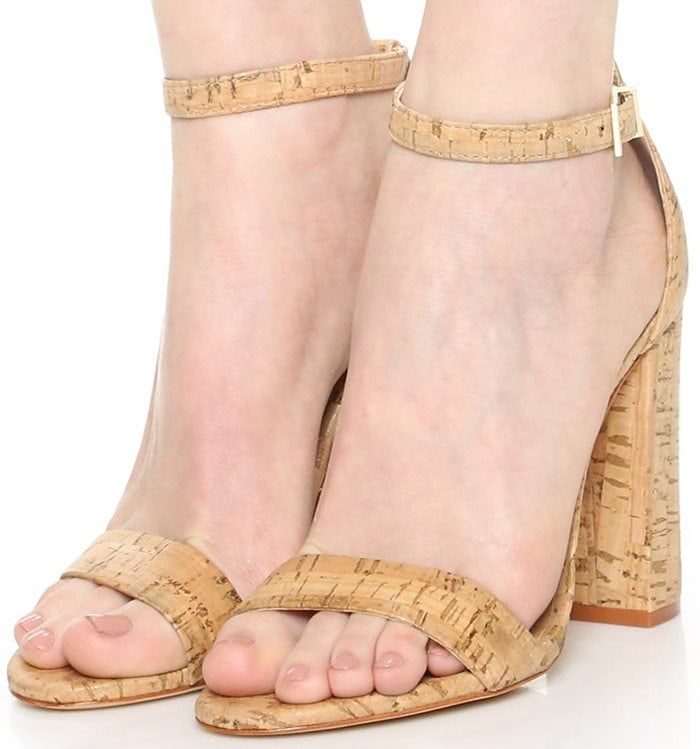 Showcase your pedicured toes wearing the Schutz Enida open-toe sandal with an adjustable ankle strap
Cork Schutz "Enida" Dress Sandal, $170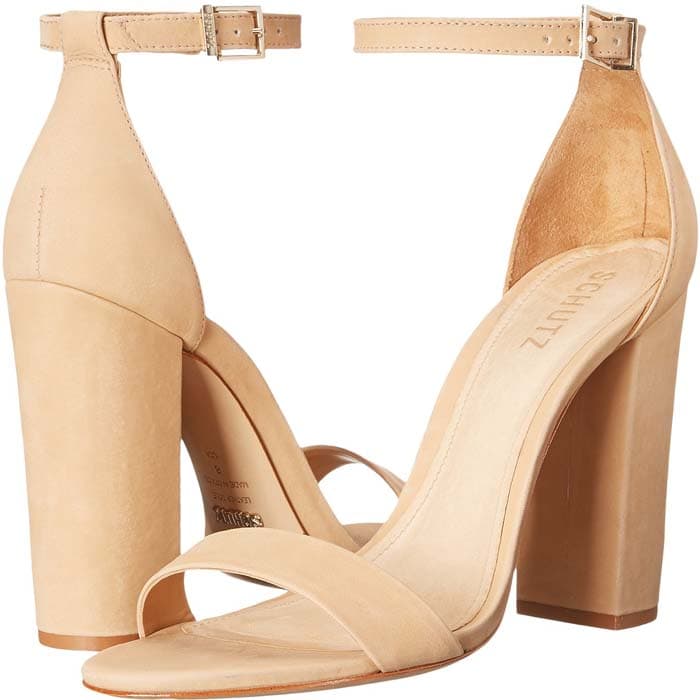 Nude Schutz "Enida" Dress Block Heel Sandal, $170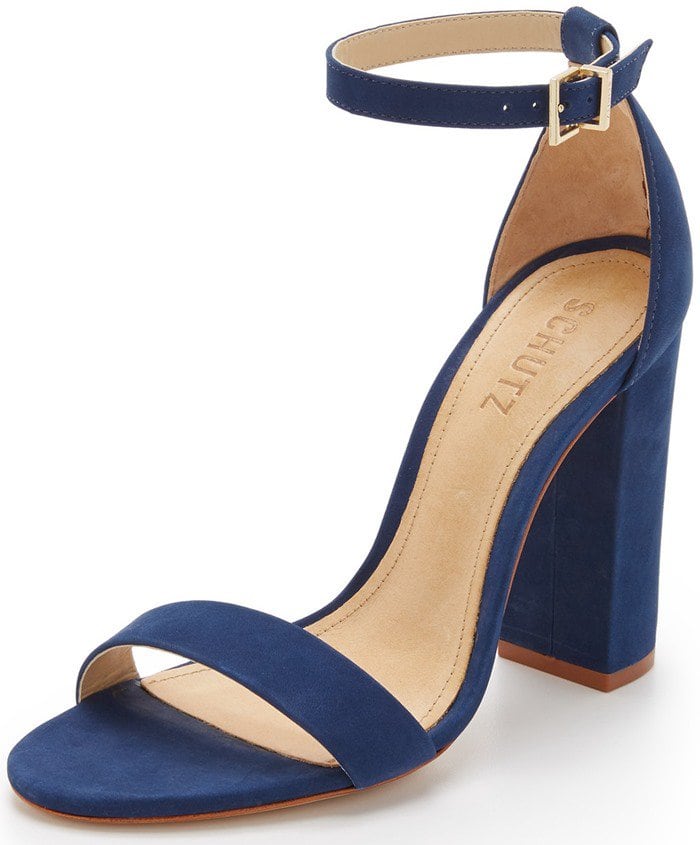 Enida sandal from Schutz featuring a classic two-piece silhouette and block heel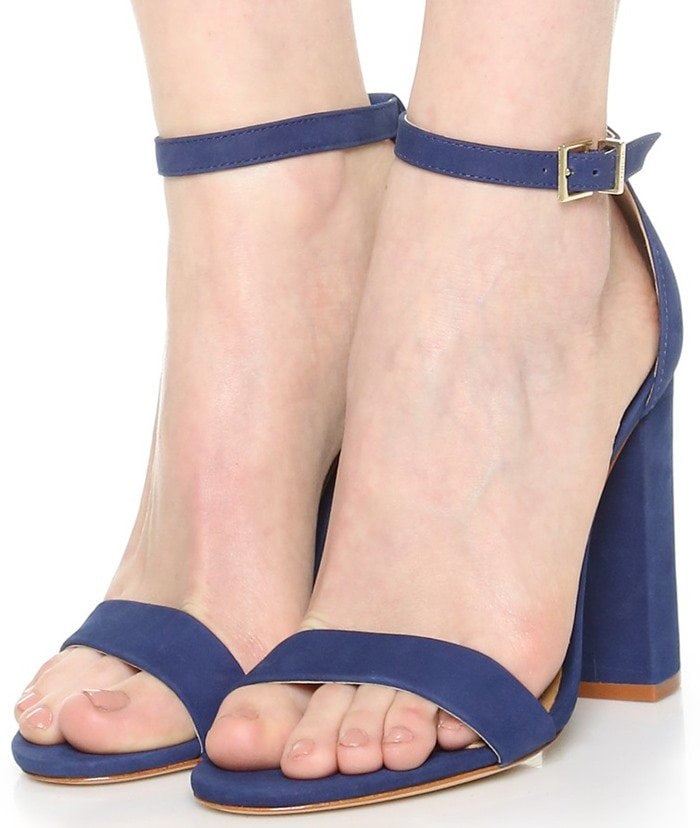 Blue Schutz "Enida" Dress Sandal, $170