John Legend has opened up about his marriage and sex life with Chrissy Teigen, stating that her sense of humor is her hottest attribute.
"It's probably obvious, but she makes me laugh all the time," John said in an episode of Call Her Daddy, an advice and comedy podcast created by Sofia Franklyn and Alexandra Cooper in 2018.
View this post on Instagram
"It just changes your whole world when you have somebody around you that makes you laugh. It makes every experience — even when you go through the worst things, when they have a sense of humor, it just makes life better."
When asked what Chrissy would say is his hottest attribute, John replied, "I take good care of her…I like to cook for her, pamper her, and make some romantic gestures. She probably likes that."
View this post on Instagram
John also shared some sex advice for parents, saying, "Lock the door if you have kids. Our kids have a way of finding their way into our room. If we ever want to have a good time, we have to lock the door."
He added that it's essential to find time for each other and to make romantic gestures, especially when you've been together for a long time.
"You have to find time," he added. "You have to still do those romantic gestures and make an effort, I think. That's all important. You can't take things for granted, especially if you've been together for a long time. If you allow yourself to just get in a rut, you gotta go on a date, just do some things. Do some fun things. Make some romantic gestures."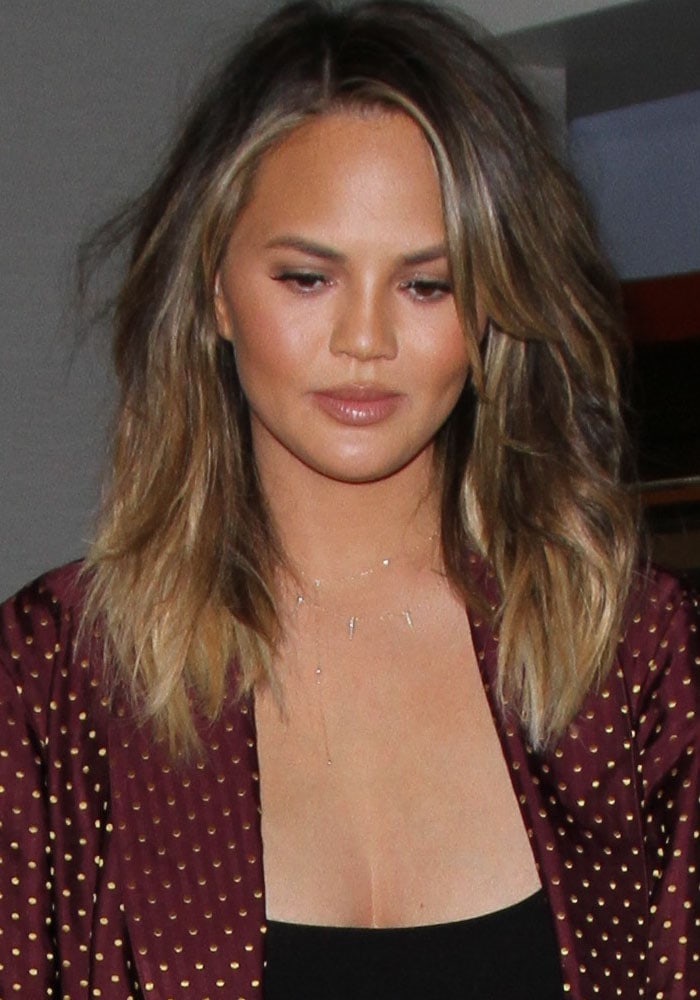 Chrissy Teigen keeps her hair down as she departed from Los Angeles International Airport on July 8, 2016 (Credit: WENN)
In July 2016, Chrissy Teigen finally took the time to go on a family vacation with her husband, John Legend, and their three-month-old daughter Luna Simone Stephens.
The adorable family of three was spotted arriving at Los Angeles International Airport to visit Paris and Italy.
Chrissy Teigen and John Legend wheel their new daughter, Luna Simone Stephens, around LAX for a family vacation (Credit: WENN)
This was Chrissy's first real vacation since giving birth to Luna on April 14, 2016, and the Legend family's first official vacation as a family of three.
Chrissy Teigen wears a burgundy silk robe as she arrives at LAX for a family vacation (Credit: WENN)
Chrissy wore a black midi dress underneath a silk polka-dot patterned robe in a burgundy shade.
The model kept her look straight to the point with her go-to Hermès "Birkin" bag in black leather and a celeb favorite — the Gianvito Rossi "Portofino" sandals.
Chrissy Teigen's feet in black leather Gianvito Rossi sandals (Credit: WENN)
You can buy out the popular Gianvito Rossi "Portofino" sandals at Mytheresa and Farfetch.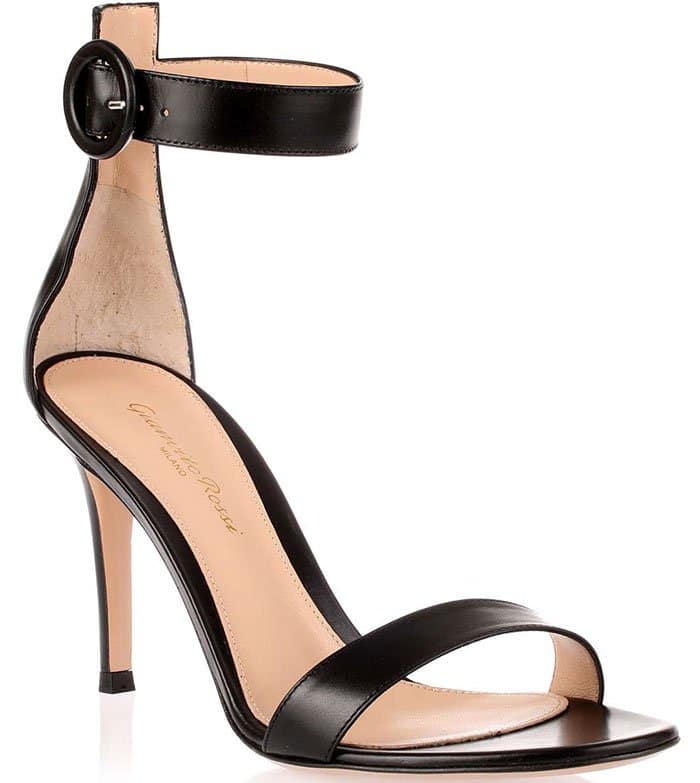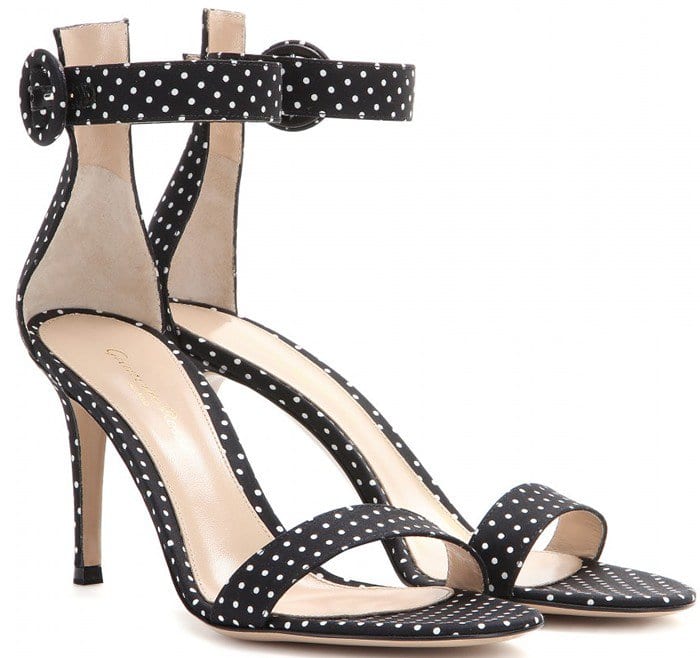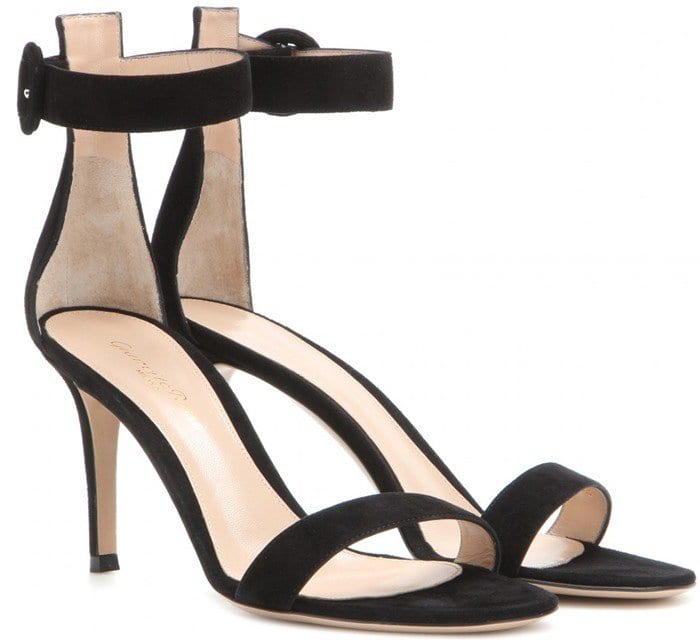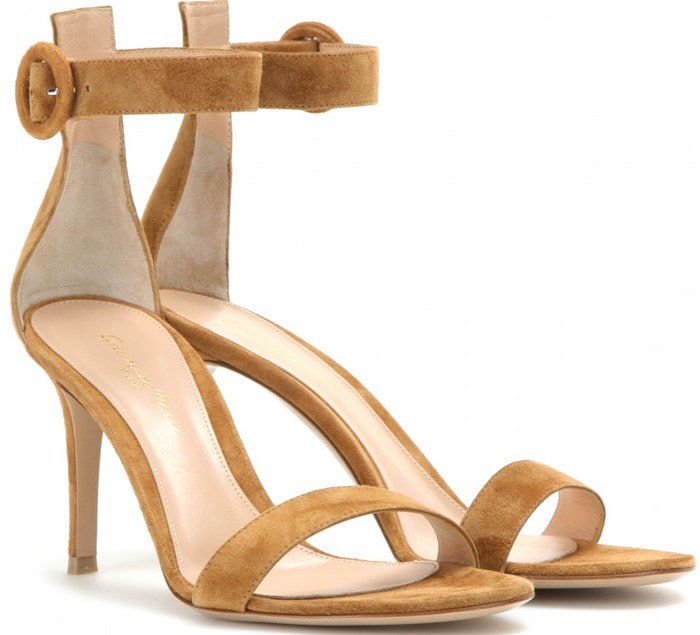 Gianvito Rossi Portofino Sandals, $790-$1,165