Liam Payne's latest red-carpet appearance with his girlfriend Kate Cassidy had fans doing a double take due to his noticeably different look.
Arriving at the Cineworld Leicester Square for the premiere of his former One Direction bandmate Louis Tomlinson's documentary, All of Those Voices, Liam Payne sparked plastic surgery rumors after fans pointed out his dramatically sharper jawline and defined cheekbones.
Liam Payne shocks fans with his noticeable transformation at the London premiere of Louis Tomlinson's documentary All of Those Voices at Cineworld Leicester Square on March 16, 2023 (Credit: Ian West / PA Images / INSTARimages)
The 29-year-old singer looked dapper in a white tuxedo with black lapels paired with a matching black collared shirt and tailored trousers. He finished his look with a black velvet bow tie and a pair of black penny loafers with almond toes.
Sporting a longer hairstyle, Cheryl Cole's ex wrapped his arm around his girlfriend's snatched waist as they posed together on the red carpet.
Liam Payne brings his girlfriend Kate Cassidy to former bandmate Louis Tomlinson's documentary premiere at Cineworld Leicester Square in London on March 16, 2023 (Credit: Ian West / PA Images / INSTARimages)
Kate Cassidy, 23, led the glamour in a one-shoulder black mini dress cut from stretch-jersey fabric with an asymmetrical one-shoulder neckline, ruched detailing, and a floor-length waist-tie accented with a red floral brooch.
The tiny dress hails from David Koma's Resort 2023 collection and is available for purchase at Luisaviaroma for $1,190.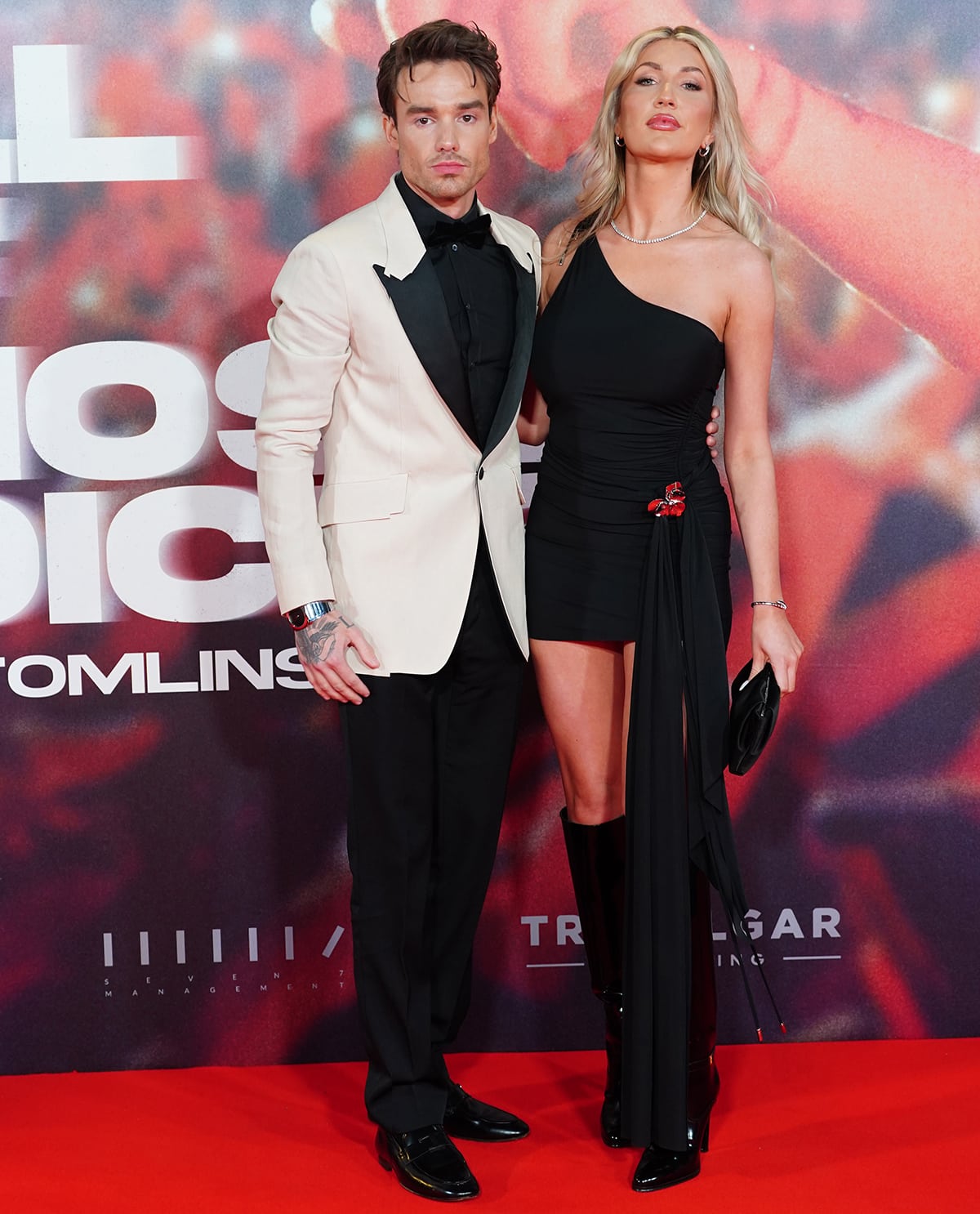 Kate Cassidy showcases her figure in an asymmetric black mini dress with a waist sash and a brooch from David Koma's Resort 2023 collection (Credit: Ian West / PA Images / INSTARimages)
Kate, who has been dating Liam Payne since October 2022, accessorized with a silver tennis necklace, hoop earrings, and a bracelet.
She then carried a black satin clutch and elevated her stunning ensemble with knee-high boots in black PVC.
To complete her look, Cassidy wore her golden hair loose, cascading down her back in soft curls. She then applied a swipe of pink lip gloss, a complementary blush, and mascara to emphasize her eyes.
Kate Cassidy lets her blonde hair fall loose down her back in soft curls and wears mascara and pink lip gloss (Credit: Ian West / PA Images / INSTARimages)
Did Liam Payne Get Plastic Surgery?
As of this writing, Liam Payne has not addressed speculations that he has gone under the knife, but plastic surgeons claim that he had his cheek fat removed.
Triple-board certified celebrity plastic and cosmetic surgeon Dr. Ramtin Kassir told Page Six, "He [Liam] didn't look bad before, but his face instead of looking soft and a little bit chubby, it looks model-ish and rugged."
Dr. Thomas Su, owner and cosmetic surgeon of Artistic Lipo, added, "He definitely has a more masculine look with sharper chiseled facial features compared to how he looked previously."
Liam Payne before (2021) and after (2023) his rumored buccal fat surgery procedure (Credit: Matt Crossick / Ian West / PA Images / INSTARimages)
Pamela Weinberger, a physician associate at Plump Cosmetics and Injectables, said that Payne may have had frequent maintenance Botox injections, jawline filler, lip filler, and chin filler.
However, Dr. Azza Halim, a board-certified anesthesiologist and physician (with a focus on anti-aging, regenerative medicine, and aesthetic medicine), believes that buccal fat removal was a huge factor in Liam's transformation because one cannot achieve such a chiseled appearance with fillers alone.
Fans have mixed opinions on Liam Payne's new look. While some support the singer, others were disappointed and felt he looked better before the procedure.
rhinoplasty, lip filler, cheek implants, chin implant, jaw shave, brow bone reduction, buccal fat removal, botox and eye lift

— kk butterfly (@kkbutterfly27xx) March 18, 2023
One of those who defended the singer said, "Fans are not shocked. Fans know he's had a hard time and fans do not judge him on how he looks."
Wtf happened to Liam Payne 👀😳 pic.twitter.com/EqRikSXUWK

— horace (@gayandold) March 18, 2023
"For those that don't know, for the longest (since his 1d days), fans would constantly call him fat to the point where he had to come on social media every so often and defend himself and it would clearly upset him. This is not something to make fun of him for. It's actually sad," another commented.
i did my research and liam payne is hiding kenjaku's box inside his mouth pic.twitter.com/tNKsP5dqNK

— jenn 🍖 (@blkitadori) March 18, 2023
What Is Buccal Fat Removal?
Buccal fat removal is a procedure to remove fat within the cheeks, highlighting the face's bone structure.
It has taken over the internet after social media users speculated that a number of celebrities, including Lea Michele, Zoe Kravitz, Sophie Turner, and Bella Hadid, may have undergone the procedure to achieve more defined cheekbones.
Chrissy Teigen is the only celebrity who has admitted to getting the procedure done.
Chrissy Teigen in 2019 (L) versus Chrissy Teigen in 2022 (R) after her buccal fat removal in September 2021 (Credit: Sara De Boer / startraksphoto / PA Images / INSTARimages / Cover Images)
Depending on the surgeon, buccal fat removal reportedly costs between $5,000 and $20,000.
However, not everyone qualifies for buccal fat removal. As per Dr. Kassir, "You can cause premature aging by just randomly taking out people's buccal fat."
"If you do it on somebody who's skinny, as soon as they hit their 30s and maybe even early 40s, their face will look hollow and gaunt and aged."
What Is Louis Tomlinson's All of Those Voices About?
All of Those Voices is a documentary that follows Louis Tomlinson's musical journey from a member of the world-renowned boy band One Direction to a solo artist. It also includes never-before-seen footage and behind-the-scenes from his 2022 world tour.
The trailer begins with Tomlinson revealing how he felt lost after One Direction disbanded.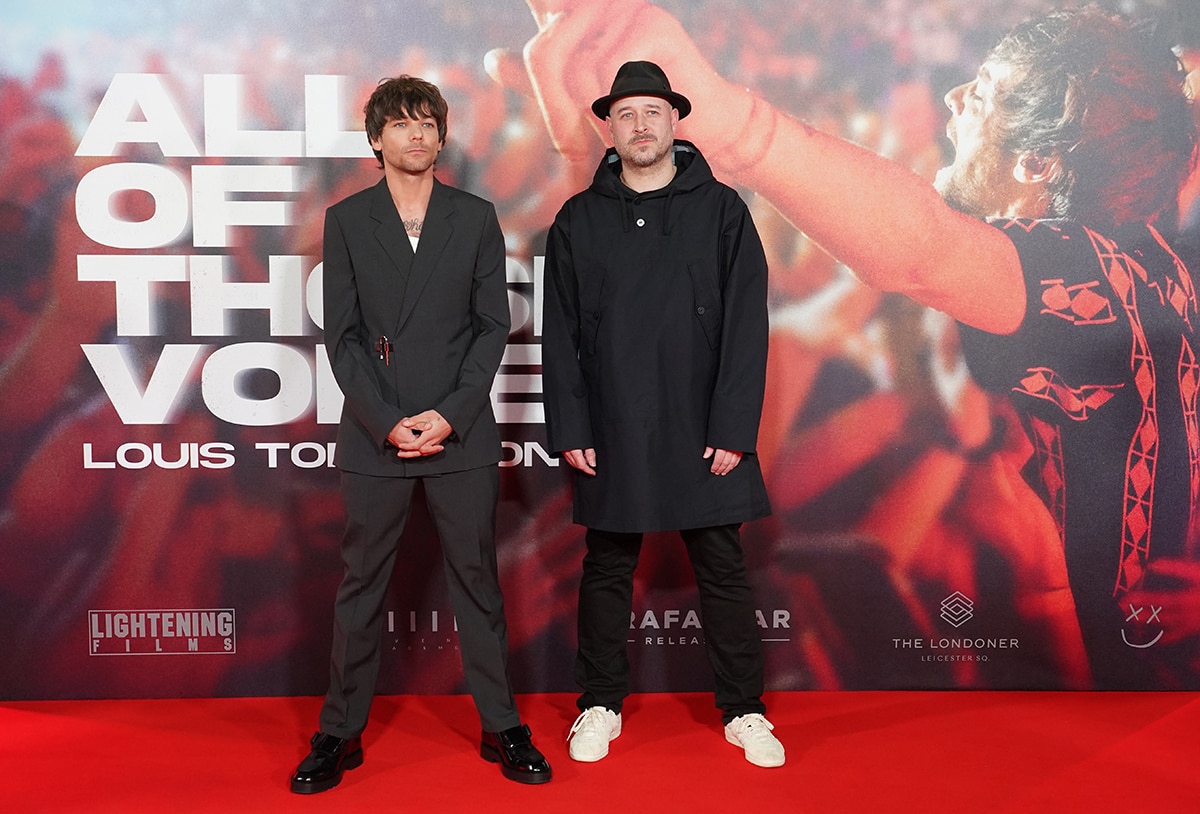 Louis Tomlinson and director Charlie Lightening at the premiere of All Of Those Voices at Cineworld in London on March 16, 2023 (Credit: Ian West / PA Images / INSTARimages)
"I thought for me, it was the band or nothing. It was hard for me to imagine myself on my own. I didn't see a way back – not even musically, just to do anything."
"I started to feel, maybe I do have some individual worth. What about making some music on my own," he continued.
As per the press release, the All of Those Voices documentary captures "the challenges and triumphs that defined his [Tomlinson's] path."
The documentary was directed by Charlie Lightening and released in cinemas worldwide on March 22.