Is Lindsay Lohan officially back?
Well, we can't say yet, but her latest "condition" looks promising — that is, if we use these pictures we gathered today as basis. The actress was spotted out and about with friends in London recently, and we have to admit, she looked really well — as in healthy and sober-looking kind of well. In fact, she looked a lot like the Lindsay we used to know back when she starred in movies such as 'Mean Girls' and 'Freaky Friday'.
Lindsay was also decently dressed. Well, decent enough, at least. She had on a black patterned fur-trimmed coat that she unexpectedly finished with a pair of bulky thigh-high platform boots. To be honest, a pair of skinny jeans or pants would have been more appropriate given the London weather, but the boots weren't that bad. They had really thick zigzag rubber soles, kind of like the ones gothic dressers would wear.
Lindsay Lohan dressed in a black fur-trimmed coat and bulky thigh-high boots at Chakana in London on January 9, 2014
So, what do you think of LL's outfit? And more importantly, what opinion do you have of her footwear? They seem quite heavy. Maybe if they were in suede, they'd look a little better. What do you think?
We have yet to ID Lindsay's over-the-knee boots, but just in case you're looking for something similar, may we recommend a pair that is classier in design, isn't as chunky, and won't cost you too much?
Check out these super cool Miista Emi thigh-high boots we found at NastyGal. The uppers on these shoes are made of plush velvety suede-like material, while the linings are crafted in genuine leather, so you can be sure they won't fall apart. Also, the inch-thick platforms and 4.25-inch-tall block heels are smooth around the edges so you get a more polished effect. At $228 a pair, we think these boots are worth the buck. Would you agree?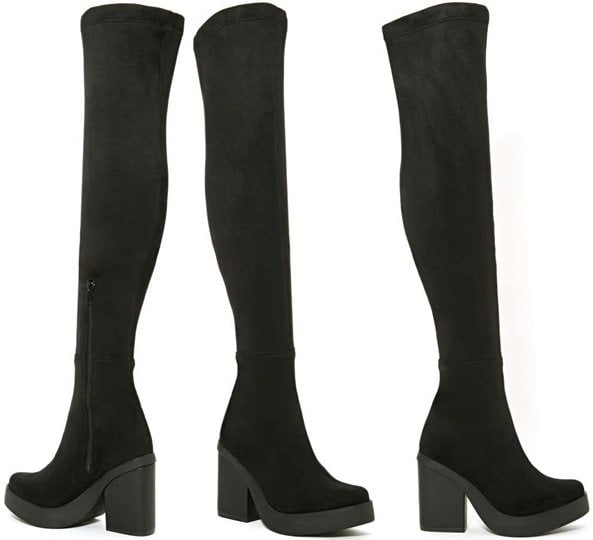 Miista Emi Thigh-High Boots, $228 at NastyGal
Credit: WENN