In January 2014, "Royals" singer Lorde brought home two trophies — and walked away with four nominations — at the 56th annual Grammy Awards.
With two Grammy awards — one for Song of the Year and one for Best Pop Solo Performance for "Royals" — the then-17-year-old singer-songwriter became one of the youngest-ever Grammy-award-winning artists.
Her debut single "Royals" was written in half an hour at her home in July 2012 when Lorde was 15 years old. She turned 16 on November 7, 2012.
"Yeah, I was just at my house, and I wrote it before I went to the studio. I wrote it in like half an hour — the lyrics, anyway. I wrote all the lyrics and took them to the studio and my producer [Joel Little] was like, 'Yeah, this is cool.' We worked on that and on two other songs on the EP in a week, and just did a little bit every day," she told Billboard in 2013.
"It's weird, because obviously when I wrote it I had no idea it would be a big deal or anything," she added about the positive reaction to the song following its release in the US on June 3, 2013.
Lorde wrote the minimalist art pop and electropop song Royals in July 2012 when she was 15 years old (Credit: RockinExposures / Startraksphoto)
"I just wrote something that I liked, and that I thought was cool. It's always strange, particularly with my lyrics — there's a quite distinctive and personal [tone], and people are sitting in their bedrooms and covering it on YouTube. It's been awesome though."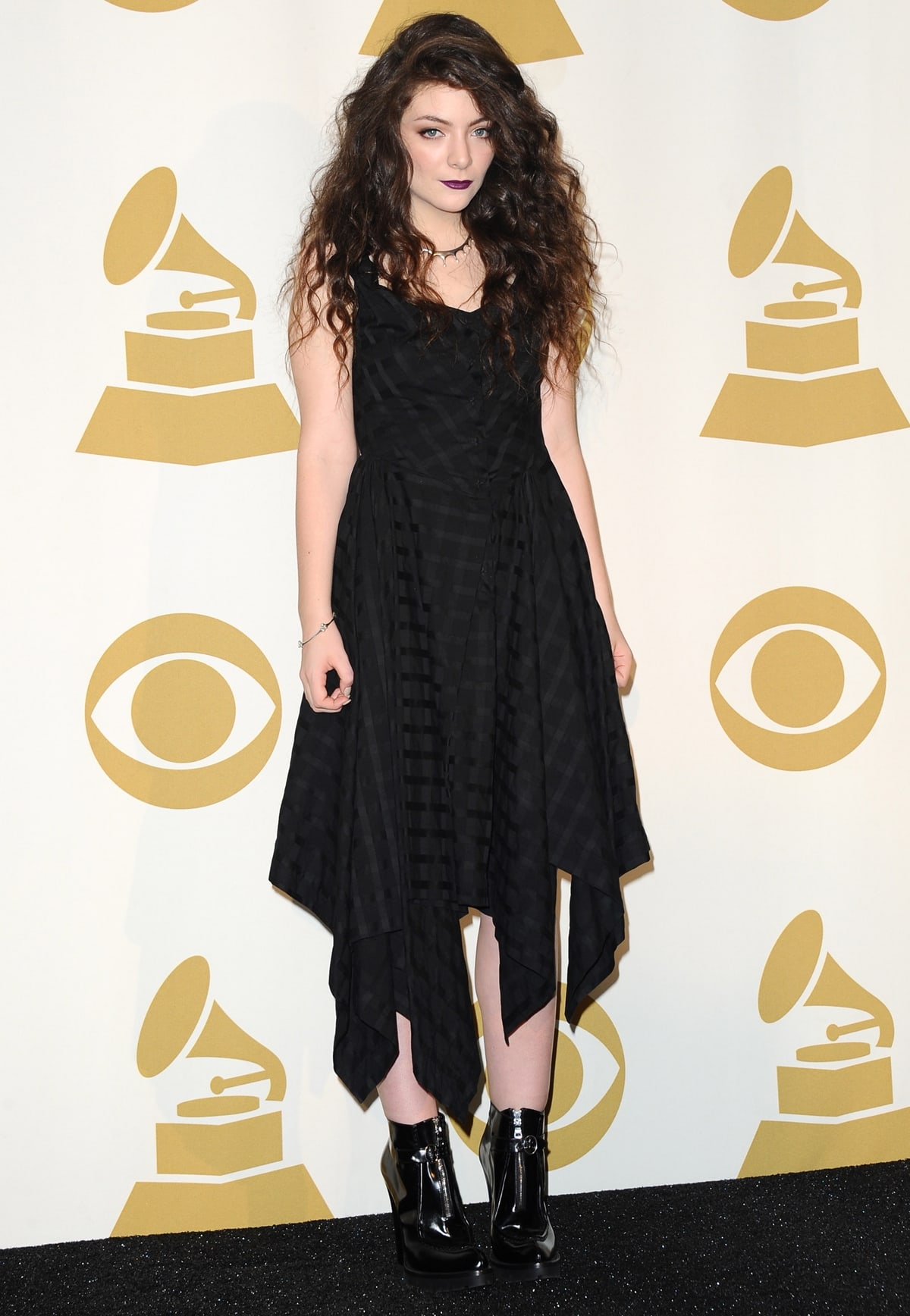 Recording artist Lorde poses in a black dress with matching boots in the press room during The GRAMMY Nominations Concert Live!! Countdown To Music's Biggest Night at Nokia Theatre L.A. Live on December 6, 2013, in Los Angeles, California (Credit: Sara De Boer / Startraksphoto)
Lorde already had a lock on both her music style and her fashion style.
The New Zealand–born star is fascinated by shining gilded "royals and aristocracy," as noted by her name and her songs, but her fashion sense tends to lean toward the opposite: an all-black wardrobe and dark muted lipstick.
"A lot of people make pop music because it will make them rich," she told TIME in 2013. "I make this music because I'm obsessed with it and I think it's the best thing in the world."
"Part of me feels like everything I do from now on, if it's not as big as 'Royals,' some people will perceive it as a failure. But for me, I'm going to spend my life worshipping the form. Sometimes that will just mean that it comes on at a party, and everyone runs to the dance floor."
Prior to attending the 56th Annual Grammy Awards, Lorde also joined a number of stars at Delta Airlines 2014 Grammys Weekend Party at a private location in West Hollywood.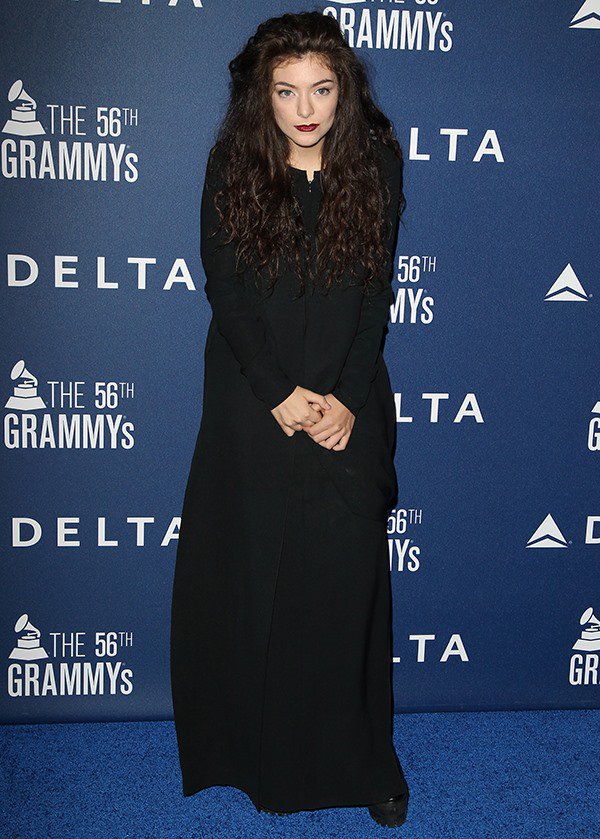 Lorde wears her natural curls down at the Delta Airlines Pre-Grammy Party held on January 23, 2014, in West Hollywood, California (Credit: FayesVision / WENN)
As usual, she wore an all-black ensemble, including a black dress by Acne and a pair of Stella McCartney boots.
Lorde wears a long black Acne dress on the blue carpet (Credit: FayesVision / WENN)
Lorde's faux leather Stella McCartney boots are called the "Hadley."
Lorde wears platform Stella McCartney boots on the blue carpet (Credit: FayesVision / WENN)
They feature back zip fastening, logo-engraved tags, chunky platforms, and high heels with deep-treaded biodegradable soles.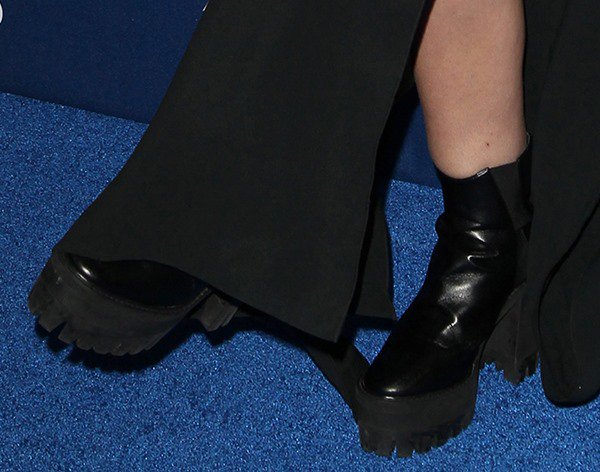 Lorde wears chunky black "Hadley" boots (Credit: FayesVision / WENN)
Unfortunately, these Stella McCartney boots are already sold out.
Stella McCartney "Hadley" Boots, $1,180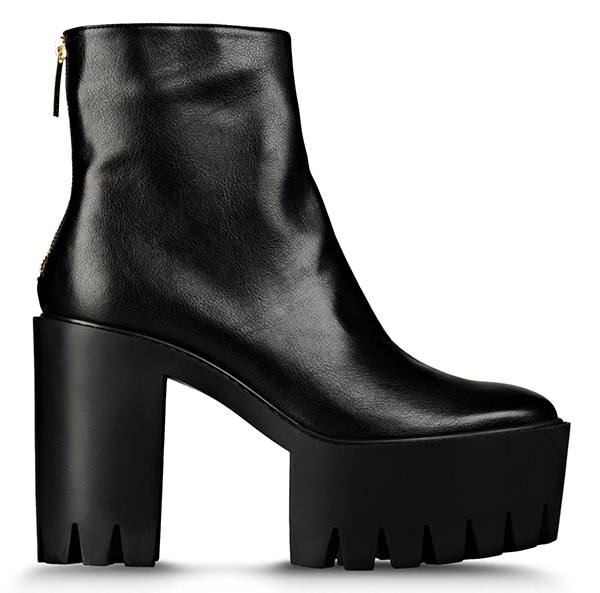 Stella McCartney's Hadley faux-leather ankle boots with a thick platform and heavy-duty tread sole