Are we witnessing the end of a hairdo era? Hair icon Jennifer Lawrence flew into New York a couple of days ago to attend the Met Gala with noticeably longer tresses.
Jennifer Lawrence's Tom Ford Leo sunglasses
While they were obviously for styling purposes for one of the biggest annual events in the world of celebrities, we spotted J. Law exiting her hotel to fly back home still sporting her new do.
Could she have become smitten with her Katniss locks that she decided to keep them? Will the death of her Miley Cyrus hair finally please close friend and co-star Liam Hemsworth?
Jennifer Lawrence toted a printed Coach bag
We may see the actress back to her cute bob a few days from now but we have to admit, we missed seeing long hair on her.
Jennifer Lawrence with noticeably longer hair
Once the extension comes off, we'll have nothing but happy hair memories of her running around New York with her golden waves.
Jennifer Lawrence shows off her studded Louis Leeman flats
The 24-year-old left her hotel in a Stella McCartney open back sweater that showed off her lace bra, Tom Ford Leo sunnies, a gorgeous printed Coach bag, and studded loafers from Dutch shoe designer Louis Leeman.
Jennifer Lawrence's open back sweater and sexy lace bra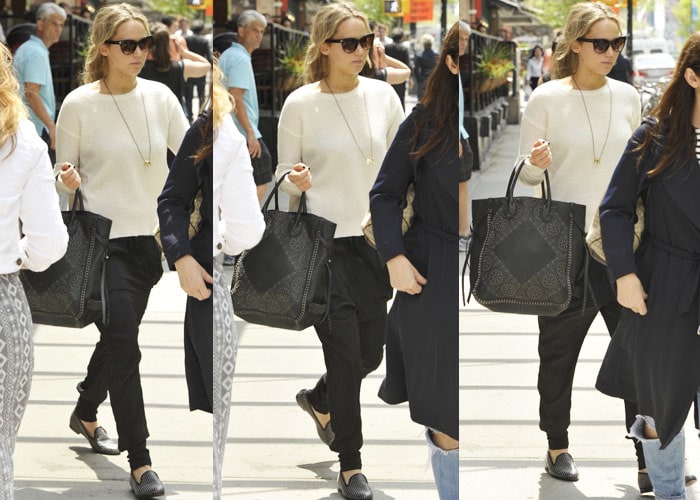 Jennifer Lawrence leaving her hotel in New York on May 5, 2015
We've seen these studded beauties on J. Law quite a few times already, which probably means that this low-key Hollywood queen has found great refuge in this casual yet stylish pair.
Find out what makes her turn to her studded Louis Leemans by purchasing your own pair over at Farfetch.
Louis Leeman Studded Suede Leather Loafers, $862

Credit: TNYF / WENN