It was a dark day for Louis Vuitton as news spread that Marc Jacobs was ending his 16-year tenure with the fashion powerhouse label. Its Spring/Summer 2014 ready-to-wear collection runway show during Paris Fashion Week was the designer's last, and he created quite a spectacle for Louis Vuitton.
For his last hurrah, Marc Jacobs put together a stunning collection and revisited some of his greatest moments in fashion show history. There were escalators, elevators, a water fountain, a train clock, and an enchanting carousel. Models were clad in feather headdresses, sheer tops, chiffon dresses, embellished jackets, beaded skirts, and biker boots. Everything was in black, save for a few pairs of denim blue jeans that were some of the standouts from the collection.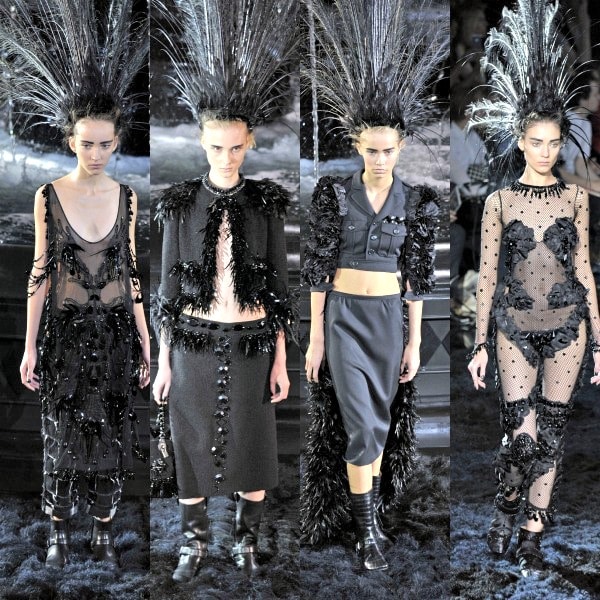 Models showing off Marc Jacobs' latest creations from his spring/summer 2014 ready-to-wear collection for Louis Vuitton during Paris Fashion Week held in Paris, France, on October 2, 2013
The pieces in this collection seemed to be inspired by the treasures hidden in a true showgirl's closet. Everything was dramatic, extravagant, and most of all, beautiful. Marc Jacobs' attention to detail was remarkable, and each piece encapsulated his passion for melding art and fashion.
Great emphasis was placed on the texture of the pieces, as seen on the clothes and on the gorgeous footwear that evoked a tough-chic vibe. Check out some of the fantastic boots seen on the runway: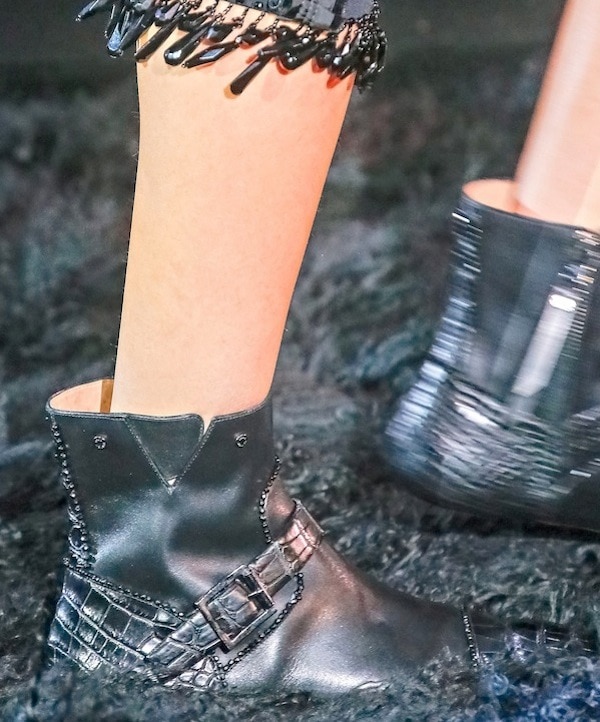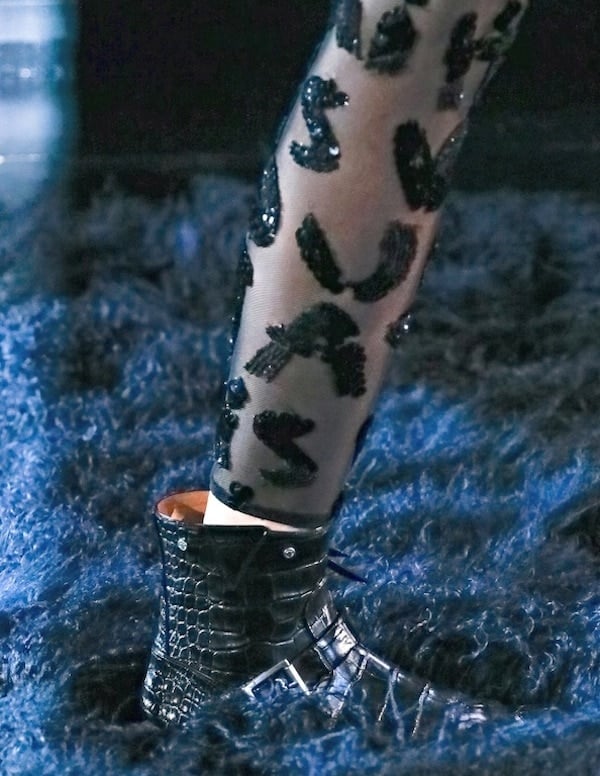 A sneak peek at the shoes from the Louis Vuitton Spring/Summer 2014 ready-to-wear collection during Paris Fashion Week held in Paris, France, on October 2, 2013
The show offered hints of burlesque and gothic drama, and there was a faint tinge of sadness in the air. The theme was almost funereal, but there was cause for a celebration as this was such a spectacular show and a fantastic end to Marc Jacobs' journey with Louis Vuitton. As the last model left the catwalk, everyone in the audience gave a standing ovation to the designer and showman, who came out to greet the crowd and take his final bow.
Marc Jacobs was a true asset to Louis Vuitton for he was the reason behind the creative transformation of the powerhouse brand. This show may be his last with the label, but it also signifies the beginning of a new era that promises more surprises from both Louis Vuitton and Marc Jacobs.
What do you think of Marc Jacobs' last collection?
Credit: SIPA / WENN