Move over checks — hearts are what's hot at Burberry right now.
The last time Burberry took over the fashion world, it was with a military-themed, tough-chic, aviator style. This time, they're going the complete opposite route, and doing it with a cutesy, kitschy, and possibly Taylor-Swift-inspired heart print.
We gotta admit that there really isn't much difference in the design of the shoes themselves, but because we're big suckers for anything pretty right now, all it took was for Burberry to slap hearts on their latest collection for us to be majorly obsessed.
Just try not to fall in love with these wedge shoes:
Burberry Heart Print Wedge Chelsea Boots, $950 at Burberry
Burberry Heart Print Calfskin Wedge Pumps, $675 at Burberry
We can't be the only ones whose hearts have been held captive by these loafers: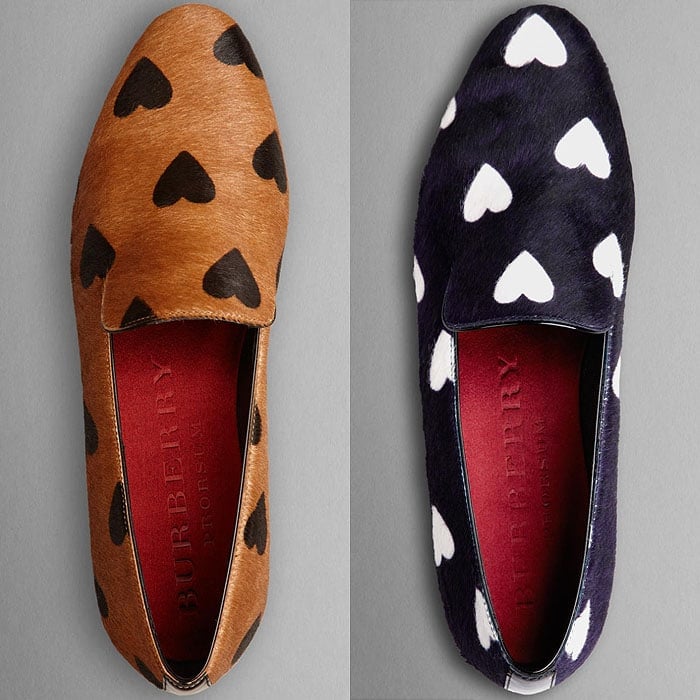 Burberry Heart Print Calfskin Loafers, $495 at Burberry
And we're 100% sure these trainers have gotten more than just a few shoe-loving hearts a-beatin':
Burberry Heart Print Calfskin Trainers, $495 at Burberry
To get the full obsession experience, you have got to check out how the heart print looks on dresses and shirts:
On handbags and accessories:
And on this so-cute-you'll-die mommy-and-me pair of trench coats:
Have you fallen in love yet?