Marvel's Black Panther was one of the most successful films of 2018, with the second film set to release in November 2022.
The late Chadwick Boseman portrayed King T'Challa, the Black Panther, with Lupita Nyong'o starring as his love interest, Nakia.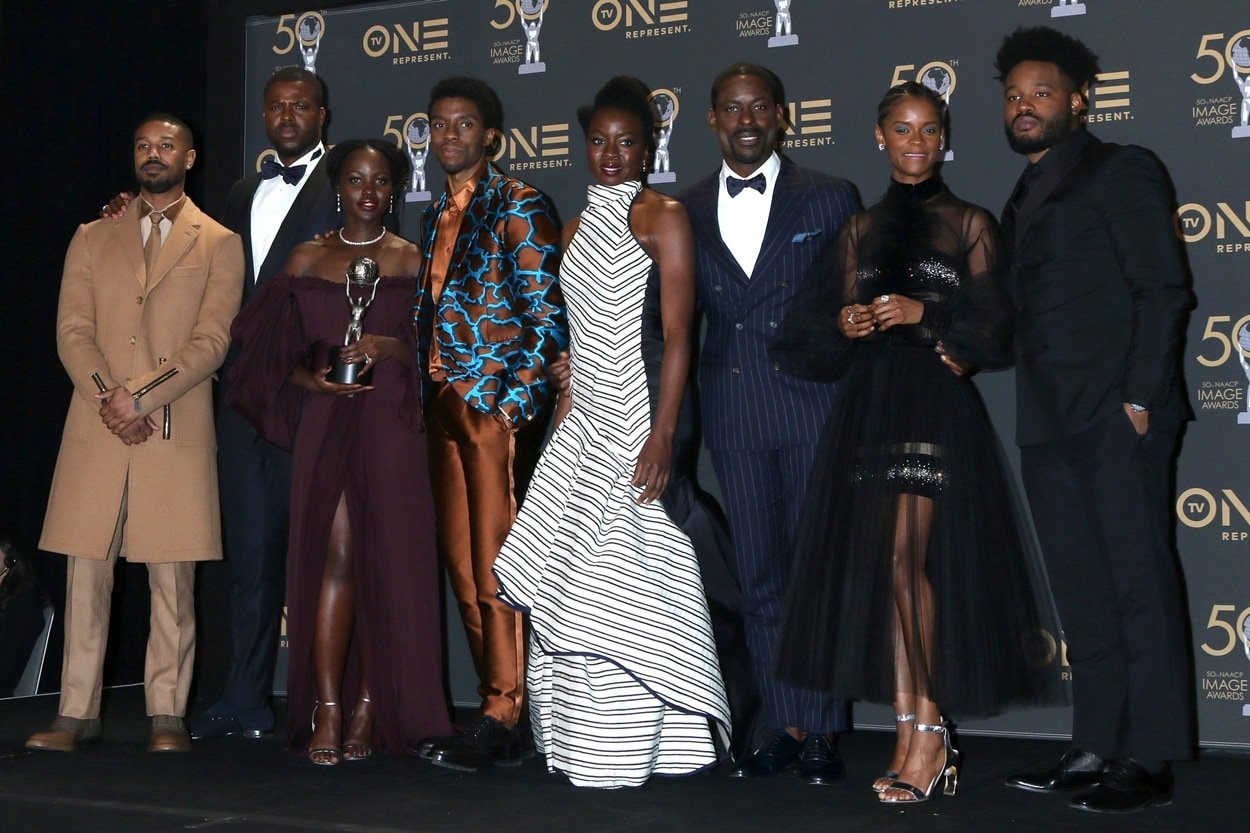 Michael B. Jordan, Winston Duke, Lupita Nyong'o, Chadwick Boseman, Danai Gurira, Sterling K. Brown, Letitia Wright, and Ryan Coogler celebrate yet another Black Panther award at the 50th NAACP Image Awards at Dolby Theatre on March 30, 2019, in Hollywood, California (Credit: Kathy Hutchins / Shutterstock)
The film remains one of the most successful films in the Marvel Universe. Nyong'o will be returning for the sequel Black Panther: Wakanda Forever.
Lupita Nyong'o as Nakia
When we meet Nakia onscreen, we find out that she is a War Dog, a member of Wakanda's CIA. Nyong'o was 35 years old when she first appeared in the Marvel Universe.
Her portrayal of the fierce Nakia in Black Panther is much beloved by fans, but she almost occupied a different role in the MCU. The iconic actress auditioned for a role in Guardians of the Galaxy before she ever auditioned for her role in Black Panther.
Lupita Nyong'o as Nakia and Letitia Wright as Shuri in the 2018 American superhero film Black Panther (Credit: Walt Disney Studios Motion Pictures)
The first Guardians of the Galaxy film dropped in 2014, and Nyong'o originally went after the role of Nebula, the formidable assassin. Ultimately, Karen Gillan was cast as the character.
Nyong'o had to wait four years for another impressive role in the MCU to come her way, but her portrayal of Nakia was well worth it.
Nyong'o was slated to appear in the Avengers: Endgame ensemble fight scene. She did not appear in the movie, despite being depicted in the film's concept art.
She didn't give a public reason for her absence, but she filmed three additional movies in the same year so she likely had a full filming schedule.
Preparing for her role as Nakia
Portraying a superhero takes a ton of hard work and dedication to be convincing on screen, and Nyong'o doesn't disappoint in Black Panther.
The award-winning actress talked about her grueling preparation for the role in an interview with Collider. She also mentioned her lean protein and healthy carbs diet, intensive workouts, and early rising hours.
Nyong'o comments that the role takes "physical endurance and a commitment to your body like nothing else. But it's been so much fun to challenge my body in this new way," she told Collider.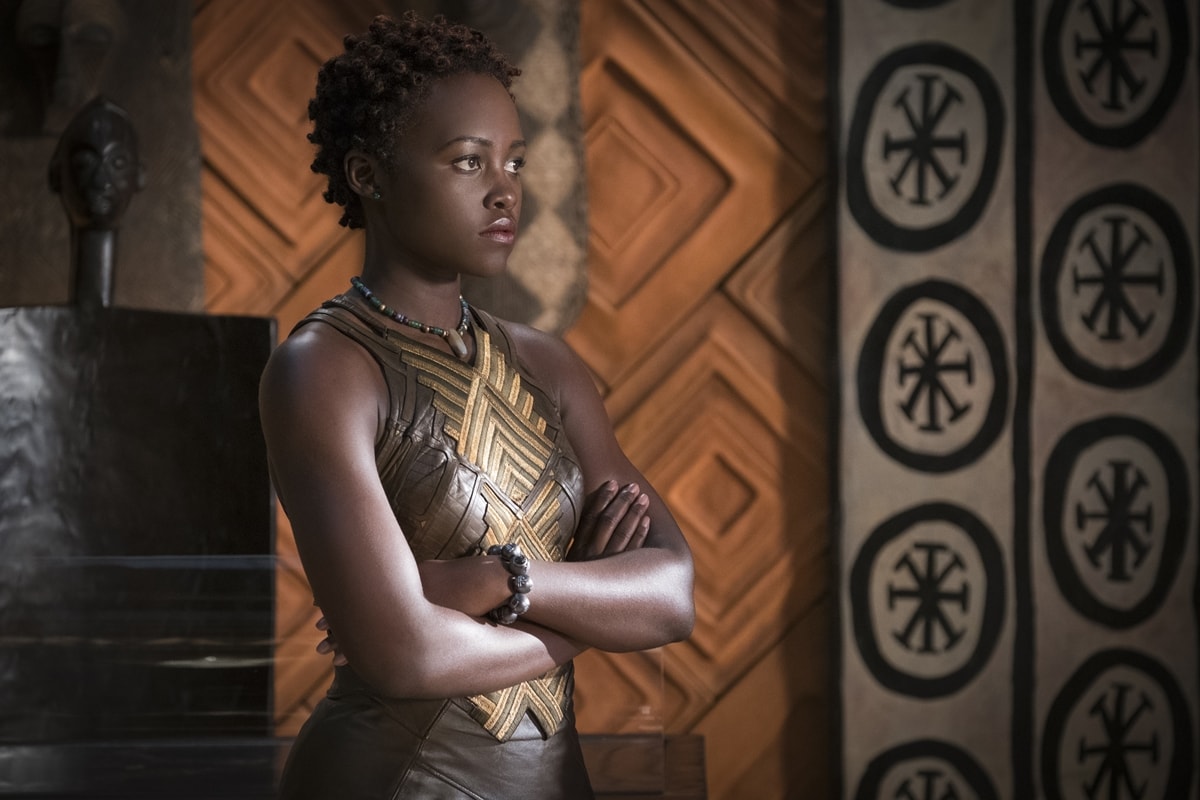 Lupita Nyong'o trained hard in preparation for her role as Nakia in Black Panther (Credit: Walt Disney Studios Motion Pictures)
The movie's action scenes are inspired by African martial arts. Nyong'o was a newbie to fighting styles and trained hard in preparation for the movie. Nakia's fighting style takes elements from Judo, Jujitsu, Silat, and Filipino martial arts.
The Oscar-winning actress pushed her body to the limit for her first MCU appearance, showcasing her newly acquired martial arts skills.
Black Panther director, Ryan Coogler, was integral to helping her identify how to play the physical side of Nakia's role because he was a football player with some boxing training.
"He has the mind of a fighter in a way that I really need, because sometimes I'm like, "I don't know what a fighter would do right now." So to have someone who has that instinct has been very, very helpful," she told Collider.
Filming Black Panther
Nyong'o praised director Coogler for being collaborative and a great team player. He paid close attention to detail to bring Wakanda to life on screen.
Coogler, the youngest director in Marvel's history, brought in experts on African History and politics to add depth to Wakanda.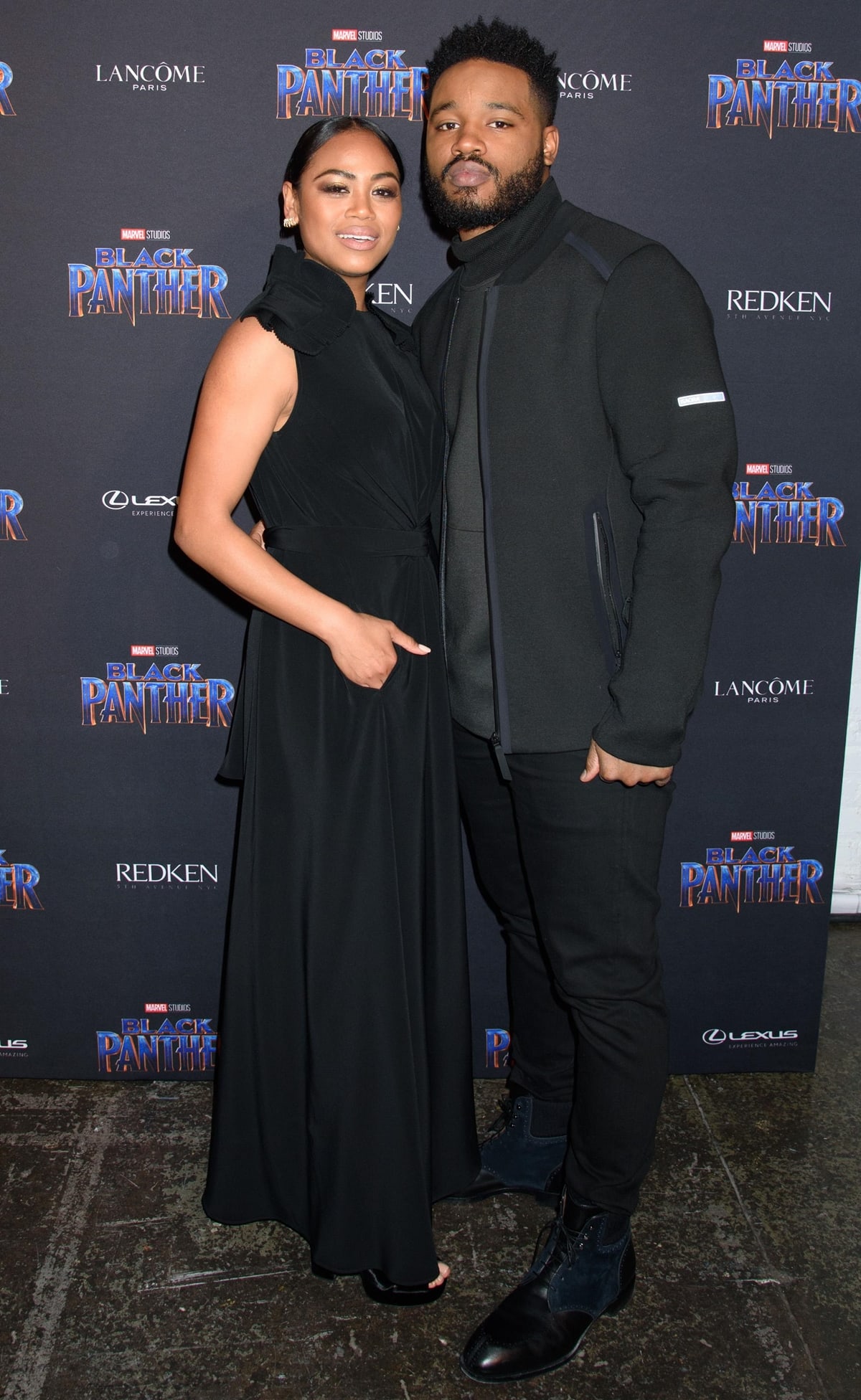 Director Ryan Coogler and his wife Zinzi Evans attend the Marvel Studios Black Panther Welcome to Wakanda New York Fashion Week Showcase at Industria Studios on February 12, 2018, in New York City (Credit: Janet Mayer / Startraksphoto)
"There are many African countries, each with different histories, mythologies, and cultures. There are several tribes who live amongst each other and together they make the identity of their country. We honed in on some of the history/cultural influences from African countries and then made estimations," said Coogler on creating Wakanda.
Black Panther is one of the most successful MCU movies to ever be released, largely thanks to the director's portrayal of Wakanda and the characters.
Nyong'o on returning for Black Panther 2
Going back to set is a difficult prospect for Nyong'o, and is feeling a lot of complicated emotions about filming without Boseman.
Boseman's passing still feels raw to Nyong'o, and she "can't even begin to imagine what it will be like to step on set and not have him there," she told Yahoo Entertainment.
Lupita Nyong'o's Black Panther co-star Chadwick Boseman, who portrayed as T'Challa / Black Panther, died from colon cancer on August 28, 2020
Understandably, moving on in the franchise without Boseman, whom she was very close to, will be challenging for Nyong'o and the rest of the cast.
Black Panther: Wakanda Forever will be different from what fans expected after the first film's success with the death of Boseman and a new Black Panther. But Nyong'o will no doubt wow audiences again with her role as Nakia.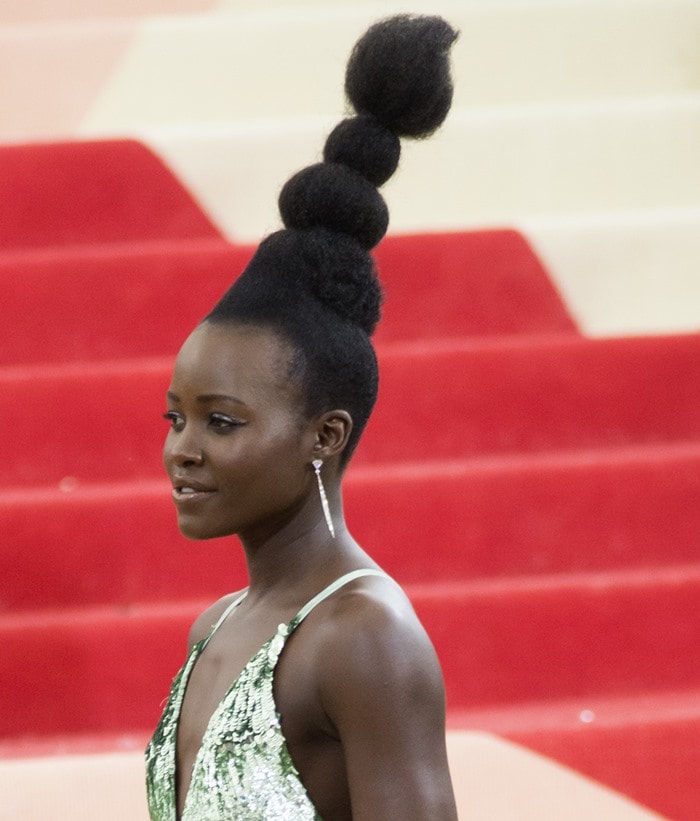 Lupita Nyong'o styles her hair into a towering updo at the 2016 Metropolitan Museum of Art Gala held on May 2, 2016, at the Metropolitan Museum of Art in New York City (Credit: WENN)
In May 2016, Lupita Nyong'o wore her hair in a towering Marge Simpson-inspired up-do while walking the red carpet at the 2016 Met Gala held at the Metropolitan Museum of Art in New York City.
Since Beyoncé ditched Jay Z, perhaps we should not be surprised that Lupita did not invite Homer?
"Well, the sculptural hairdo's from around the continent," the popular actress told Vogue's contributing editor Andre Leon Talley on the red carpet, later adding that it was also inspired by civil rights activist Nina Simone.
While her skyscraper hairstyle was unforgettable, unfortunately, we can't say the same about her dress.
Lupita wore a jade-colored sequined Calvin Klein gown that featured velvet straps and a sheer tulle train.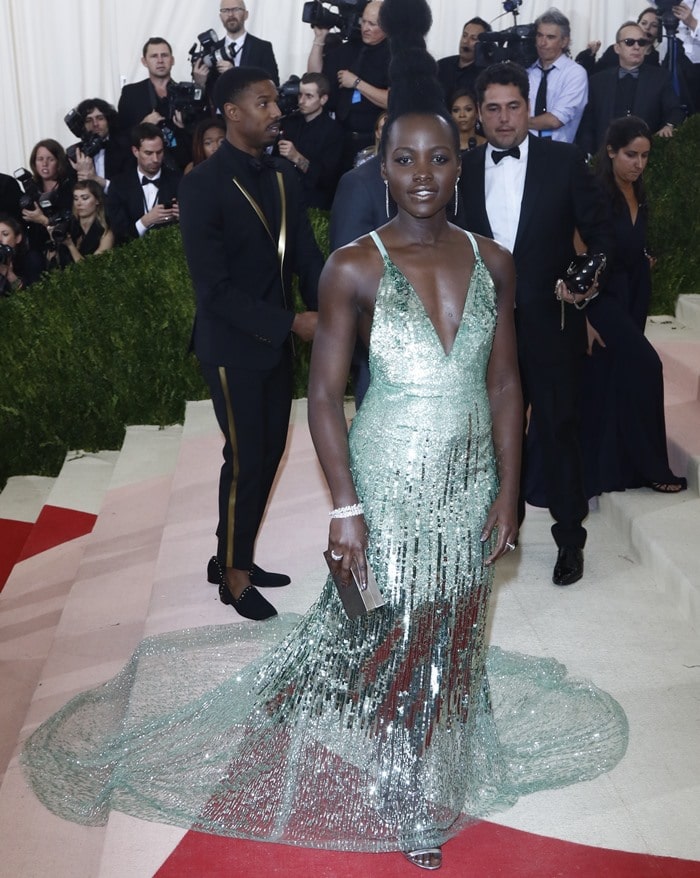 Lupita Nyong'o sparkles in a sequined Calvin Klein dress (Credit: WENN)
She styled the underwhelming dress with Tiffany & Co. jewelry and a pair of "Minny" heels by Jimmy Choo.
Lupita Nyong'o, Margot Robbie, and Emma Watson pose for photos on the steps of the Met Gala (Credit: WENN)
What do you think of Lupita's Met Gala look?
Lupita Nyong'o, Margot Robbie, and Emma Watson all wearing Calvin Klein Collection (Credit: WENN)
Regardless of your feelings about Lupita's dress, you can purchase Lupita's popular Jimmy Choo sandals in different versions at Net-a-Porter, Farfetch, and Mytheresa.
Jimmy Choo "Minny" Sandals, $750 – $795