Madonna is a very well-known American singer, songwriter, and actress, who rose to fame in the '80s and '90s.
Sean Penn is also an American actor, director, producer, and screenwriter, who has won two academy awards for his roles.
Sean Penn and Madonna attend An Evening of Music, Art, Mischief, and Performance to benefit Raising Malawi presented by Madonna at Faena Forum on December 2, 2016, in Miami Beach, Florida (Credit: Starpress / WENN)
Together, the two are both famous Americans, known by most of the world. So, what was their relationship like and why exactly did they get a divorce?
We're going to take a closer look at the couple's relationships and why things didn't work out for them both.
How Did Madonna and Sean Penn Meet?
They met back in 1985, on set whilst filming for the music video for Material Girl. Sean had a former assistant who was working on the set for the music video, whom he was visiting there.
He went to the set purely to get a backstage look at the making of the video, and this is how they ended up meeting. Apparently, it was love at first sight for them both, with them getting married only 6 months later.
Then-newlyweds Sean Penn and Madonna starred in 1986's Shanghai Surprise (Credit: Metro-Goldwyn-Mayer / WENN)
They got married in August 1985, on Madonna's 27th birthday, making it just 6 months after they first met.
View this post on Instagram
The wedding ceremony was held at a mansion in Malibu and featured some famous guest celebrities. The day after their wedding, Sean Penn turned 25, so they almost shared a birthday too.
What Movies or Projects Did They Work on Together?
With Madonna being an actress and Sean being an actor, along with working in the film industry, it was only a matter of time before they appeared on the big screen together.
In 1986, they both starred together in the adventure comedy film, Shanghai Surprise. Still considered one of the worst films ever made, it was torn apart by critics and performed poorly at the box office.
Sean Penn as Glendon Wasey and Madonna as Gloria Tatlock in the 1986 adventure comedy film Shanghai Surprise (Credit: Metro-Goldwyn-Mayer / WENN)
Moving away from films and more onto what Madonna is well-known for, she dedicated her album True Blue to Sean. The album was inspired by her husband and was released in June 1986. This was Madonna's third studio album.
Why Did Madonna and Sean Penn Split Up?
During their relationship, they had their ups and downs. Once the two were married, it appeared that Sean's true colors started to show, as he had his fair share of outbursts and temper tantrums.
He became very jealous and hated to see other men around Madonna. With Madonna being in the music and film industry, it was common for her to be around other men.
This is when things started to escalate in their relationship, in April 1986, Sean attacked a songwriter in a nightclub, because he thought he had kissed Madonna.
View this post on Instagram
The man accused was someone that Madonna knew, so this started to cause problems in their relationship and showed a lack of trust.
They were also too similar in the relationship, which caused a few issues. They shared traits such as tempers, big egos, and stubbornness, which led to many problems between them.
Many people close to Madonna, including her closest friends, didn't like Sean. Many of her friends and family disliked him, seeing him as being immature and spoiled, along with seeing many of his temper tantrums.
There were a variety of reasons as to why the pair didn't work their marriage out, with a lot being that they were too similar and Sean having a lot of insecurities, around their relationship which affected it.
In December 1987, Madonna filed for divorce for the first time, before withdrawing the papers. However, it wasn't long until the she filed for divorce again, in 1987.
Did They Have Any Children Together?
Although they were married for 4 years between 1985 and 1989, the couple shared no children together.
They moved onto other relationships, where through their life they have had kids with other partners, but they didn't have any together.
The Age Difference Between Madonna and Sean Penn
Madonna was born on August 16, 1958, while Sean was born 2 years later on August 17, 1960. There isn't a big age gap between the two of them, so they're similar in age. Sean's birthday is also the day after Madonna's.
Pop icon Madonna and actor Sean Penn were married from 1985 to 1989(Credit: Metro-Goldwyn-Mayer / WENN)
When the couple got married, this was on Madonna's 27th birthday, with Sean turning 25 the day after. They were together for 4 years before then getting a divorce and moving on to other relationships in the future.
The Reason Why They Remained Friends After Their Divorce
Although their marriage came to an end, they have always continued to remain friends. They have always supported each other's careers and spoken highly of each other in interviews.
Back in 1991, Madonna released a documentary, which she was asked to name the love of her life, in which she whispered back 'Sean'.
In 2015, Sean was spotted attending two nights on Madonna's Rebel Heart, to which he later admitted that he still loves his ex-wife, Madonna.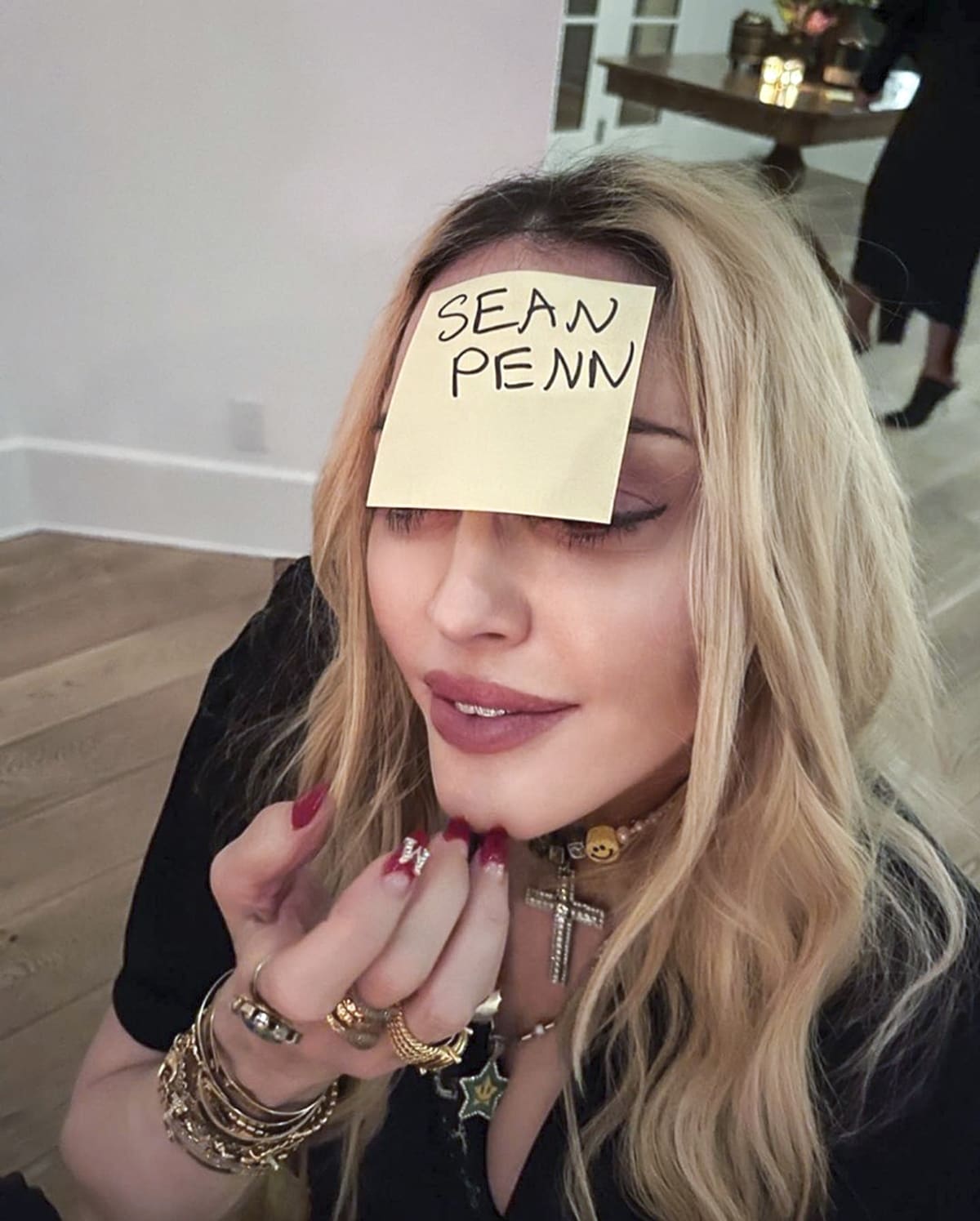 Madonna has her ex-husband Sean Penn's name written on her head on a Post-It Note during a round of Forehead Detective in October 2021 (Credit: Avalon / WENN / Madonna's Instagram)
The pair have always remained friends and still share a love for each other, which is why they still have such a great bond, as friends.
Although their marriage didn't work out, nothing bad ever happened between the two, it just wasn't meant to be.
Baseball Bat Incident
During their relationship, there were claims that Sean struck her with a baseball back in 1987, tied her up, and beat her in 1989
Claims have risen about Sean being abusive during their relationship. The claims go back to 1987, where he was accused of hitting her with a baseball bat, and also in 1989, where he was accused of tying her up and beating her.
Madonna has since given evidence towards this, showing that these long-standing claims during their marriage were all untrue.
It all culminated in a $10 million defamation lawsuit against "Empire" creator Lee Daniels in 2015. Madonna backed Sean in the lawsuit and said the allegations of Penn hitting women were untrue.
"I am aware of the allegations that have surfaced over the years accusing Sean of incidents of physical assault and abuse against me," Madonna testified in court documents published by The Daily Beast.
"Specifically, I am aware of the allegations concerning an alleged incident that occurred in June, 1987, whereby (according to tabloid reports), Sean allegedly struck me with "a baseball bat." I know the allegations in those and other reports to be completely outrageous, malicious, reckless, and false."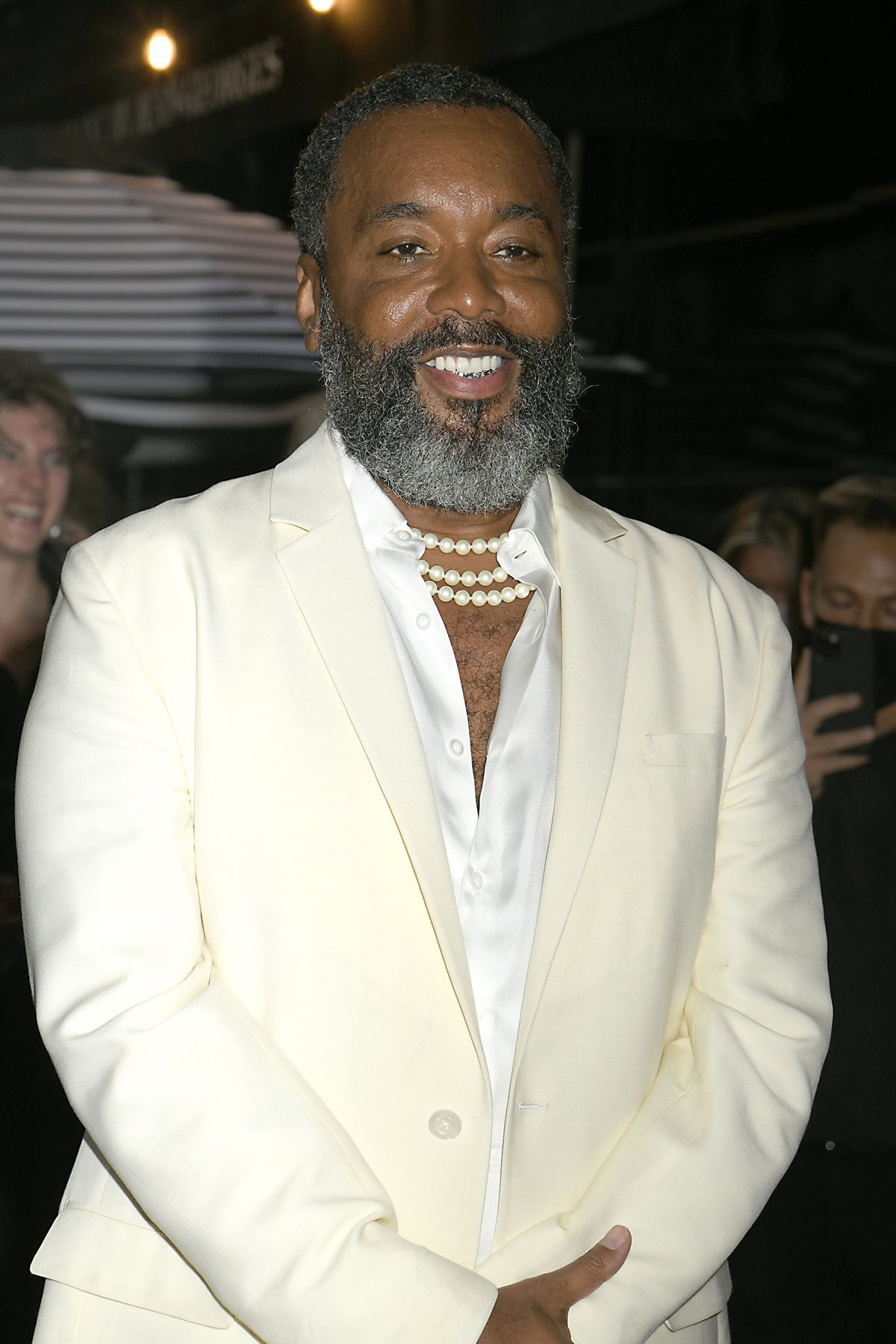 Lee Daniels issued an apology to Sean Penn in May 2016 and made a donation to the actor's Haitian Relief Organization (Credit: Avalon / WENN)
She added: "I am also aware of allegations concerning an incident that occurred in December, 1989, which purportedly resulted in Sean's arrest for domestic assault and battery against me. I know those allegations to be false. While we certainly had more than one heated argument during our marriage, Sean has never struck me, 'tied me up,' or physically assaulted me, and any report to the contrary is completely outrageous, malicious, reckless, and false."
There was a lot of rumored abuse during their relationship, including speculations as they both had a fiery temper, with Sean often showing this in public. However, they both deny any abuse during their relationship and continue to support each other on this.
When a designer brand like Miu Miu makes you a custom pair of shoes, you'll probably want to wear them non-stop. In 2016, Madonna did just that.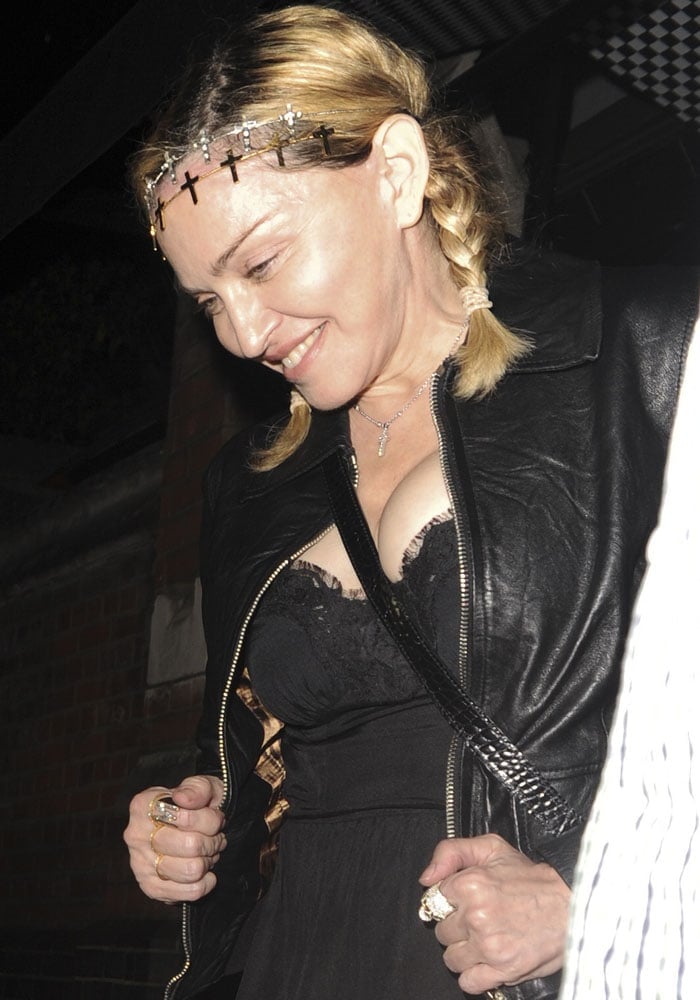 Madonna wears a cross-embellished headband while leaving The Chiltern Firehouse in London on June 30, 2016 (Credit: Tim McLees / WENN)
Miu Miu custom created a pair of shoes for the singer to wear on her "Rebel Heart" concert tour, and it looks like the end of the tour didn't mean an end for these shoes.
Madonna was spotted dining out with her son Rocco at the popular Chiltern Firehouse in London.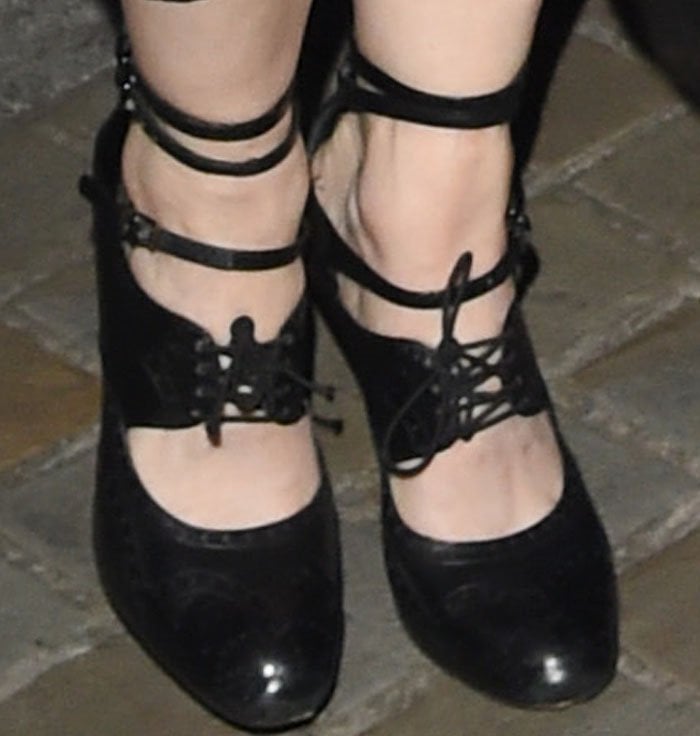 Miu Miu created a set of custom shoes for Madonna's "Rebel Heart" concert, which she still wears out (Credit: Tim McLees / WENN)
Madonna wore a black dress that showed off her ample assets underneath a black leather jacket. The pop icon accessorized with layered bracelets, a crystal ring, and a cross-embellished headband. The aforementioned Miu Miu shoes completed the look.
A little tidbit: they're the same design as the shoes the singer was infamously dragged down the stairs in while performing at the 2015 Brit Awards.
Madonna flaunts her boobs in a black dress underneath a black leather jacket (Credit: Tim McLees / WENN)
Madonna faced a bitter custody battle over her son Rocco several months earlier, which explains why she's extra happy to spend time with her son and daughter.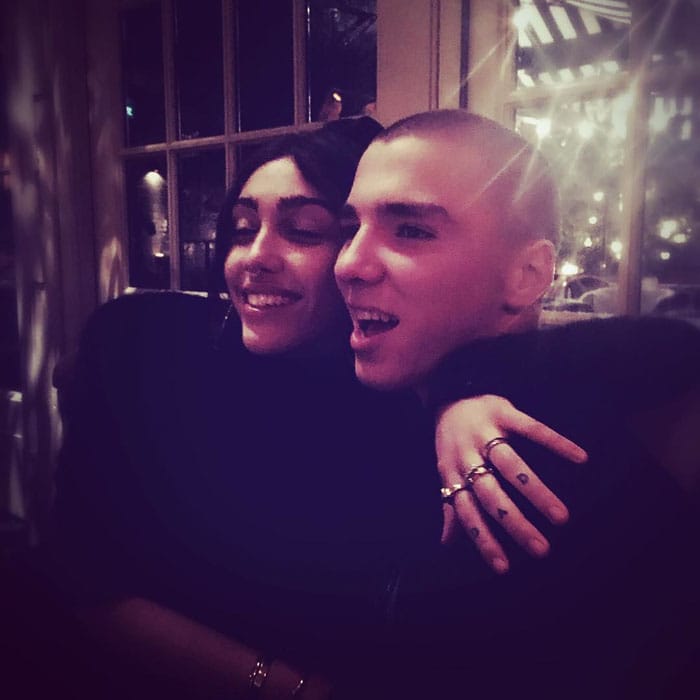 Lourdes Leon and Rocco Ritchie spend time with their mother over dinner (Credit: Madonna's Instagram)
The then 57-year-old superstar even shared a sweet snap of the half-siblings on her Instagram.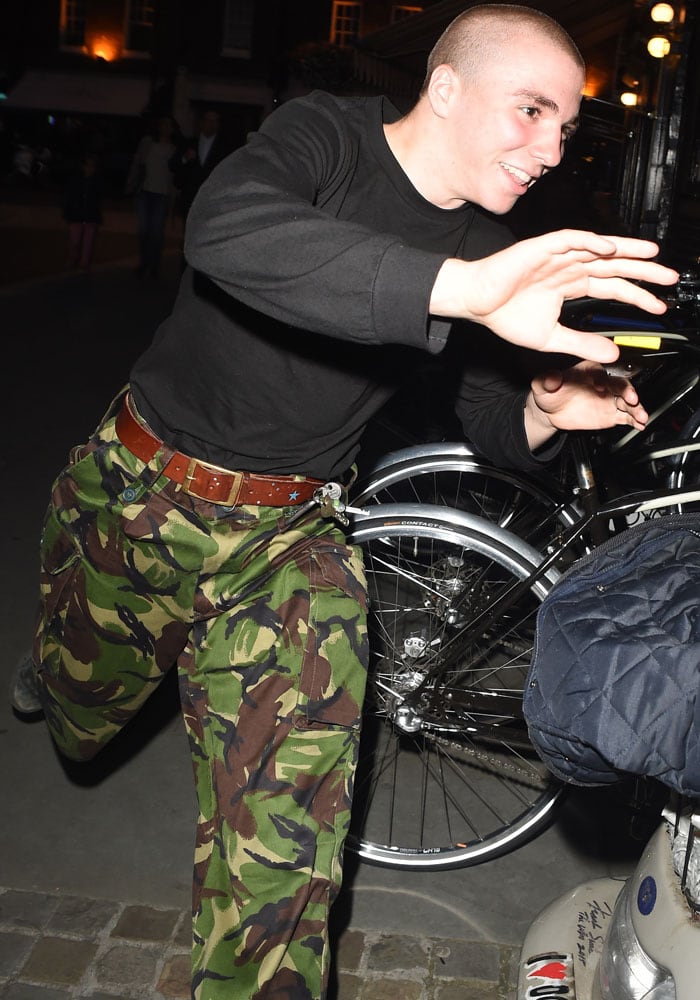 Rocco Ritchie is in high spirits as he tries to dodge the paparazzi (Credit: Tim McLees / WENN)
Miu Miu has some amazing sketches of Madonna's custom shoes, which even include a sexy pair of over-the-knee leather boots.
Check out the sketch for these shoes below.
Custom Miu Miu over-the-knee leather boots (Credit: Miu Miu)
You can order a toned-down Rebecca Minkoff version at Amazon and Farfetch.
Rebecca Minkoff "Brooke" Ankle Strap Pump, $194.95 – $195