Aldo has now ventured into the footwear licensing agreement territory and couldn't have picked a better celebrity to partner with!
Now, this is a celebrity shoe line we can get behind. With songs like "Vogue" and "Material Girl", we're actually wondering why no one offered Madonna her own clothing label sooner.
Madonna at The Cinema Society and Dolce and Gabbana screening of "Filth And Wisdom" at The Landmark Sunshine Theater in New York City on October 13, 2008
Well, now that she does have one — one that's aimed at 27 to 50-year-old women and not at juniors like her Material Girl line — it's now up to us to do the liking (and the buying perhaps?).
Madonna shows off her feet in gun high heels
One look at the three preview Truth or Dare by Madonna pairs and all we can think about is the 80s Maddona and her gladiator-inspired, black and gold-infused 2012 Bridgestone Super Bowl XLVI halftime show.
Maybe that's a good thing because Maddona did pretty much establish a considerable part of fashion for girls in the 80s on her own.
WWD reports that the initial Truth or Dare by Madonna shoe collection consists of more than 60 styles, including flats, heels, booties and over-the-knee boots, and is set to retail for $89 to $349.
This exciting news has piqued the interest of big players in the fashion industry, including Amazon and Nordstrom who are already lined up to carry Maddona's clothing label.
The Truth or Dare by Madonna shoe collection is set to hit the stores in the fall.
That said, do you see yourself expressing yourself in Madonna's shoes? Check them out below: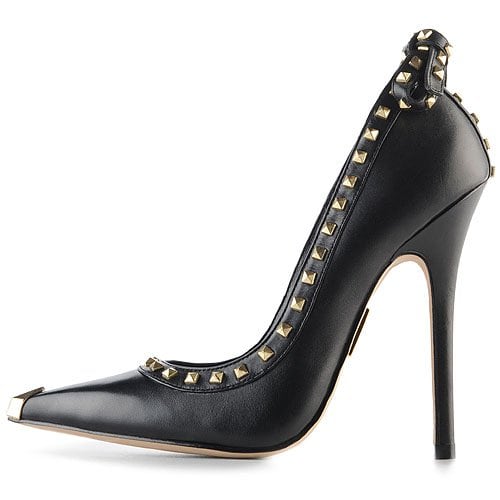 Truth or Dare by Madonna shoes
Credit: WENN