You're likely familiar with Marcellus Wiley, the former NFL sensation turned American sportscaster. Yet, have you heard the enchanting love story that rivals his time on the field?
Amidst the touchdowns and fame, Marcellus Wiley achieved his most significant victory through his beloved wife, Annemarie Wiley. While his professional feats are well-documented, the tale of how their paths crossed remains heartwarming and inspiring.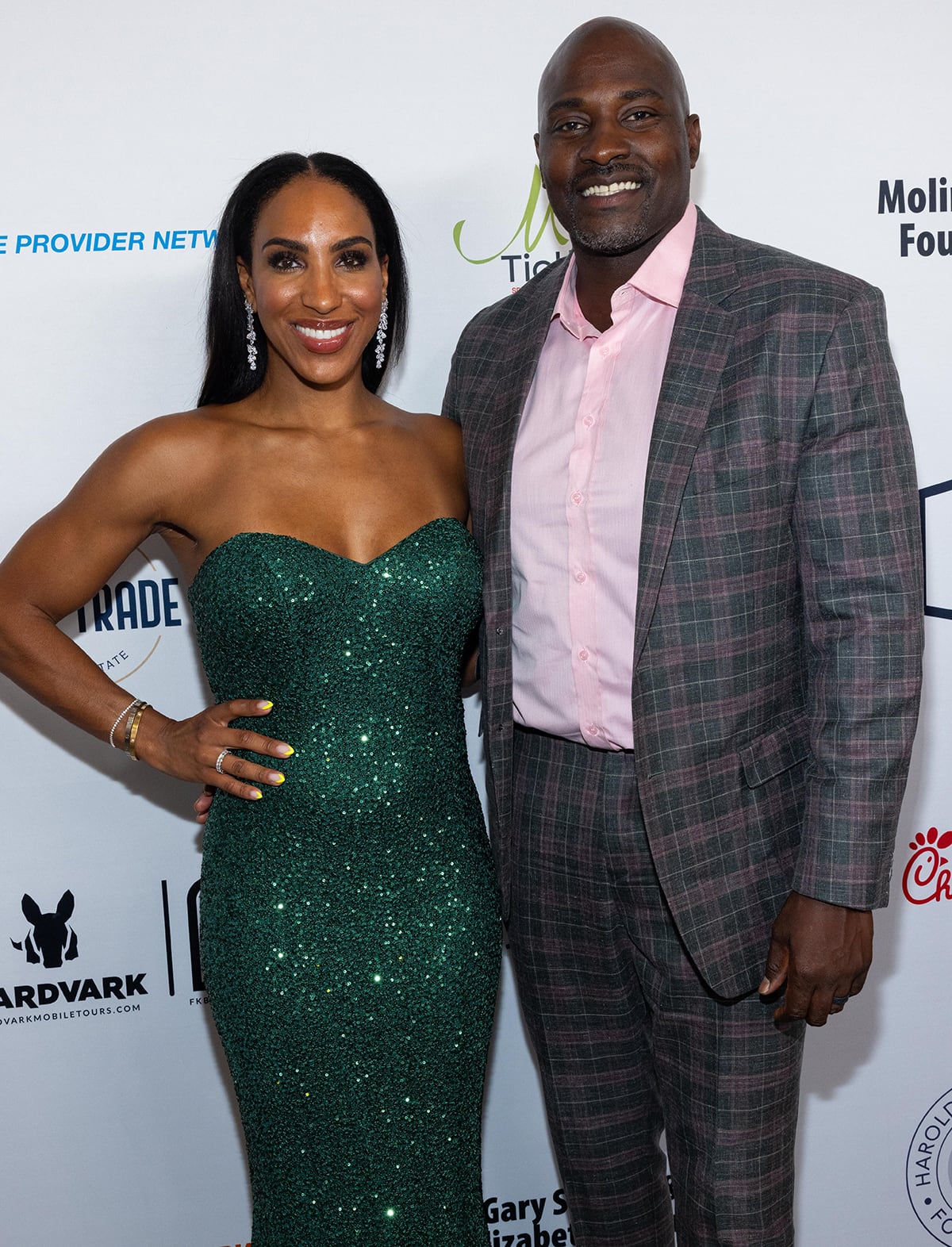 Annemarie Wiley and Marcellus Wiley at the 23rd Annual Harold & Carole Pump Foundation Gala in Los Angeles on August 19, 2023 (Credit: Ryan Hartford / Startraksphoto)
Let's delve into the extraordinary journey of Marcellus and Annemarie Wiley – a story that goes far beyond the football fields, embracing love, destiny, and unwavering partnership.
Marcellus Wiley's Journey From the Field to the Mic
Born November 30, 1974, Marcellus Vernon Wiley Sr., towering 6 feet and 4 inches (193 cm), has a dynamic career spanning the NFL and the media.
Growing up in Santa Monica, California, the 48-year-old displayed prowess in football and track at Saint Monica Catholic High School. His accomplishments included being an All-Conference football player, a valedictorian, and a national typewriting champion.
At Columbia University, Marcellus showcased his talents by playing various roles like tailback, defensive end, and kick returner for the Lions.
His transition to defensive end during his senior year resulted in an exceptional performance, with 63 tackles, 6.5 sacks, and numerous awards.
View this post on Instagram
The next chapter of his journey began in 1997 when Marcellus was selected in the NFL Draft by the Buffalo Bills. For a decade, he displayed his defensive skills with the Bills, San Diego Chargers, Dallas Cowboys, and Jacksonville Jaguars. In 2001, he was chosen as a Charger for the AFC Pro Bowl team.
Transitioning to broadcasting after retiring from playing in 2006, Marcellus' voice became familiar. From hosting the More To It podcast to gracing platforms like ESPN and Fox Sports 1, he shares his insightful perspectives with audiences.
Marcellus' creativity extended to literature as well. In 2018, he published "Never Shut Up: The Life, Opinions, and Unexpected Adventures of an NFL Outlier," which you can buy on Amazon.
Marcellus Wiley at the 2015 USA – Athletes Vs. Cancer Celebrity Flag Football Game at UCLA's Drake Track Stadium (Credit: The Photo Access / Cover Images)
Beyond his accomplishments, Marcellus co-founded Prolebrity, a platform where professional athletes connect, express viewpoints, and promote businesses, charities, and events.
As of 2023, Marcellus Wiley boasts an impressive net worth of $5 million and reportedly earns $350 thousand annually from his diverse range of endeavors.
Meet Annemarie Wiley: A Multifaceted Personality
Standing tall at 5 feet and 7 inches (170 cm), Annemarie Wiley, born on April 18, 1983, and hailing from Abbotsford, British Columbia, Canada, is a remarkable figure beyond her renowned marriage.
With a thriving career as a nurse anesthetist, her dedication to her profession shines through.
View this post on Instagram
In September 2022, the 39-year-old shared on Instagram the essence of her role, writing, "A Nurse Anesthetist (or Nurse Anesthesiologist) is an Advanced Practice RN who independently administers anesthesia for surgery and other medical procedures. Certified Registered Nurse Anesthetists (CRNA) account for approximately half of the anesthesia providers in the United States and are the main providers of anesthesia in rural America. We practice in Hospitals, Surgery Centers, Clinics, and various other areas where Anesthesia is required."
She then mentioned what is needed to become a nurse anesthetist, including at least six years of school, a residency, and working in the intensive care unit. She finished her caption with a playful joke, saying, "Guess we're not a secret anymore."
Annemarie Wiley attends The National Alliance On Mental Illness' A Night Of Music event in Los Angeles on April 18, 2023 (Credit: Faye's Vision / Cover Images)
Her dedication extends to co-founding Project Transition, which enhances personal and community development through education and mentorship programs.
Apart from her professional endeavors, Annemarie's commitment to fitness and family is evident. She not only prioritizes a healthy lifestyle but also strives to motivate others. Her Instagram posts resonate with followers, urging them to embrace self-care as an integral aspect of their lives.
View this post on Instagram
In November 2022, she shared her perspective on health and parenting. Alongside a photo of her weightlifting, she expressed, "Being a mom gives me the best reason I'll ever have to take care of myself. Self care does not have to mean me first, it means me TOO."
She continued, "Taking care of yourself is just as important as taking care of your family… Because you can't pour from an empty cup."
View this post on Instagram
Annemarie also involves her children in her workouts. In another Instagram post, she highlighted the significance of setting an example for youngsters: "When children see their parents enjoying exercising diligently and regularly they naturally become curious, interested, and willing to try."
"It becomes a family habit and eventually, they pick it up on their own and they exercise by themselves. Children will connect physical activity to fun and community! It's a win-win."
Amidst her busy life, Annemarie is reportedly the new face of The Real Housewives of Beverly Hills and will join the 13th season of the show. Her versatile nature and warm personality have already garnered attention from fellow cast members and fans.
View this post on Instagram
Earlier this year, she hinted at her potential appearance with a diamond-themed caption. She penned in the Instagram post alongside a mirror selfie: "💎 Step outside your comfort zone. 💎 Try new things. 💎 Don't turn down novel experiences. 💎 Never stop growing. 💎 And most importantly, SMILE through it all! 😉."
Marcellus Wiley and Annemarie Wiley's Love Story
Marcellus Wiley had been looking for true love, and he found it when he married Annemarie Wiley. It wasn't easy – Marcellus proposed four times and had three failed engagements before he finally found his forever in Annemarie.
Their love story began when the couple was introduced by mutual friends, and in mid-2012, after years of dating, they took the step to get engaged. Their commitment and bond grew stronger, leading to a momentous occasion on June 18, 2014 – the day they became husband and wife.
In celebration of their journey, Marcellus shared a heartfelt post on Instagram on June 18, 2019, commemorating their fifth wedding anniversary.
View this post on Instagram
Alongside a photo of their wedding day, he expressed his deep feelings: "Happy Anniversary to the woman that made all my dreams come true! Thank you for growing with me, keeping me laughing, and showering me with unconditional love. You encourage me to unapologetically be the best version of myself daily."
He added, "Thank you for 3 incredible children, and 7.5 years of near perfection. 5 years down…an eternity to go 💖 Love you @annemariewiley 💕."
For Annemarie's birthday in April 2020, Marcellus expressed his gratitude for her presence in their family's life. Sharing cherished photos from their family outings, he wished her a happy birthday, highlighting her role as the foundation of love in their family.
View this post on Instagram
Marcellus penned in the caption, "Thanks AM for providing the greatest foundation of love for our family. Here's to another year in this crazy world AND here's to adding another little one to this picture 😉🤣❤️ You can do it! 😳🙌🏿"
Marcellus and Annemarie's Growing Family
Family means a lot to Marcellus and Annemarie, and they show it by sharing family pictures on Instagram. Together, they have four kids – three daughters and one son.
Their first child, 24-year-old Morocca Alise, Marcellus' daughter from a previous relationship, was born on February 25, 1999. Then came Marcellus Junior, now eight years old, born on August 12, 2015.
Annemarie Wiley, a nurse anesthesiologist, is the spouse of former NFL player Marcellus Wiley, and they have shared their marriage since 2008, raising four children together (Credit: Michael Mattes / Shutterstock)
The couple's family grew even more with their second daughter, 4-year-old Ariya Jayne, born on January 21, 2019. And their third child, 3-year-old Alivia Marie, arrived on March 27, 2020.
But Alivia's arrival had a unique story because of the COVID-19 pandemic. Hospitals were crowded, and Marcellus and Annemarie had to make an essential choice for her delivery. Even though things were stressful, Alivia was safely born a week before her expected due date.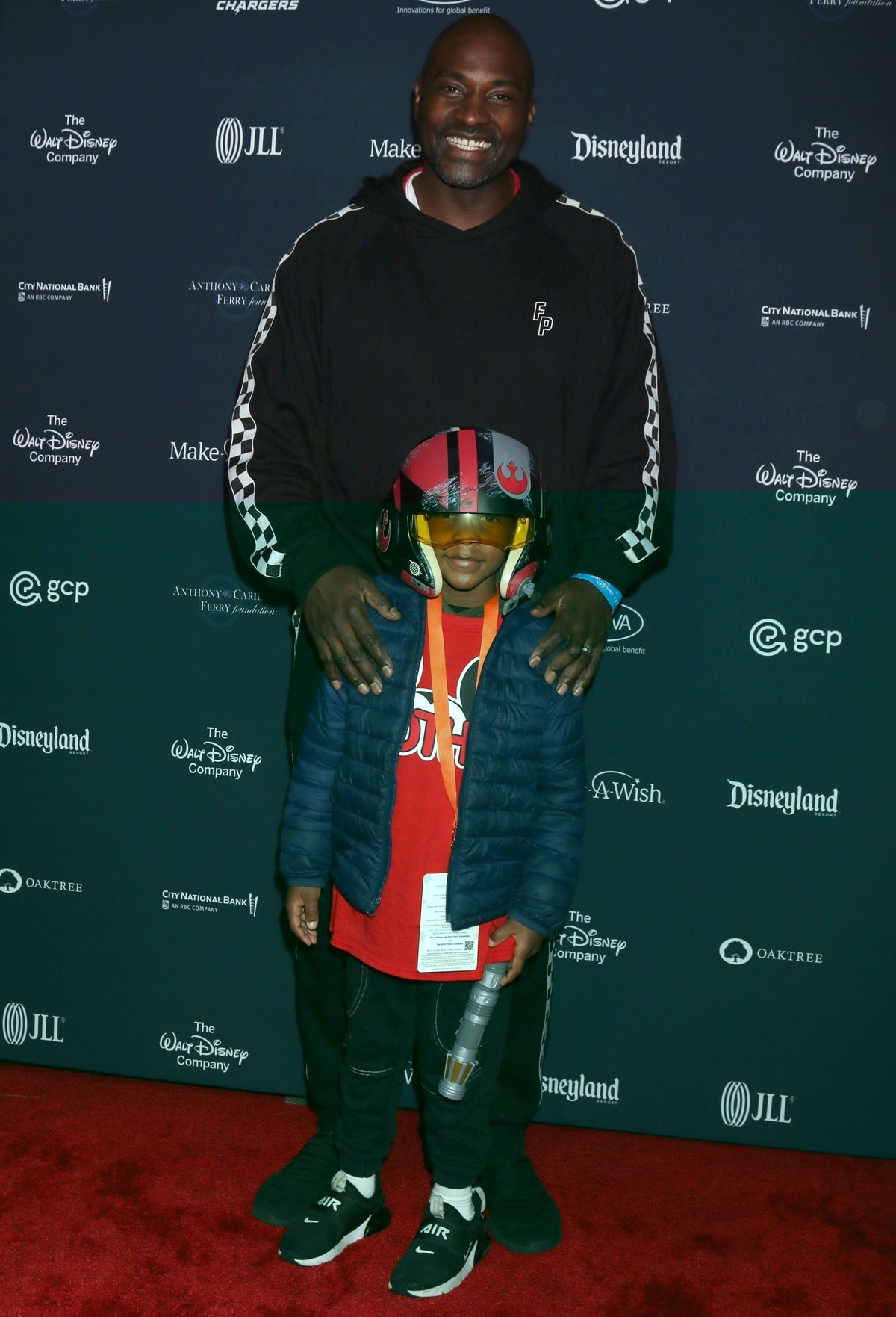 Marcellus Wiley is pictured alongside his son, Marcellus Wiley Jr., attending the 2021 Galaxy Of Wishes event held at Disneyland Park on December 7, 2021, in Anaheim, California (Credit: Kathy Hutchins / Shutterstock
Since then, Marcellus has loved showing off his children on social media and telling everyone what they're up to. In July 2020, he even shared a photo on Instagram with all his kids, saying there's space for one more if Annemarie agrees.
View this post on Instagram
He wrote, "NOTHING fills my heart more than when the house is full of my babies! ❤️ Honestly, I even see room on the floor for a 5th (where those glasses are)😉🤯😳"
Meanwhile, Annemarie is also a fantastic stepmom to Morocca and a loving mother to her children. You can see it in her Instagram posts about her kids.
View this post on Instagram
For instance, on Thanksgiving in 2022, she shared a photo of her family and said she was "Thankful for this beautiful chaos…"