Zoe Saldana and her husband, Marco Perego, looked all loved up at the 2015 GLAAD Media Awards held at The Beverly Hilton in Los Angeles on Saturday evening.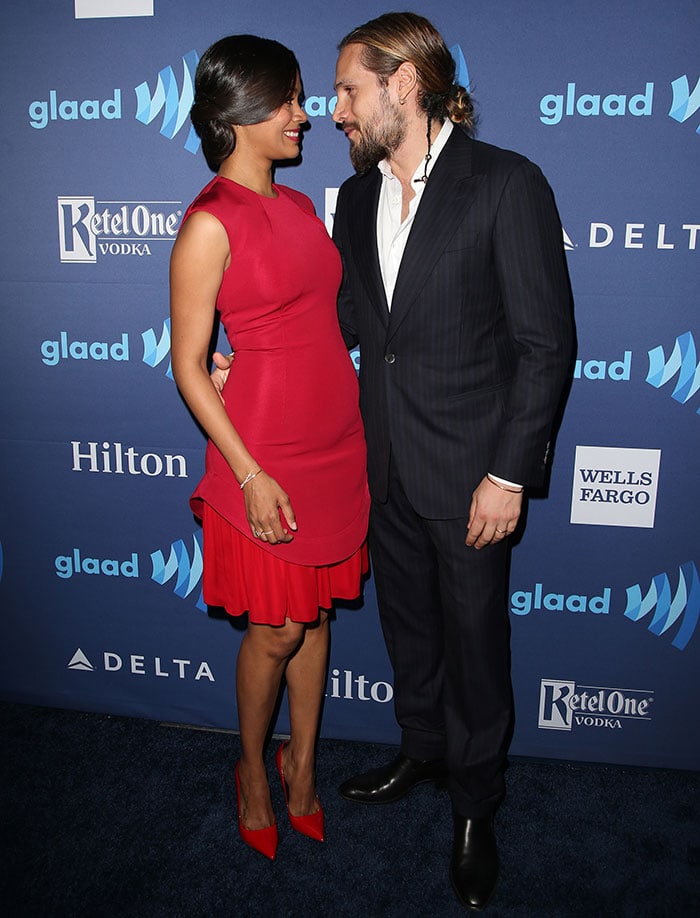 Zoe Saldana and husband Marco Perego at the 26th Annual GLAAD Media Awards at The Beverly Hilton in Los Angeles on March 21, 2015
Marco Perego-Saldana, an Italian artist and former soccer player, has a net worth of around $3 million. While best known as Zoe's husband, he painted the background of Dolce & Gabbana's "Where the Fashion Meets Art" campaign in 2008.
His art has been exhibited at Zurich's Galerie Gmurzynska, the Museo Tuscolano in Rome, the Royal Academy of Arts in London, as well as Art Basel in America at Miami Beach.
Marco Perego-Saldana Facts
Net Worth:
$3 million
Full Name:
Marco Perego-Saldana
Born:
March 1, 1979, in Salò, Italy
Dating:
He married American actress Zoe Saldana in June 2013 in London.
Kids:
He is the father of three boys: Twins Bowie Ezio Perego-Saldana and Cy Aridio Perego-Saldana, and big brother Zen Perego-Saldana.
How Marco Perego met Zoe Saldana:
They met while taking an early morning flight to New York.

The spark was there "before I even saw his face," the actress told USA TODAY. "I just saw him from behind. It was 6:30 in the morning, I was on a flight to New York. And I can't even describe to you, it was a vibration. He turned in that moment, because he felt the vibration as well."
What does Marco Perego do?
He is an internationally renowned Italian/American painter and sculptor whose paintings have sold for about $30,000 a piece.
Height:
5'11'' / 180 cm
Nationality:
American and Italian
In June 2015, she posted a Facebook status to explain why her husband decided to take her surname.
"Fathers, sons, brothers, men everywhere: Your legacy will not perish if you take your partner's surname, or she keeps hers. I've been made aware that a comment I made regarding my marriage has garnered some attention. I felt proud that my husband decided to take my last name as his own… and I his.
"I shared my hesitation with him when he told me about his decision, not only did he say: 'I don't give a shhheeeetttt!!' (with a very strong Italian accent!!) he also asked me: 'Why not? What are you so afraid of?' And it made me wonder… What am I so afraid of?
"Why is it so surprising, shocking- eventful that a man would take his wife's surname? Women have never been asked if its ok for them to give up their names — why doesn't that make the news?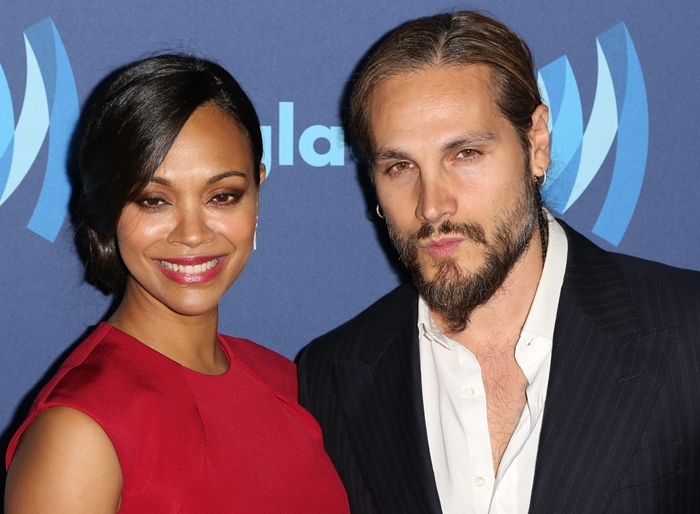 Italian artist Marco Perego met Zoe Saldana on an early morning flight to New York
"Men, you will not cease to exist by taking your partner's surname. On the contrary — you'll be remembered as a man who stood by change. I know our sons will respect and admire their father more because their father lead by example."
The Italian artist was dapper in a pinstripe suit with a half-unbuttoned white shirt underneath as he wrapped his arm around his wife's tiny waist.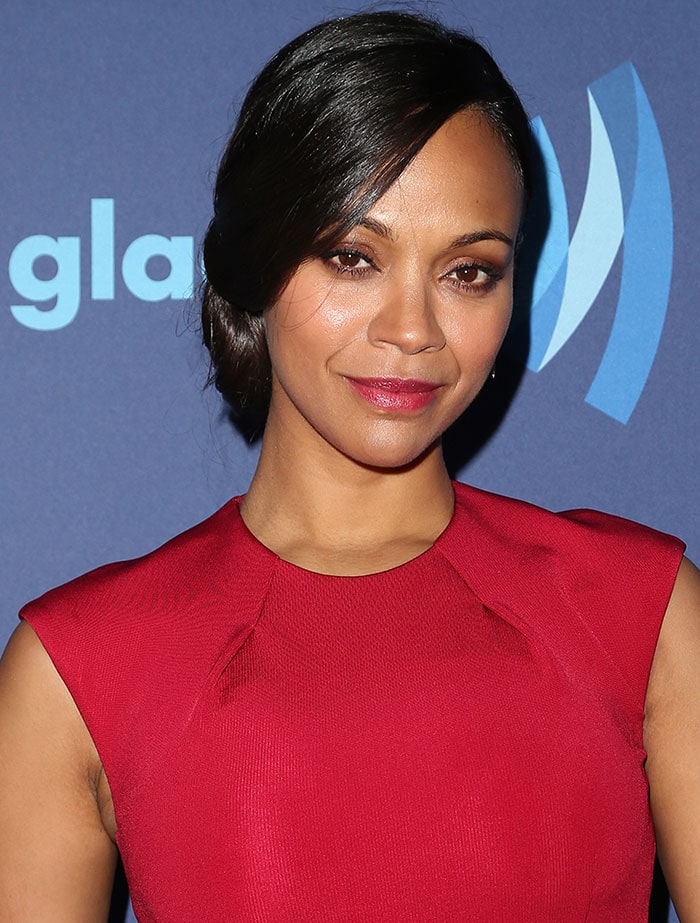 Zoe Saldana's two-tone layered red dress
The 36-year-old actress, on the other hand, flaunted her slender post-pregnancy body in a two-tone layered red dress from the Cushnie et Ochs Pre-Fall 2015 collection featuring a bright red pleated skirt.
Zoe Saldana flaunted her legs and slender post-pregnancy body
Zoe's unique and flattering frock was styled with minimal jewelry, including a few rings, a pair of spiked drop earrings, and a bracelet. She tied her hair up in a bun and wore red lipstick to match her outfit.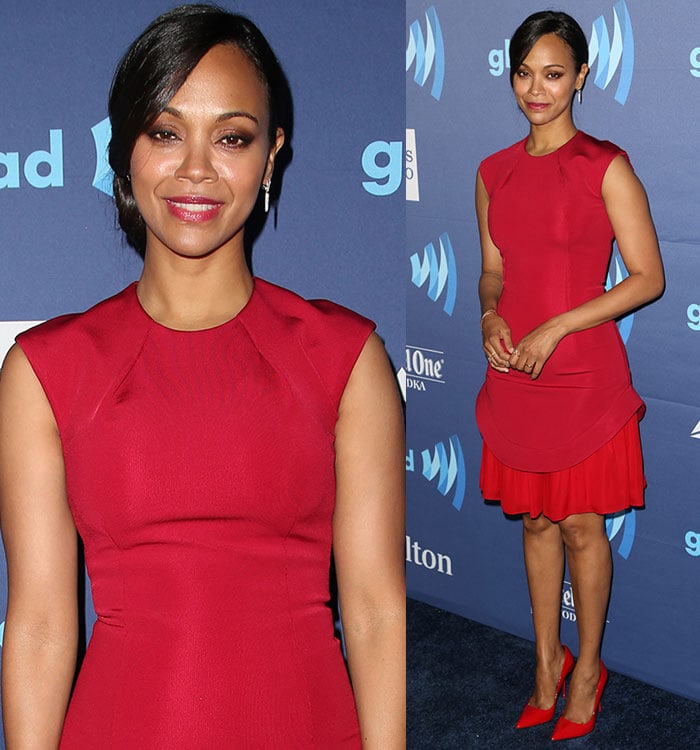 Zoe Saldana tied her hair up in a bun and wore red lipstick
Rounding out her classy look, Zoe Saldana wore a pair of red Kurt Geiger "Britton" pumps.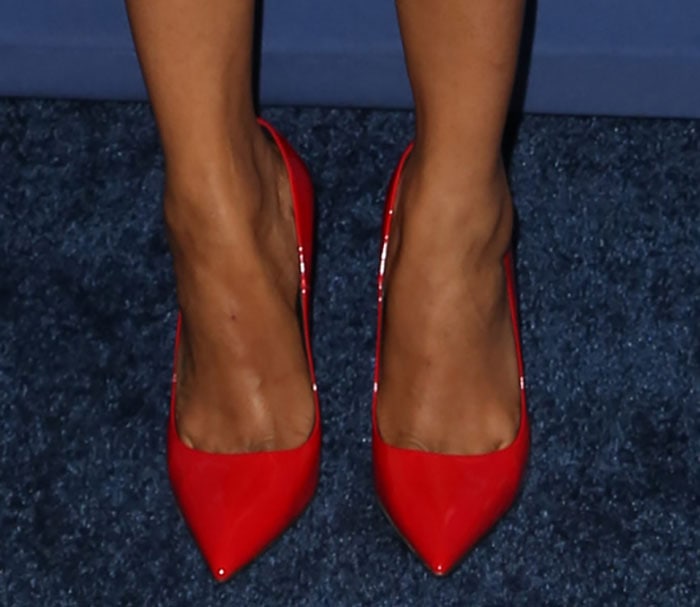 Zoe Saldana's toe cleavage in red Kurt Geiger "Britton" pumps
They are made of patent leather in liquid finish and feature pointed toes and 4.5-inch metal cigarette heels.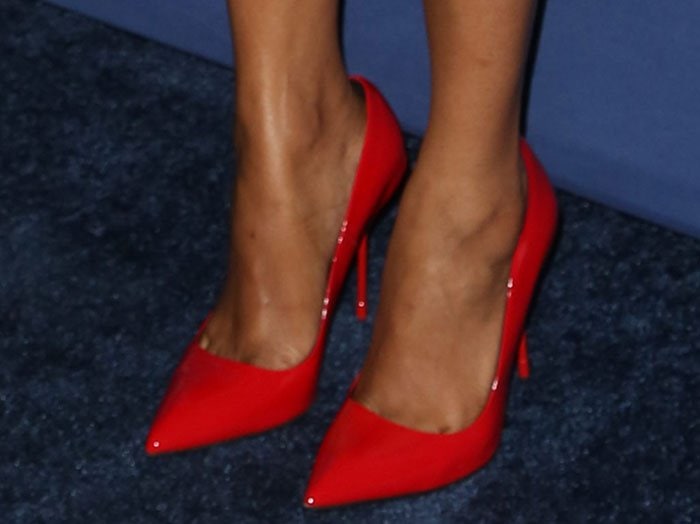 Zoe Saldana's hot feet in red Kurt Geiger pumps
Do you like Zoe Saldana's bold all-red look?
Kurt Geiger Britton Pumps in Red, £250
Credit: Brian To / FayesVision / WENN