Released to rave reviews when it premiered in 2013, The Wolf of Wall Street was not only popular with critics but immensely popular with audiences as well, ending its theatrical run with an impressive box office gross of $116 million USD.
If you've ever seen the film, you'd know exactly why it was such a hit with audiences in particular. The plot of the film is off-the-rails and features scenes of debauchery, drug use, and non-stop partying and indulgence helmed by protagonist Jordan Belfort (played by Leonardo DiCaprio).
Margot Robbie in a long leather coat and boots on the set of The Wolf of Wall Street on September 25, 2012, in New York City (Credit: Dara Kushner / INFphoto)
Starring alongside DiCaprio is Jonah Hill as Belfort's unhinged business associate Donnie Azoff, and Margot Robbie, who famously plays Belfort's sultry mistress (and later wife), Naomi Lapaglia.
Margot Robbie's performance as Lapaglia was easily one of the most recognizable of the film, as her striking beauty and spunky personality helped to shape some of the most memorable scenes of the film, especially when she shared the screen with the enigmatic DiCaprio, who's performance as Belfort was also one of the most popular of the year.
Despite all the fanfare for Robbie's performance, the actress has gone on to state on record that she regrets certain aspects of it in retrospect.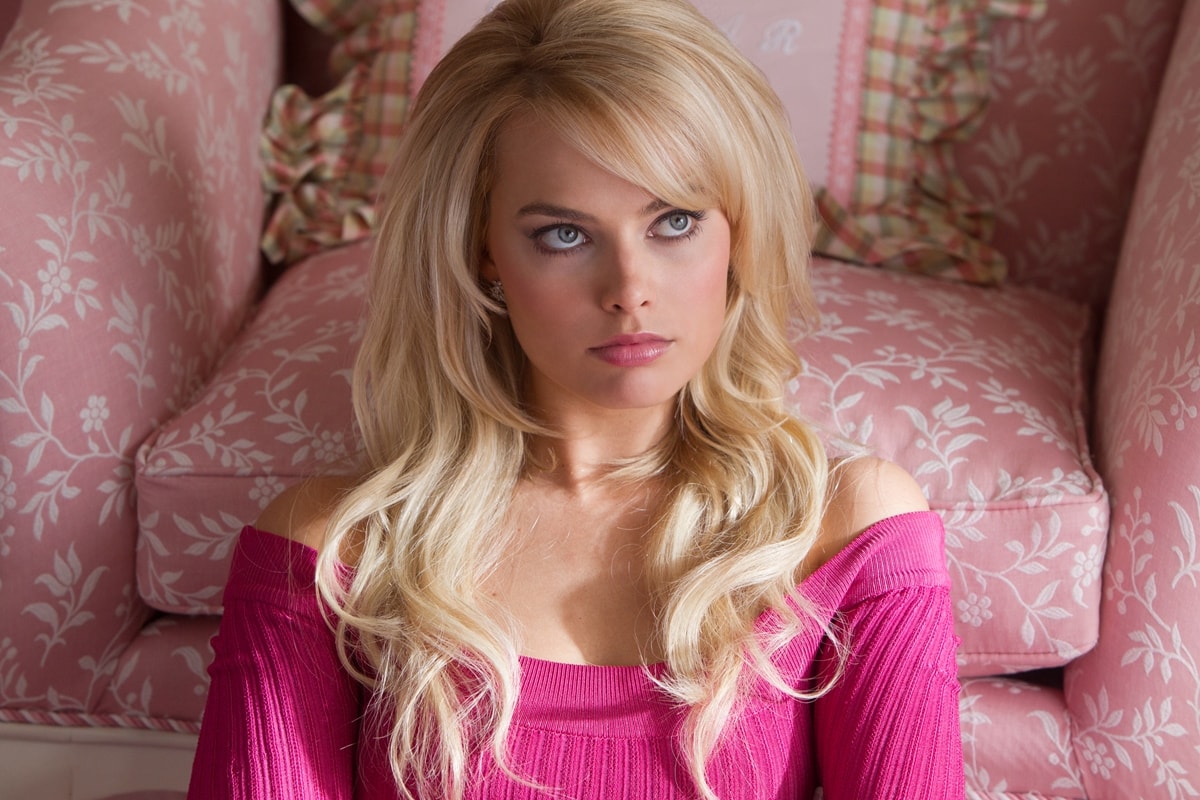 Margot Robbie had her breakthrough as Naomi Lapaglia, the wife of protagonist Jordan Belfort in Martin Scorsese's biographical black comedy The Wolf of Wall Street (Credit: Paramount Pictures)
In this article, we're looking at what Margot Robbie regrets about her work in The Wolf of Wall Street and why.
How Was Margot Robbie Cast in The Wolf of Wall Street?
A Queensland, Australia native, Margot Robbie was born down under on July 2, 1990. From a young age, she sought to pursue a career in acting and landed her first roles whilst in high school, appearing in several low-budget thriller films and television commercials.
Her first serious taste for acting came in the form of guest roles in a variety of television series, including the crime drama series City Homicide and the children's series The Elephant Princess, both in 2008 when Margot was only 18 years old.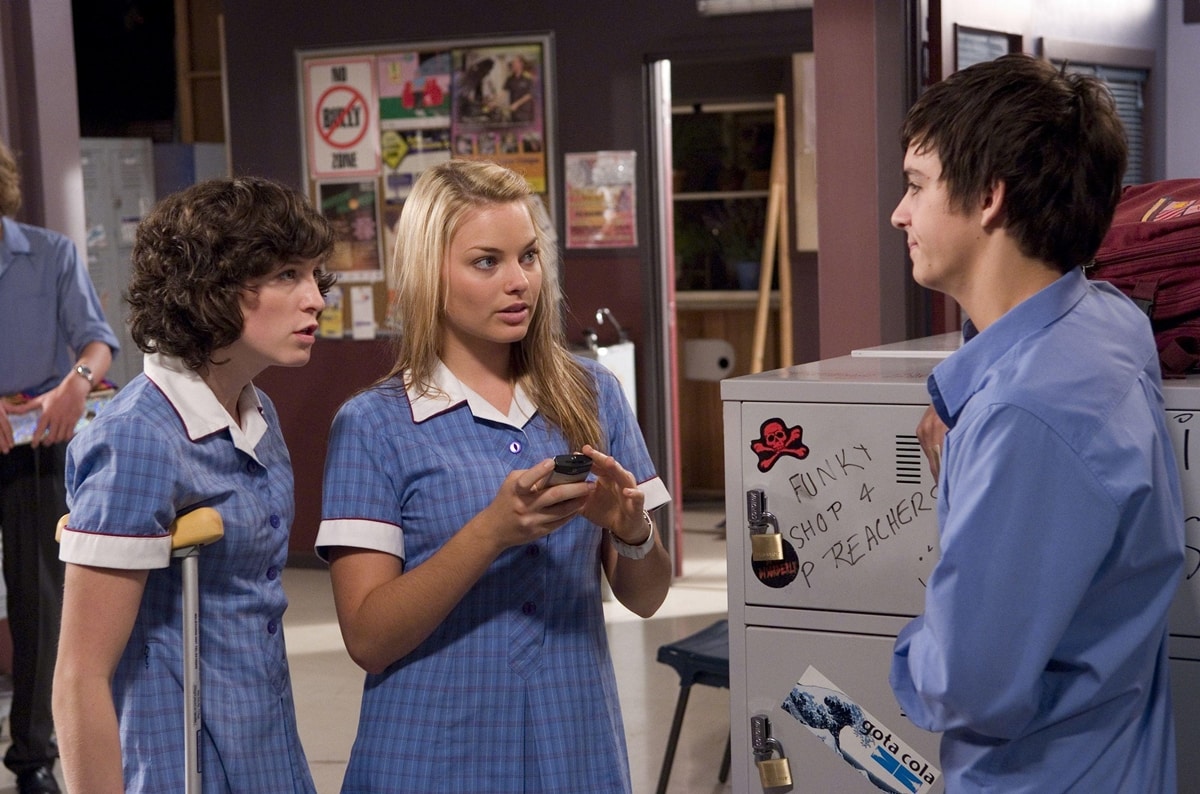 Margot Robbie played Donna Freedman (also Brown) in the Australian soap opera Neighbours (Credit: Network 10)
She continued to act in television, securing the main role as Donna Freedman in the Australian soap-opera show Neighbours for three years and following that role up with a small part in Richard Curtis' About Time in 2013.
Undoubtedly Robbie's breakout role was as Lapaglia in The Wolf of Wall Street, as the role kickstarted her pathway to becoming a huge Hollywood star.
According to director Martin Scorcese, Margot Robbie landed the role of Lapaglia during her audition, where she was acting out a scene in which she argues with Leonardo DiCaprio.
Leonardo DiCaprio as Jordan Belfort and Margot Robbie as Naomi Lapaglia in one of the many sex scenes in The Wolf of Wall Street (Credit: Paramount Pictures)
During the audition, Robbie actually slapped DiCaprio across the face, which both the actor and Scorcese thought was perfect for the character. The rest is history. She was only 24 years old when she was cast as Lapaglia.
Why Margot Robbie Regrets Sex Scene in The Wolf of Wall Street
It's no secret that Margot Robbie is one of the most beautiful women in Hollywood, and her natural gorgeous looks definitely played a part in her landing the role as Belfort's smoking hot mistress in the film.
DiCaprio and Robbie filmed several intimate scenes with one another in the film, and there is one scene in particular that Robbie regrets filming,
In one of these frisky scenes, Lapaglia and Belfort make love on a pile of cash, as Belfort was a notoriously rich investment banker and conman.
Actress Margot Robbie in Armani Privé at the "The Wolf Of Wall Street" premiere at Ziegfeld Theater on December 17, 2013, in New York City (Credit: Dara Kushner / INFphoto)
Seeing as this is a Hollywood production, naturally, the US cash was fake currency, props created by famous prop-making house RJR Props.
This ended up becoming a bit of a sore point for Robbie, as she remarked in an interview with The Daily Beast in 2017: "I got a million paper cuts on my back from all that money! It's not as glamorous as it sounds. If anyone is planning on having sex on top of a pile of cash: don't."
Ouch! We don't know about you, but paper cuts during intimate moments don't sound like a recipe for a good time to us. If that wasn't bad enough, apparently, the texture of the prop money was also rougher than real U.S. currency, which didn't make things comfortable for Robbie, who said: "…the fake money is like paper, and when I got up off the bed, I turned around to get my robe, and everyone gasped." – due to the rough texture of the prop money leaving irritations all over her body.
How Much Did Margot Robbie Earn for Her Role in the Wolf of Wall Street?
Due to her role as Lapaglia being a breakout role for the young Robbie – she was not paid as handsomely as some of her more high-profile co-stars.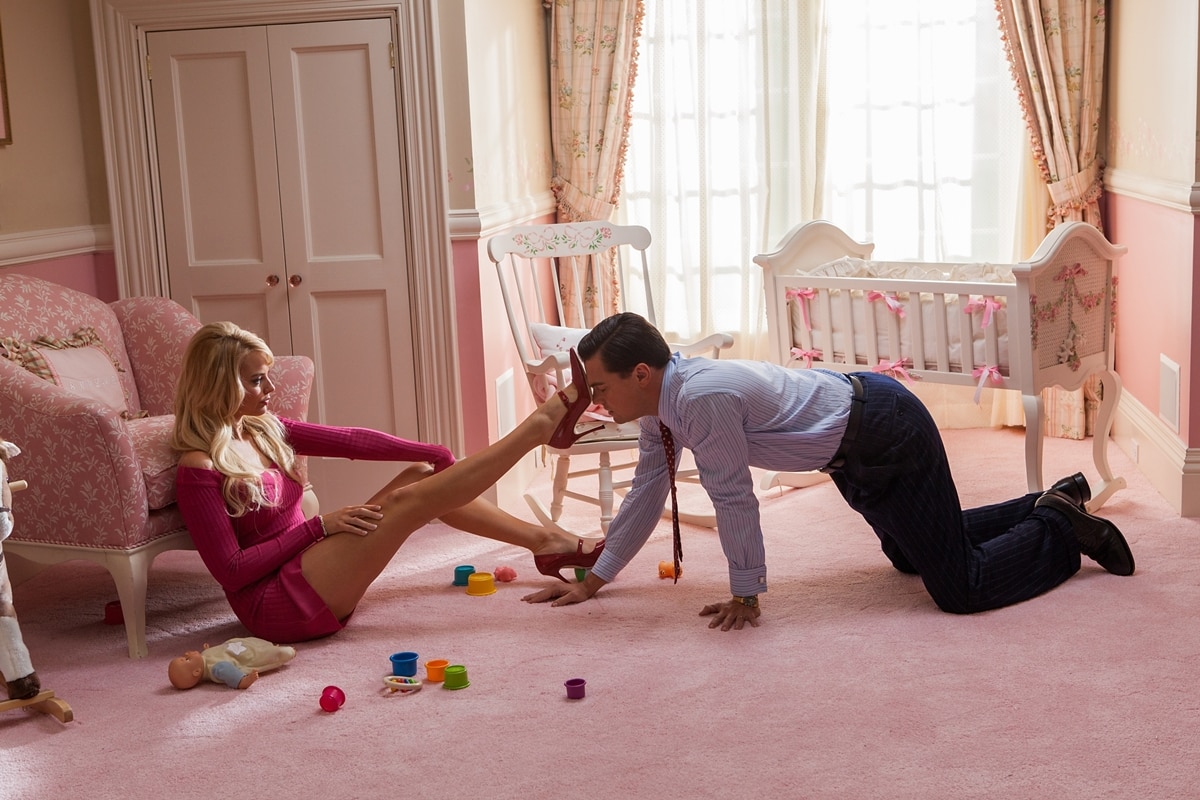 Margot Robbie pushes her high stiletto heels into Leonardo DiCaprio's face in The Wolf Of Wall Street (Credit: Paramount Pictures)
Leonardo DiCaprio reportedly made nearly $10 million USD for his role in The Wolf of Wall Street, while Jonah Hill practically had to beg to work with DiCaprio and Scorsese, only receiving $60,000 USD for his work in the film.
Conversely, Robbie reportedly received an estimated $347,000 USD for her performance in The Wolf of Wall Street. While this obviously pales in comparison to Leonardo DiCaprio, when compared to her co-star Jonah Hill, we think she did just fine considering how little Hill made.
Margot Robbie Insisted on Going Nude for the Wolf of Wall Street
In recent years, many actresses have revealed that they have often felt pressured to appear nude in sex scenes for Hollywood films or that they felt uncomfortable appearing nude but felt as though they had to sustain their careers by doing so.
The opposite is true for Margot Robbie, who actually insisted on appearing nude for her role in the film. According to urban legend, Martin Scorcese offered for Robbie to wear a bathrobe during the filming of her nude scenes, but Robbie refused.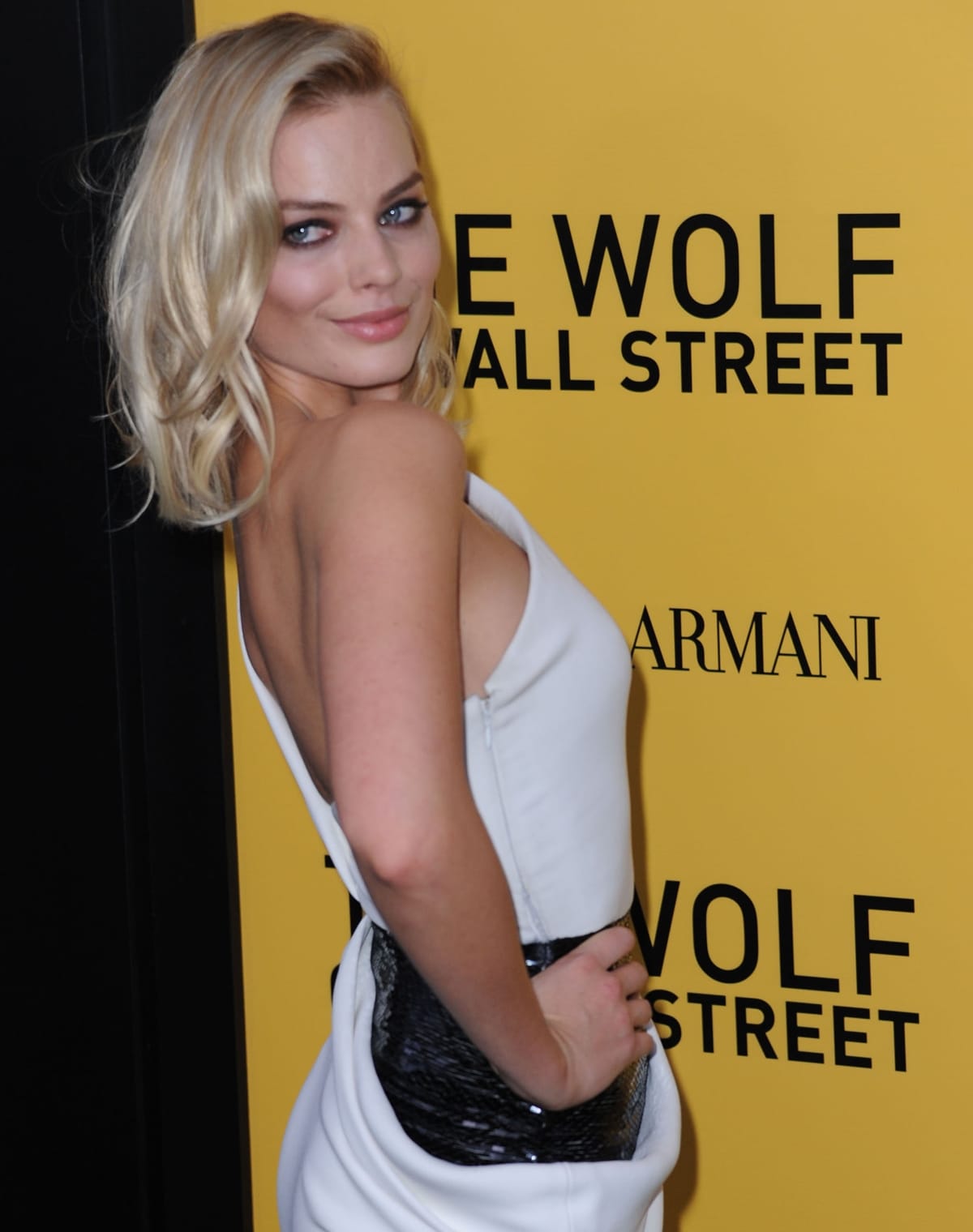 Margot Robbie says she regrets filming a painful sex scene with Leonardo DiCaprio on top of a pile of money (Credit: ACE / INFphoto)
Her reasoning for her insistence on this was related to her performance, as she stated: "The whole point of Naomi is that her body is her only form of currency in this world…She has to be naked. She's laying her cards on the table." – and we couldn't agree more.
Have you seen The Wolf of Wall Street? What were your thoughts on some of the most infamous scenes involving Margot Robbie? When it's all said and done, the film will go down in pop culture history as one of the most thrilling dramatic films of the 2010s.