Scarlett Johansson showed off her huge back tattoo in a shimmering red dress at the premiere screening of her latest film Marriage Story held during the 2019 Venice Film Festival at the Sala Grande on Thursday in Venice, Italy.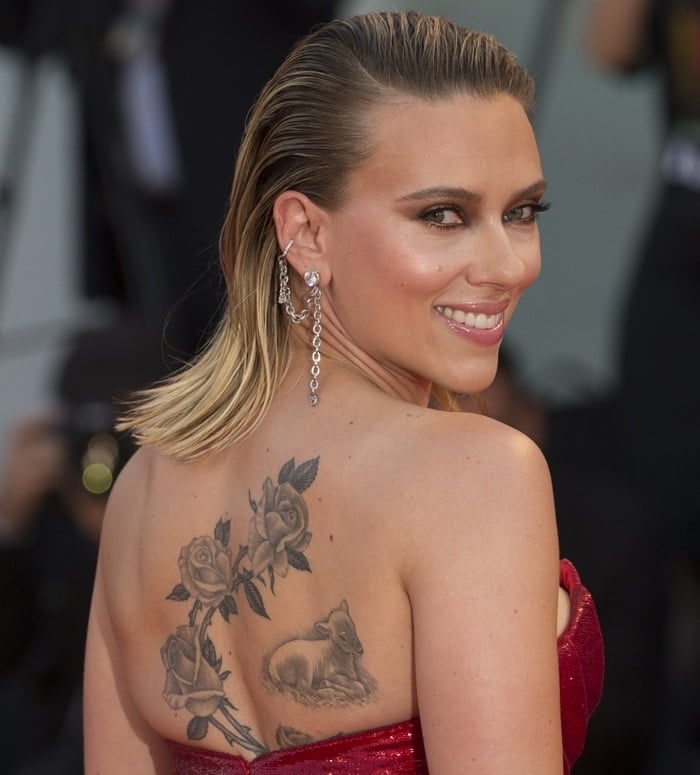 Scarlett Johansson has a massive black-and-white tattoo of a branch of roses on the right side of her back
The 34-year-old actress donned a red dress by Celine by Hedi Slimane and accessorized with an Ana Khouri earpiece. She was joined by her co-stars Laura Dern and Adam Driver, as well as producer David Heyman and writer-director Noah Baumbach.
Scarlett Johansson's raccoon eyes, greasy wet hair, and Ana Khouri earpiece
Marriage Story is Academy Award-nominated filmmaker Noah Baumbach's incisive and compassionate portrait of a marriage breaking up and a family staying together. The comedy-drama film is scheduled to receive a limited theatrical release on November 6, 2019, followed by digital streaming on December 6, 2019, by Netflix.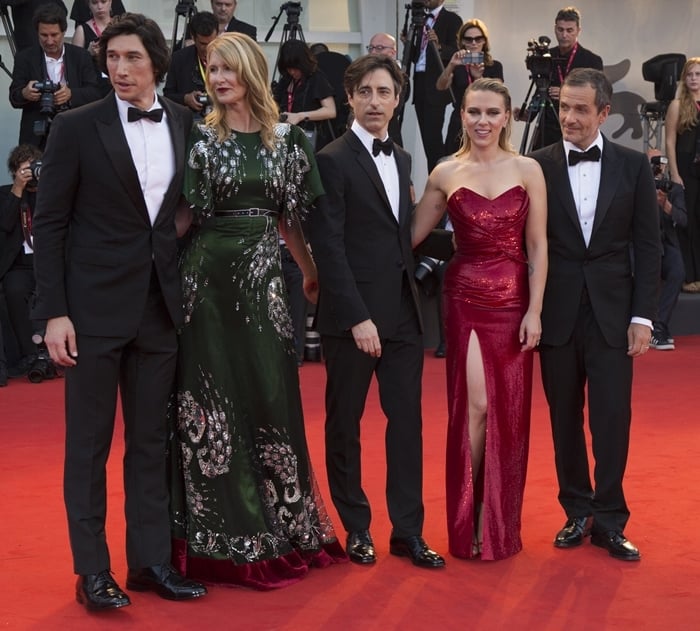 Laura Dern, Adam Driver, Scarlett Johansson, David Heyman, and Noah Baumbach at the premiere screening of Marriage Story held during the 2019 Venice Film Festival at the Sala Grande in Venice, Italy, on August 29, 2019
Variety reports that her divorce from French businessman Romain Dauriac helped her prepare for the role.
"I was actually going through a divorce," Scarlett Johansson shared at a press conference earlier the same. "I didn't know what we were going to talk about… I just kind of blew into the room, ordered a glass of white wine and started complaining. And he was just listening and very attentive. And then he kind of cut it short and said, 'Funny you should mention it.'"
"It felt sort of fated in a way," she added. "It was an experience to share with him and have him share with me. And it somehow came at just the right time."
The American actress/singer completed her look with red Stuart Weitzman Nudist sandals. Do you like her makeup and greasy wet hair?
Scarlett Johansson wears Celine by Hedi Slimane, Start Weitzman sandals and an Ana Khouri earpiece
Credit: Cinzia Camela / WENN