Are you familiar with footwear designer Tamara Mellon's velvet-covered "Alto" sandals? If not, you should be. A bevy of celebrities have recently been spotted wearing these quirky shoes out and about as of late. Let's take a look at some of the ensembles that have featured this fabulous footwear pick.
Olivia Munn picked Tamara Mellon's "Alto" platform sandals in black satin for the 2018 Screen Actors Guild Awards at the Shrine Auditorium on Sunday. Even though you couldn't see the shoes in their entirety thanks to the length of Olivia's black silk sequined Oscar de la Renta gown (available at Farfetch), the height seemed to be the perfect fit for her floor-skimming dress.
She also styled her strapless mixed media gown with a Tyler Ellis clutch and Lorraine Schwartz jewelry.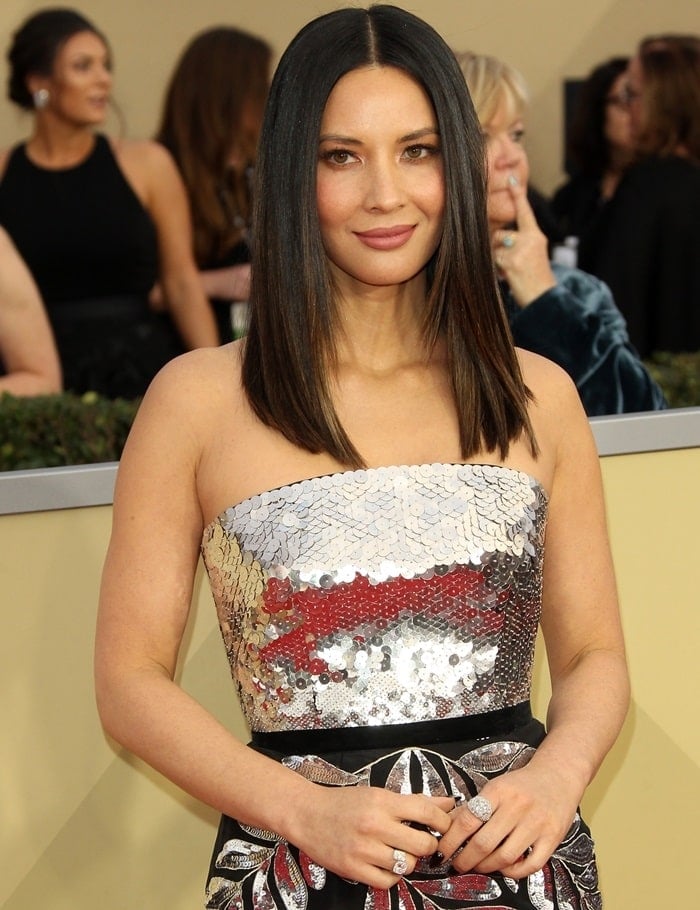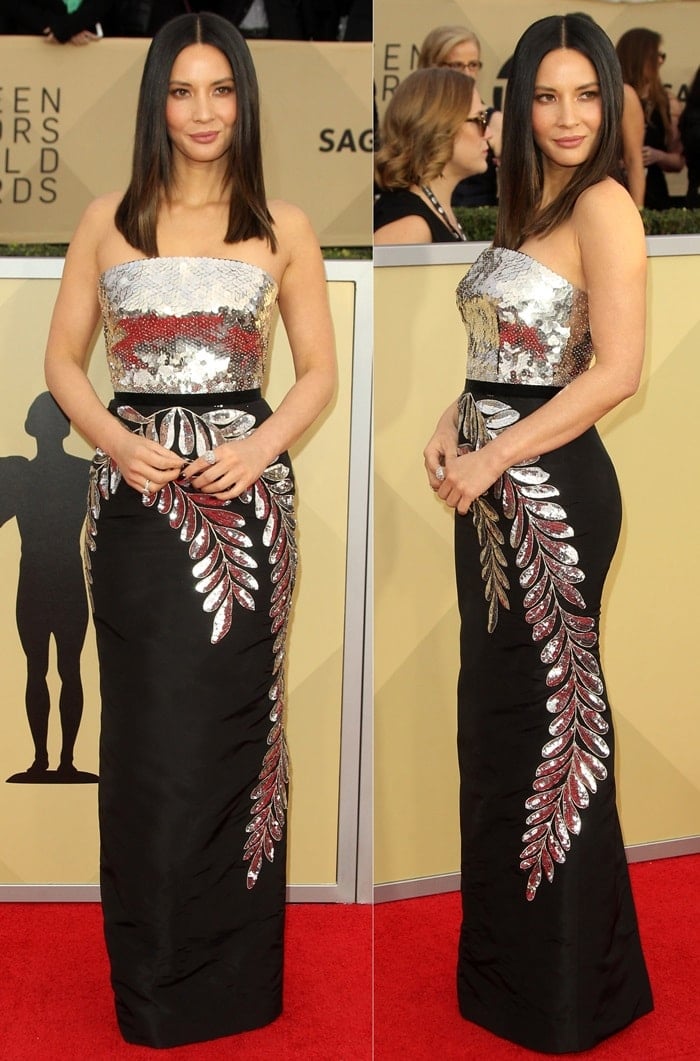 Olivia Munn wearing a sequin embroidered strapless dress from Oscar de la Renta's Resort 2018 collection with leaf motif at the 2018 Screen Actors Guild Awards at the Shrine Auditorium in Los Angeles on January 21, 2018.
Mena Suvari burst onto the Hollywood scene years ago with roles in both "American Pie" and "American Beauty," but has seemed to keep a pretty low profile ever since.
Even though Mena's been keeping busy with projects like "Six Feet Under," the twice-divorced actress isn't a fan of tabloids, and has always sought to minimize her publicity.
However, it looks like Mena has found a comfortable place in the spotlight. The actress has made a critically-acclaimed comeback in the world of indie films, thanks to her role as Elyse in "Becks." The 38-year-old premiered her latest film at Outfest Los Angeles in July last year.
Mena Suvari at the 2017 Outfest Los Angeles LGBT Film Festival for the screening of "Becks" on July 10, 2017.
Mena wears a two-piece look from Polite's Spring 2017 look book.
It looks like Mena hasn't aged a bit since she was in her twenties, which is probably why she's still rocking some cute and quirky outfits at the age of 38.
The actress wore a two-piece creation from Polite's Spring 2017 collection, mixing prints by pairing a polkadot bustier top with a camouflage print skirt.
Mena finished her look with a towering pair of Tamara Mellon "Alto" sandals and an Edie Parker "Fiona" clutch.
The petite actress towered in a pair of Tamara Mellon "Alto" platform sandals.
Mena complements her quirky look with an Edie Parker "Fiona" clutch.
Mena kept her hair and makeup simple as she answered questions for the press.
Mena is no stranger to daring roles, and her character in "Becks" is no exception. The actress showed off her natural on-screen charisma by portraying a married woman who takes interest in a female musician from Brooklyn.
Mena took to Instagram to upload a photo with  co-stars Lena Hall and Hayley Kiyoko, as well as "Becks" director Elizabeth Rohrbaugh.
Mena expressed her gratitude for the team, captioning, "I am so honored to be a part of such a beautiful #film and share the space with such phenomenal #talent."
You can find Tamara Mellon's adjustable ankle strap sandals with covered buckle at Tamara Mellon. These velvet sandals are available in black, blush and red.
Tamara Mellon "Alto" sandals, $475 at Tamara Mellon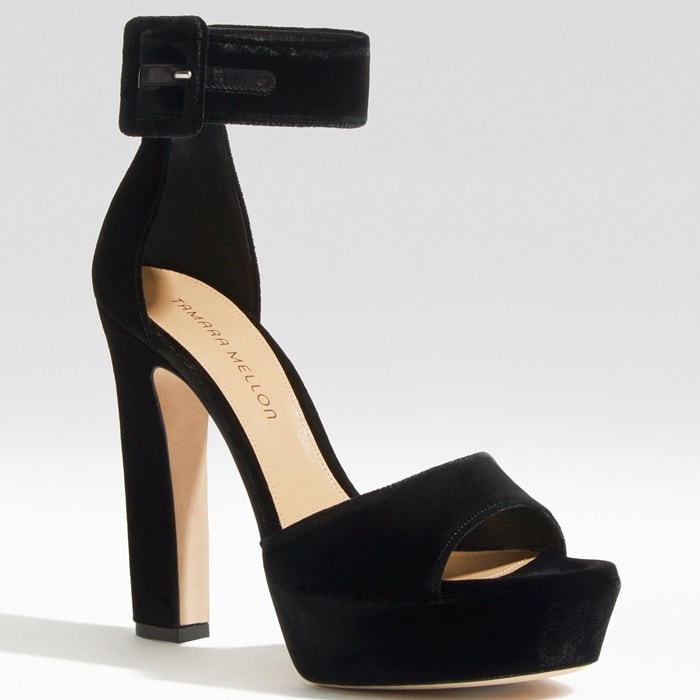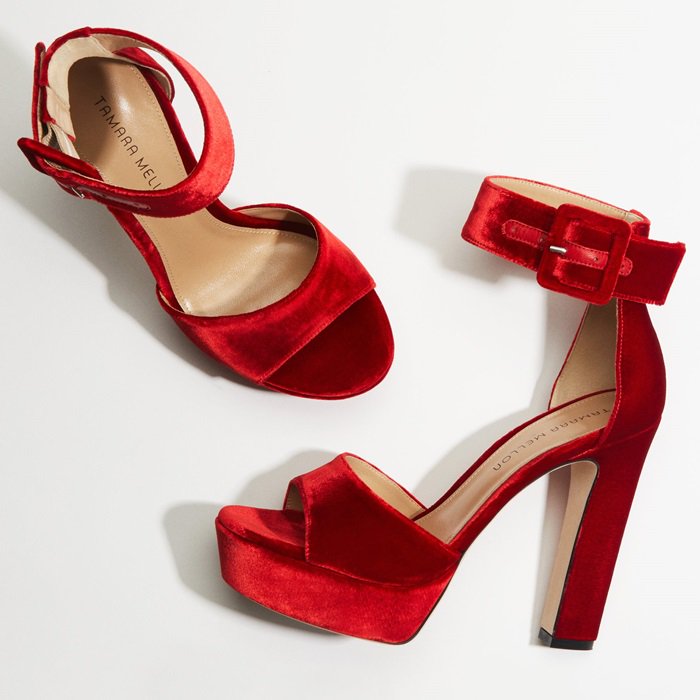 If you're looking for an alternative to the "Alto" shoes, we've found a great alternative from Stuart Weitzman, available at Amazon.
Stuart Weitzman "Hijinx" sandals, $194.99 – $290.99 at Amazon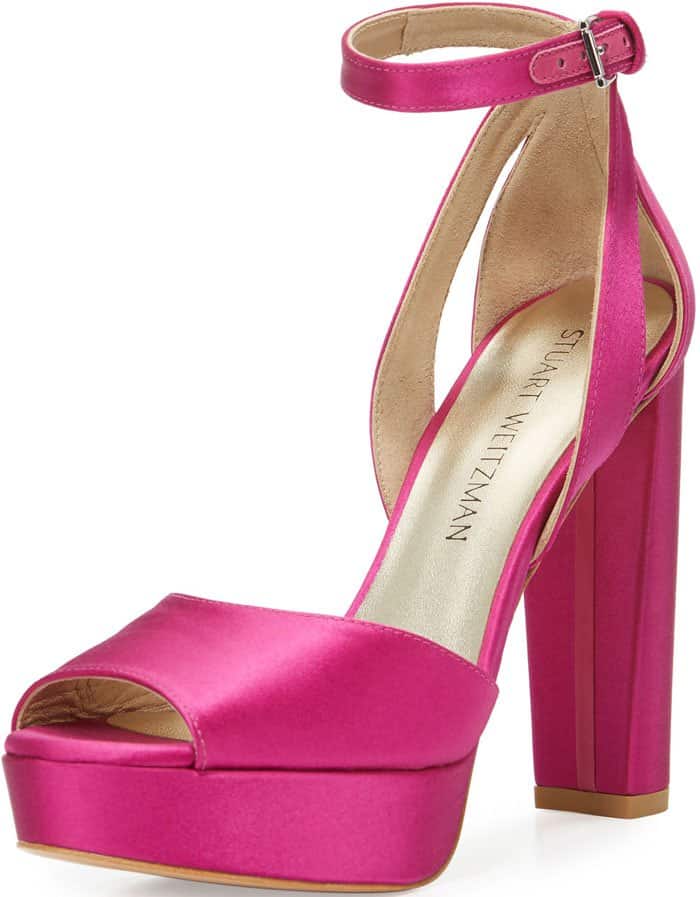 Credit: FayesVision / WENN