Michelle Dockery showed two contrasting looks over the weekend. Only one got the thumbs up from us.
First up was Entertainment Weekly's SAG Awards Nominees Party. Michelle styled her colorful Prada Spring 2014 dress in a demure way just like her Downton Abbey character, Lady Mary, would have. She decided to go for a simplified version of the dress shown on the catwalk, that is, with no shiny embellishments. This, along with the lack of jewelry, made for a disappointing version of what could have been a fashion-forward ensemble for Michelle. It was somehow a wasted opportunity, especially since not many people have been seen in pieces from Miuccia Prada's opulent face-filled collection.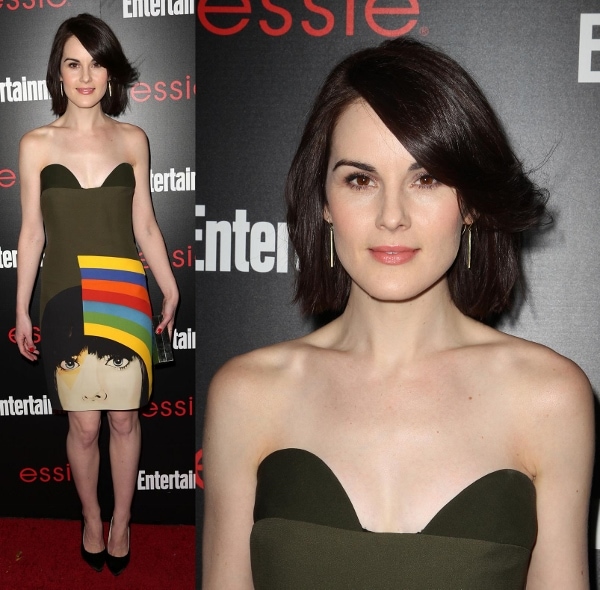 Michelle Dockery at Entertainment Weekly's SAG Awards Nominees Party in Los Angeles on January 17, 2014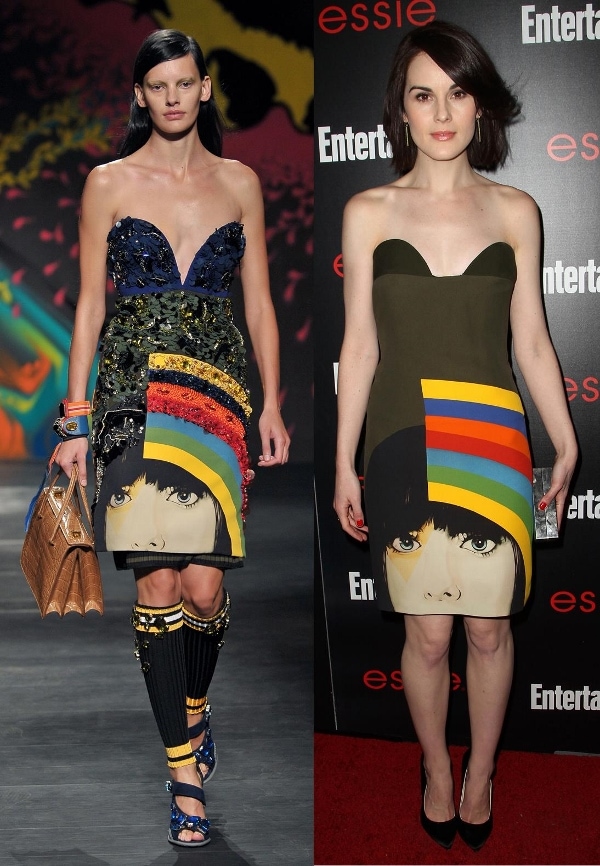 How Michelle Dockery's dress was styled on the Prada SS14 catwalk
The actress' shoes were pretty simple, too. The only surprising part of Brian Atwood's black calf-hair "Besame" pumps is the scalloped edging on one side. They would have been a better match for an elegant block-colored dress, not for Michelle's brave Prada design.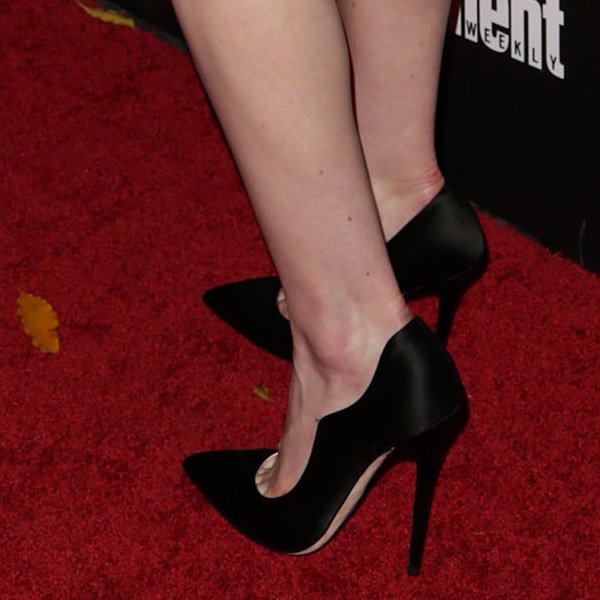 Michelle Dockery's Brian Atwood "Besame" pumps
Brian Atwood Black Calf-Hair "Besame" Pumps, $865
If she wanted to stick to this Brian Atwood style, Michelle should have gone for one of the following brighter options: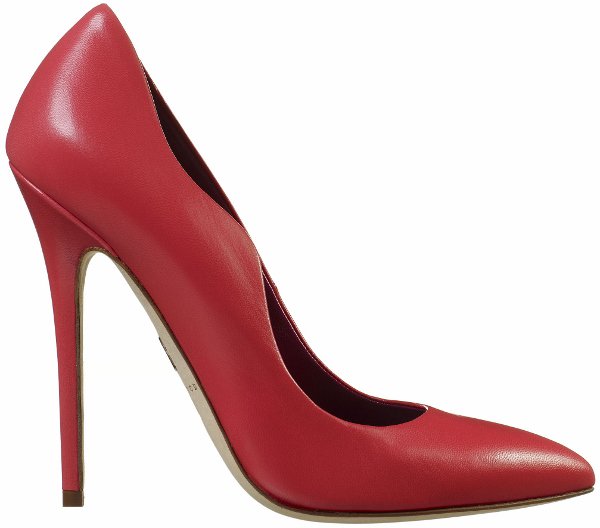 Brian Atwood Orchidea Leather "Besame" Pumps, $695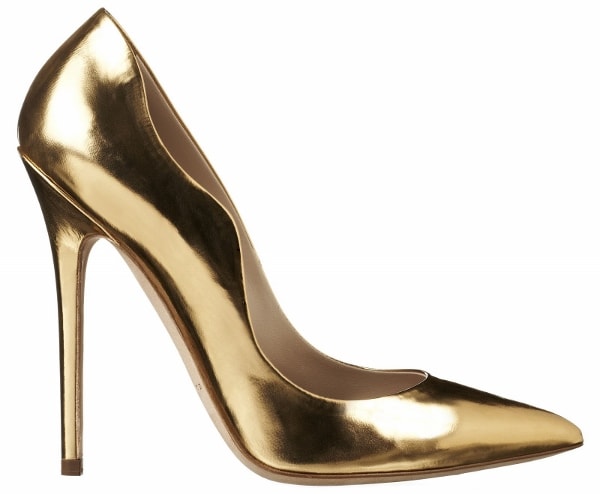 Brian Atwood Gold Leather "Besame" Pumps, $642.50
Brian Atwood Purple Snakeskin "Besame" Pumps, $795
Michelle also attended the 20th Annual Screen Actors Guild Awards the following night in the hope of 'Downton Abbey' winning Outstanding Performance by an Ensemble in a Drama Series. The cast lost to 'Breaking Bad', though, but the styling of Michelle's J. Mendel monochrome gown was a definite winner. She displayed both her cleavage and legs with an extremely low-cut neckline and a thigh-high slit.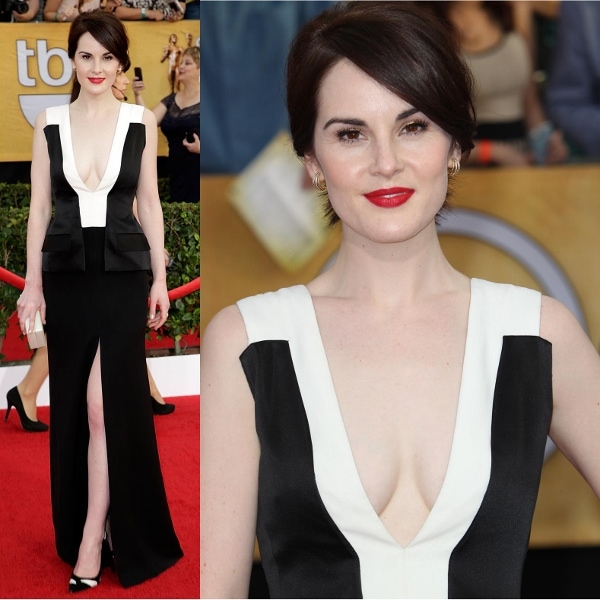 Michelle Dockery at the 20th Annual Screen Guild Awards in Los Angeles on January 18, 2014
The lack of accessories worked for this look. No necklace meant more focus on the dress and her berry lips, which popped on the red carpet. Michelle's matching black-and-white pumps were a good choice as well. She was wearing Gianvito Rossi "Alina" textured pumps, which feature black suede with white leather panels.
Michelle Dockery in a J. Mendel gown and Gianvito Rossi pumps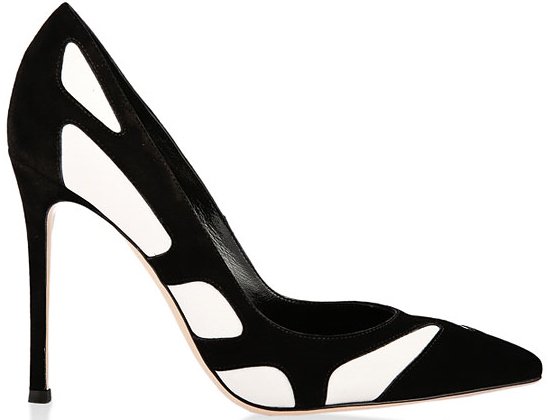 Gianvito Rossi "Alina" Pumps, $434.19
Which look do you prefer? Do you think Michelle did the Prada dress justice? Or is her monochrome outfit your winner?
Credit: FayesVision / Brian To / WENN