Ever wish you could use your party dresses more often, like maybe take one out for a spin while running errands?
Here's the thing — you actually can. The trick lies in selecting the right frock. It's best to go with one that has a simple silhouette. Once you've figured that out, the next step is to carefully choose the shoes to go with the dress. It's no secret that accessories — including footwear — are crucial in pulling an outfit together. For example, heels dress up and add polish, while flats make you look more laid-back.
Take note that for this particular post, we qualify the party dress as wearable for semi-formal soirees, such as wedding parties, launches, charity events, premieres, and other special day occasions.
Michelle Hunziker is a great example of someone who knows how to dress down her fancy frocks. The Swiss-Italian TV personality was recently spotted using special-occasion dresses while running errands in Milan, Italy.
Over the weekend, Michelle wore a beautifully textured and beaded yellow sleeveless shift that was more ideal for high-profile luncheons or charity events. She dressed down the piece with a pair of simple white flats to make it appropriate for day wear. Other finishing touches included a white bag and some uber cool sunnies. The result was a simple but elegant ensemble that was easy, laid-back, and chic.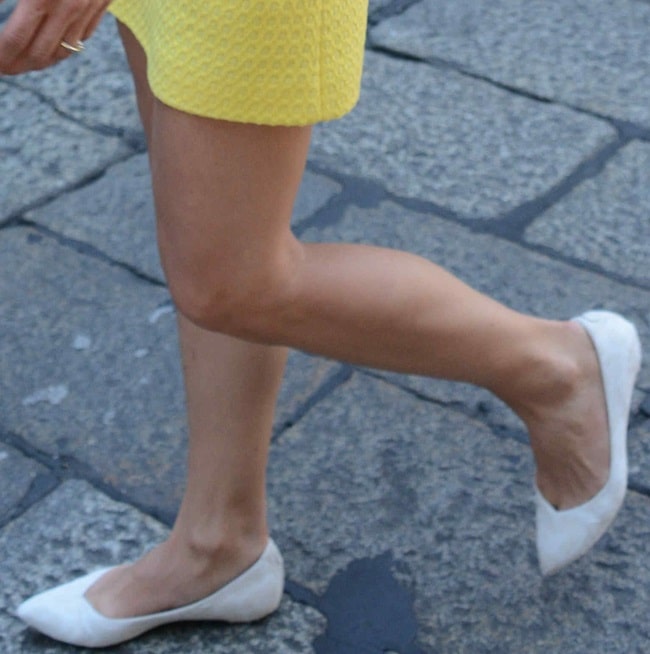 Michelle Hunziker decked in simple white flats and a textured yellow shift dress at Cafe Trussardi in Milan, Italy, on June 20, 2014
A day after, the blonde beauty was once again seen sporting a party frock. This time, she slipped into a lovely white number that was more suitable for the red carpet. She toned it down with a wide red belt and a pair of really cute printed wedges. The outcome was a really fun, fresh, and feminine outfit.
Michelle Hunziker dressing down her white frock with printed wedges while out and about in Milan, Italy, on June 21, 2014
A closer look at Michelle's floral wedges
How do you like the way Michelle turned her fancy frocks into semi-casual day dresses? She used footwear to change up the looks. Will you give that a try?
To steal Michelle's first outfit, consider this pretty yellow brocade dress from Diane von Furstenberg and finish it with a pair of simple but subtly studded white flats from Hego's. For special occasions, you can easily polish up the dress with high heels, such as the scalloped pair from Rupert Sanderson below.
Diane von Furstenberg "Capreena" Brocade Sheath Dress, $425 / Rupert Sanderson "Estelle" Sandals, $745 / Hego's Studded Suede Flats, $160
Hego's Studded Suede Flats
For the second outfit, grab this very affordable textured dress from Everly and wear it with floral-print wedges from Tory Burch. If you need to take the dress to a party, replace the informal wedges with heeled pumps from Ted Baker, and you're all set!
Everly Textured Fit n Flare Dress, $44 / Ted Baker "Svanad" Peep-Toe Pumps, $200 / Tory Burch "Penny" Sandals, $295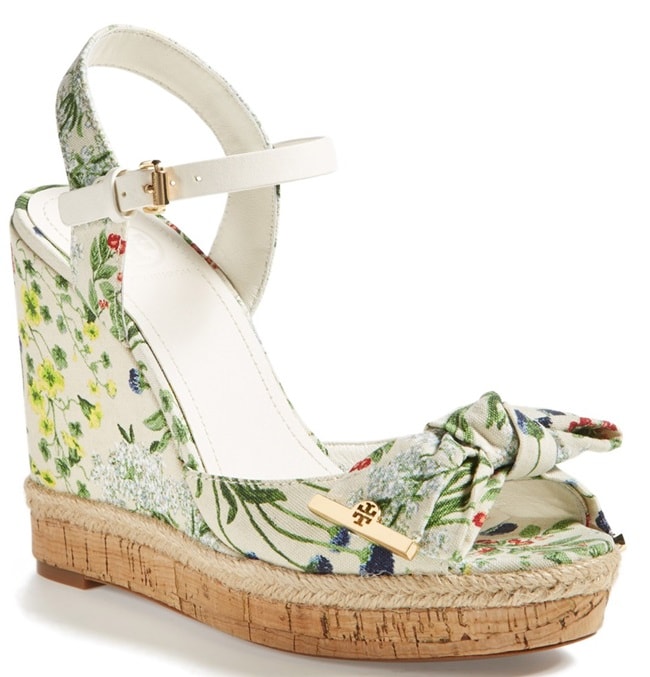 Tory Burch "Penny" Sandals
Credit: star.press/WENN