Showing some midriff is commonplace these days. The cropped top trend now makes it easier for us ladies to go shorter on our top's hemline without looking too conspicuous.
But when is baring your midriff too much? How do you draw the line between classy and tacky? We have some tips and outfit inspirations to make sure that you do it right!
1. Inject class with a demure midi skirt
Make sure that you balance out the show of flesh. So rather than a skimpy and body-hugging bottom, try a voluminous midi skirt just like Jessica Alba.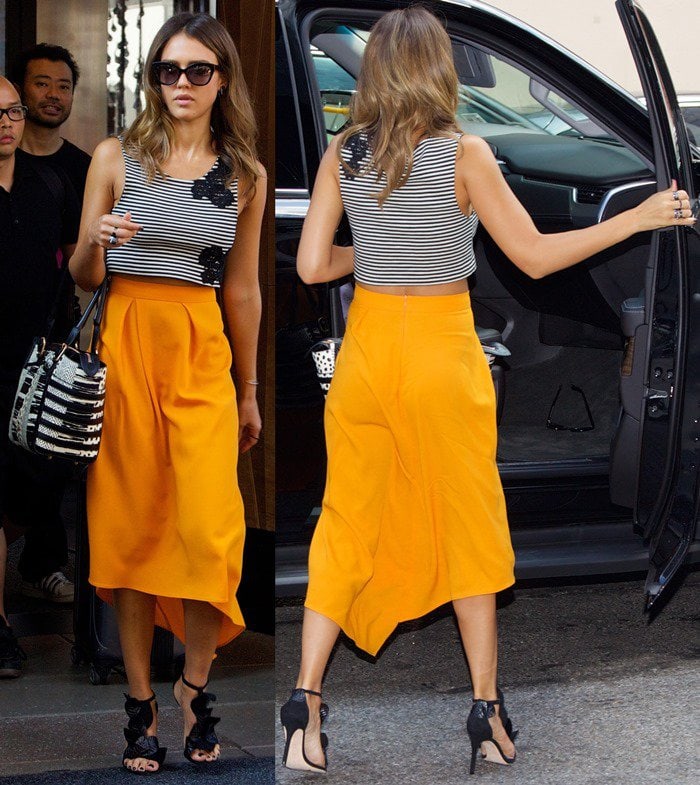 Jessica Alba in Manhattan to promote her new film, 'Sin City: A Dame to Kill For', is carrying a Christian Louboutin handbag as she departs her SoHo hotel in New York on August 5, 2014
This trend combined with the high-waisted midi skirt trend would work seamlessly. Cap that off with a chic pair of sandals and you are great to go anywhere!
Jessica Alba shows off her toned midriff
Don't you think her Kotur "Gilda" heels are to die for?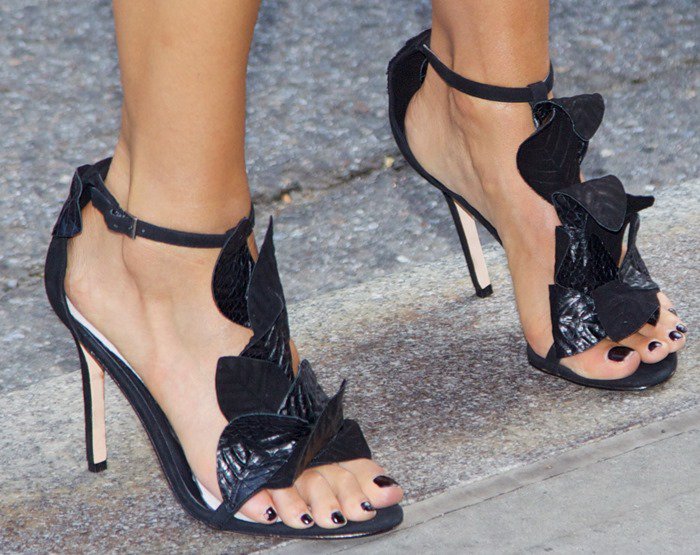 Jessica Alba shows off her sexy feet in flirty and feminine Kotur sandals
2. Boxy cropped top with skinny jeans
We can't stress out balance enough. So if you are wearing something fitted for your bottom like a pair of skinny jeans, you might want to partner that with a boxy cropped top for a more modern silhouette.
Jessica Lowndes bares her sexy midriff in a boxy cropped top with skinny jeans
Take a cue from Jessica Lowndes and go for a monochromatic color palette.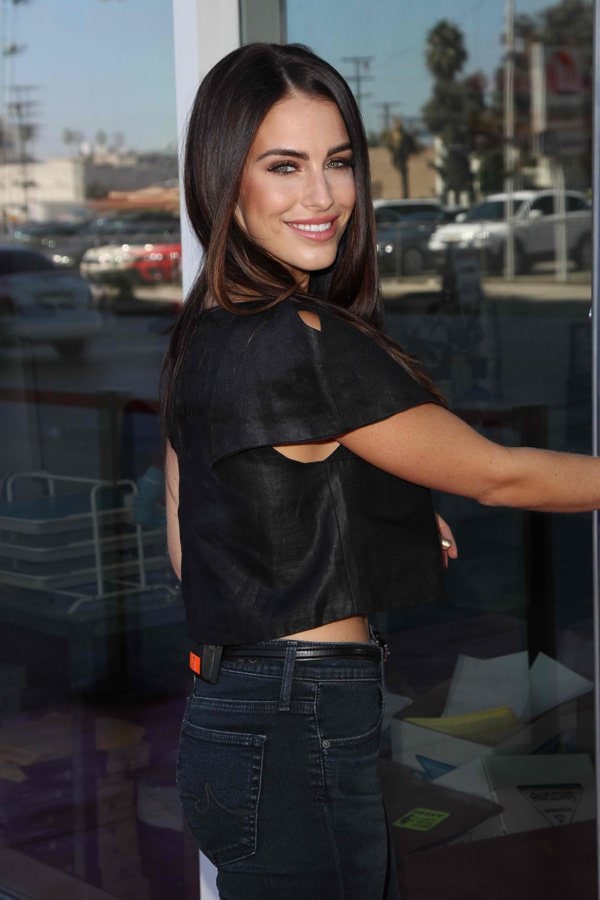 Jessica Lowndes visits Hollywood Today Live in Los Angeles, California on August 18, 2014
3. Cover up with outerwear
Plus points if the said outerwear matches with your bottom just like Chloe Grace Moretz' statement jacket and shorts.
Chloe Grace Moretz flaunts her hot stomach in a black bandeau
Do not overdo the accessories and just let the jacket and shorts pop out. How do you like her red Stuart Weitzman "Nudist" sandals?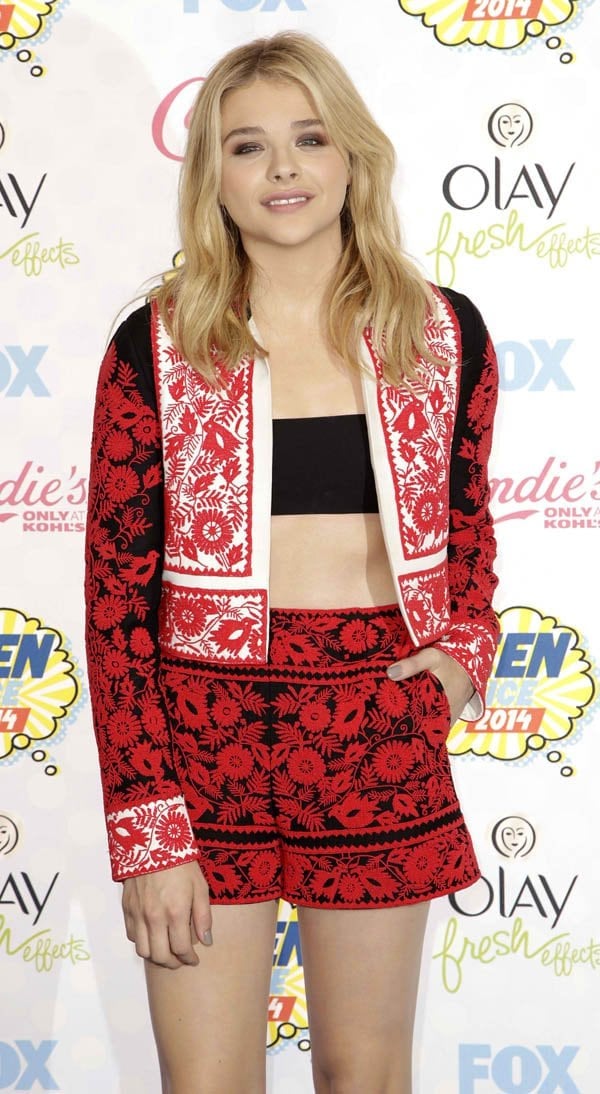 Chloe Grace Moretz wears a red embroidered jacket at the Teen Choice Awards 2014 at The Shrine Auditorium on August 10, 2014, in Los Angeles
4. Cropped t-shirt with a tube midi skirt
A cropped t-shirt is casual through and through, especially if it has a quirky slogan just like Jourdan Dunn's "Cara Made Me Do It!" shirt here.
Add a feminine flair to it with a chic printed tube midi skirt and sexy pumps. This outfit can even go beyond your 9-5 schedule!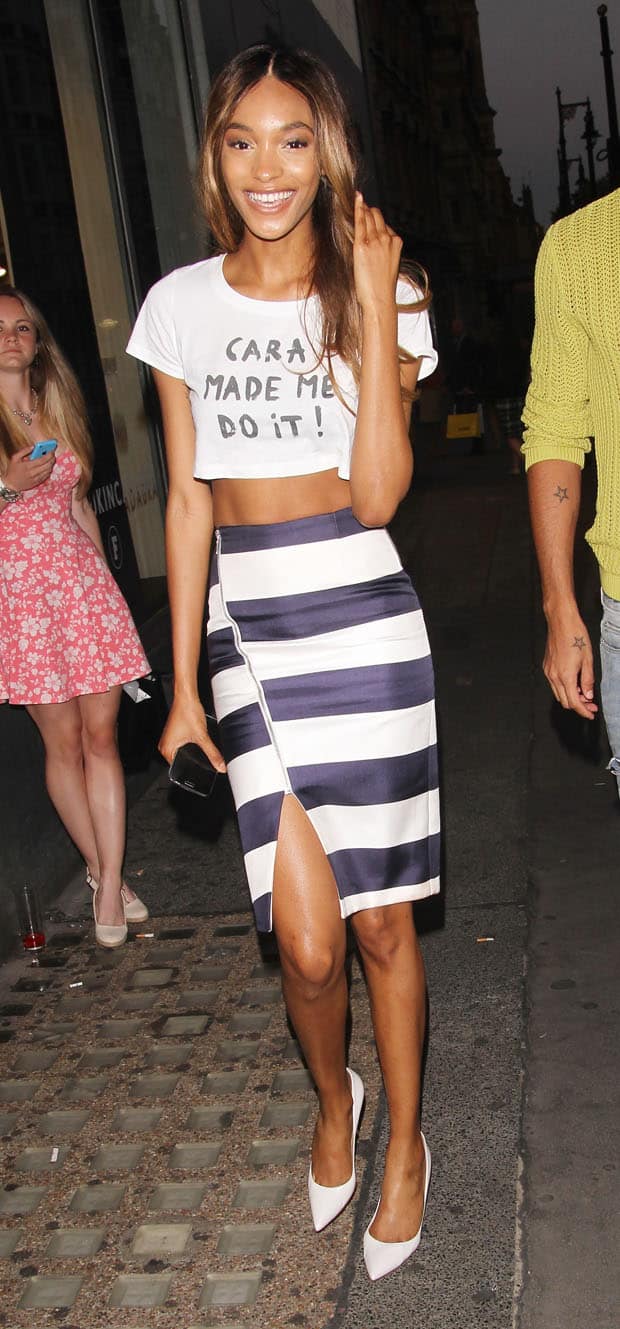 Jourdan Dunn wears a Cara Made Me Do It! shirt at the French Connection #NeverMIssATrick launch party at the Oxford Street Store in London on July 23, 2014
5. Culottes or wide-legged pants
Kristen Stewart looked like she stepped out of the 'Aladdin' movie in her all-white ensemble. The wide-legged trousers definitely resembled what they wore in the Disney movie.
But the trousers actually resemble skirts too so they should work well if you want an alternative solution to number 1.
Kristen Stewart wears high-waisted Chanel pants at the Chanel Catwalk Show in France on July 8, 2014
These outfit inspirations will ensure that your midriff-baring will not attract the wrong kind of attention. If you need to update your cropped top collection, here are some great finds:
1. T by Alexander Wang Raw Edge Leather Crop Top, $650.00 
2. Sea Collared Crop Top, $265.00 
3. Karla Spetic Roadside Flower Crop Top, $635.00 
4. JOA Plaid Tank, $33.60 
5. By Malene Birger Cirilla Floral Top, $345.00 
6. JOA Ruffled Blouse, $65.00 
7. Carolina K Crochet Huichol Top, $34.50 
8. Ladision Sorry I Was on Vacation Tee, $19.60 
Credit: Alberto Reyes / WENN / FayesVision / Nikki Nelson / Brian To / Chris. K