Miley Cyrus made an appearance on Jimmy Kimmel Live! Wednesday in Hollywood — and, in true Miley fashion, she sported nipple pasties for the occasion.
Miley Cyrus makes an appearance on Jimmy Kimmel Live! on August 26, 2015
The 22-year-old American singer, songwriter, and actress left the 47-year-old American television host completely flustered when she appeared wearing only a short dark metallic jacket, a matching sequined skirt, a pair of glittering wedges, and pink heart-shaped nipple pasties.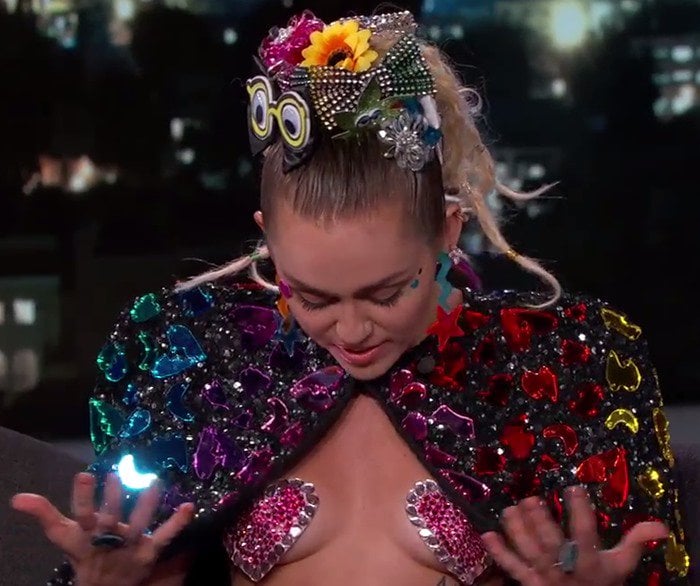 Miley Cyrus shows off her heart-shaped nipple pasties while appearing on Jimmy Kimmel Live!
While he seemed to have a hard time concentrating, Jimmy asked Miley what her father thinks about her outfits.
"He'd rather me have my tits out and be a good person… than have my shirt on and be a bitch," she responded.
Later on the show, Miley participated in a fun I Witness News segment, where she disguised herself and interviewed strangers to ask for their opinion on the 2015 MTV Video Music Awards — for which she'd been selected to host.
After the show, Miley was seen leaving the Los Angeles studios in a rabbit-printed green top, denim shorts, bunny ears, and Nike sneakers.
Miley Cyrus shows off her bunny ears, electric blue eyeliner, face stickers and earrings as she leaves ABC Studios in Los Angeles
The "Air Jordan 4 Retro Gs" sneakers from Nike that Miley wore after the show have unfortunately sold out.
Miley Cyrus covers up her nipple pasties and throws her blonde dreadlocks back into a ponytail with bunny ears as she strolls through Los Angeles
If you really want a pair, the best place to look is eBay, but study up first to ensure you don't get scammed.
Miley Cyrus shows off the detail on her pink Nike sneakers
Credit: Michael Wright / WENN