Miley Cyrus is at it again.
The 22-year-old singer-slash-actress wore an absolutely ludicrous inflatable pink outfit to the 2015 MTV Video Music Awards held at the Microsoft Theater on Sunday in Los Angeles.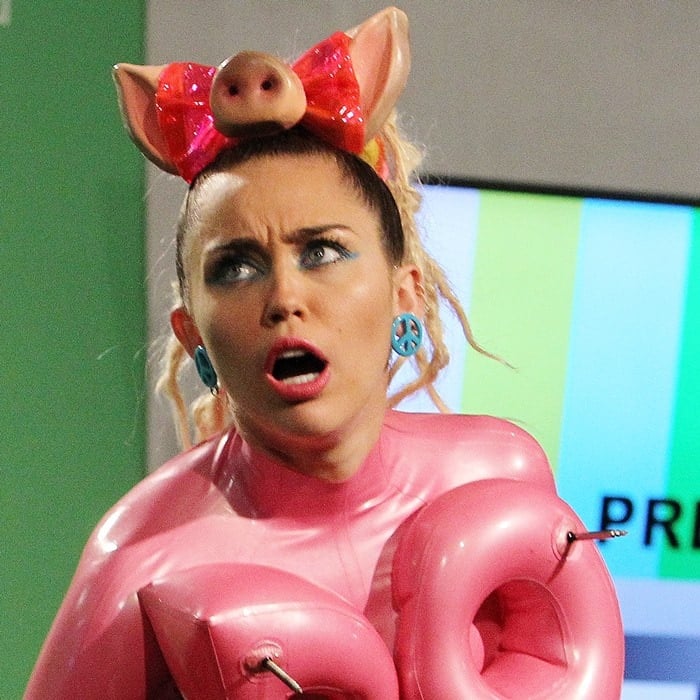 Miley Cyrus goofs around with a pig snout hair bow in the press room at the 2015 MTV Video Music Awards held at the Microsoft Theater in Los Angeles on August 30, 2015
Miley Cyrus stuck out her tongue while holding a "Moon Man" trophy in the press room as she posed in a pink Spandex outfit from House of Holland.
Miley Cyrus sticks out her tongue as she poses with a "Moon Man" trophy at the MTV VMAs
The Pepto Bismol-pink minidress featured inflatable letters featuring the title of her new single "DO IT."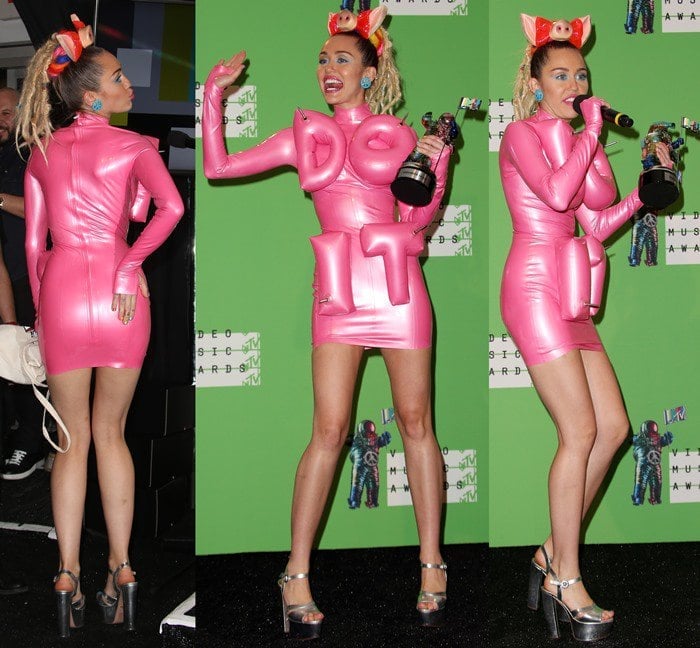 Miley Cyrus shows off her backside and her long slim legs as she poses in a pink inflatable dress
The 22-year-old styled the dress with a pig-snout bow and showed off her feet in sky-high metallic heels.
Miley Cyrus offers a joint to reporters as she goofs around backstage at the MTV VMAs
To top it all off, Miley lit up a marijuana joint and offered a puff to reporters.
Miley Cyrus holds out a joint and shows off her finger tattoos and multi-colored nails
While her outfit on the red carpet was sufficiently ludicrous, it seems she somehow managed to outdo it with this look.
Miley Cyrus finishes off her eccentric look with a pair of metallic silver platform heels
Do you think Miley is deranged or talented? You can find similar metallic heels at ShoeDazzle starting from just $9.99!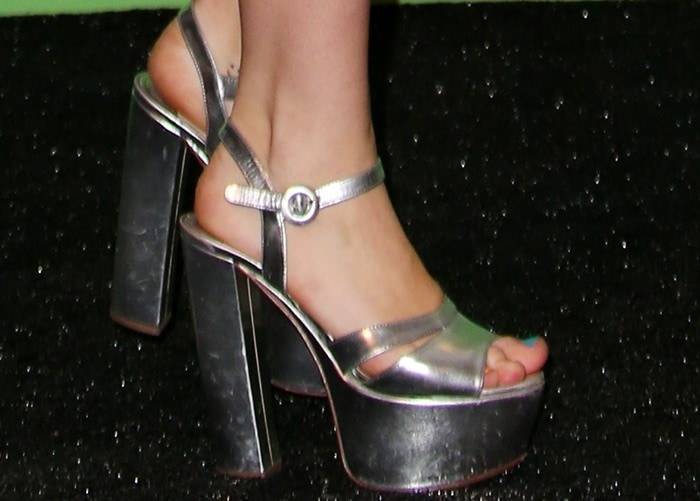 Miley Cyrus shows off her feet in silver platform sandals
Kristin Foiled Faux-Leather Metallic Platform Dress Heels, $9.99 at ShoeDazzle
Credit: FayesVision / WENN / Brian To