The gorgeous Miranda Kerr was spotted arriving at the LAX airport in Los Angeles to hop aboard a departing flight — to where, we're not quite sure yet. The mom-of-one sported a striped maxi dress, a cropped denim jacket, a colorful scarf, and a pair of studded black sandal flats.
Miranda recently sat down with Vogue and shared how she keeps her family-work life in balance. "As the founder and managing director of Kora Organics I am actively involved in the day-to-day operation of the business — from product development, financing, marketing and the global sales distribution," the 30-year-old supermodel shared. "Since becoming a mother, I've learned to schedule my time more efficiently to ensure I can give my family the best, my company the best and my clients the best. It's all about planning and preparation."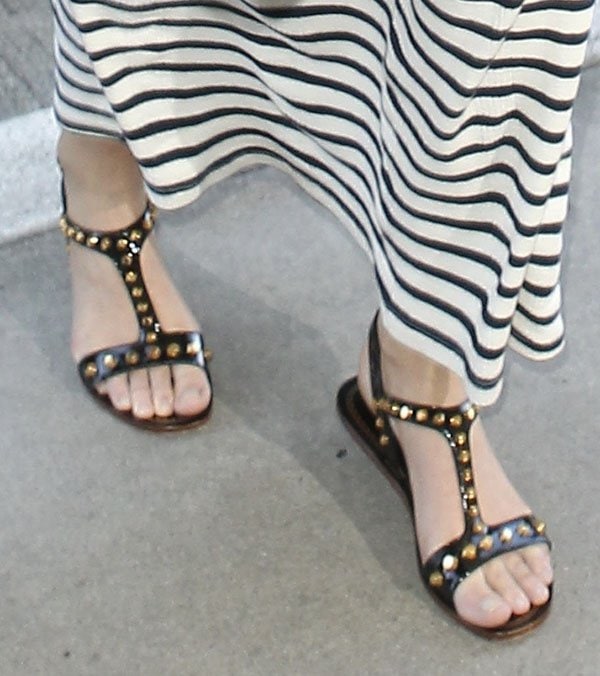 Miranda Kerr at LAX airport on August 22, 2013
The maxi tank dress from Edith A. Miller is made of cotton and has a distinct scoop neck and a rather low V-back. This striped piece can be cinched at the waist with its attached rope ties. While we're not such huge fans of Miranda's styling, we think the dress is a perfect choice for a comfortable but chic airport outfit. A leggy maxi skirt in cotton is all you need to endure those long disheveling flights.
Miranda's Prada sandals feature patent ankle straps and t-straps that are embellished with brass-toned studs. This style has unfortunately sold out.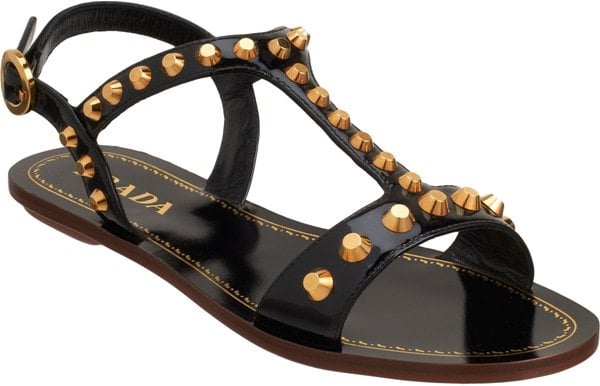 Prada Studded T-Strap Sandals, $590
Credit: Owen Beiny/WENN