It has to be hard for celebrities like Miranda Kerr to keep personal and work lives from intertwining. She gave birth to her first child, Flynn Christopher Bloom, on January 6, 2011.
Social media has upped the clamor for personal snaps from celebrities, which has seemingly created a 24/7 paparazzi culture.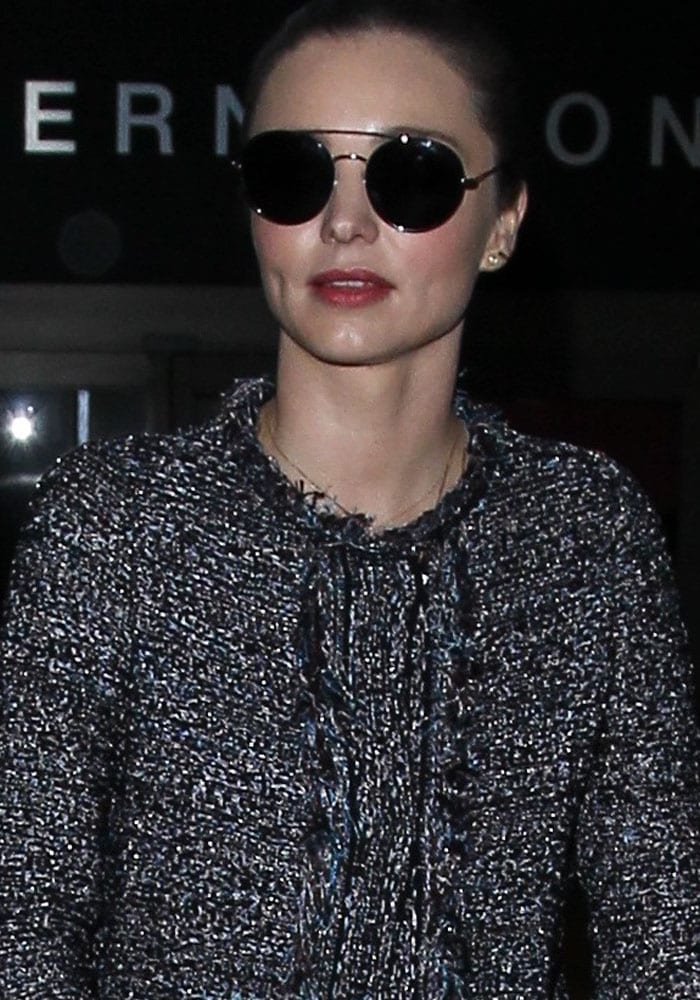 Miranda Kerr wears her hair back as she arrives at Los Angeles International Airport on December 28, 2015
Miranda Kerr, like many celebrities before her, tried to keep her four-year-old son Flynn shielded from the camera flashes as she arrived back in Los Angeles. His father is English actor Orlando Jonathan Blanchard Copeland Bloom.
Miranda Kerr wears a coat and jeans as she arrives at LAX
Miranda arrived in LA from Sydney after concluding a successful promotion run of her beauty line, Kora Organics.
The model wore ballet flats from Chanel with a tank top and jeans, all topped with a textured coat.
Miranda Kerr's feet in Chanel flats
Miranda accessorized her look with a Céline tote, Prada sunglasses, and a necklace from Swarovski.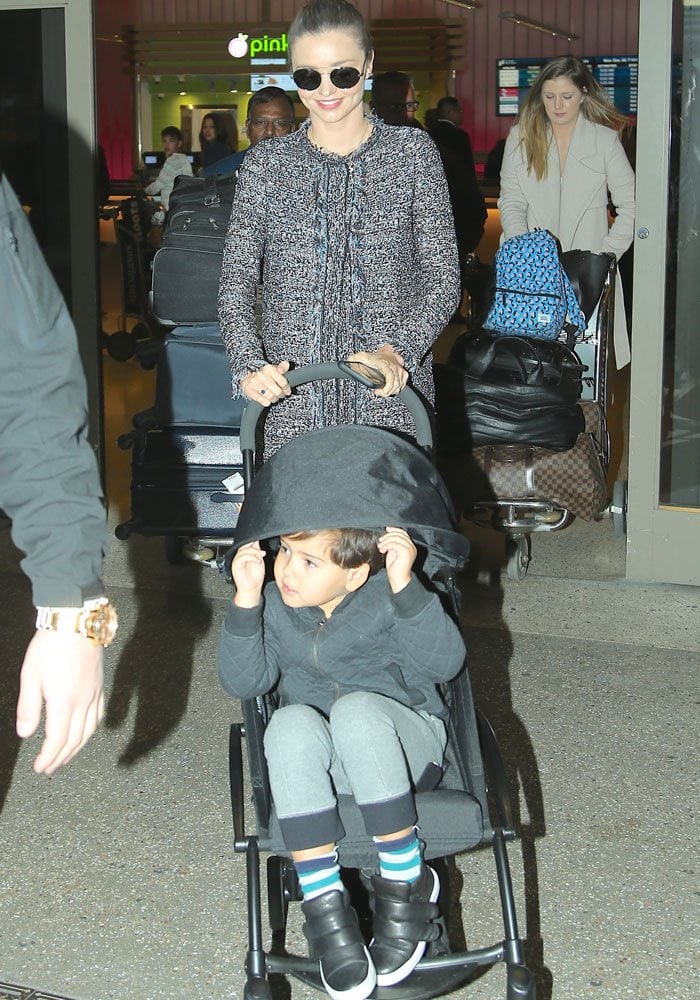 Miranda Kerr pushes her son, Flynn Christopher Bloom, in a stroller
Despite Miranda's efforts to keep little Flynn hidden from the blinding camera flashes, the four-year-old snuck a peek, leading the mom-of-one to break into a smile.
Miranda Kerr pushes four-year-old Flynn in a stroller as she arrives back in Los Angeles
Miranda's Chanel flats are not available online, but you can check out the other patent-suede toe cap beauties that we dug up.
Grab Miranda's airport fashion by clicking over to Farfetch or Nordstrom.
Emporio Armani Quilted Toe Cap Ballerinas, $244.10
Lanvin Toe Cap Ballerinas, $545
Schutz Suede Ballet Flats, £180
Credit: WENN