We're huge Miranda Kerr fans here at Your Next Shoes. We love the supermodel mommy's always effortlessly chic style — both on the street and the red carpet.
A case in point was when the leggy brunette was spotted with her cutie-pie Flynn while heading to an office building in Manhattan a few days ago.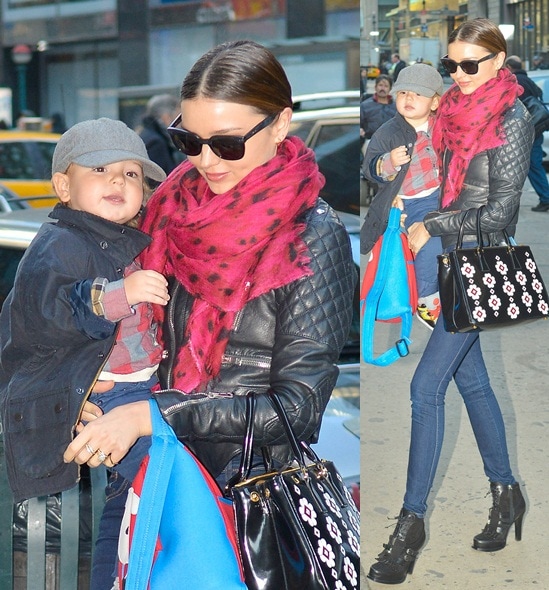 Miranda Kerr and her son, Flynn, heading to an office building in Manhattan on November 26, 2012
Miranda was all biker chick gorgeous in skintight jeans and a quilted leather jacket capped off with well-appointed extras that included a printed tote from Prada, a poppy red scarf, and really stunning ankle boots fashioned with folded kilties and buckles.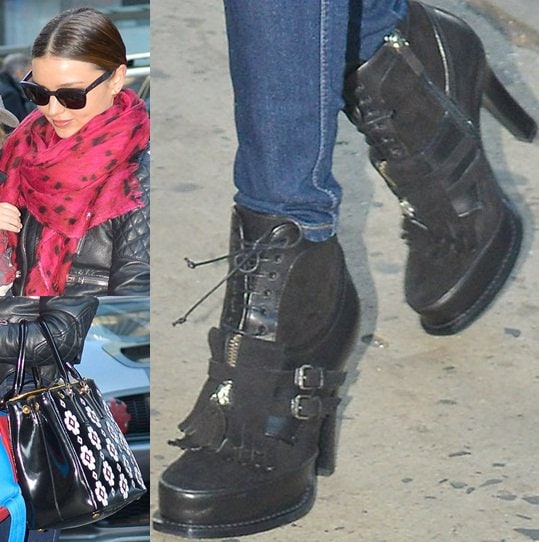 Miranda Kerr rocks ankle boots featuring folded kilties and buckles
Sigh … we so wish we could look that fabulous! Doesn't she look amazing?
And those booties are definitely something; what a pair, right? They're edgy, sleek, and tough looking with a little sprinkle of retro.
Do you like her Sally boots from Tabitha Simmons? They're a leather-on-suede creation fashioned with kilties, decorative buckles, and zippers.
Tabitha Simmons Sally Boots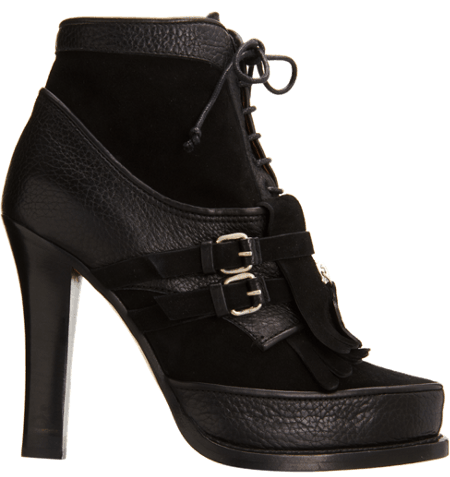 The Sally is already sold out online, but you can find other Tabitha Simmons boots that are just as fierce at Barneys if you're interested. They are quite pricey though, so expect a good amount of splurging from your end.
Tabitha Simmons Abbey Boots, $2,295 at Barneys
Tabitha Simmons Kasia Boots, $1,895 at Barneys
If you aren't keen on spending that much on shoes, then there are less expensive options that you can try to get the look. Depending on your budget, you can choose between a Burberry (still expensive though not as pricey), a Tsubo, and a Baby Phat (best buy!).
Burberry Howcroft Booties, $950
Tsubo Royce Booties, $270
Baby Phat Gatsby Booties, $60
Credit: WENN