Miranda Lambert and Blake Shelton were at one point country music's favorite couple, seen hand in hand on the red carpet at CMA Awards. Their relationship was very public – and so was their divorce!
Even as the couple smiled together in pictures for tabloids and magazines, some remained skeptical, suspecting there was trouble behind those grins and the marriage would never last.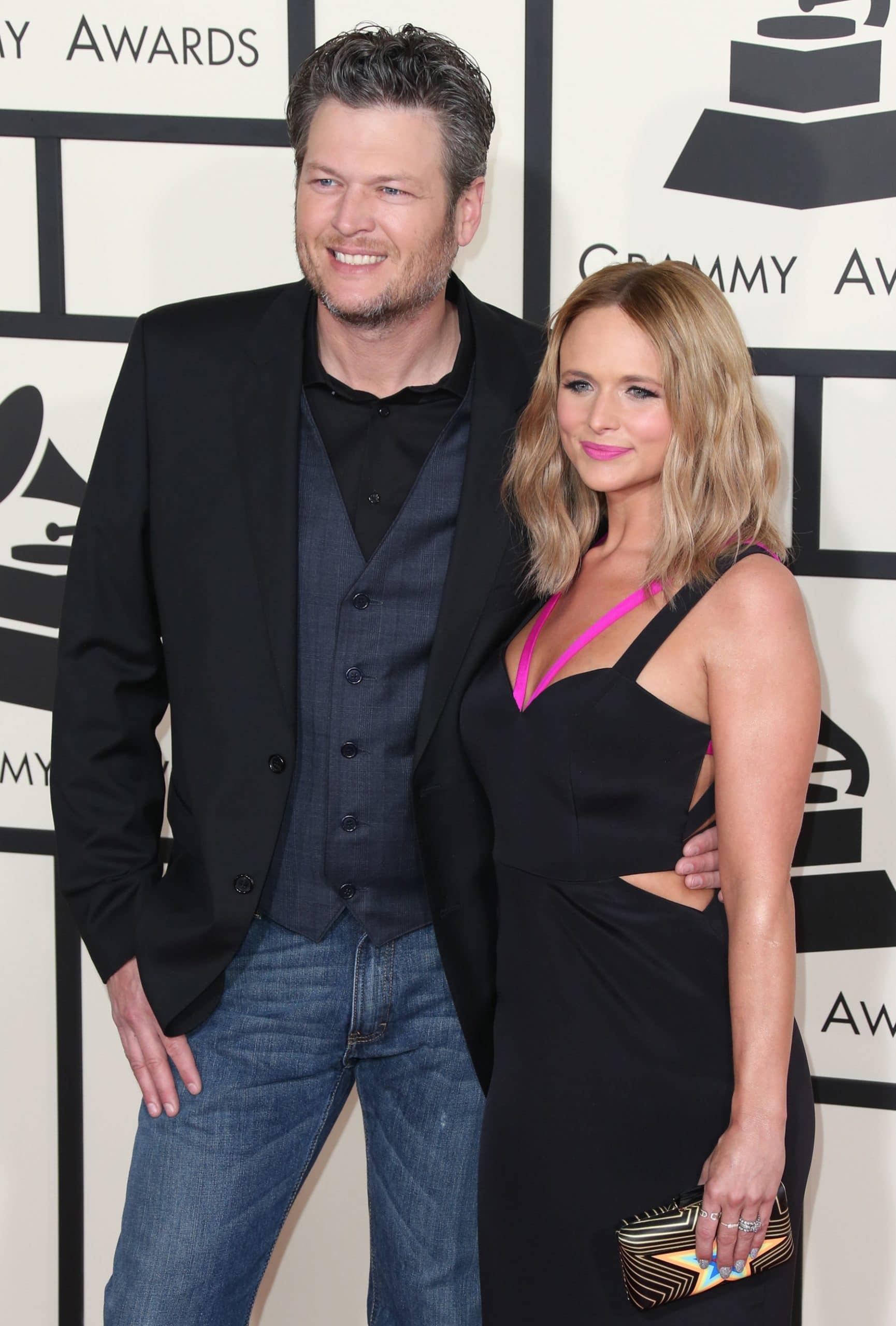 Blake Shelton and Miranda Lambert met in 2005, married in May 2011, and announced their divorce in July 2015
Their marriage troubles and tumultuous divorce quickly garnered more attention than their relationship did. And although everyone was well aware of the divorce, there remains to be some question as to where everything went wrong.
To better understand where the relationship began to crumble, we first need to look at their dating history.
How Miranda Lambert and Blake Shelton Met
The two first met in 2005 when they were scheduled to prefer together at the CMT 100 Greatest Duets concert. They sang, "You're The Reason God Made Oklahoma," and it was that moment that sparks started to fly.
Shelton was in an episode of VH1's Behind the Music and recalled that moment saying, "I've never had that kind of everything with anybody. I was a married guy, you know? Standing up there and singing with somebody and going, 'Man, this shouldn't be happening.'"
These two started falling in love while still in other relationships, which could have been a red flag for things to come.
At the time of this concert, Shelton was married to Kanyette Williams. The two were married for three years before they ended it due to Shelton's alleged infidelity.
Blake Shelton was married to his high school sweetheart Kaynette Williams (also known as Kaynette Gern) from 2003 to 2006
Lambert was also in a relationship when they first met. She was engaged to another country music singer, Jeff Allen McManus.
She called off the engagement, and the two started dating in a public way. "I knew he was married. I knew better, like, this is off-limits. I didn't know what to do with it, it was, like, my first duet with some other country star, and I didn't know if it was just initial butterflies because of that," Miranda shared in 2011.
"I don't know what it was. It was just this draw to each other," she added. Lambert and Shelton dated for the next five years before he popped the question.
The Southern Proposal and a Magical Wedding
Those who are familiar with Shelton know that he is the more traditional country boy. In 2010, he proposed to Lambert in a conventional way, first asking for her father's blessing.
Lambert told People that the engagement "was so Southern and old-school and perfect." She, of course, said yes and received a stunning diamond and platinum engagement ring in return.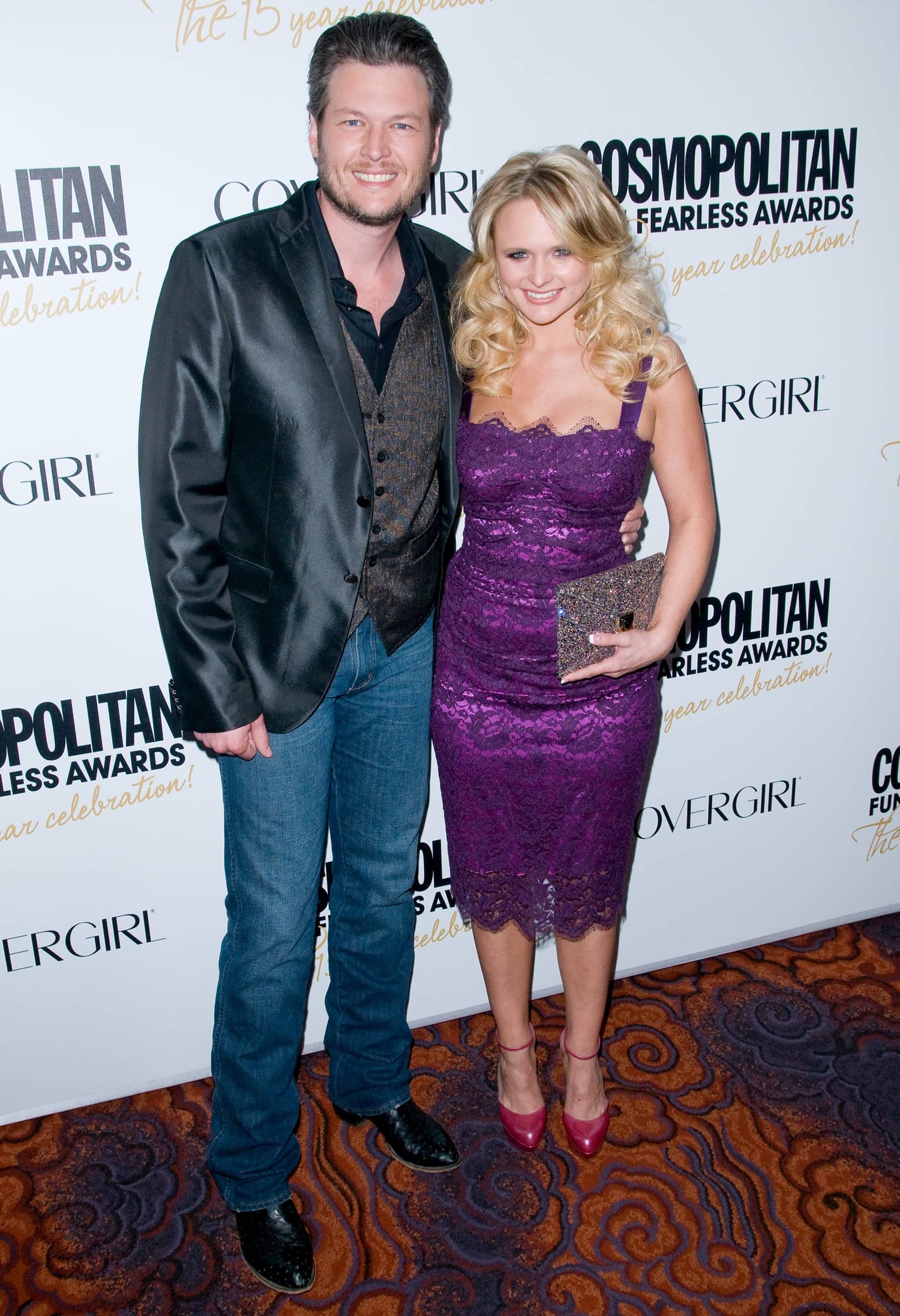 Blake Shelton and Miranda Lambert met during the CMT 100 Greatest Duets special in September 2005
A year later, in 2011, the two officially tied the knot with an extravagant Southern affair. The wedding was held on a 125-acre ranch near San Antonio, Texas.
Their honeymoon involved plenty of quality time and then some questionable remarks from Shelton. Following the wedding, the two took some time off from their busy work schedules and spent nearly a month together.
In the same People interview, he said, "that will be good enough for us that she'll go back to wanting to kill me again and wishing that I would go back to work." This remark had some people raising eyebrows. Was there already trouble in paradise, or was Shelton sticking to the old married couple narrative?
Creating Music Together
A couple that sings together stays together? I guess not. Lambert and Shelton shared the stage several times and co-wrote songs together while still in a relationship. The musical duo collaborated on 13 songs in a few short years.
In 2009 when the pair were still dating, Shelton helped Lambert write a few songs on her Revolution album, including "Me and Your Cigarettes," "Love Song," and "Sin for a Sin." Shelton also sang background vocals on "Maintain the Pain" from the same album.
Blake Shelton and Miranda Lambert perform his version of Canadian singer Michael Bublé's hit song"Home" at the 2010 CMA Music Festival
Two years later, Lamberts band Pistol Annies released their debut album Hell on Heels. Shelton was the only other songwriter on the album.
In 2012 the couple wrote "Over You," which became a number one hit on the country charts and won an award at the Country Music Awards. Although the story was about Blake's brother's tragic death in a car accident, he felt he couldn't sing it and wanted Miranda to perform it.
Lambert was involved in Shelton's music as well. In his song "Home," a Michael Bublé cover, she sang background lyrics. The song also became a number one hit.
Although these collaborations were great, they don't compare to their vocal pairings when the two sang together. In Shelton's 2008 album Startin' Fires, the two paired up to sing "Bare Skin Rug."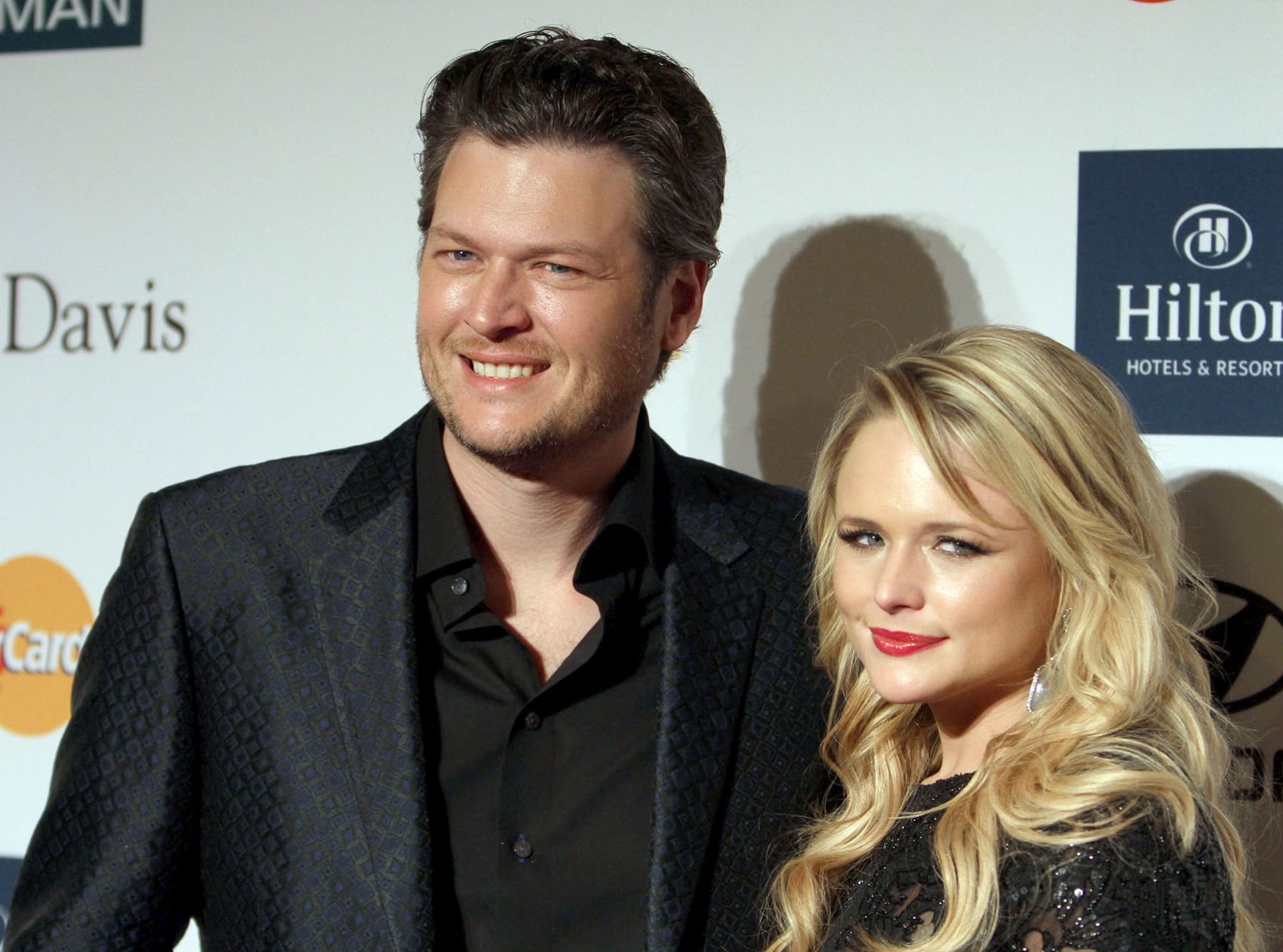 Blake Shelton and Miranda Lambert co-wrote "Over You," a country ballad about a personal experience Shelton had as a teenager when his older brother Richie was killed in a car accident
In 2011, Lambert's album, Four the Record, featured one of their duets entitled "Better in the Long Run." That same year, they also paired up for Shelton's first number 1 Billboard hit, "Red River Blue."
Shelton must love singing Christmas songs with his partner because, in 2012, he recorded a version of "Jingle Bell Rock" and "Blue Christmas" with Lambert (he also recorded a Christmas song with Stefani in 2017).
In 2013, Shelton's song "Boys 'Round Here" featured Pistol Annies. This was the last song the two sang together.
Lambert and Shelton's Married Life
The two had settled down in Oklahoma in a rural community, out of the spotlight. Although this gave them a greater sense of privacy, it also meant they didn't spend much time together. They both had busy work schedules, and Blake's schedule kept him away a lot.
As a judge on The Voice, he was either filming or pursuing his own musical endeavors. The two made an effort not to go longer than two weeks without seeing one another, but it still took a toll on their relationship.
Shelton was spending more and more time in Los Angeles shooting The Voice and found a place to "call home" while there. Despite being a large home with a pool, Lambert had zero intentions of ever moving there.
Blake Shelton and Miranda Lambert attend the 47th annual CMA Awards at the Bridgestone Arena on November 6, 2013, in Nashville, Tennessee
That said, she was the one that made the efforts to get together, often going to visit him. When asked about making an effort to see each other, Shelton admitted, "She does that for me way more than I've ever done that for her. She's always been the one to go through hell to make sure we spend time together."
In 2014 Lambert spoke to People magazine about the difficulty they were having in seeing each other. She explained how both their careers were pulling them in opposite directions. After years of making an effort to see her husband in L.A., Lambert began to feel abandoned.
Some speculated that there might have a difference in opinion when it came to starting a family. Shelton had spoken openly about his desire to have a family and see his parents as grandparents.
On the other hand, Lambert seemed to have reservations and didn't think the timing was right. She felt they were both at the peak of their careers, and having children would change this.
Blake Shelton reportedly couldn't convince his wife Miranda Lambert to move to Los Angeles from Oklahoma
In addition to their different views on starting a family, they were different people in many ways. Shelton is more of the happy-go-lucky type of guy, and Lambert has explained that she is "not sunshine and roses."
Lambert is also more introverted, which is partially why she hates LA and prefers to stay in Oklahoma. Shelton, on the other hand, is an extrovert.
Trust Issues and Infidelity
Infidelity is said to have played a big part in their divorce after four years of marriage. Considering both were in other relationships when they got together, it's not out of character for them.
Spending so much time apart may have also created some trust issues. In 2015 Shelton filed for divorce, and although asking for privacy, they both were pretty open about accusing one another of infidelity.
Shelton accused Lambert of cheating on him with Chris Young, and Lambert accursed Shelton of cheating on her with Cady Groves.
Fellow country star Chris Young was rumored to have had an affair with Miranda Lambert
This is where everything became exceptionally messy, as both Young and Groves were now suffering the consequences of these accusations they both denied to be true.
The divorce was tough on both of them, and Shelton has said it was like going through hell, and he relied on close friends to get him through it.
"Man, it sucks that I got put in this situation with two people who are my friends," Young told Entertainment Tonight. "It's just so weird getting pulled into something like that where it just wasn't true."
Life After Divorce
One of these close friends was Gwen Stefani. Stefani was also going through a divorce, so the two wealthy stars became one another's support system.
Although it seems this relationship came up pretty quickly following the divorce, many said it only happened after splitting from Lambert.
That said, when Lambert was asked about it, she said she wasn't surprised as "they were always pretty flirty." The two were then engaged and hope to get married this summer.
Shelton wasn't the only one to move on. Lambert, too, got into another relationship fairly quickly. Within months of filing papers, she was dating musician Anderson East.
Although this relationship didn't last, she did wed Brendan McLoughlin, a former NYPD officer, in a secret wedding months after meeting.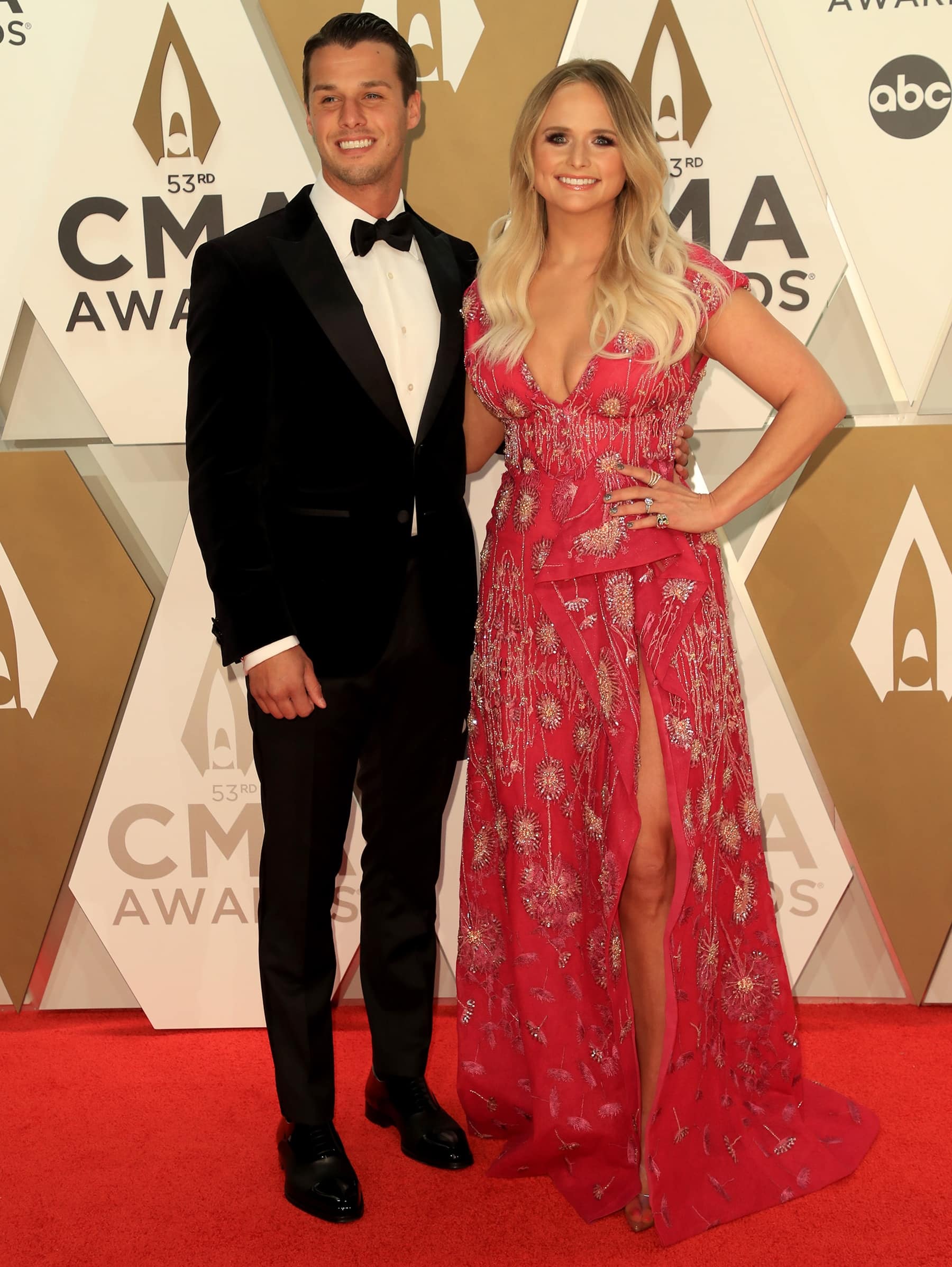 Miranda Lambert married New York City Police Department Officer Brendan McLoughlin on January 26, 2019, in Davidson County, Tennessee
Though they moved into other relationships quickly, it doesn't seem like they were completely over the situation. From cryptic tweets to song lyrics, it seems as there are still some emotional ties to the relationship – even it is resentment.
Breakup songs and country music are virtually synonymous, but we couldn't help but wonder if Shelton's song "She's Got a Way With Words," released in 2016, was about Lambert.
In 2018, Lambert's group the Pistol Annie's released "Got My Name Changed Back," a song about divorce. She didn't name Shelton directly, but it's safe to assume it was about their divorce.
Although their marriage did not work in the long run, the world benefited from the beautiful music they created while they were together and the epic breakup songs that followed.
By November 2016, Miranda Lambert had definitely moved on from ex Blake Shelton.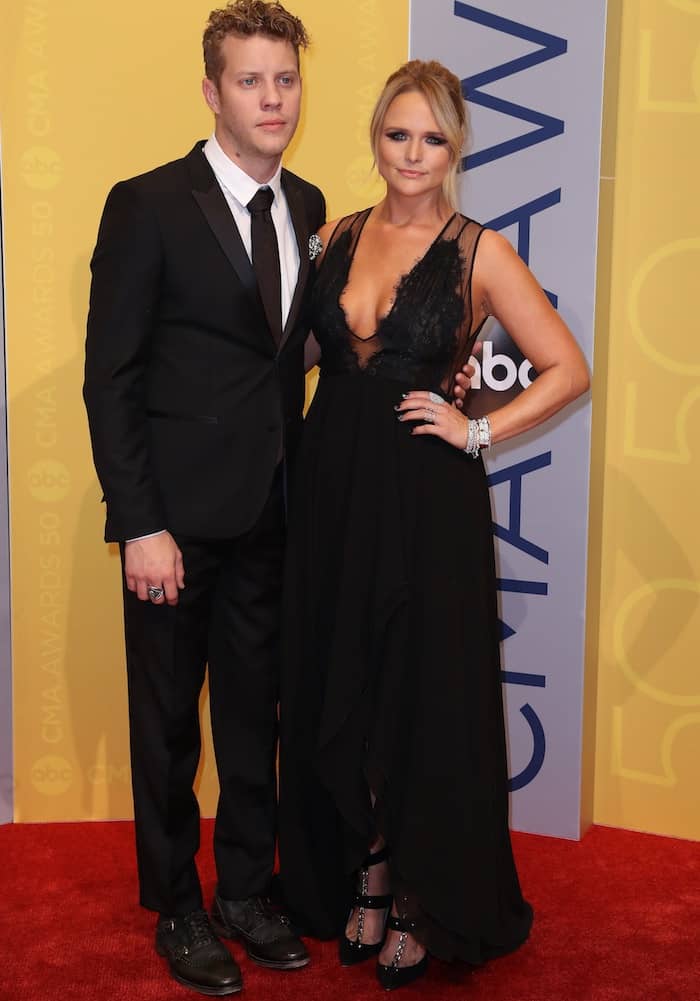 Miranda Lambert started dating R&B singer Anderson East after meeting at Nashville's Live on the Green Music Festival in September 2015
The beloved country singer walked the red carpet at the annual Country Music Association Awards with hot new boyfriend Anderson East before killing it while performing her latest single "Vice."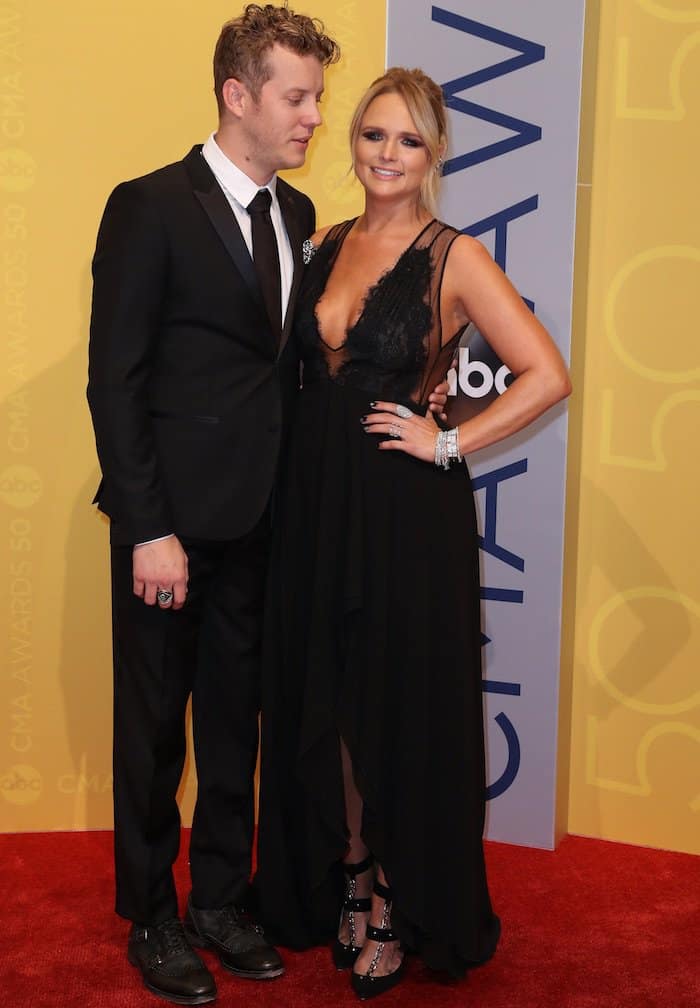 Miranda Lambert and Anderson East broke up in early 2018 after dating for just over 2 years
Miranda looked stunning on the carpet in a sexy black number by Haute Couture designer Georges Hobeika.
Miranda Lambert in a long black dress at the Country Music Association Awards at the Bridgestone Arena in Nashville, Tennessee on November 2, 2016
The gorgeous creation featured a deep plunging neckline that bared ample cleavage. She looked sexy in black as she matched her date.
Miranda Lambert has been honored with more Academy of Country Music Awards than any artist in history
The 12-time CMA Award winner edged up her ensemble with a pair of Monika Chiang "Reina" pumps.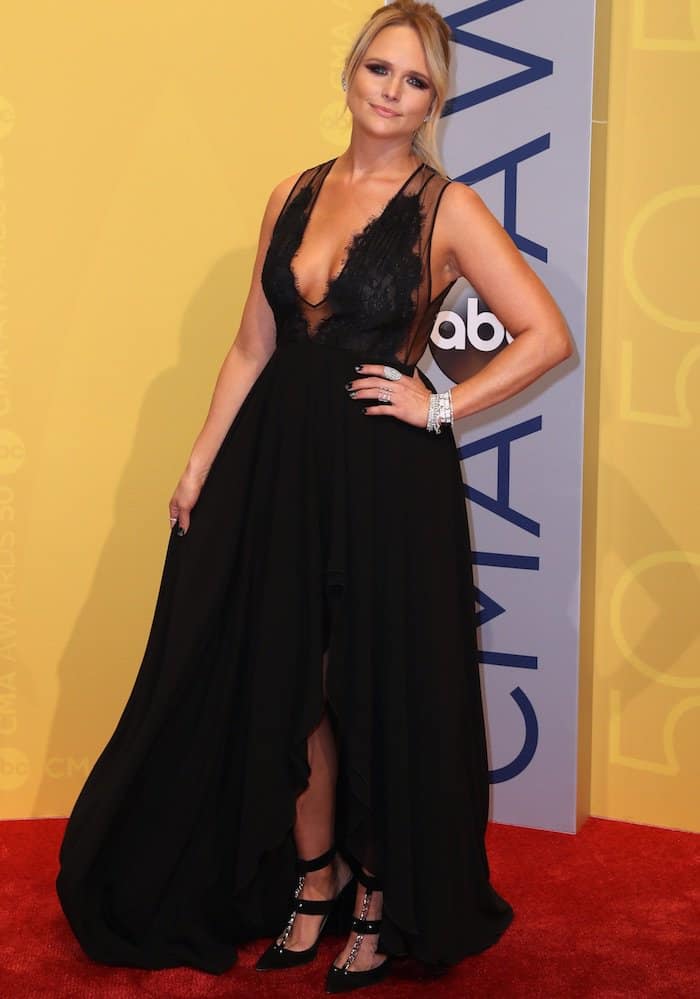 Miranda Lambert opted to wear a sexy black Georges Hobeika dress
The ankle-cuff pumps feature large horizontal vamp straps and chain detailing.
Miranda Lambert displays her size 8 (US) feet on the red carpet
She further amped her goth-chic look with dark smoky eyes, nude lips, and chunky jewelry.
Miranda Lambert shows off her feet in Monika Chiang "Reina" pumps
The songwriter was definitely one of the best dressed at the event. Do you like her "Reina" pumps from Monika Chiang?
Monika Chiang "Reina" Pumps, $540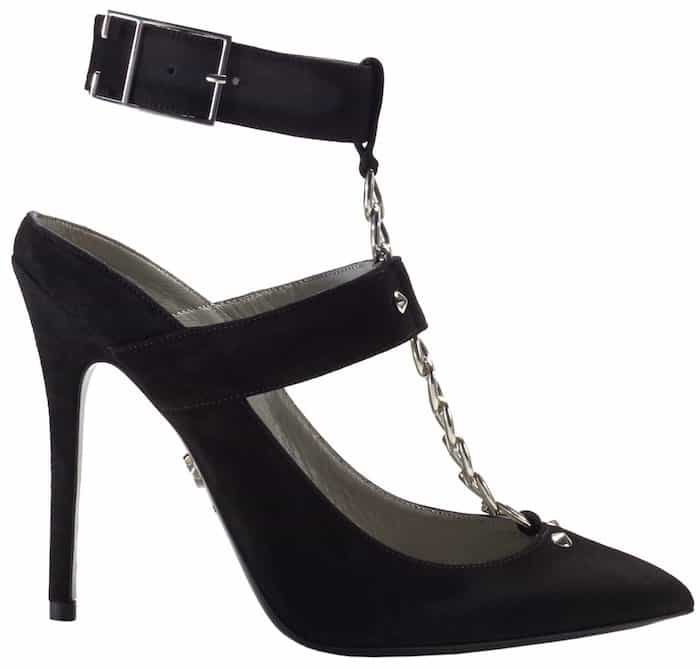 Credit: Judy Eddy / WENN / FayesVision / Ivan Nikolov / Nikki Nelson / Judy Eddy / Apega