Naomi Campbell is one of the richest models in the world. With a net worth of $80 million, she has proven that walking the runway can seriously pay off.
Not only has she covered several high fashion magazines multiple times over the years, but she's also broken barriers within the industry, been vocal about racism within fashion, and has worked to make the industry more equitable.
Naomi Campbell attends the Dior Homme Fall/Winter 2022/2023 show as part of Paris Fashion Week on January 21, 2022, in Paris, France (Credit: Aurore Marechal / ABACA / INSTARimages)
Now, after a decades-long career, Campbell has delved into more than just fashion and modeling to earn money and has become super-rich by doing so. Let's take a closer look into how Naomi Campbell earned her high net worth and how she spends it today.
Naomi Campbell's Background
Naomi Campbell is originally from Stratham, South London. She grew up with a single mother, a dancer, and studied ballet at the Italia Conti Academy of Theater Arts in London.
She was an incredibly talented dancer, like her mother, and at the age of seven was in Bob Marley's "Is This Love" music video.
Naomi Campbell in a white dress walks the runway for the Fashion for relief-Haiti during Mercedes-Benz Fashion Week at Bryant Park on February 12, 2010, in New York (Credit: Miro Vrlik Photography / Shutterstock)
At age 15, Campbell was discovered by a modeling agent while shopping, and by age 16 had landed her very first high fashion magazine cover, appearing on British Elle.
Obviously striking, Campbell's career soon took off and she quickly became one of the top models in the world, gracing magazine covers and strutting the runway.
Inside Her Early Modeling Days
Naomi Campbell quickly became a very high-in-demand model and was making a name for herself all over the world.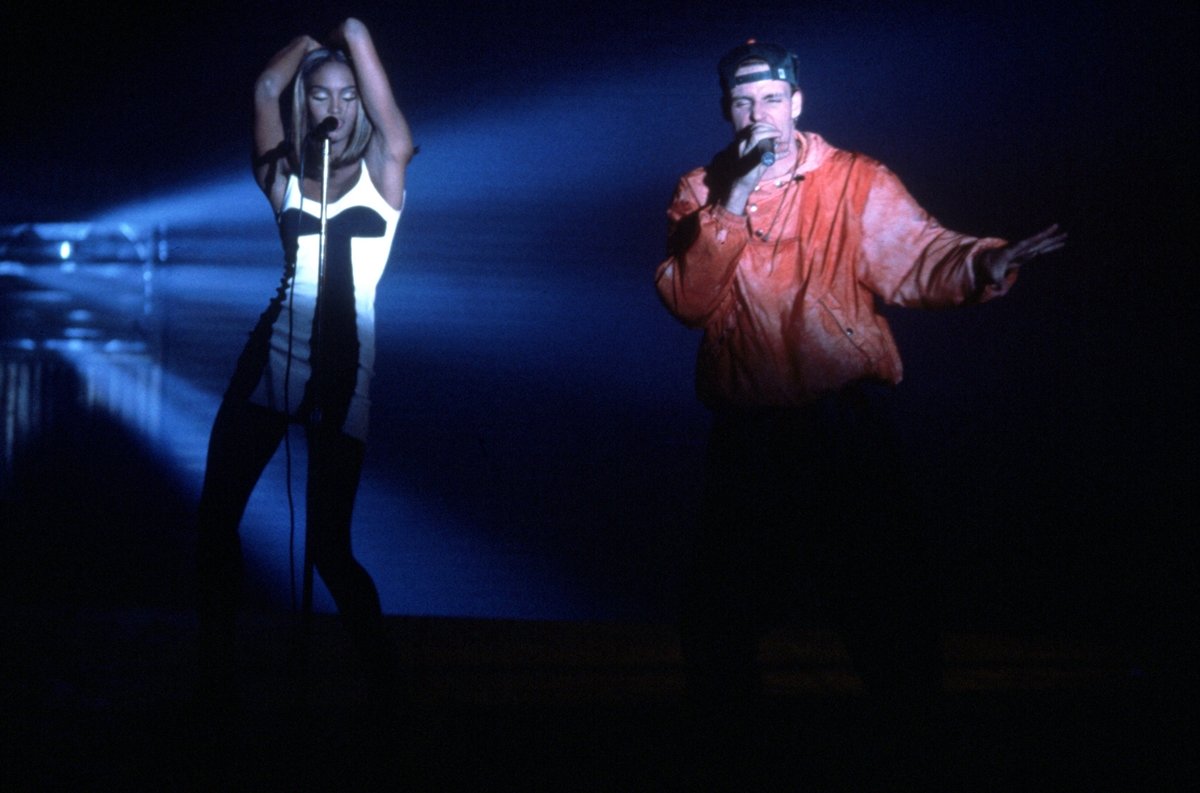 Naomi Campbell played a singer opposite Vanilla Ice as John "Johnny" Van Owen in the 1991 American romantic musical comedy film Cool as Ice (Credit: Universal Pictures)
She began walking in fashion shows for designers like Versace and Alaia and had photographers like Peter Lindbergh photograph her.
Other Fashionable Friends
Campbell was among the six women who were dubbed as the very first supermodels, some of the others including Christy Turlington and Linda Evangelista.
Those two also became good friends of hers and helped her break racial barriers by standing up to designers, telling them that if Campbell wasn't allowed to walk in their showers, they wouldn't be walking either.
Naomi Campbell has become one of the world's richest models through years of hard work (Credit: Vipflash / Shutterstock)
Soon Campbell was the first black woman in over 20 years to appear on the cover of British Vogue, and a year later she was the first black person to ever appear on the cover of French Vogue.
More Incredible Opportunities
Campbell also continued starring in music videos, just as she did when she was a child, appearing in George Michael's "Freedom! 90" and Michael Jackson's "In the Closet." Her early modeling days were marked with huge successes, not only for her but for all black people.
All of this led to financial success as well, as she was one of the highest-paid models in the world.
Naomi Campbell wears hotpants and bright red tights in Jump, the 18th episode in the second season of the American dramedy series Ugly Betty that aired on May 22, 2008 (Credit: ABC)
Soon after dominating the modeling world, Campbell Began dipping her toe in other streams of revenue, like publishing and singing. Campbell released a novel called Swan and a singing album called Baby Woman. Her singing career, though, was not well received by critics.
Campbell has also been in a variety of movies and television shows. Some of her credits include appearances in The Fresh Prince of Bel Air, Zoolander 2, and Ugly Betty.
Some of Her Investment Opportunities
Unfortunately for models, much of their work is to be done when they are younger, as their career opportunities thin as they age.
Although many models are trying to fight this ageism, it's still an uphill battle, and models know that they have to make other career decisions to maintain their streams of revenue when the modeling opportunities dissipate.
Naomi Campbell has a good business head on her shoulders and has expanded her horizons to continue making money, including investment opportunities in Ghana.
Naomi Campbell in a sparkling red dress at the 2019 LACMA 2019 Art + Film Gala Presented By Gucci at LACMA on November 2, 2019, in Los Angeles, California (Credit: Tinseltown / Shutterstock)
Campbell sees a lot of value in the African fashion business and has worked with investment firms to explore opportunities in that part of the world.
Campbell has also stayed on top of the fashion game, and in late 2021 joined a new management team.
This partnership with Women Management will allow her to find talent in other parts of the world, like Africa, India, and the Middle East, to further diversify the fashion industry, and bring different cultures and different forms of beauty into mainstream fashion.
Naomi Campbell's Worldwide Properties
Naomi Campbell also has a lot of real estate holdings that add to her net worth. The star model has a beautiful home in Kenya, which boasts a pool and loads of luxurious rooms.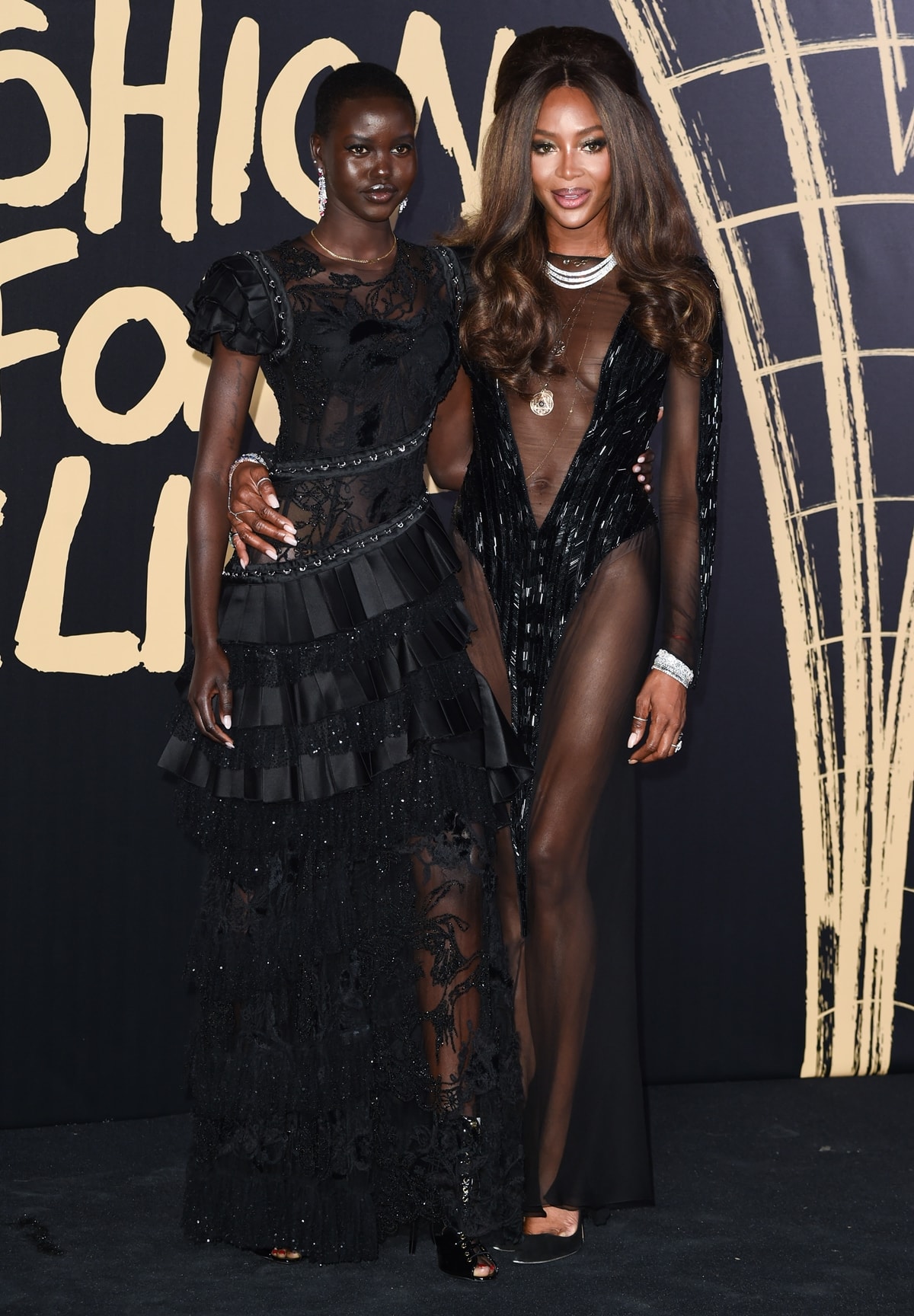 Supermodels Adut Akech Bior and Naomi Campbell attend Fashion For Relief London 2019 at The British Museum on September 14, 2019, in London, England (Credit: Featureflash Photo Agency / Shutterstock)
And she also owns a home in Turkey that she received as a gift from an ex-boyfriend. The property is worth quite a lot of money.
Campbell also has a property in Moscow, and at one time owned a duplex in Manhattan, but later sold it.
Inside Her Philanthropic Efforts
With all of her money, Naomi Campbell is also one to give back. One of her most prolific philanthropic efforts has been through her charity fashion for relief, which she founded in 2005 to benefit those affected by Hurricane Katrina, which ravished New Orleans, Louisiana.
Through this foundation, she hosts fashion shows and raises money to go toward relief efforts, and her work didn't stop at Hurricane Katrina.
Fashion for Relief is a charitable organization founded by Naomi Campbell in 2005 (Credit: Everett Collection / Shutterstock)
She continued fundraising and donating to relief efforts after terrorist attacks in India, the massive earthquake in Haiti, and an earthquake in Japan. Campbell also raises lots of money to go toward breast cancer research.
Inside Her Relationships and Personal Life
Naomi Campbell has had a series of high-profile relationships over the course of her career. Notably, she dated actor Leonardo DiCaprio and businessman Flavio Briatore.
She's also had relationships with Vladislav Dornan, a Russian billionaire, as well as actor Robert De Niro, and musicians Sean "Diddy" Combs and Usher.
Naomi and Sean John Combs dated briefly in 2002 after he split from Jennifer Lopez (Credit: Everett Collection / Shutterstock)
Campbell's biggest accomplishment in her personal life, though, came in 2021 when she shared that she has a daughter. Although she has confirmed that her daughter was not adopted, she has not stated whether she gave birth herself, or if the child was born via surrogate.
Either way, Campbell now has someone to pass on to all she's learned through her incredibly successful career as a model and businesswoman.
Naomi Campbell straightens her hair at the 2016 Gala Spa Awards held on April 2, 2016, at Brenners Park- Hotel & Spa in Germany (Credit: Sebastian Gabsch / Future Image / WENN)
In April 2016, Naomi Campbell ensured all eyes were on her at the 2016 Gala Spa Awards, where she was presented with the Beauty Idol award.
Naomi, who first started modeling at 15, stole the spotlight in a racy black gown from Pierre Cardin's 1989 collection.
Naomi Campbell flashes plenty of flesh in a Pierre Cardin lace gown (Credit: Sebastian Gabsch / Future Image / WENN)
The then 45-year-old ditched her bra and flashed plenty of flesh in the vintage frock, which featured a see-through sheer lace bodice with a huge ruffle lace collar and matching cuffs.
The bottom part of the dress was slightly demure with a satin bow detail at the hip and a velvet skirt with a side split that showed a hint of her endless legs.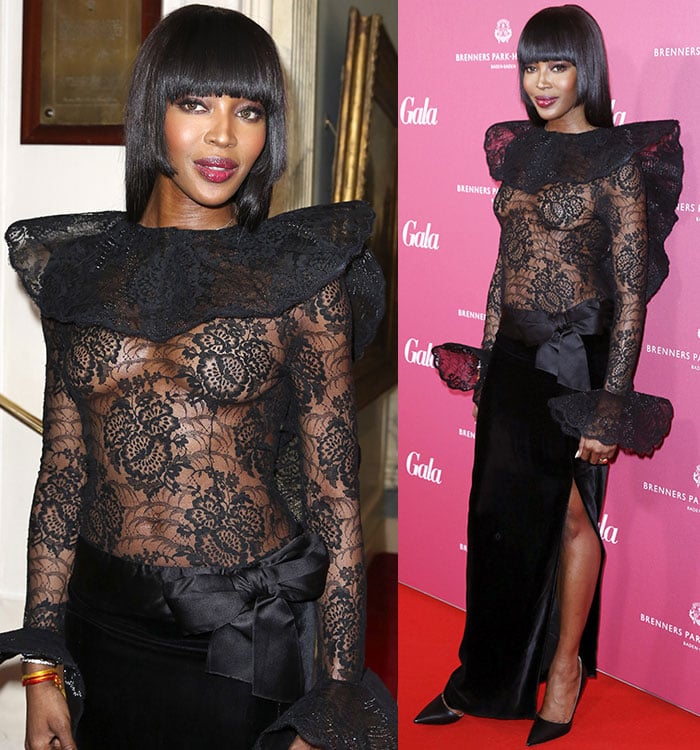 Naomi Campbell poses on the red carpet in a racy floor-length dress from Pierre Cardin's 1989 collection (Credit: Sebastian Gabsch / Future Image / WENN)
The British model wore her dark tresses sleek and straight and allowed her full blunt bangs to frame her face. She added a few touches of color to the dramatic black look with soft purple eyeshadow and deep pink lipstick.
The "Empire" star styled the look with a couple of bracelets and a pair of black half-d'Orsay pumps.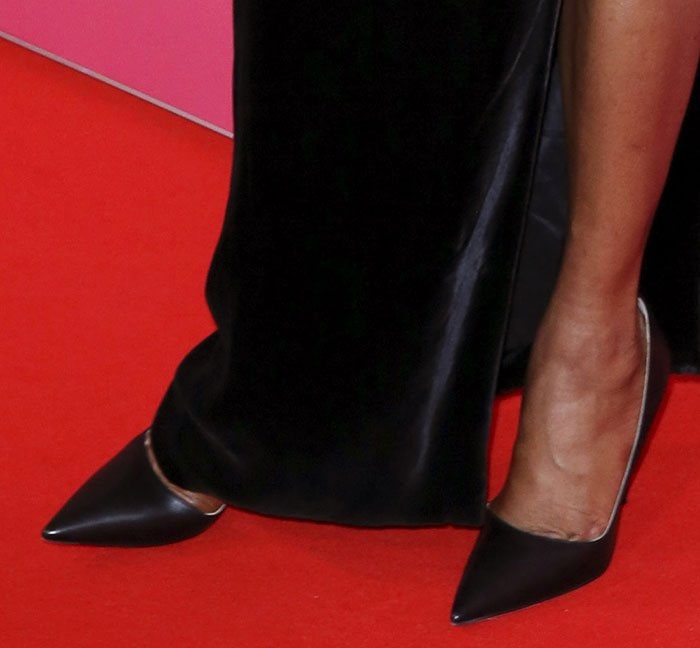 Naomi Campbell's feet in black leather pumps (Credit: Sebastian Gabsch / Future Image / WENN)
Naomi's black pumps are made of smooth leather and feature a half d'Orsay silhouette, pointed toes, and about four-inch heels.
While we have yet to identify her pumps, you might want to check out a similar style by Christian Louboutin at Mytheresa and Nordstrom.
Black Christian Louboutin "Iriza" Half-d'Orsay Pumps, $675