Naomi Campbell was spotted wearing a pair of the highly coveted Nike x Riccardo Tisci Air Force 1 sneaker boots while out and about in Paris, France yesterday evening.
If you're confused about the random purple flower in her hair, it's from the way she was styled for the Jean Paul Gaultier Spring/Summer 2015 fashion presentation.
Naomi walked the Gaultier catwalk prior to being papped, and she apparently loved the flower brooch so much that she not only left the show with it but even stuffed some more into her handbag.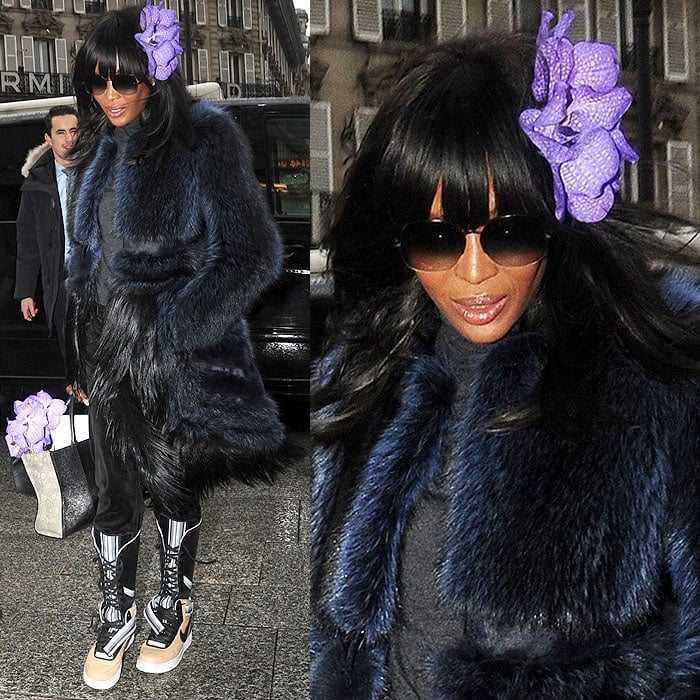 Naomi Campbell with a purple flower in her hair in Paris, France, on January 28, 2015
We don't have an explanation for the fur coat, though. The black-and-blue color-blocking clashes so much with the purple, and the shaggy texture just doesn't go with the black velvet sweatpants.
Naomi Campbell wearing a black-and-blue fur coat, black velvet sweatpants, and Nike x Riccardo Tisci Air Force 1 sneaker boots
Maybe Naomi was in a hurry after the fashion show and just quickly threw her outfit on together? The laces and velcro straps on her sneaker boots aren't even tied, but then again, sneaker boots aren't exactly the slip-on-and-off shoes you'd want to bring to a fast-paced fashion show.
Wouldn't have pumps been a better footwear choice?
Nike x Riccardo Tisci Air Force 1 sneaker boots in beige on Naomi Campbell
Oh well. Maybe Naomi is just a really proud owner of not one but two pairs of the Nike x Riccardo Tisci Air Force 1 sneaker boots. The collab collection sold out within minutes of hitting the shelves, so for Naomi to own a couple is a very much envied status among fashionistas and sneakerheads.
For now, our best chance at acquiring a pair is at auction sites like eBay. Check out pictures of the other colorways of the sneaker boots below.
Nike x Riccardo Tisci Air Force 1 Tall Sneaker Boots in beige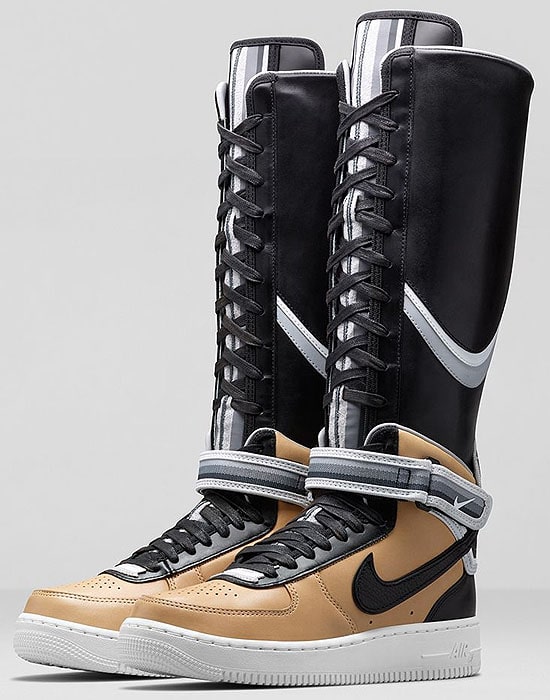 Nike RT Air Force 1 Tall Sneaker boots in white
Nike x Riccardo Tisci Air Force 1 Tall Sneaker Boots in black
Credit: WENN