Naomi Grossman is best known for her portrayal of microcephalic Pepper on American Horror Story: Asylum. At the TV series' fourth season premiere on Sunday, the actress shed all traces of her physically deformed character.
She showed off her beautiful bald head, piercing blue eyes, and distinct gap-toothed smile usually hidden behind prosthetics and makeup.
Naomi Grossman showed up naked at the fourth season premiere of American Horror Story: Freak Show held at TCL Chinese Theatre in Hollywood, California, on October 5, 2014
The American actress wore a sheer gown that displayed her underwear-less state underneath.
Pepper who? Those side boobs, waist, pelvage, side butt, and legs were all Naomi Grossman. Haute couture designer and Project Runway alumna Natalia Fedner was the one responsible for showing us this much of the actress.
Naomi Grossman's sheer gown displayed her naked state underneath
Check out all angles of Fedner's "Empress" gown that is literally hanging on to Naomi by a thread:
Naomi Grossman donned a dress by Project Runway alumna Natalia Fedner
Naomi Grossman modeling all the angles of her Natalia Fedner haute couture 2014 Empress gown
For such a revealing dress, Naomi wore surprisingly classy t-strap pumps that look very much like dancing shoes.
Naomi Grossman's feet in black-and-gold t-strap peep-toe pumps
Score a similar style at Amazon:
Bordello Cabaret-01 Sequined T-Strap Pumps, $74.95 at Amazon
It makes us wonder why Naomi Grossman's skin-baring dress didn't rouse fashion critics up as other commando dresses did.
Naomi was even more exposed than other celebrities who made headlines wearing sheer dresses. But then again, the American Horror Story: Freak Show premiere was filled with extraordinary personalities, like the world's smallest woman and the world's tallest model:
Jyoti Amge, the Guinness Book of Records' world's smallest living woman, posing with Amazon Eve, so-called world's tallest model
There was also a woman with half a body: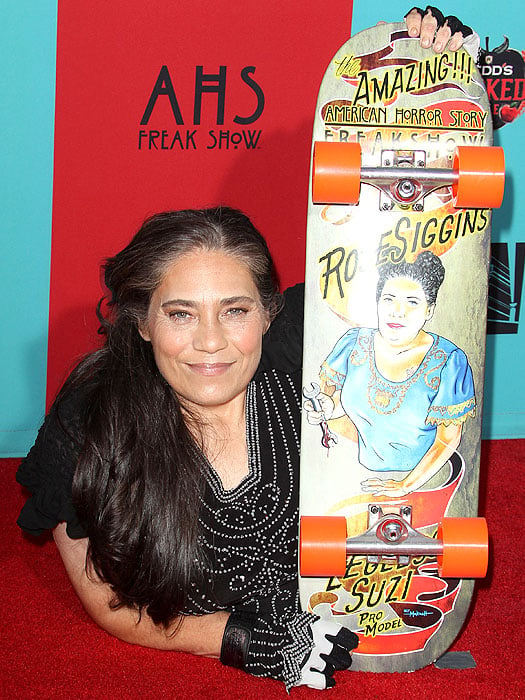 Rose Siggins, the woman who had to have both legs amputated as a child due to a genetic disorder known as sacral agenesis
In attendance as well were interesting celebrities with very unique, unconventional fashion styles: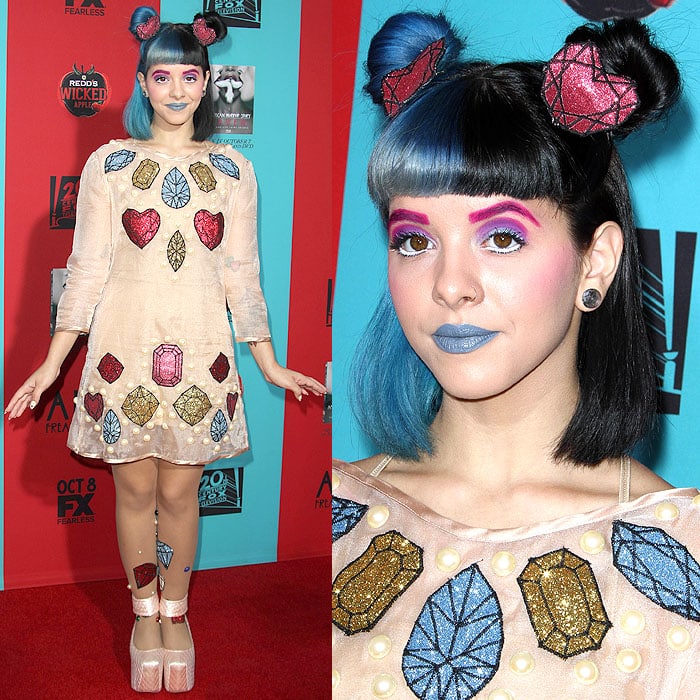 Singer Melanie Martinez posing on the red carpet at the American Horror Story: Freak Show premiere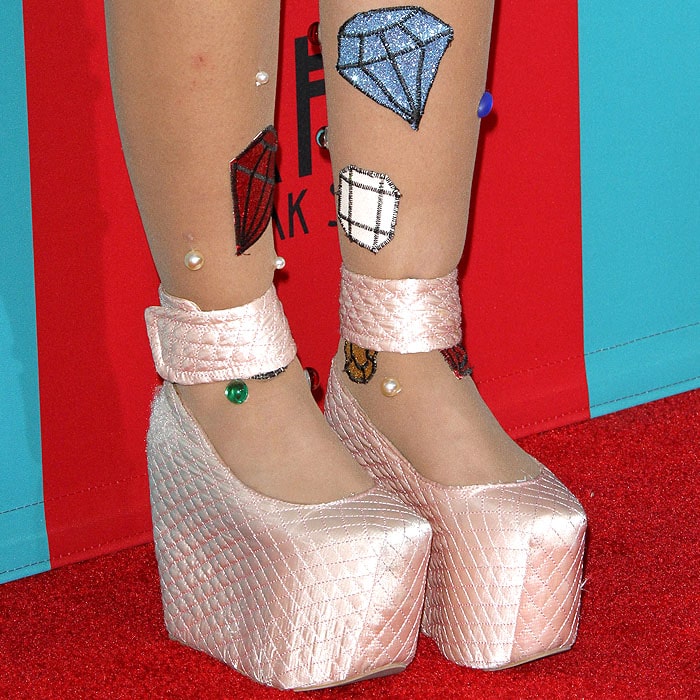 Melanie Martinez's pink quilted ballerina platforms
British singer Neon Hitch at the American Horror Story: Freak Show premiere
Big-name stars such as Lea Michele, Emma Roberts, and Sarah Paulson were there, too — check out their looks!
Credit: Adriana M. Barraza / Nikki Nelson / FayesVision / WENN