Natalie Portman and Lily-Rose Depp played sisters in the 2016 French-Belgian drama film Planetarium. Portman was 34 at the time of filming, while Depp was 16.
While they play sisters in the film, they share a significant age difference of 18 years, with Natalie born on June 9, 1981, and Lily-Rose born on May 27, 1999.
The film follows the story of Laura Barlow (Portman) and Kate Barlow (Depp), two sisters believed to have the supernatural ability to communicate with the dead. They travel to Paris to perform their act for a visionary French producer, but they soon find themselves entangled in a web of deceit and manipulation.
In the film, Natalie Portman shows her bare bottom and bare back. It surprised some fans as Portman said she would never do nudity again after the 2007 short film Hotel Chevalier.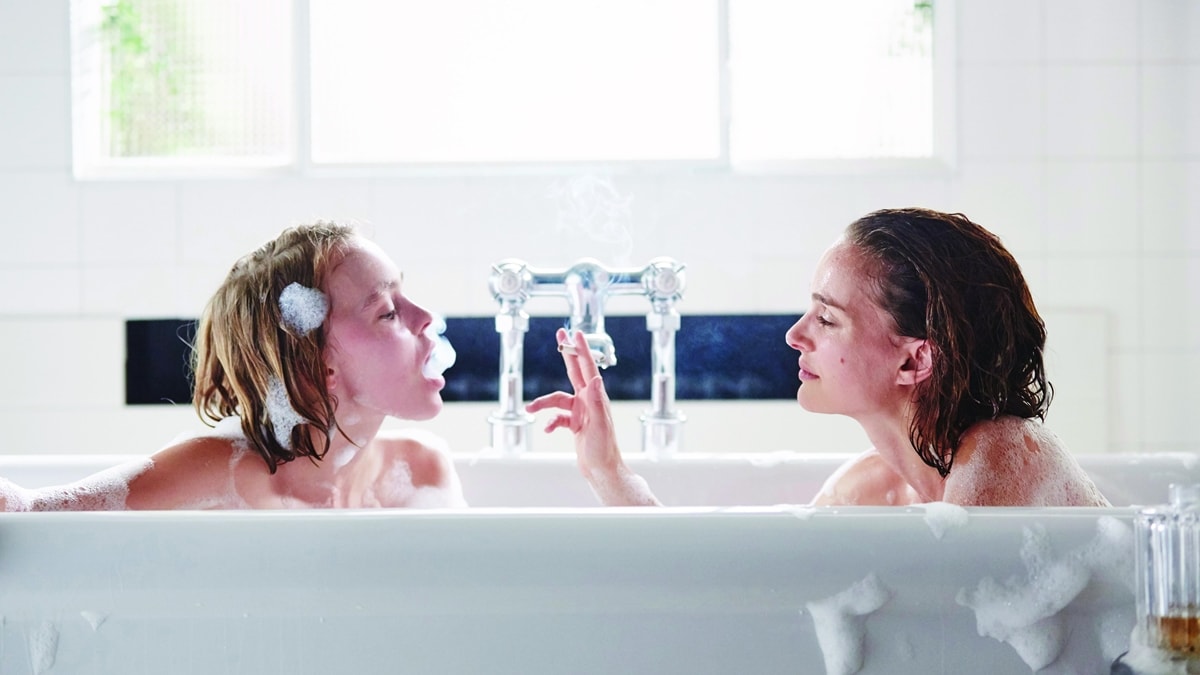 Natalie Portman as Laura Barlow and Lily-Rose Depp as Kate Barlow in the French-Belgian drama film Planetarium (Credit: Ad Vitam Distribution)
Natalie Portman starred in Wes Anderson's short film, "Hotel Chevalier," which serves as a prologue to Anderson's feature film, "The Darjeeling Limited."
In "Hotel Chevalier," Portman has a nude scene that drew more attention than the film itself, leading her to later express regret, as per The Guardian, for perhaps overshadowing the movie's essence.
"The thing is – and maybe I've brought it on myself by talking about nudity so much – it's still the thing that people talk about more than the short. And that's the thing that makes me think maybe I shouldn't have done it," Portman said.
Natalie Portman and Lily-Rose Depp, despite their 18-year age difference, attended the 'Planetarium' premiere at the 73rd Venice Film Festival in Sala Grande, Venice, Italy on September 8, 2016 (Credit: Aurore Marechal / Abaca / Startraksphoto)
"It's not that I regret the actual thing," she said. "But it really depresses me that what I think is a wonderful film, that I'm really happy with – and Wes put a lot of time and energy into planning shots and writing the script, it's very minimal, very exact – and then at the end literally half of any article or review about it has been about the nudity."
"I'm definitely not a prude about sex or nudity, I just don't want to do something that will end up as a screengrab on a porn site," Portman confided.
Natalie Portman Conceals Baby Bump at Toronto Film Festival After Elegant Announcement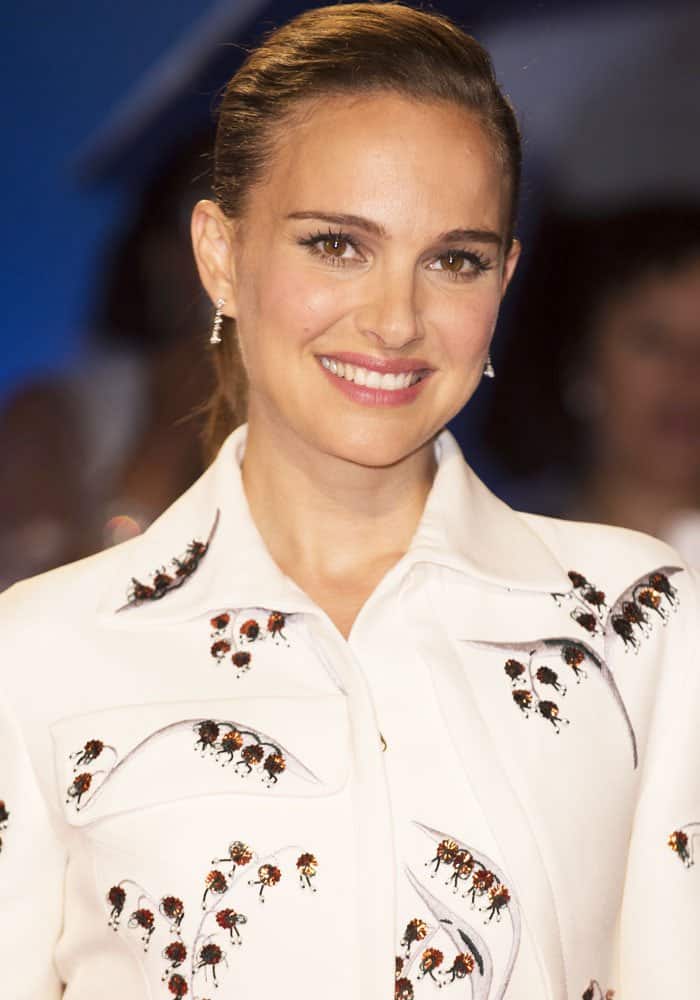 Natalie Portman wears a chic white mini-coat dress adorned with intricate floral details at the 2016 Toronto International Film Festival for the premiere of "Planetarium" in Canada on September 10, 2016 (Credit: Jaime Espinoza / Euan Cherry / WENN)
Just days after making an elegant "expecting" announcement in a sophisticated white one-shoulder Christian Dior gown, Natalie Portman returns to concealing her baby bump. Natalie opted to keep her bump out of sight for the 2016 Toronto International Film Festival.
Natalie made her Canadian red carpet appearance to promote her latest film, "Planetarium."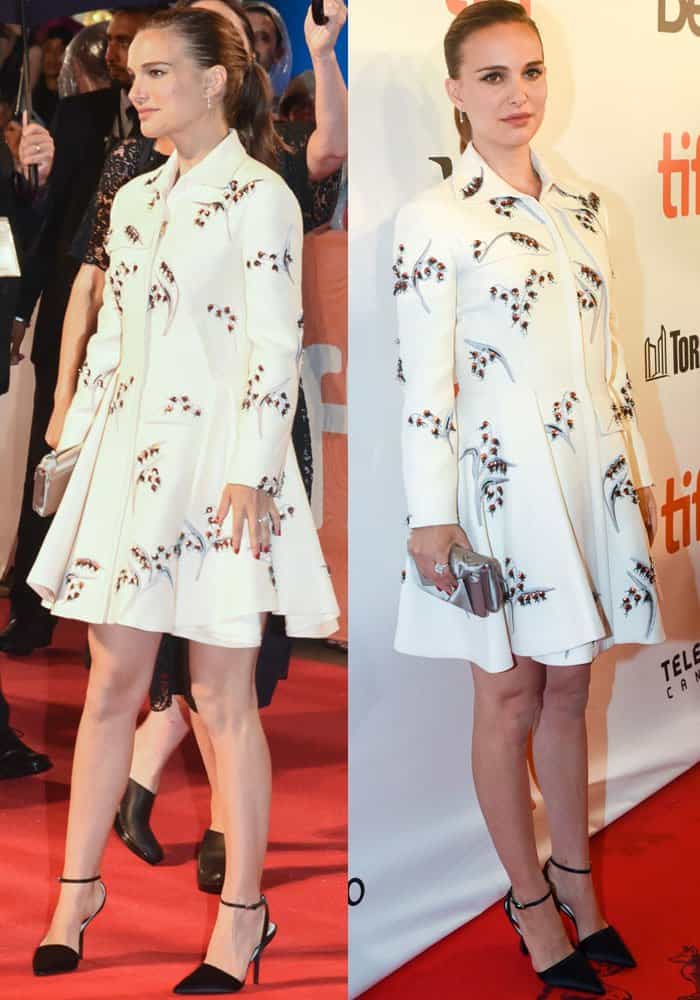 Natalie Portman flaunts her legs while subtly veiling her baby bump in a full Christian Dior ensemble (Credit: Jaime Espinoza / Euan Cherry / WENN)
Like her "Planetarium" co-star Lily-Rose Depp, who showed up in a full head-to-toe Chanel look, Natalie repped a complete Christian Dior look. Both actresses are brand representatives for their respective fashion houses.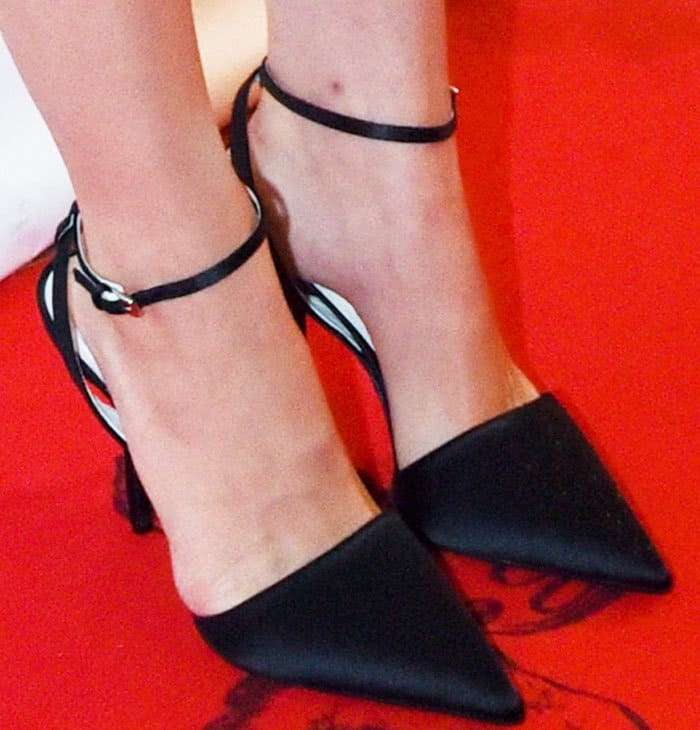 Natalie Portman shows off her feet in pointed-toe Dior ankle-strap pumps (Credit: Jaime Espinoza / Euan Cherry / WENN)
The actress wore a white mini-coat dress that had embellished floral details. Natalie finished her look with satin pointed-toe pumps and a metallic clutch.
Natalie Portman poses beside her "Planetarium" co-star Lily-Rose Depp (Credit: Jaime Espinoza / Euan Cherry / WENN)

Natalie was in good spirits during the red carpet photo op, even cracking a laugh with her co-star, who apparently grabbed her behind mid-photo.
Natalie's Dior heels are unavailable online, but do check out a similar, albeit embellished, Manolo Blahnik pair of shoes at Mytheresa.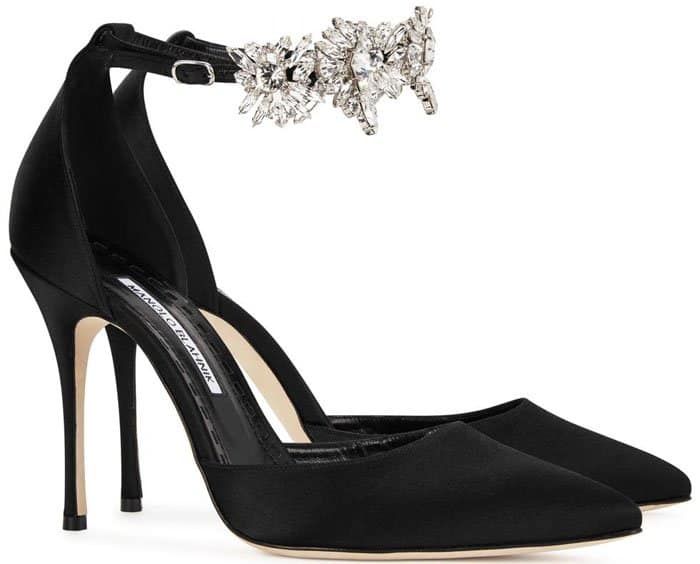 Manolo Blahnik "Sicariata" Embellished Pump, $1,045