We wish our fairy grandmother were as fabulous as Nicki Minaj. With a look as fierce as hers, who wouldn't want that?
The 'Anaconda' singer bared all (quite literally) to host a Halloween event at 1Oak in Las Vegas on October 30. Nicki wore an embellished gold and white tutu dress with a deep, plunging neckline paired with stockings. She completed her look with the necessary fairy princess accessories of course, a sparkling wand and tiara.
Nicki Minaj dresses as a fairy princess to host a Halloween party at 1Oak in Las Vegas on October 30, 2015.
Our eyes were not on her sexy Halloween costume though. We were eyeing a particular body part. We're talking about her feet of course! What were you thinking? The rapper added a bit of edge to her feminine costume with a pair of black Azzedine Alaïa lace up hiker booties. We've also seen this pair on Beyonce.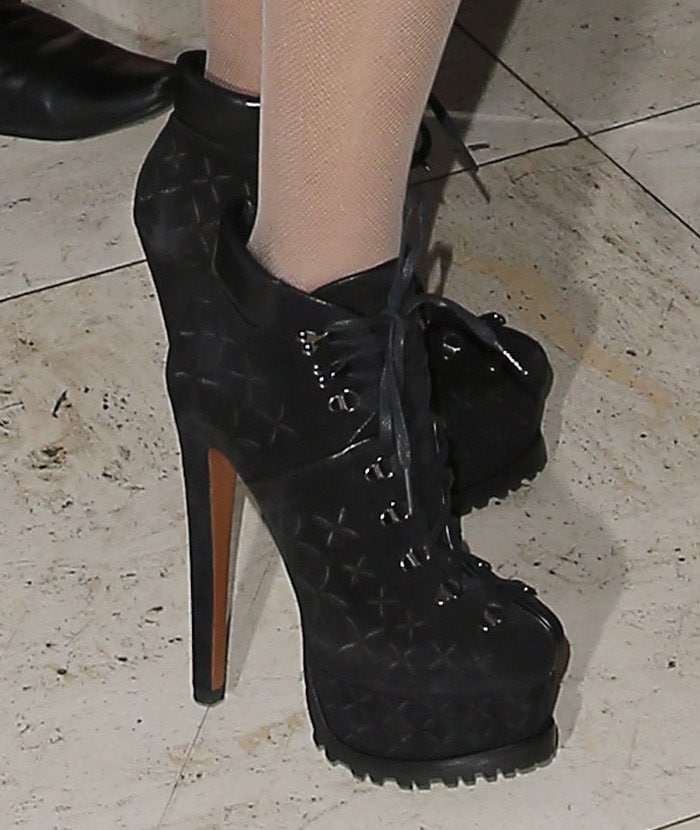 Nicki Minaj in Azzedine Alaïa hiker booties to host an event in 1Oak Las Vegas on October 30, 2015.
Yes, we also noticed Nicki's very ample cleavage. You know what they say, if you've got it flaunt it. And so she did. She even posted a video on Instagram featuring her two stars.
The black pair is no longer available online, but they are available in different colors:
Azzedine Alaïa Patent Trecking Boots, $1,255 from Browns Fashion
Alaïa Zebra-print calf hair ankle boots, $864 on sale at The Outnet
Credit: Judy Eddy/WENN