Nicole Richie enjoyed some guilt-free shoe shopping at the 18th Annual QVC Presents "FFANY Shoes on Sale" held at the Waldorf Astoria in NYC last Thursday.
The event, which aims to raise money for breast cancer research and education, gave participants the chance to shop designer shoes at half their suggested retail prices and support a worthy cause at the same time.
Nicole Richie's shoe shopping outfit consisted of a long-sleeved LBD with an asymmetrical hem, a black clutch, and a pair of leopard print ankle boots:
Nicole Richie attends the 18th Annual QVC presents "FFANY Shoes On Sale" at the Waldorf Astoria in New York City on October 13, 2011
Nicole traded in her ankle boots for a couple of Jimmy Choo shoes during the sale but we still like her leopard print ankle boots the most: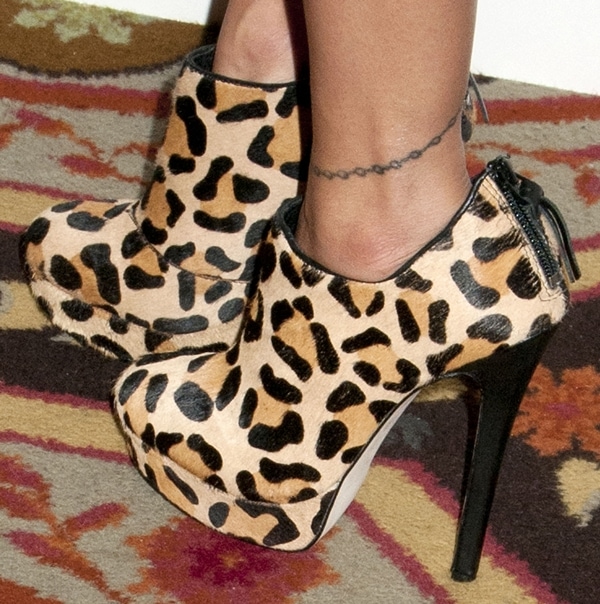 As she has her own clothing line, Nicole Richie is one of those celebrities whose clothes, shoes and accessories are easy to identify. A quick search through her latest House of Harlow 1960 collection lead us to these House of Harlow 1960 'Natalia' platform ankle boots:
House of Harlow 1960 'Natalia' platform ankle boots
That's a vertiginous 6″ high heel on this ankle boot. The platform is 1 1/4″ high. These ankle boots carry a price tag of $295.00. If these are your next shoes, you can find the most sizes of these ankle boots at Shopbop.
We know that leopard print booties are pretty common so $300 is a considerably high price to pay for a pair of them. We're liking the haircalf upper, the low cut and the thin heel on the House of Harlow 1960 boots though, so we decided include those details in our search for look-for-less options.
We've narrowed down the selections to these 3 — all with haircalf uppers, ankle-high cuts and slim heels. Okay, so these are all still a bit pricey but they're all at least $100 cheaper than Nicole Richie's boots! :
1. Ivanka Trump 'Wisterias' ankle boots, $195.00  2.  Sam Edelman 'Ria' haircalf ankle boots, $150.00  3. Calvin Klein 'Jordan' elastic heel ankle boots, $149.00
Just two days later Nicole showed up in a lemon Keepsake 'Lost Without You' chiffon dress paired with Christian Louboutin 'Luxura' pumps: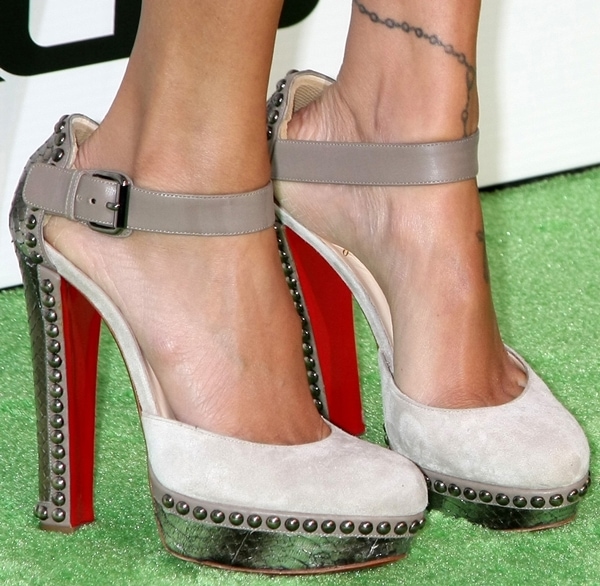 Nicole Richie at the 2011 Environmental Media Awards held at the Warner Brothers Studio in Beverly Hills, October 15, 2010
Which of the two outfits do you prefer? How about the shoes?
Credit: Michael Carpenter/ WENN / Nikki Nelson