Nicole Scherzinger is the latest celebrity victim of a social media account hack, in which a photoshopped nude picture of her was posted on her Instagram.
The doctored image showed Nicole's head edited onto a naked woman's body wearing an unbuttoned white shirt. It also bore written directions on how to download a free app that'll supposedly release the 41-year-old singer's full sex tape.
Nicole Scherzinger baring her bronzed skin at the 2019 Creative Arts Emmy Awards held at the Microsoft Theater in Los Angeles, California, on September 14, 2019
The scandalous image has since been taken down, but not before being available for everyone and Nicole's 3.9 million Instagram followers to see for nearly 30 minutes. Earlier this year, a sex tape of her and ex-boyfriend Lewis Hamilton was leaked online.
"I genuinely don't understand why someone would do something like this, or why they would leak it. It's an unbelievably mean thing to do," Nicole told The Sun on Sunday about the video showing her and Formula 1 driver Lewis Hamilton kissing and cuddling in bed.
This all happened right after the 2019 Creative Arts Emmy Awards, where an unknowing Nicole was both figuratively and literally kicking up her heels on the red carpet.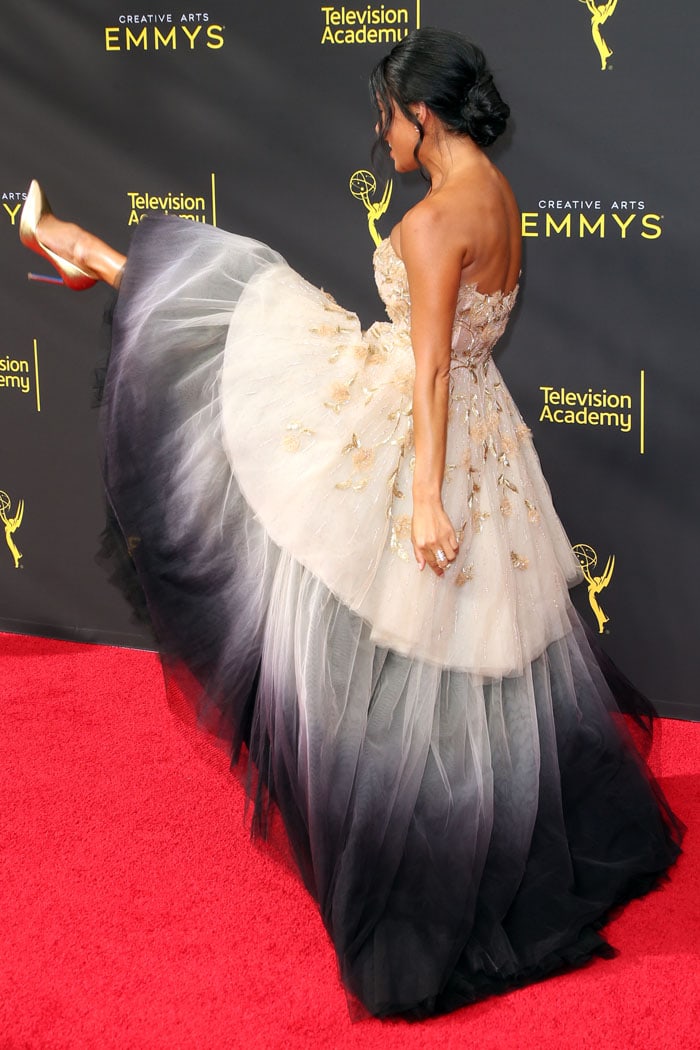 Nicole Scherzinger kicking up her gold heels
The Masked Singer judge has still yet to comment on the hacking, but we think she's right in ignoring it.
She's right in not letting her wig get snatched, especially since she was looking so glamorous at the Emmys in a decadent Pamella Roland Resort 2020 tiered ombré strapless gown.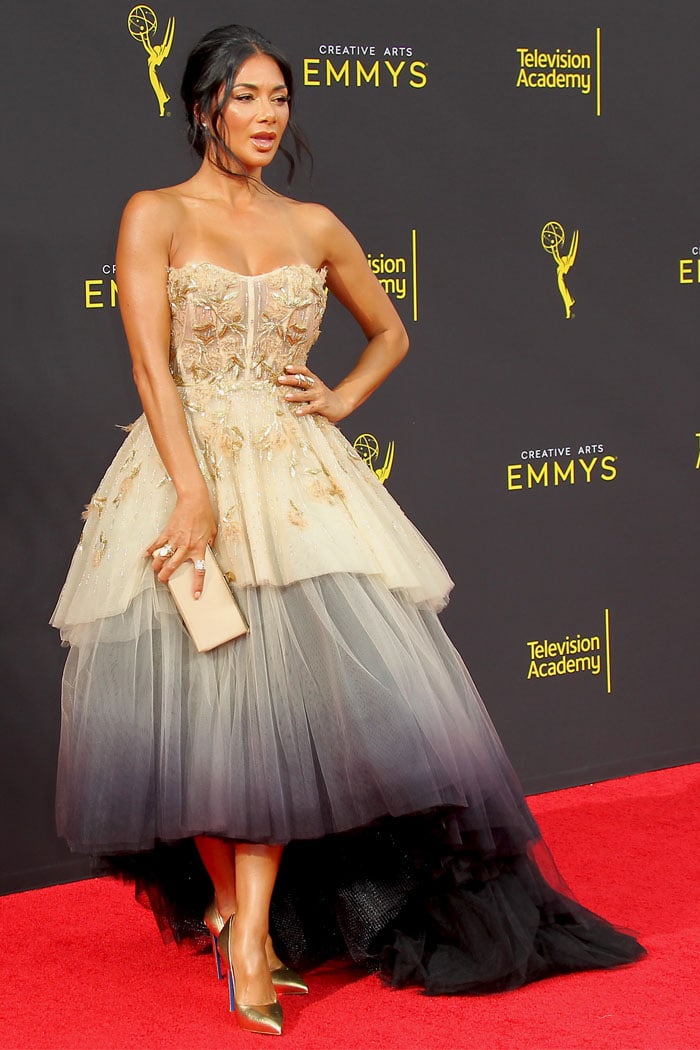 Nicole Scherzinger in a Pamella Roland Resort 2020 tiered ombré strapless gown and Loriblu gold pumps
A windswept chignon, bronze makeup, and Loriblu metallic gold pumps featuring the Italian shoe label's signature blue soles completed Nicole's Emmy's red carpet look.
Nicole Scherzinger's feet in Loriblu gold pumps featuring blue soles
We think Nicole would prefer we focused on her fashion than the hacking, so we're going to ask: do you think she should've worn black pumps instead?
As much as we love Loriblu's blue soles, we think they look out of place in Nicole's glam ensemble.
Credit: Adriana M. Barraza / FayesVision / WENN