Power couple Kim Kardashian and Kanye West gave birth to a baby girl almost the same time as Kate Middleton, and while we have seen photos of Price George, we haven't seen any snapshot of North West — until yesterday.
While everyone was wondering which magazine would win the (very expensive) bid for the first photos of Nori, no one could have expected Kim-Ye's decision. The first photo of Baby Kardashian-West was revealed on the finale of Kris Jenner's talk show, Kris, yesterday.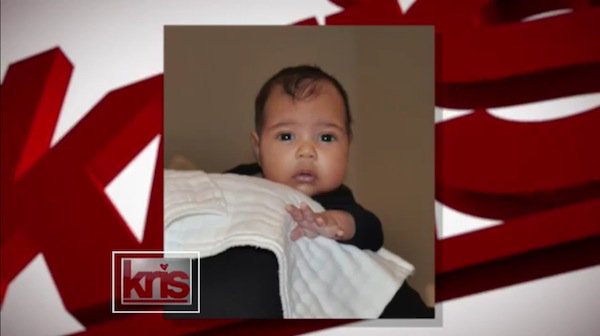 The first photo of Kim and Kanye's baby, North West, revealed on Kris Jenner's talk show, Kris, yesterday
Well, after Kris' talk with Mario Lopez on Extra just two days before her talk show's finale, we should have guessed the Kardashian mom-ager would be the first to introduce the world to North. She gave some subtle hints while talking to Mario about Kanye West being her last guest for the season. Skip to 1:28 for the first clue, and then to 2:16 for the second on the Extra interview below.
We must admit that Kris looks like a happy and gorgeous grandmother in a red skater dress paired with nude Valentino "Rockstud" pumps. She doesn't look like a grandma of three or a mom with six kids. What do you think of her ensemble?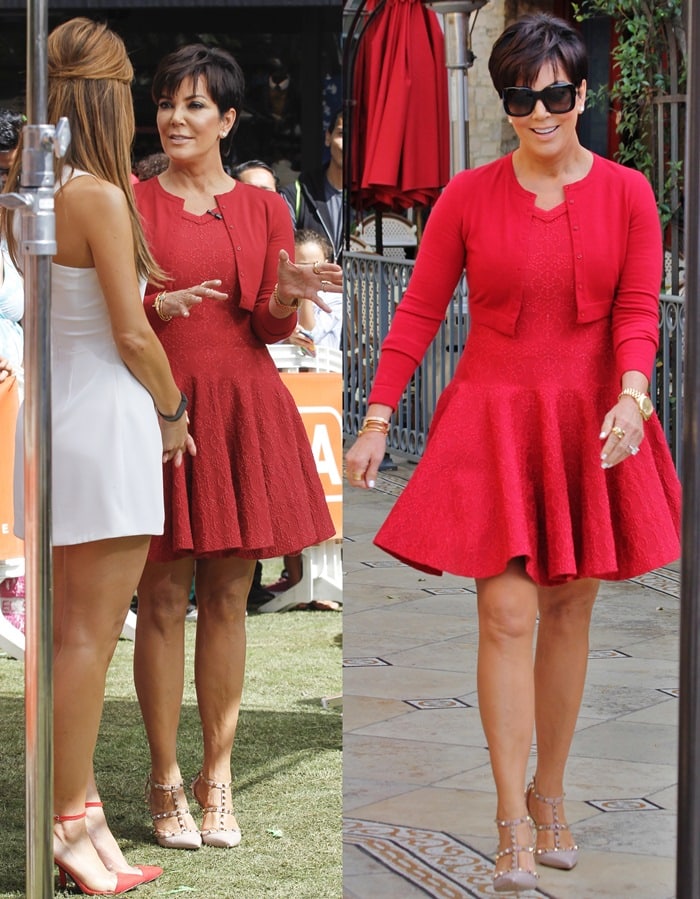 Kris Jenner, pictured with Maria Menounos, looking happy and gorgeous in her interview with Extra on August 20, 2013
Valentino "Rockstud" Pumps in Taupe, $995
It looks like the red skater-dress style is Kris' go-to outfit this week. She wore a very similar dress for the finale of her talk show. This time, she changed her shoes a bit. She went for nude Saint Laurent pumps. Which pair do you prefer?
Kanye West on the season finale of Kris on August 23, 2013
Kris Jenner's go-to pieces this week are a red skater dress and nude heels from Saint Laurent:
Saint Laurent "Paris" Pointed-Toe Pumps in Nude, $625
Now, let's get to the really juicy part — the interview with Kanye and North's photo. Here's an interesting tidbit that Kanye revealed in the interview — he sketched out shoes for Kim with footwear designer Giuseppe Zanotti in Italy for her birthday! How can any girl resist a custom-made pair of Zanottis? Skip to 7:38 to hear that story. Like any good host, Kris saved the best for last. Listen to Kanye introduce the first public photo of his baby at 38:38.
We certainly hope Nori gets her mom's looks and her dad's cool fashion sense!
Credit: krisjennershow.com/RHS/WENN