As the face of Marc Jacobs' new fragrance Oh! Lola, Just Jared reports that Dakota Fanning was front and center at its launch event held at the Marc Jacobs store in SoHo last Wednesday.
Dakota Fanning is the face of Marc Jacobs' new fragrance Oh! Lola
Before anything else, can I just say that that is one gigantic bottle of perfume!
Dakota Fanning was of course dressed in a head to toe Marc Jacobs outfit for the event which consisted of a Marc Jacobs open front seam silk blend floral dress and an interesting pair of Marc Jacobs sandals.
These sandals are a flag carrier of Marc Jacobs' signature style which lately has been a confusing mix of materials instead of the young, fun and quirky designs we've come to love him for:
Marc Jacobs Raffia Flower Heels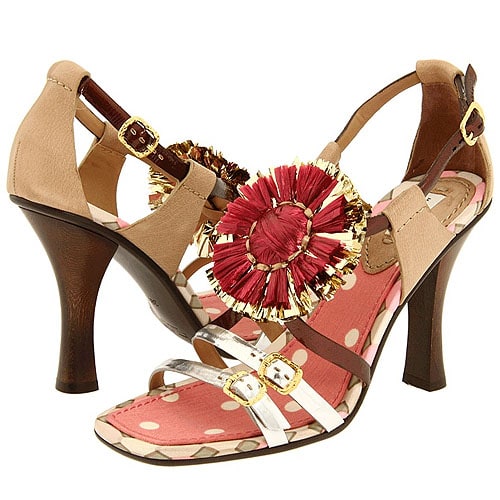 So let's see, it's got (1) brown leather straps in two different tones, (2) silver buckled straps at the front, (3) a diamond and polka dot-patterned instep, (4) a 3 3/4″ wooden flared heel and (5) a red and gold metallic raffia sunburst flower to top it all off!
In short, it's got A LOT going on.
You might not believe it but Dakota Fanning's heels have actually been toned down already, down from this original version with a questionable tinsel-looking fringe detail wrapped around the heel:
Marc Jacobs raffia flower heels with fringe
Suddenly, the pink and brown version don't all that bad at all.