Olivia Palermo's appearance at different catwalk presentations during London Fashion Week Autumn/Winter 2014 should be expected since she never misses huge fashion events. She is considered a fashion icon, so everyone's been looking forward to her spot-on looks!
And at the Matthew Williamson's show, Olivia didn't disappoint. A number of A-list celebrities arrived at One Great George Street on Sunday night (February 16) to support Matthew Williamson himself, and we can say Olivia proved her style credentials yet again.
The American socialite was seated in the front row alongside Cat Deeley, who was striking in a bright fuchsia coat. Olivia Palermo, on the other hand, kept herself stylishly warm in layers of clothing pieces that included an avant-garde metallic blue jacket under a furry black coat, a pair of tattered jeans, and a pair of fur-trimmed booties.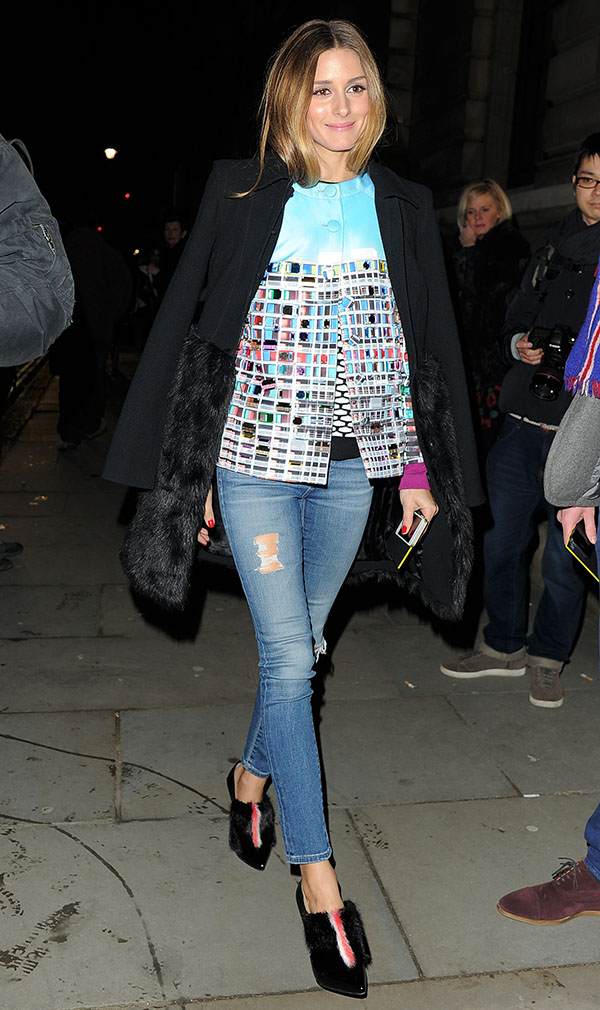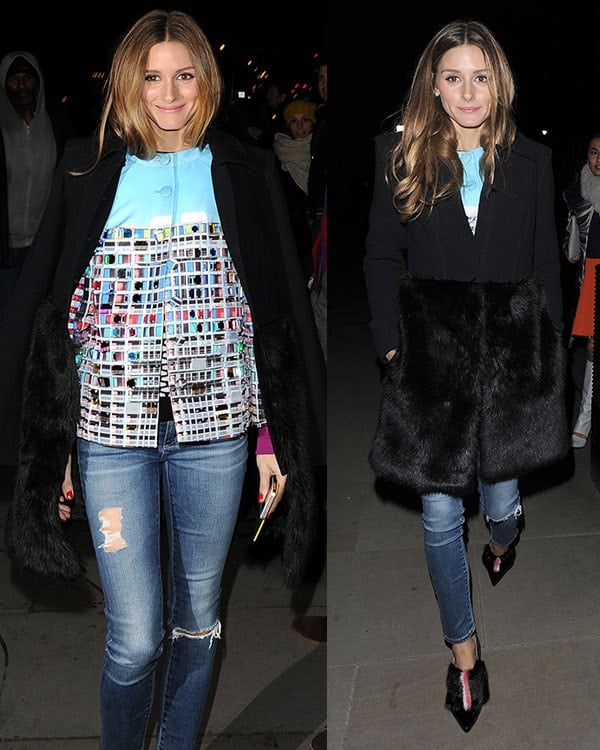 Olivia Palermo arriving at Matthew Williamson fashion show during London Fashion Week Autumn/Winter 2014 in London, England, on February 16, 2014
Although she was just wearing torn denims, Olivia Palermo still managed to work them fashionably. Her booties certainly added a dose of style to her look. These Fendi shoes are made of sleek patent leather and are detailed with soft rabbit fur in three colors at the vamps.
While the genuine fur is already enough to make them eye-catching, these booties also feature 5 inch mirror-plated heels that are architecturally designed. Pointed toes and hidden platforms that measure about half an inch complete these shoes.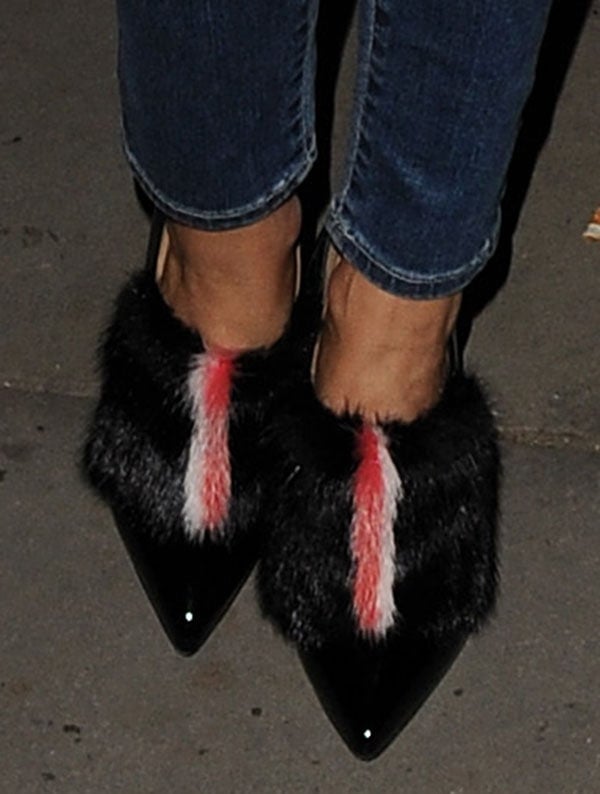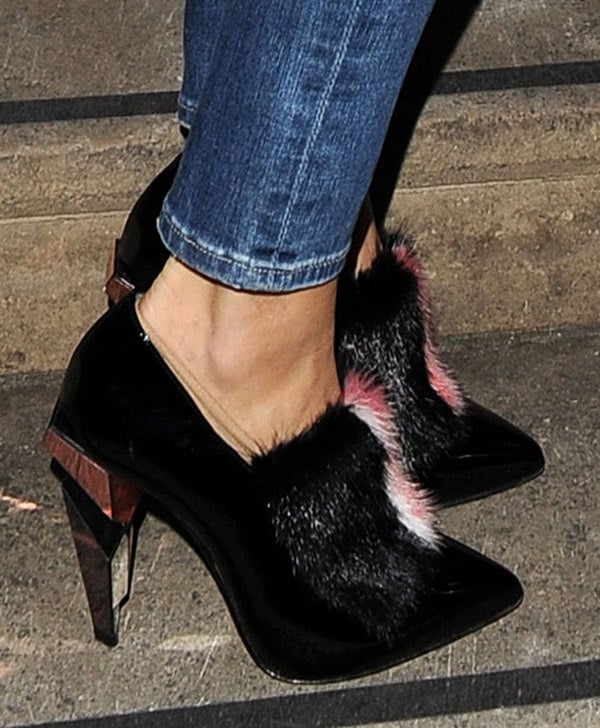 Olivia Palermo wearing Fendi fur-trimmed booties
Olivia Palermo's pink fur-trimmed Fendi booties are already sold out at Saks, but you can still purchase the other versions at Barneys.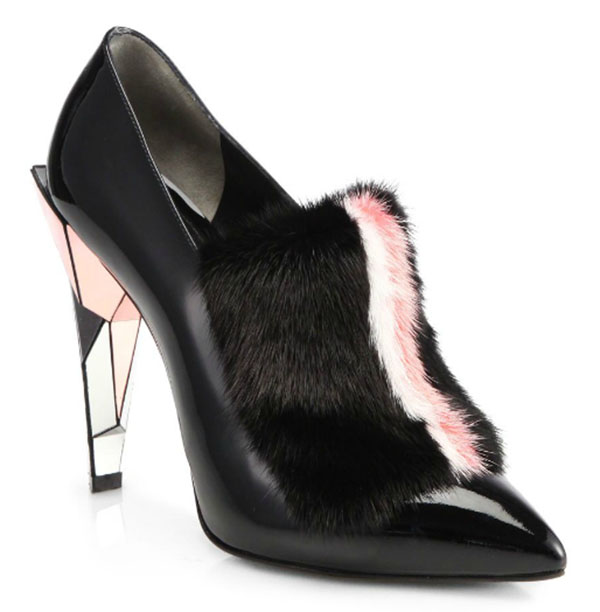 Fendi Fur-Trimmed Patent Leather Ankle Boots in Black/Pink/White at Barneys and Saks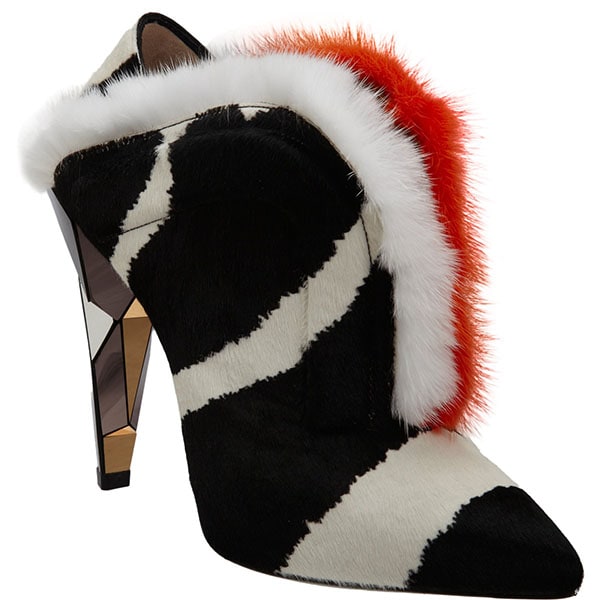 Fendi Fur-Trimmed Calf-Hair Shoe Boots in Black/White/Orange, $1,700 at Barneys and Saks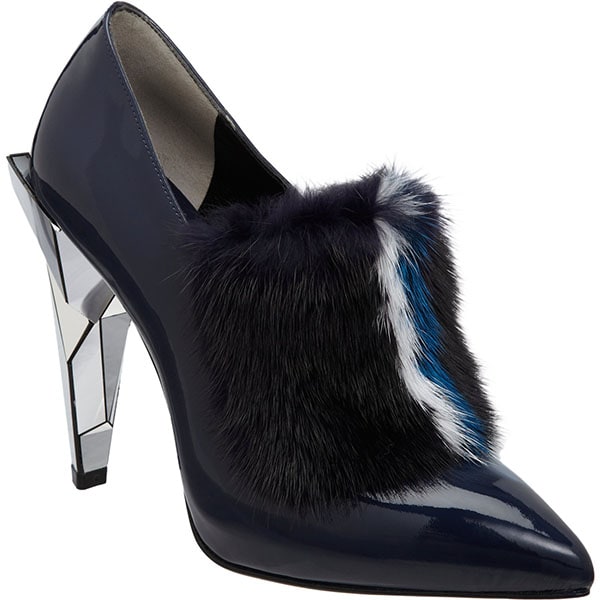 Fendi Striped-Fur-Panel Pump Boots in Blue/Black/White, $1,890 at Barneys and Saks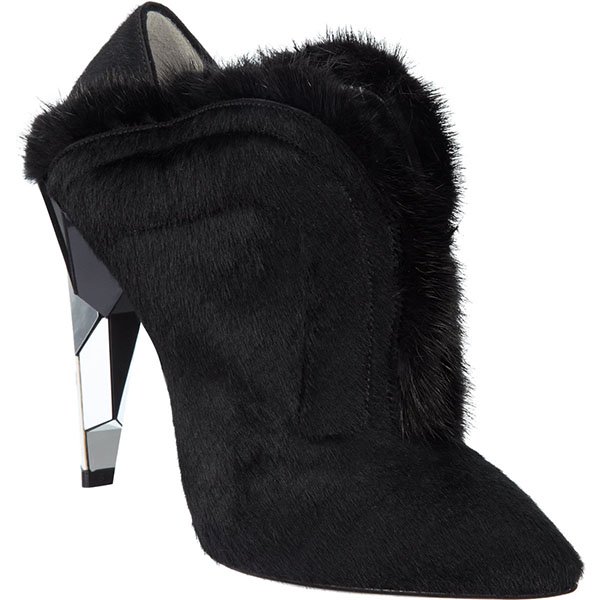 Fendi Fur-Trimmed Calf-Hair Shoe Boots in Black, $1,790 at Barneys and Saks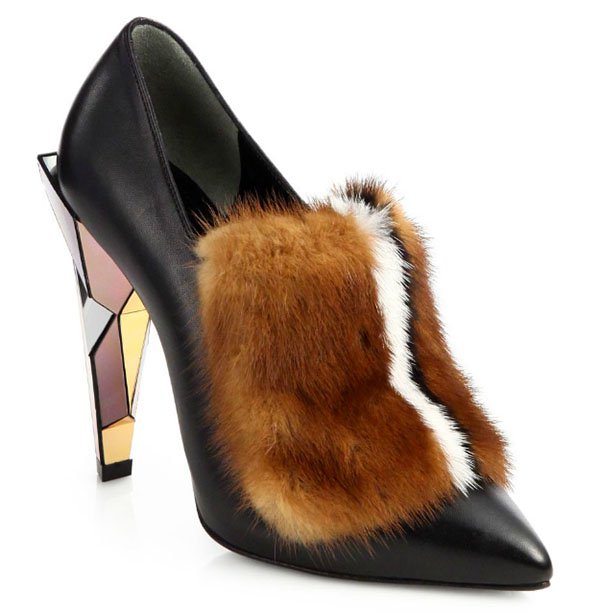 Fendi Leather Fur-Trimmed Pumps in Black Multi, $1,990 at Barneys and Saks
Credit: Will Alexander/Stuart Castle/WENN