From his role as Private First Class Adrian Caparzo in Saving Private Ryan to voicing Groot in Guardians of the Galaxy to guns blazing in F9, Vin Diesel has taken the action movie world by storm. If he's not making guys the world over jealous by performing heroic feats, he's making girls sweat with his ripped muscles and chiseled abs.
This man's man has made a name for himself by being the definition of masculinity and sex appeal… And boy do we recognize the sex appeal. Even when his on-screen persona has his arms wrapped around a girl, he's still happily (maybe) entangled with long-time girlfriend Paloma Jiménez.
Paul Walker as Brian O'Conner and Vin Diesel as Dominic Toretto in the 2001 action film The Fast and the Furious (Credit: WENN)
So, why does the internet keep buzzing about how he might actually be gay?
What We Know About Vin Diesel's Life
Vin Diesel was born in Alameda County, California, on July 18, 1967. He lived a rough childhood, running the streets with his twin brother, Paul. Little is known about Vin's brother. They grew up together and never got a chance to know their biological father. Contrary to what the ladies are hoping for, they are not identical. Sorry ladies.
"I am truly multi-racial," he said in an interview. "I never knew my biological father. I've always had less information than I would have liked to have had. All I know from my mother is that I have connections to many different cultures." His mother Delora Vincent is of English, German, Irish and Scottish ancestry.
Vin Diesel named his youngest daughter Pauline (C) in honor of the late Paul Walker (Credit: WENN)
Paul never stepped out into the acting world the same way Vin did and there is little known about him aside from some of Vin's childhood stories.
Vin and his brother were caught breaking into the Theater for the New City, where they planned to vandalize it. The theater's artistic director, Crystal Field, gave them an ultimatum. "Play in my next show, or go to jail." Vin took the role and at seven years old, his acting career began.
Vin Diesel with his mother, astrologer Delora Sherleen Vincent (née Sinclair), his adoptive African-American father, Irving H. Vincent, his girlfriend, Mexican model Paloma Jimenez, his daughter Hania "Similce" Riley, his son Vincent Sinclair, and a guest (Credit: FayesVision / WENN)
He continued to participate in the performing arts throughout his childhood. When Vin was fifteen, puberty kicked in and his iconic voice was born. Melting hearts since he was a teenager, Vin went on to major in creative writing.
What Is Vin Diesel's Full Legal Name?
While going to college, Vin developed his reputation of being the beefy man that he is when he became a part-time job bouncer. While attending school as an English major at Hunter College, he worked at the New York City nightclub Tunnel.
Instead of going by his real name Mark Sinclair, he took part of his mother's married last name, Vincent, and combined it with what his friends called him, Diesel, becoming Vin Diesel. Now a badass with a badass last name, he was ready to take on anything.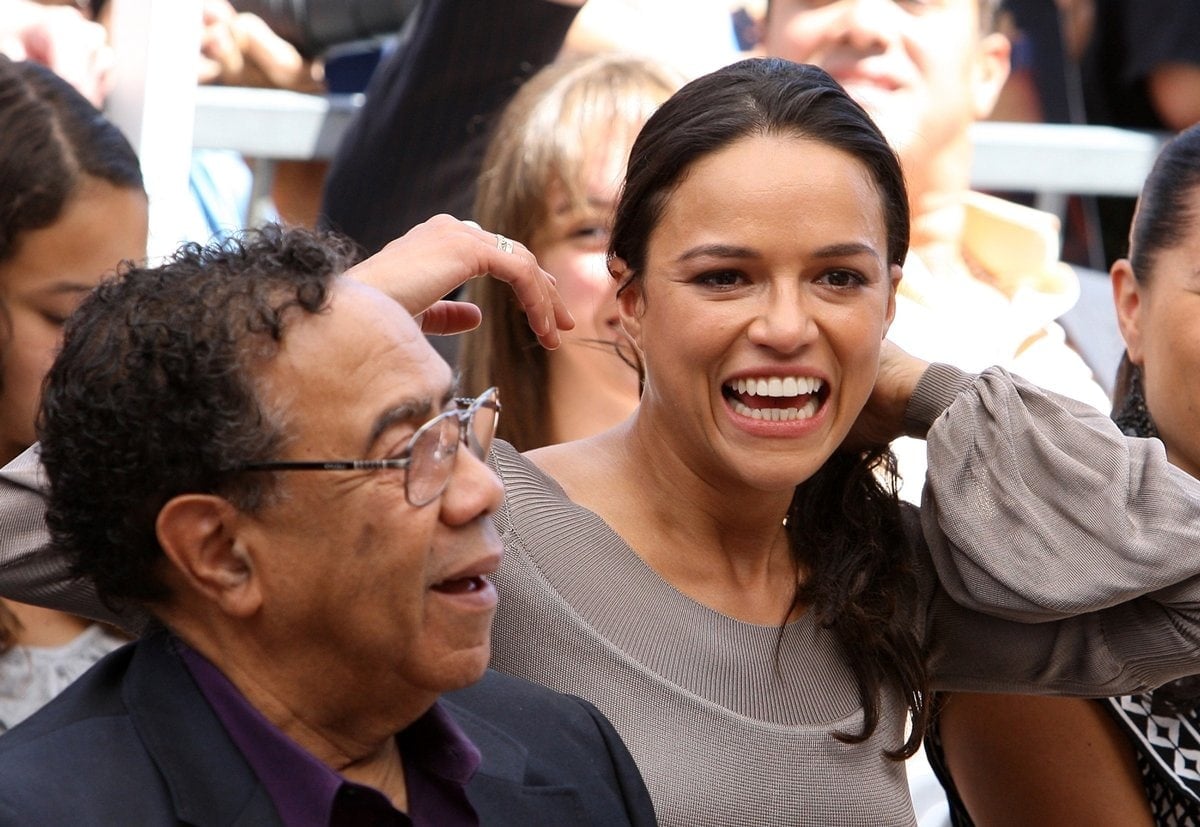 Vin Diesel's stepfather Irving Vincent and his Fast & Furious co-star Michelle Rodriguez whom he dated in 2001 (Credit: FayesVision/ WENN)
This led to his acting career where he jumped onto the world stage due to the wild success of the award-winning film, Saving Private Ryan.
He went on to play in over fifty other films, including, The Iron Giant, Pitch Black, The Fast and the Furious Saga, The Riddick Saga, Guardians of the Galaxy, and Avengers Infinity War and Endgame.
Vin's Love Life
During this time, Vin racked up an impressive list of ex-girlfriends. From playmates and Baywatch stars to co-stars and true love; Vin was quite the lady's man, as far as the public knows anyway.
From Kayla Jones, and Michelle Ruben, to the pop star, Mariah Carey, Vin starts off strong making the rumors of his homosexuality seem wildly untrue.
Following his short relationship with Mariah Carey, he even briefly dated Playboy Bunny, Layla Roberts. He's also rumored to have dated Carmen Electra. WOW.
Vin Diesel reportedly dated his The Chronicles of Riddick co-star Alexa Davalos in 2004 (Credit: WENN)
After half a dozen more public relationships, Vin wound up becoming romantically involved with The Fast and the Furious co-star, Michelle Rodriguez.
This threw the world for a loop and they had to fight back against gay slurs. Not because Vin was gay, but because fans were hoping Michelle was. The plot thickens.
After their short relationship ended, Vin went on to date four more women before finally meeting his current, long-term girlfriend, Paloma Jiménez in 2007.
Paul Walker is rumored to have dated Jordana Brewster while Michelle Rodriguez dated Vin Diesel (Credit: WENN)
With fourteen years of bliss, you would think that Vin would be more interested in women than men, but the internet doesn't think so. Could it be because they never married?
Who Is Paloma Jimenez?
Standing next to each other with Paloma being 5'10" and Vin being 6" exactly, this power couple towers over most people that they encounter. With three beautiful children, their love for each other is evident to everyone watching, but who is Paloma?
Paloma was born August 22, 1983, and is a Mexican actress and supermodel (Vin clearly has a type). Little is known about her child outside of her desire to act and model.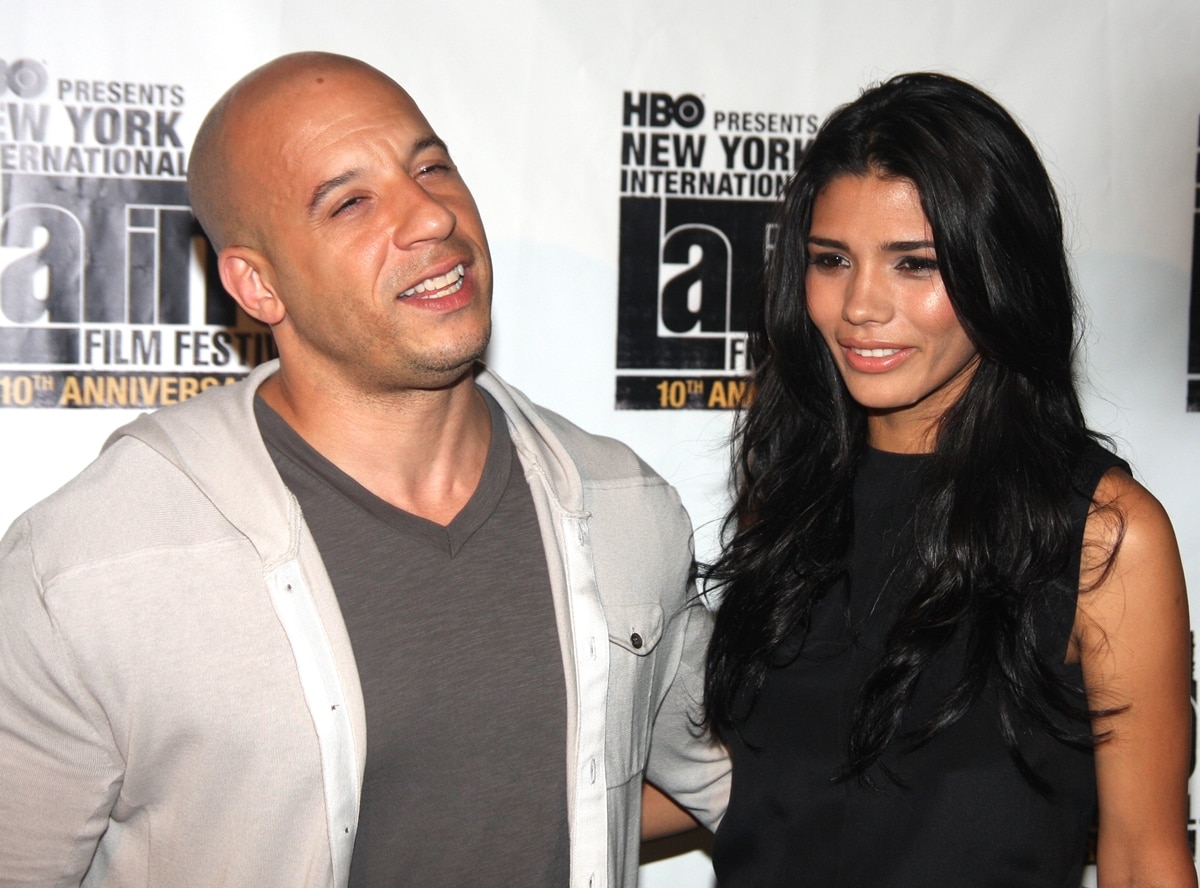 Actor Vin Diesel and his girlfriend Paloma Jimenez attend the 10th Anniversary New York International Latino Film Festival premiere of Fast & Furious & Los Bandoleros at SVA Theater on July 29, 2009, in New York City (Credit: WENN)
The Mexican beauty has worked with prominent brands, such as Pantene, Coca-Cola, and Honda. She has also starred in various episodes of Spanish television. Vin Diesel's long-term partner even graced the cover of the Mexican version of Maxim Magazine.
Originally, she modeled in Mexico, but in order to expand her career, she decided her next move had to be to the United States where she started dating Vin Diesel.
She is very private about her personal life and steers clear of sharing anything about her childhood and family on social media.
Vin and Paloma
With the fact that both Vin and Paloma being extremely private people (you wouldn't know with how much Vin's relationships have been publicized), there is nothing known about how their relationship actually came to be.
Chances are, they crossed paths through a work-related function as they're both in the same industry. They have been publicly an item since 2007.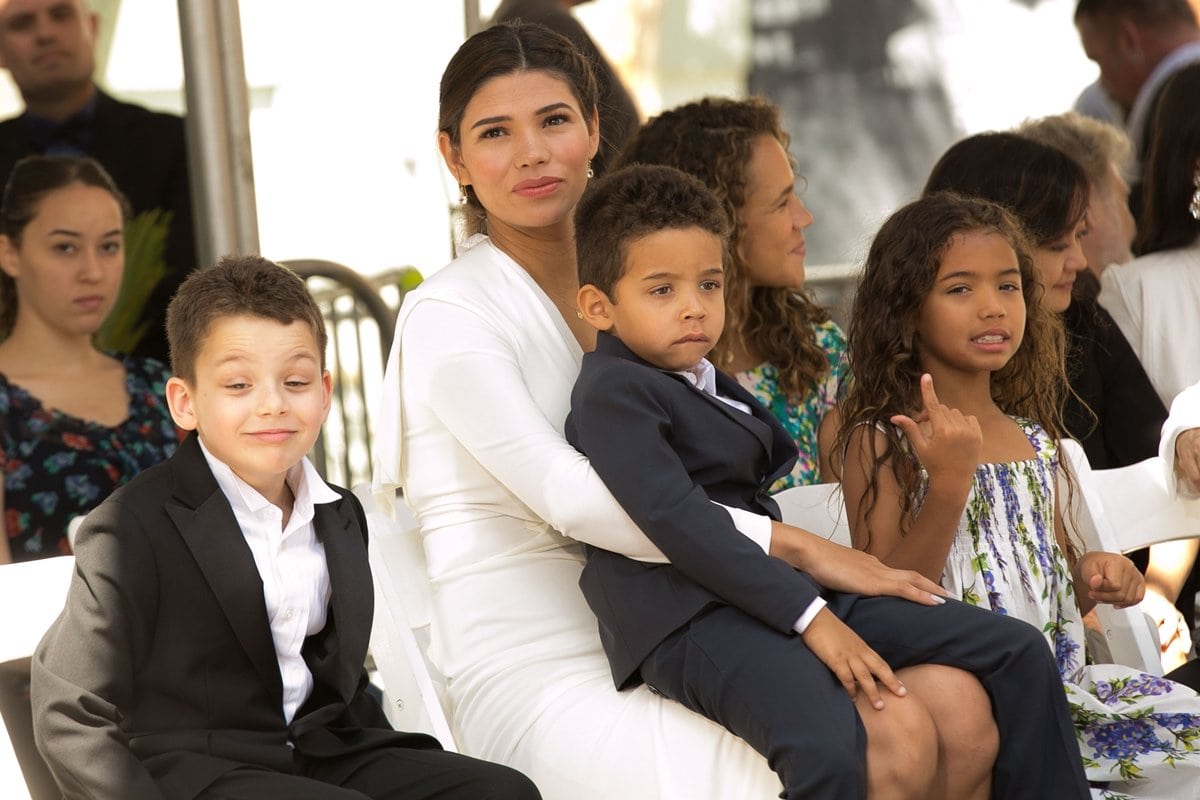 Paloma Jiménez with her daughter Hania "Similce" Riley, son Vincent Sinclair, and a guest (L) (Credit: Brian To / WENN)
Vin and Paloma have had three kids beautiful kids together and let's just say, they have their parents' genes. Watch out world, these kids will be the next big names in Hollywood.
Their kids, Hania "Similce" Riley Sinclair (born April 2008), Pauline Sinclair (born August 2015), and Vincent Sinclair (born April 2010) go with them to premiers and when they're on-location filming for movies and other modeling gigs.
Vin and Paloma have openly shown that they love their children through red carpet events and even paparazzi pictures. It is too cute.\
Mark Sinclair, known professionally as Vin Diesel, with his children Hania "Similce" Riley Sinclair and Vincent Sinclair at the premiere of "Guardians of the Galaxy Vol. 2" at Dolby Theatre on April 19, 2017, in Hollywood, California (Credit: FayesVision / WENN)
Despite all that we know about Vin Diesel, the rumors still fly about him being gay. Why is that?
Vin Diesel Gay?
"I come from the Harrison Ford, Marlon Brando, Robert De Niro, Al Pacino code of silence," said Vin Diesel when asked about his relationship status in 2005.
He was tired of people asking him about his love life, who he was dating, and how they got together. He even went as far as saying that he prefers dating in Europe because fewer people recognize him there.
Contrary to the impressive list of women we mentioned before, the only fully confirmed relationship Vin was in prior to Paloma was with The Fast and the Furious co-star Michelle Rodriguez. This led people to wonder about his sexuality. Were they in a relationship of convenience?
Vin Diesel shows how you make a heart with two hands while arriving at 'Jimmy Kimmel Live' on March 9, 2020, in Los Angeles, California (Credit: Guillermo Proano / WENN)
2005 is when the rumors first began to fly. Fans noticed that there were surprisingly few paparazzi photos of Vin out with women. It was immediately speculated that he might not be into them.
He was asked about the possibility of "playing for the other team" and he was immediately thrown off guard. "How could you say something like that," was his initial response. He went on to say that he prefers to keep elements of his love life a secret.
"I love women more than anything. When someone says I'm gay, these people don't have a damn clue. The only way anyone knows which girl I'm with is if a one-night stand goes on Howard Stern. Maybe I took to heart what Tom Hanks once told me: that from 30 to 40 is when you create your career. I have four more years, then family," he told USA Today in 2004.
So, he put to bed the rumors of his ambiguous sexuality forever. Or so he thought.
Rumors flew once again and several years later when fans speculated about why he wouldn't get married. Honestly because of the lack of information provided by Vin, it wouldn't be surprising if they've been married for a long time already. It also wouldn't be surprising if he were gay. It's really anybody's guess at this point.
Vin Diesel wants to keep his personal life private and has slammed rumors he is gay (Credit: WENN / Avalon)
The rumor was once again put to bed by Queerty in 2019. They wrote about which famous celebrity is gay, and they ruled him out, much to the dismay of the writers and fans of the website. They would love a hunky actor playing for "their team."
Again, in June 2021, the rumors started to recirculate. How do people come up with this stuff? Nothing had changed since 2019. Vin is still happily entangled with Paloma.
Why People Think Vin Diesel Is Gay
It is not clear why people keep thinking that Vin Diesel might be gay but we have a few ideas.
Stereotypes: Vin is very theatrical and performative. He embraces the role and loves the art of acting. This can be where some of the rumors stemmed from. A stereotypical view on what makes someone homosexual.
Vin Diesel supported his daughter Hania "Similce" Riley Sinclair at the premiere of her new Netflix series Fast & Furious: Spy Racers on December 7, 2019, at Universal CityWalk in Universal City, California (Credit: Avalon / WENN)
Hopes and Dreams: While Vin has always melted the hearts of women, it is not unlikely that he has also been melting the hearts of men. That deep voice and stunning physique aren't only fodder for the ladies. Men and women alike lust after the sex appeal that is Vin Diesel.
Although he has directly said that he is not, the world will never know for sure if Vin Diesel truly is what he says he is. As the rumors continue to fly, the doubt will always be there.
What do you think? Is the gorgeous Vin Diesel just acting the part, or has he actually been hiding his love for men from the world this entire time?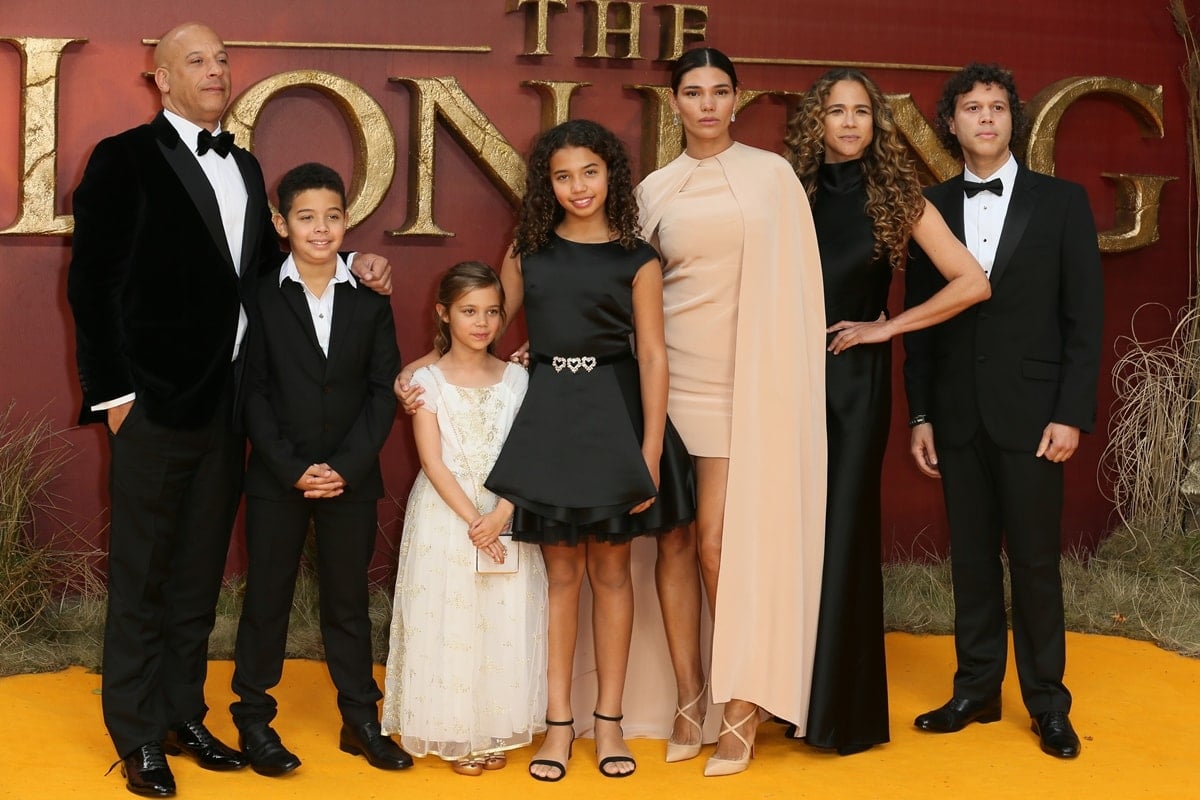 Vin Diesel with his girlfriend Paloma Jimenez, daughter Hania "Similce" Riley, son Vincent Sinclair, daughter Pauline, and other family members at "The Lion King" European Premiere at Leicester Square on July 14, 2019, in London, England (Credit: Mario Mitsis / WENN)
15 Years of Fast & Furious: A Look Back at the Iconic Film Series
In February 2017, over 15 years had elapsed since the premiere of "The Fast and the Furious." The inaugural film in the Fast & Furious franchise hit theaters in the United States on June 22, 2001, courtesy of Universal Pictures.
Jordana Brewster wears Tasaki earrings at the XXX: Return of Xander Cage premiere held at the TCL Chinese Theatre in Los Angeles on January 19, 2017 (Credit: Adriana M. Barraza / WENN)
If there were anything good to come out of lead actor Paul Walker's death, it would be that the "Fast and the Furious" cast really became family. No one could deny the relationship that was cemented between the cast members.
As a family member, Jordana Brewster attended to her duties by supporting Vin Diesel's latest movie XXX: Return of Xander Cage as it premiered in Los Angeles.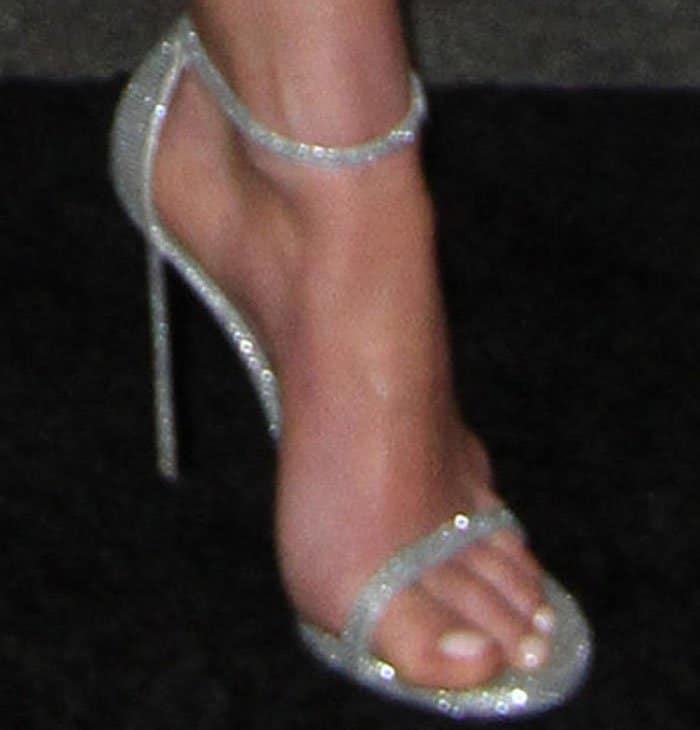 Jordana Brewster shows off her feet in no-fail Stuart Weitzman "Nudist" sandals (Credit: Adriana M. Barraza / WENN)
Jordana showed sibling-like support in a little black dress from David Koma that had embellished cutouts running down the front. The All My Children actress arrived wearing a black leather jacket before shrugging it off to pose for photos.
The then-36-year-old finished her look with a clutch from Edie Parker, Tasaki earrings, and a pair of Stuart Weitzman "Nudist" sandals in silver glitter leather.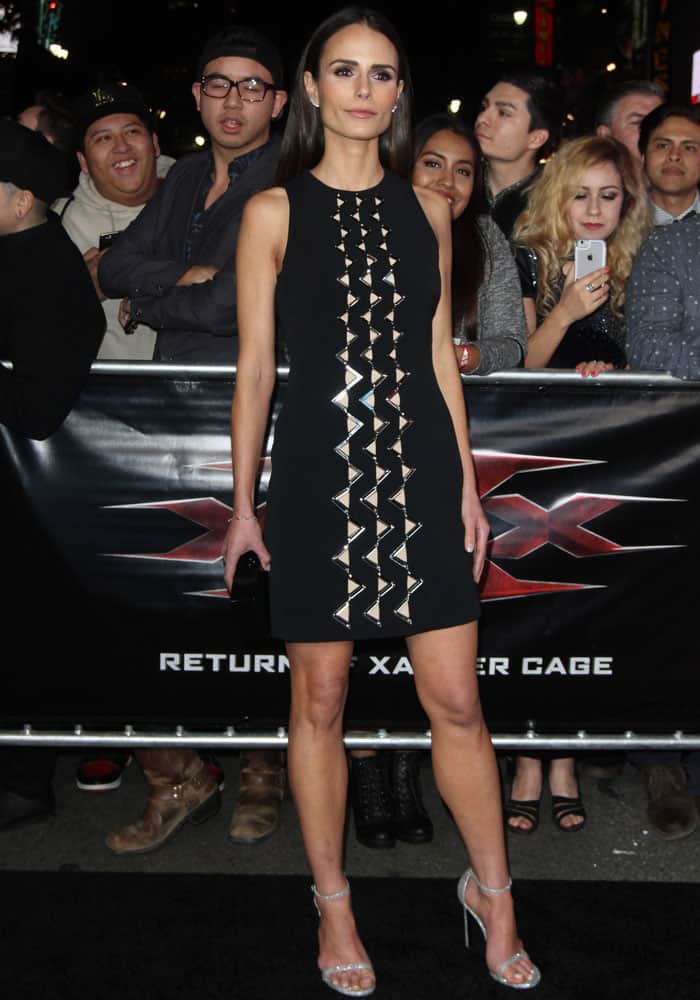 Jordana Brewster braves the cold in an LBD from David Koma (Credit: Adriana M. Barraza / WENN)
Jordana wasn't the only "sibling" present at the premiere night. Ludacris, who played mechanical expert Tej Parker in the franchise, also showed his support for Vin Diesel.
Later, the rapper uploaded a photo with Jordana captioned, "So glad to see the homie @jordanabrewster tonight at the XXX screening. We came to support our family #vindiesel on his adrenaline-filled movie!" Jordana reposted the photo on her own social media account.
Vin Diesel and Samuel L. Jackson graced the premiere of Paramount Pictures' 'XXX: Return Of Xander Cage' held on January 19, 2017, in Los Angeles, California (Credit: FayesVision /WENN)
You can shop Jordana's wear-with-anything Stuart Weitzman "Nudist" sandals at Amazon, Zappos, and Nordstrom.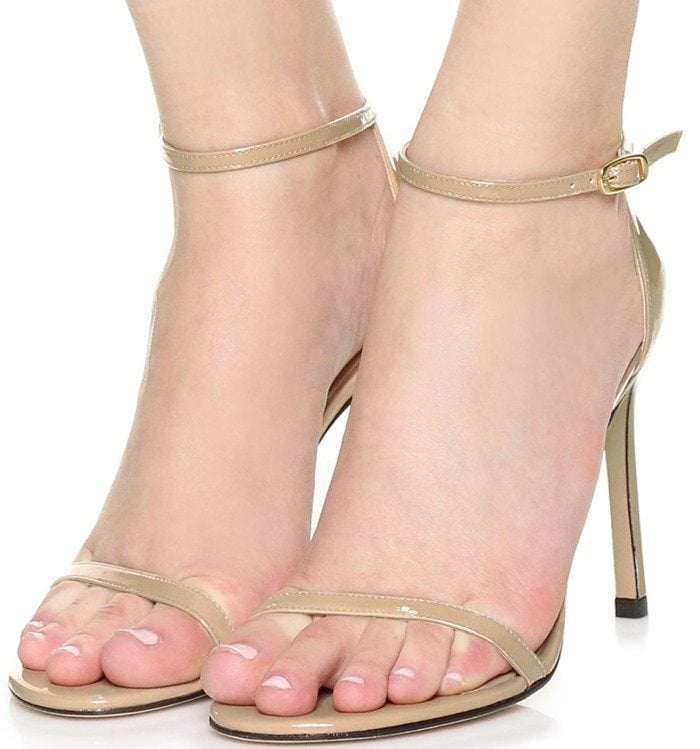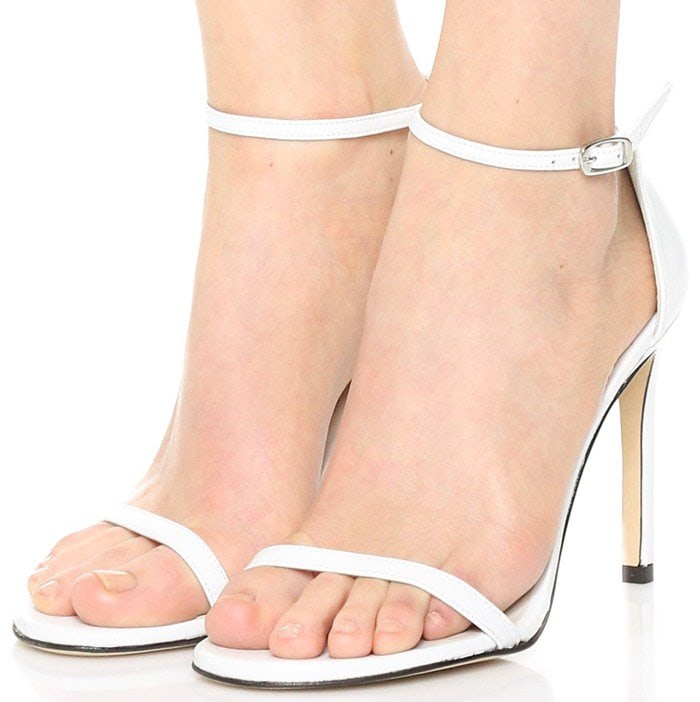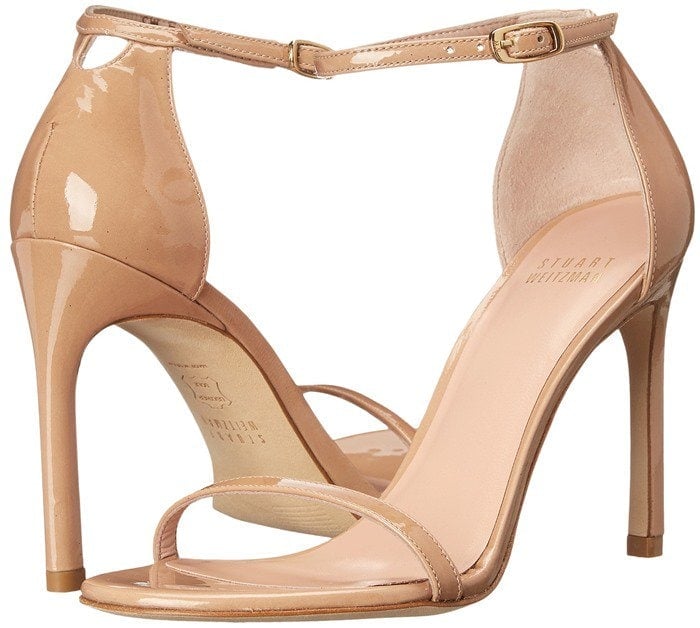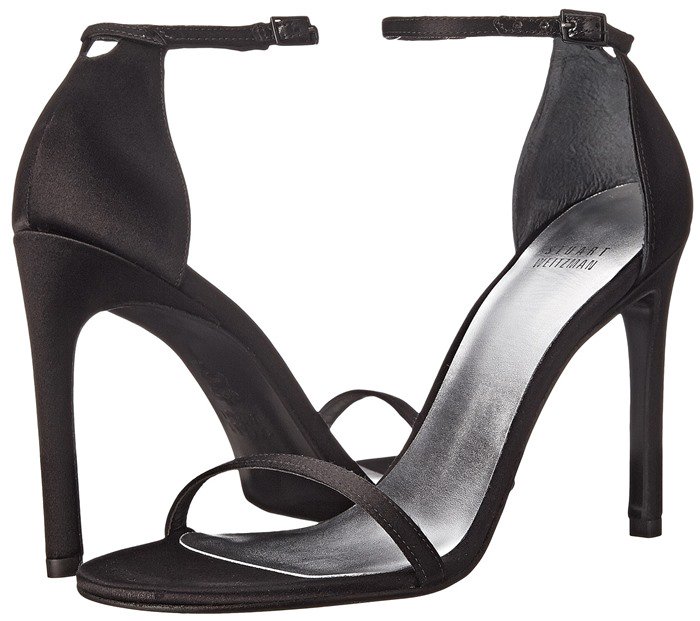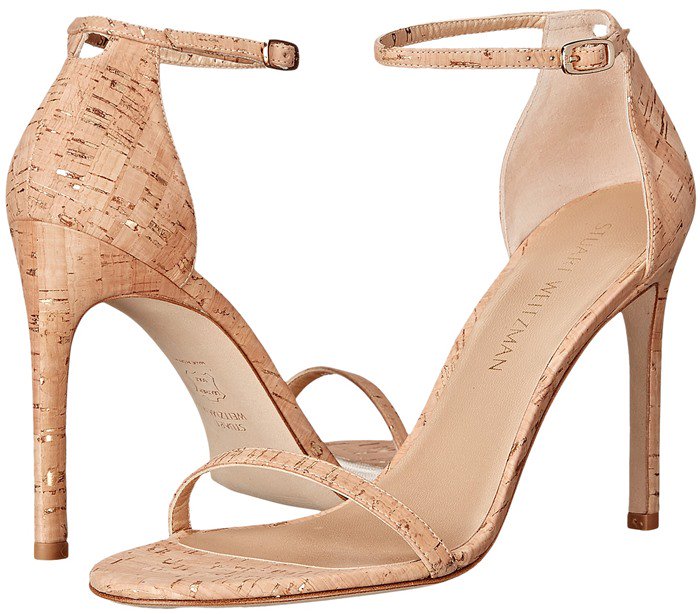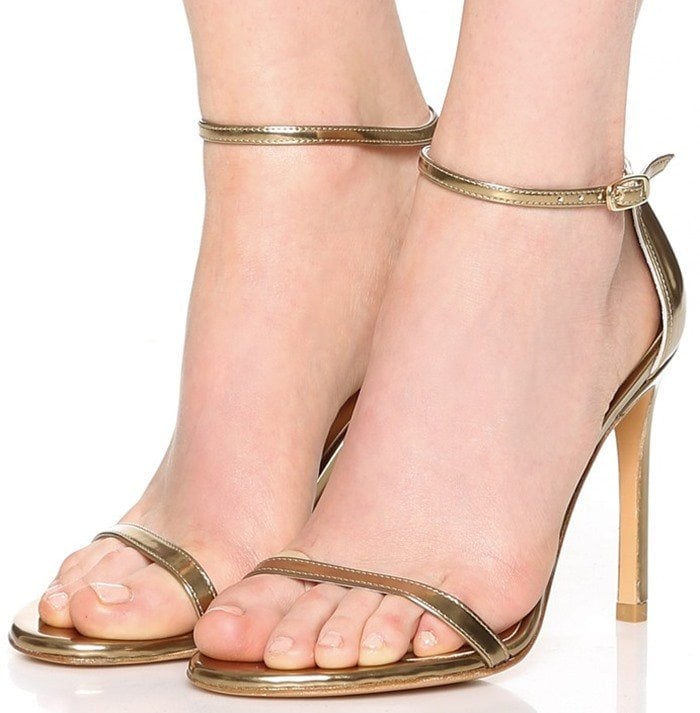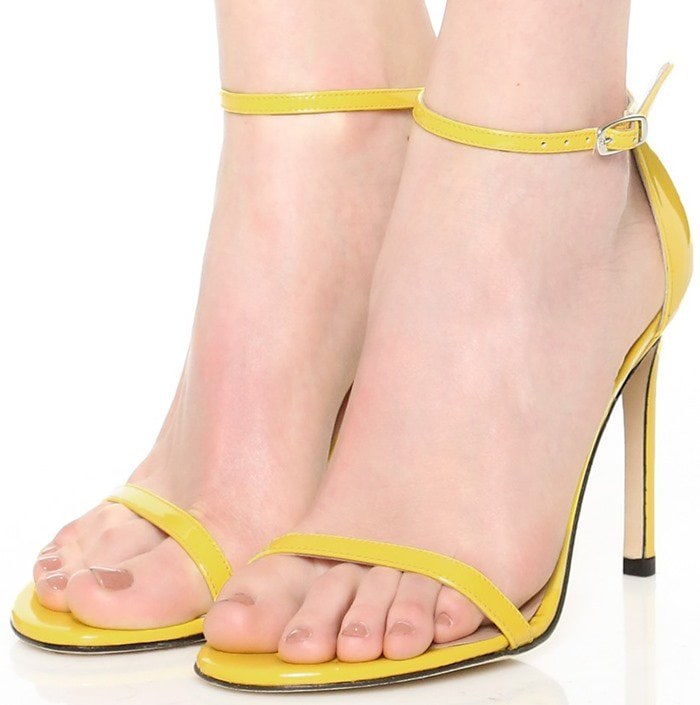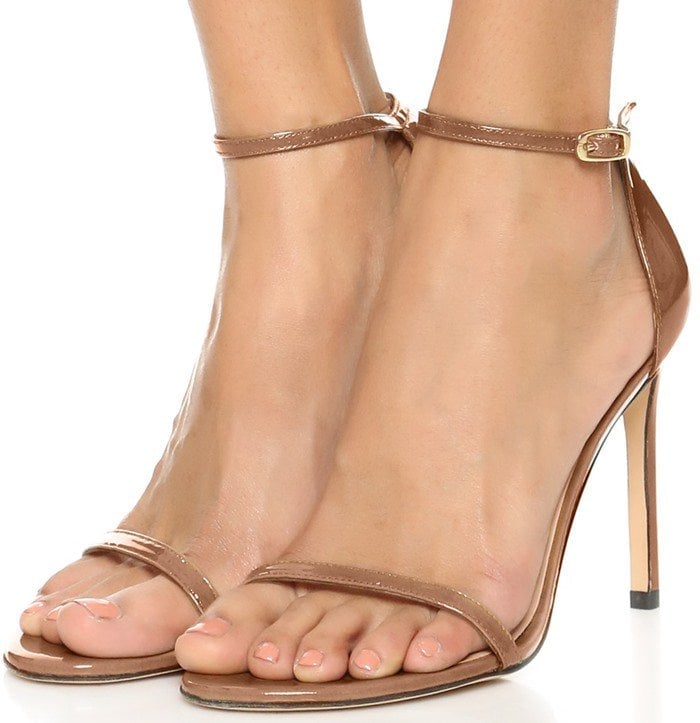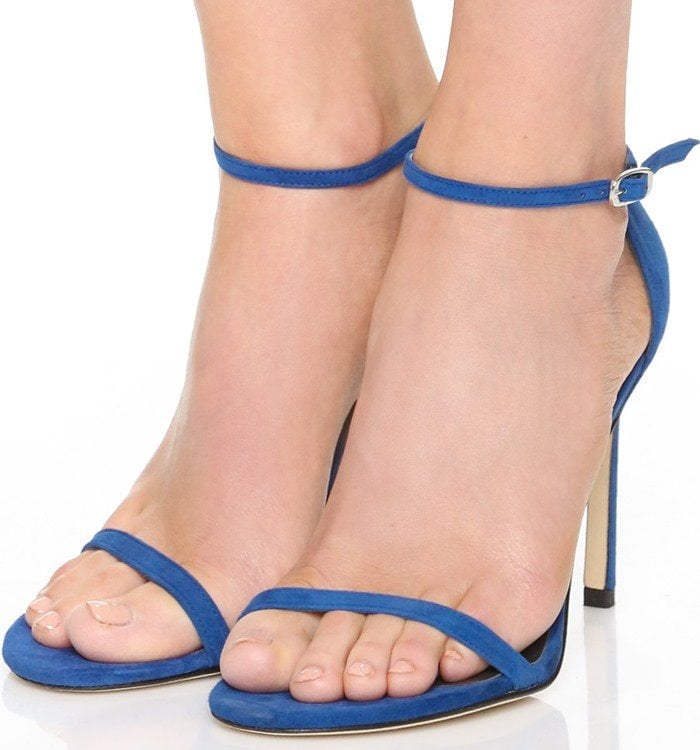 Stuart Weitzman Nudist Sandals, $172.43 – $435