Paris Hilton's got a new boyfriend and it looks like she's got a new style, too. The 36-year-old heiress — known for her love of all things pink, sparkly and girly — was spotted twinning with beau Chris Zylka in a tomboyish sporty-casual look as she made her way through LAX on Wednesday.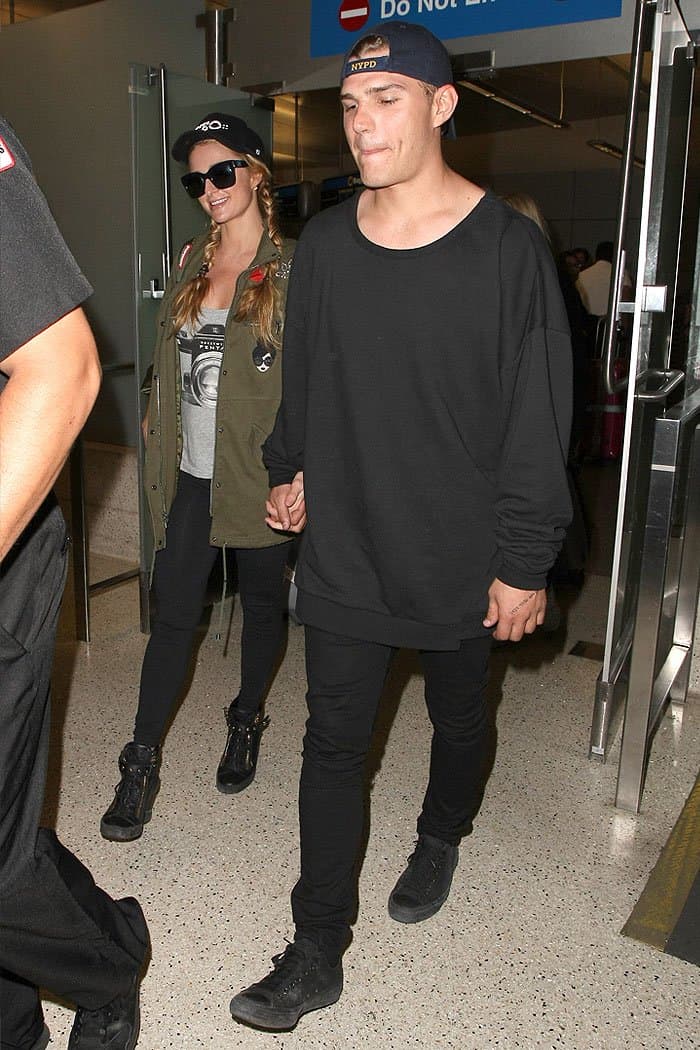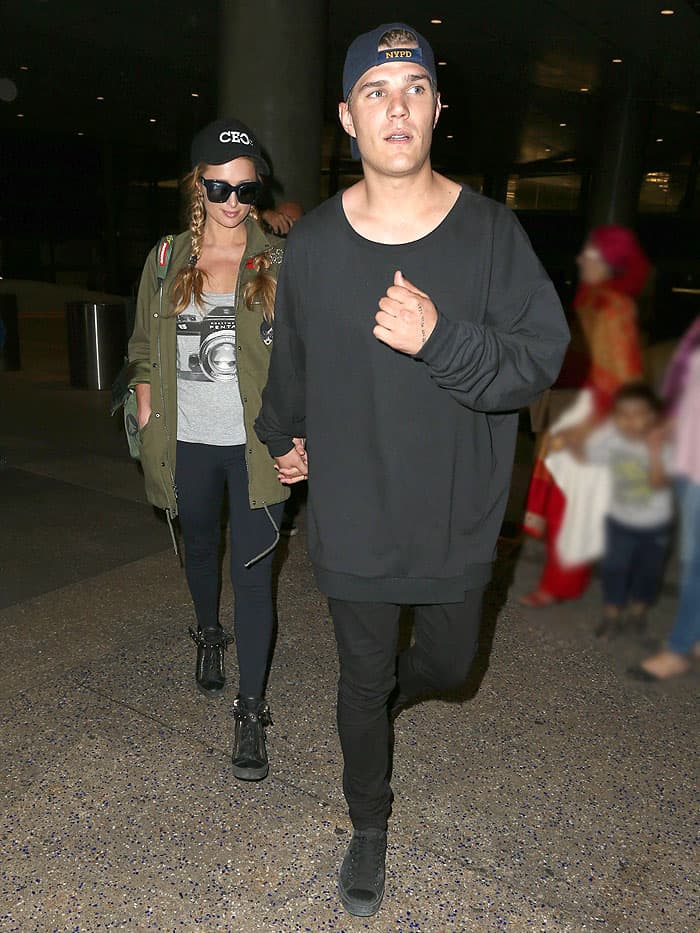 Paris Hilton holding hands with her boyfriend Chris Zylka as they arrive at the LAX airport in Los Angeles, California, on March 15, 2017.
Paris started her uncharacteristically dressed-down outfit with a gray tank top printed with a hipsterish Pentax camera graphic. She paired it with black Splendid leggings and topped it with an Alice + Olivia "Cheryl" embellished parka ($595 at Nordstrom). The socialite-turned-DJ rounded out her look with a CEO-embroidered baseball cap and her old Giuseppe Zanotti "Lorenz" wedge sneakers. Paris didn't even have her usual designer handbag with her! Instead, she toted a B52 bomber wing and shark teeth print backpack from rebel streetwear label Sprayground.
Paris Hilton in a tomboyish sporty-casual look and carrying a Sprayground B52 bomber wing backpack.
Closeup of Paris Hilton's Giuseppe Zanotti "Lorenz" wedge sneakers.
While we find Paris' dressed-down look refreshing, we can't get over how dated her wedge sneakers look. Remember when wedge sneakers were all the rage and we all couldn't get enough of them? That was nearly half a decade ago!
Do you think it's time celebrities and shoe designers retired the wedge sneaker? If you disagree, shop more styles of Paris Hilton's Giuseppe Zanotti "Lorenz" trainers at Amazon.
Giuseppe Zanotti "Lorenz" Wedge Sneakers, $995
Credit: WENN.com