So who did Paris Hilton, heiress at large, tag along with her when she went shopping in Beverly Hills last week?
Well, it's not exactly who, but more like what. Just check out this picture and find out: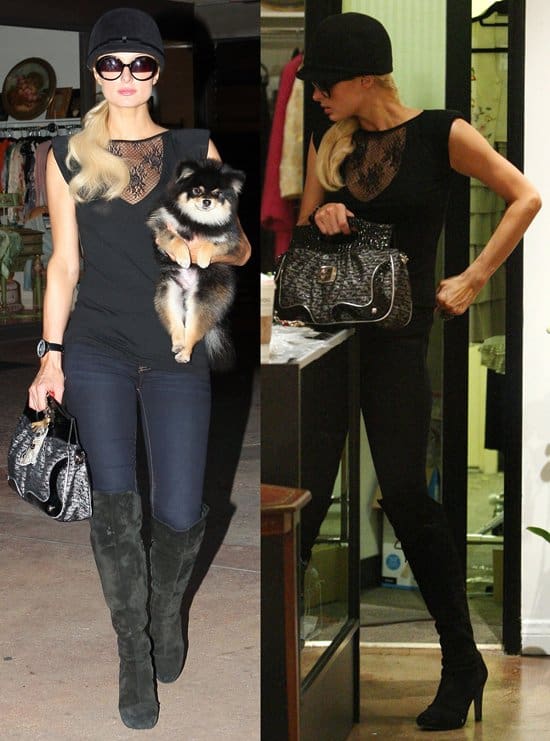 Paris Hilton does some late night shopping with her dog at a Los Angeles boutique with her dog on October 8, 2010

Ms. Hilton brought her new pooch with her while doing some retail therapy. And to match with her black and navy outfit (not to mention black, white, and brown furry dog), she opted for a metallic silvery handheld purse.
Not a bad choice, if looking coordinated was her objective, but I wonder how she was able to carry all those shopping bags once she finished when both her hands were already full. Oh wait, she had bodyguards to do that for her.
So, what do you think of Paris' style? Better yet, what do you think of her metallic silvery purse?
Here's a closer look at that bag:
Paris Hilton's bag featuring a metallic jacquard fabric with monogram
Well, what do you know? It's from her very own fashion label! See the Paris Hilton monogram written all over the bag?
So it's not made of metallic leather as I initially thought, more like metallic jacquard fabric with monogram. And it comes with some shiny patent and embossed leather trimmings too. That's shimmer and shine combined!
Do you think you can wear such a piece? I believe it will take a certain personality to do so.
Aside from that, objectively speaking, the two flashy elements (shine and shimmer) are actually very holiday season-appropriate. It's just that mixing them together can be a little too much.
Paris Hilton is known for her big collection of dogs who often join her on shopping trips
If you like Paris' handbag, you will have to personally look for it in the shops in your area because I can't find any retailer selling it online.
But, I did find this look-alike at Saks Fifth Avenue, in case you're interested: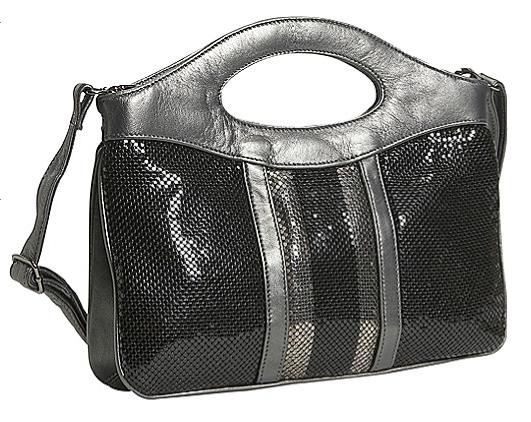 Whiting and Davis Mesh Stripes Handheld, $270
It also comes in pearl and gold colors:
Gold and Pearl Whiting and Davis Handbags
If you don't mind trying something less flashy, you can go for these handheld purses from Nordstrom instead:
From left: Elaine Turner Olivia Champagne Leather Crossbody Clutch, $325; Coogi Metallic Petals, $100; J. Furmani Handheld Evening Bag, $30
Credit: WENN