The Peloton bike is one of the most popular forms of exercise that individuals can utilize from the comfort of their very own homes.
With some of the most charismatic and energetic fitness coaches, including the well-known and widely adored 'Dancing with The Stars' member Cody Rigsby who always provides riders with the very best commentary to get their sweat on, Peloton bike is a fitness product that is truly unlike any other.
American fitness instructor and television show contestant Cody Rigsby is a fan favorite among Peloton users (Credit: MEGA / WENN)
Whether you are new to the Peloton party or are a well-adjusted Peloton fitness fanatic, there is one accessory that is necessary when hopping on for your daily ride: a good pair of Peloton compatible shoes.
Now the Peloton-Brand itself does offer a wide variety of shoes that you can choose to utilize and wear. However, if you are looking for a fresh new pair of cycling shoes that can get your heart pumping, then you've come to the right place to find them.
Deciding on cycling shoes that will match your authentic style and biking pace is the key to peddling through your best ride ever and there are a lot of components to consider while making this decision.
The Peloton bike comes with clipless pedals that require compatible cycling shoes (Credit: Peloton)
Are you ready to take a closer look at the different cycling shoes that can help you succeed in peddling towards your highest resistance level yet? Well, it's time to find the best fit for you.
Here are the premier cycling shoes for Peloton if you are ready to take the top spot on your leaderboard during your next ride!
1. Shimano RC1 Cycling Shoe, $100 at Zappos
Regarded as one of the best overall indoor cycling shoes currently being sold, the Shimano RC1 is a reasonably priced spin shoe that is available in a range of both men's and women's sizes.
The cycling shoes feature a lightweight frame, along with synthetic leather uppers that allow you to adjust the overall way that the shoe grips your foot.
The lightweight Shimano RC1 cycling shoes are perfect for indoor Peloton bikes (Credit: Shimano)
With a mesh exterior and durable hook-and-loop straps, the Shimano RC1 is a breathable and easy-to-wear cycling shoe that will ensure a successful Peloton ride through and through.
One customer described these cycling shoes as "supportive and comfortable with no issues on my first several (Peloton) rides".
2. SuperRep Cycle Shoes, $120 at Nike
If you are looking to make a cycling fashion statement, then these are the spin shoes for you!
Nike's SuperRep Cycle shoes are not only incredibly breathable, never allowing your feet to overheat while you are cycling away, but they also come readily available in six bright colors that will allow you to truly make a statement while peddling through your next Peloton ride.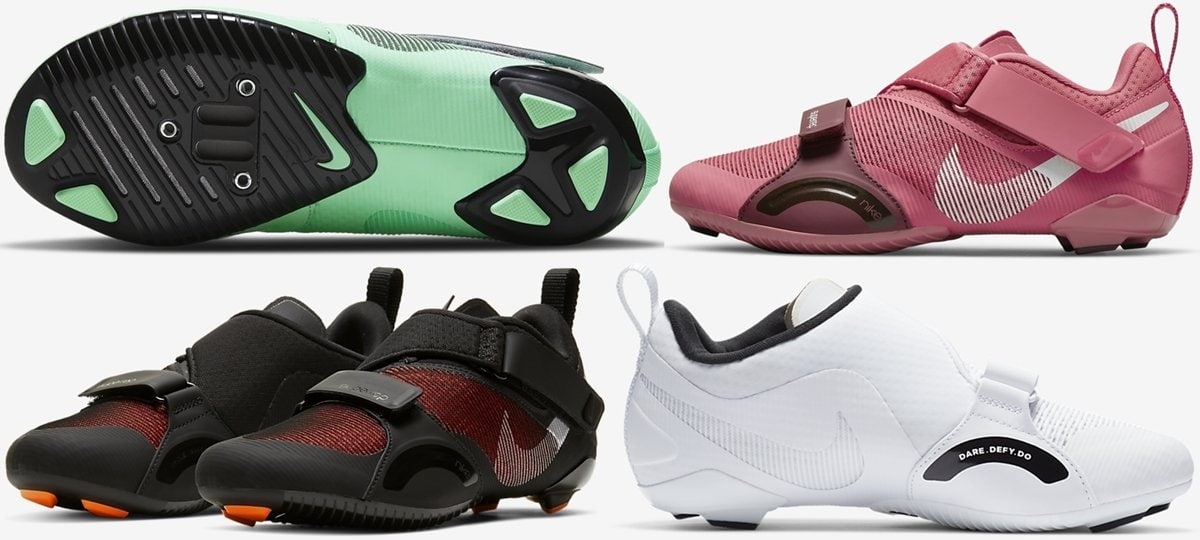 The Nike SuperRep Cycle brings a breathable design to the high-heat and fast-pace of Peloton cycling (Credit: Nike)
With a perforated sock liner that keeps your socks in place and prevents the formation of blisters on your feet, while you work up a sweat, the SuperRep Cycle Shoes are a true work of art when it comes to cycling shoes.
The only con that is attached to these shoes is that you will need to buy a pair of attachable Delta cleats that will allow you to click into the Peloton's pedals. One customer described these shoes as "nice feeling on the feet, super lightweight and are easy on and off".
3. No Bull Cycling Shoes, $179 at NOBULL
These shoes are surely one of the pricier options that are on our list of top cycling shoes, however, the price unquestionably does reflect their overall quality.
These are one of the only cycling shoes that do not have Velcro straps. Instead, they have laces that allow cyclists to choose the level of tightness they would like their shoes to have.
The perforated performance upper of the Nobull indoor cycling shoe is built on a nylon and carbon fiber plate with a three-bolt cleat system (Credit: NOBULL)
These shoes also feature a 'deconstructed' top that is perforated so your feet won't get too sweaty while you cycle through your workout.
4. Torch 1.0 Cycling Shoes, $120 at Specialized
Featuring a distinctive BOA dial and hook-and-loop strap that allows cyclists to choose how snug they want their shoes to be, the Torch 1.0 Cycling shoes are a true work of art for avid Peloton riders.
These are the perfect shoe for those that seem to always have an issue when it comes to finding the perfect fitting cycling shoe.
Among the most popular cycling shoes for Peloton, the Torch 1.0 Road is true to size and super comfortable (Credit: Specialized)
Although you need to purchase Delta cleats in order to securely attach these shoes to the pedals of your Peloton bike, investing in a pair of these stylish and entirely ventilated shoes will surely help you power through any Peloton ride.
One cyclist who decided to purchase a pair of Torch 1.0 Cycling shoes reviewed these shoes as "very comfortable and secure. Super easy to adjust during longer rides".
5. Venzo Cycling Shoes, $99.99 – $109.98 at Amazon
Unlike all of the other pairs of spin shoes that we included within this list, the Venzo cycling shoes come readily available with a pair of Delta cleats, providing you with the added ease of not having to separately purchase this needed accessory.
The Venzo shoes are a little more affordable than Peloton's cycling shoes (Credit: Venzo)
Available in a wide variety of eye-catching colors and a removable sock liner, these cycling shoes are a true treasure, providing cyclists with a shoe that was made to keep them comfortable during any kind of Peloton bike activity.
One cyclist who bought these shoes said "LOVE these. I am no expert when it comes to bike shoes, but I have used these on the Peloton for over a month and they are perfect!"
6. ARTVEP Cycling Shoes, $45.99 – $69.99 at Amazon
Probably the most stylish and coolest looking shoes on our list, the ARTVEP cycling shoes feature a groovy holographic design and a double rotating knob with a Velcro buckle, ensuring riders a comfortable riding experience every single time they decide to hop on their Peloton bike.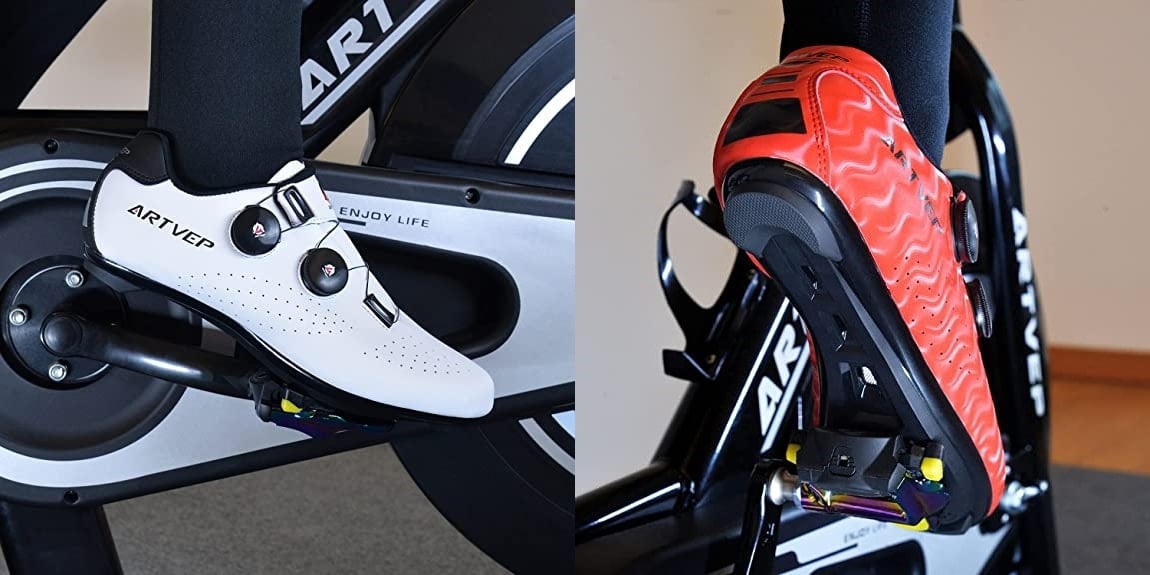 This versatile cycling shoe is compatible with spin bike pedals including Peloton bikes (Credit: ARTVEP)
A Peloton rider who bought a pair of these incredibly popular spin shoes said "The minute I put them on they felt like slippers! Stiffness was fine, which is impressive as I crank out some serious wattage (just hit 100 on tonight's ride for the 1st time on a climb).
If you are ready to crush your next Peloton bike ride, then it's time to invest in a good pair of cycling shoes!