No matter how much money, fame, or status you have, no one is impervious to natural disasters.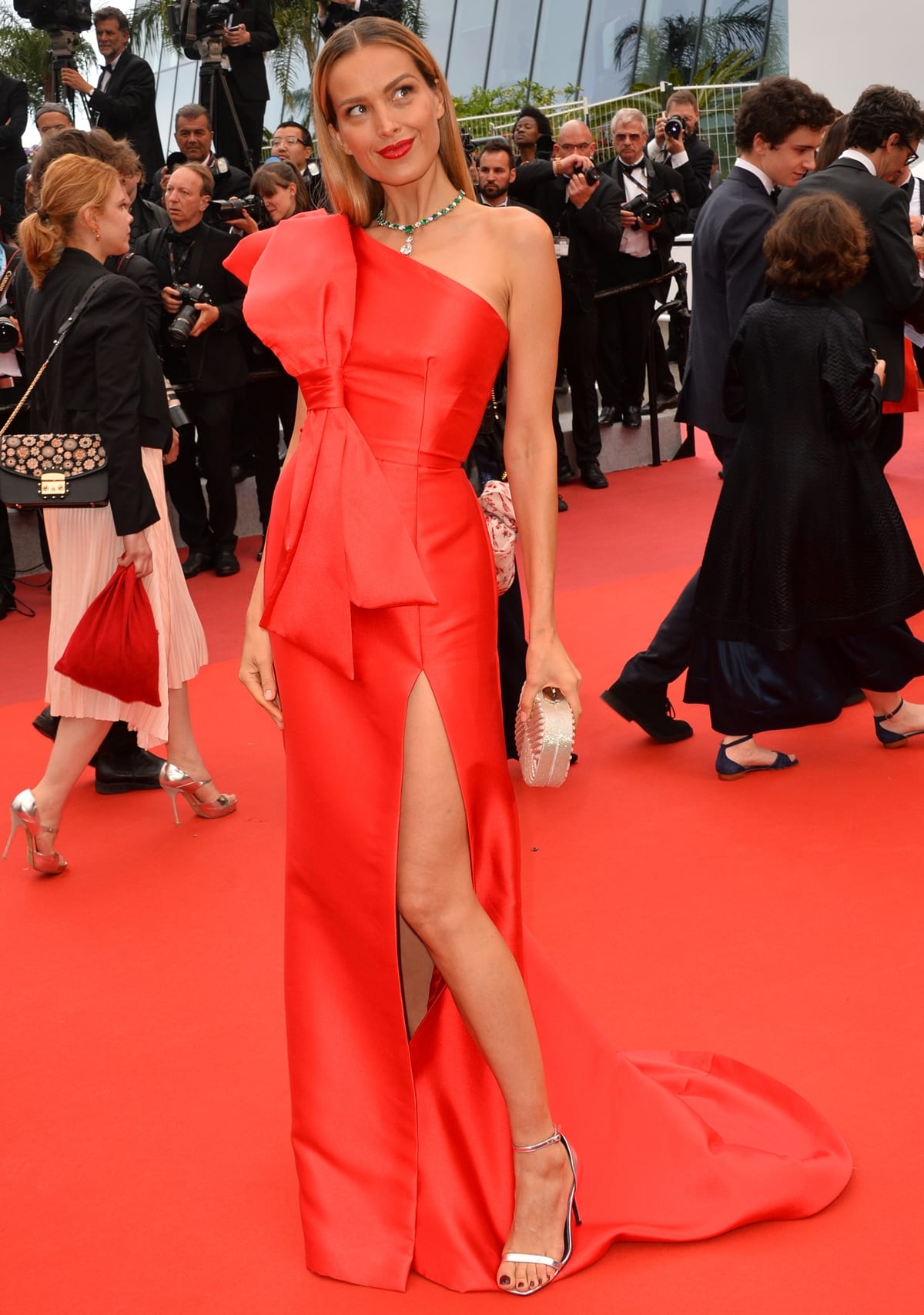 Petra Nemcova in a red Celia Kritharioti Couture gown at the screening of "Le Belle Epoque" during the 72nd annual Cannes Film Festival on May 20, 2019, in Cannes, France (Credit: Featureflash Photo Agency / Shutterstock)
Supermodel Petra Nemcova, back in 2004, was greatly affected by the shocking and terrifying Thailand tsunami. Here's how the storm impacted her life, and how she's doing today.
Petra Nemcova's Background
Petra Nemcova is a Czech supermodel who has been featured on magazine covers like Elle, Harper's Bazaar, and the Sports Illustrated Swimsuit Edition.
Model Petra Nemcova flaunts her legs in a geometric-patterned skirt with metallic pumps at the 50th Anniversary Celebration of Sports Illustrated Swimsuit Issue at Dolby Theatre on January 14, 2014, in Hollywood, California (Credit: Kathy Hutchins / Shutterstock)
The blonde bombshell has dabbled in acting and is the founder of her own philanthropic organization (more on that later), which aids children after surviving natural disasters, a cause that is close to her heart.
The famed beauty's career began upon winning a modeling competition in 1995, and she has since graced the world with her runway presence and luxury brand features.
Details on the Horrific Thailand Tsunami
In 2004, a catastrophic earthquake and tsunami that originated in the Indian ocean struck Thailand.
The earthquake was a 9.1 magnitude shake, and after creating a staggering tsunami, hundreds of thousands of lives were taken, including 5,400 people in Thailand.
How Petra Nemcova's Life was Affected
The deadly Thailand tsunami was unspeakably awful for millions of people, including supermodel Petra Nemcova.
While vacationing with her then-boyfriend in Thailand over the holiday break – the tsunami hit land the day after Christmas – Nemcova's world was flipped upside down due to the disaster.
Namkova was stuck in a palm tree for eight hours, fighting for her life. The storm shattered her pelvis in four separate places, and she was almost subject to drowning multiple times.
View this post on Instagram
Her boyfriend, Simon Atlee, tried to hold onto the palm tree as well, but the waters took his body and ultimately his life. Unfortunately, it took months for them to recover and identify his body.
Due to her injuries, Nemcova had to relearn to walk. But once she regained her mobility and strength, she started her aforementioned nonprofit organization, All Hands and All Hearts (formerly called Happy Hearts Foundation), which is still actively providing relief around the world today.
A Look at Her Life Today
Petra Nemcova had envisioned starting a life with her boyfriend Simon Atlee before losing him to the tsunami. Although she lost her first chance at love, she remained hopeful and eventually found love again with her husband Benjamin Larretche. They started dating after meeting at a friend's wedding.
Nemcova had wanted to start a family, and with Larretche, a French-Venezuelan entrepreneur, she was able to do so.
In 2019, Nemcova gave birth to their son Bhodi. She had a difficult labor and gave birth prematurely, but today her son is happy and healthy.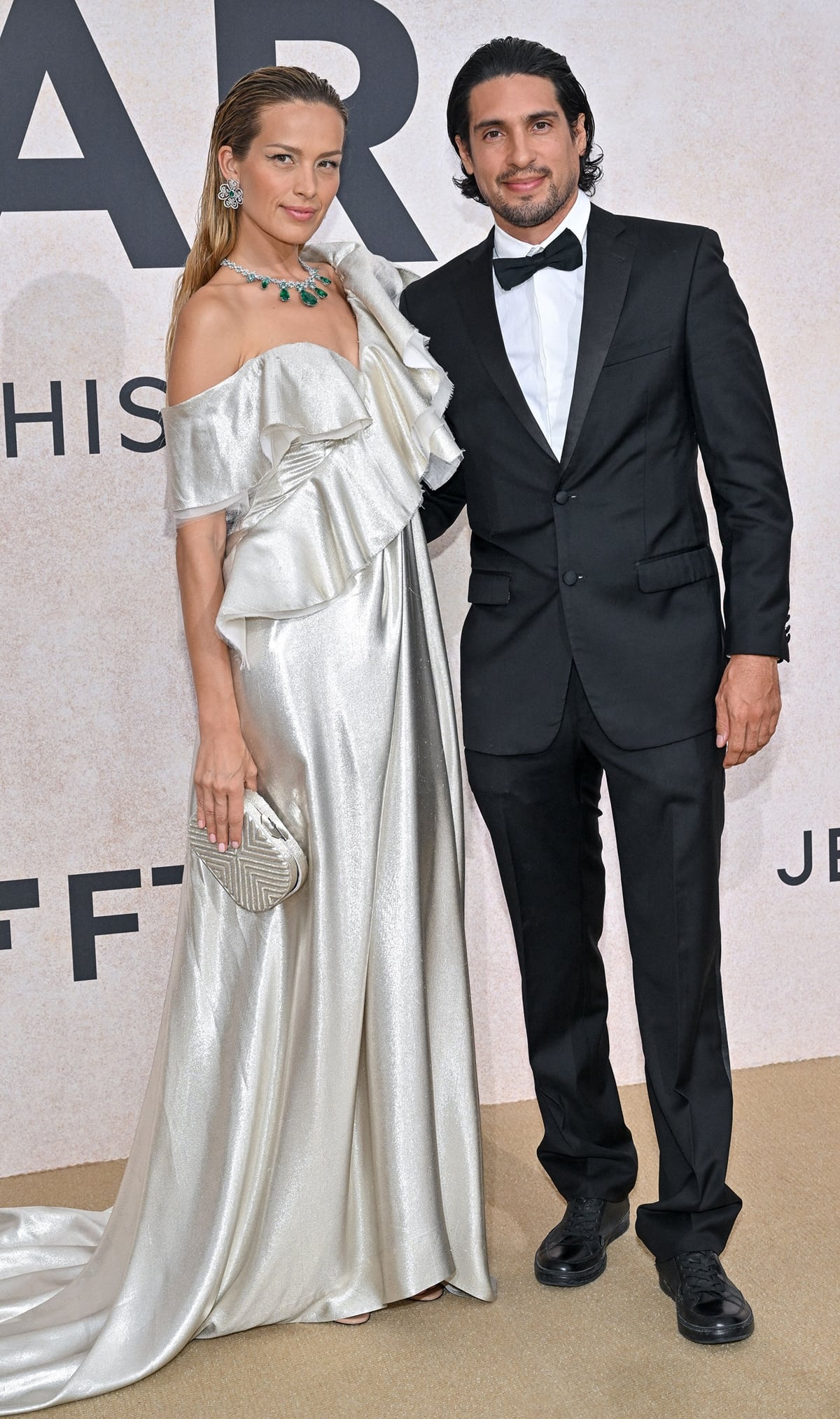 Petra Nemcova and her husband Benjamin Larretche at the amfAR Cannes Gala 2022 at Hotel du Cap-Eden-Roc on May 26, 2022 in Cap d'Antibes, France (Credit: Julien Reynaud / ABACA / INSTARimages)
Nemcova is still married to her husband and is active on social media, in her career, and with her nonprofit organization. The model often posts photos of her travels to places like France, the Dominican Republic, and Peru.
Her nonprofit organization is currently raising money to relieve victims of the California wildfires, the Guatemala hurricane, and the Kentucky tornado, among other natural disasters.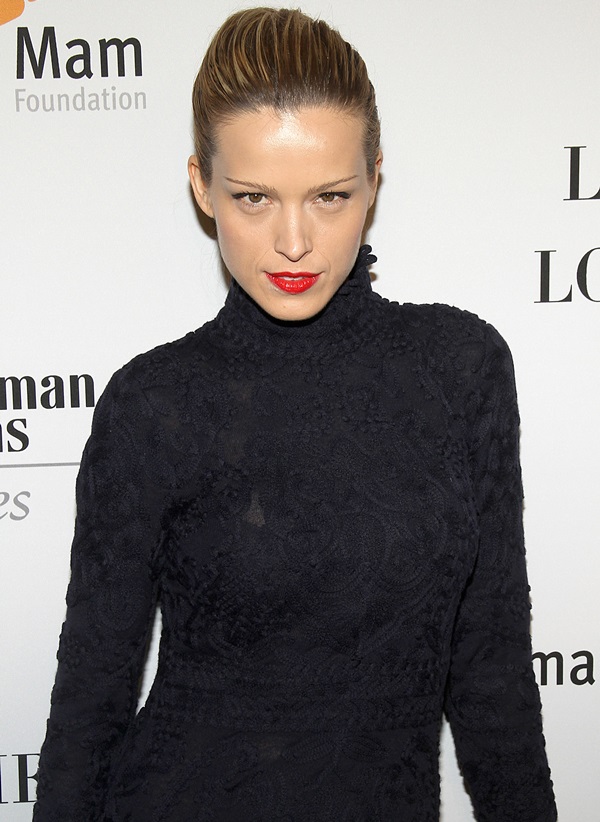 Petra Nemcova slicks her hair back at the 2012 Somaly Mam Foundation Gala at IAC Headquarters on October 17, 2012, in New York City (Credit: Ivan Nikolov / WENN)
In October 2012, actress Petra Nemcova looked svelte and sexy at the 2012 Somaly Mam Foundation Gala in New York City.
The Czech model, television host, author and philanthropist wore black suede "Closecall" booties from Stuart Weitzman paired with a body-hugging black dress.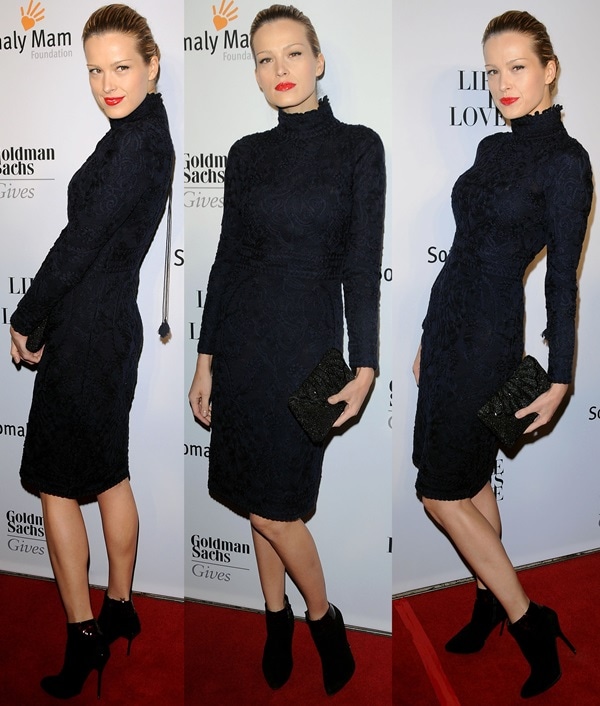 Petra Nemcova wears a body-hugging black dress on the red carpet of the Somaly Mam Foundation Gala (Credit: Ivan Nikolov / WENN)
She looked fabulous as she posed for cameras on the red carpet.
Black Suede Stuart Weitzman Closecall Ankle Booties With Cognac Tortoise Patent Trim on Ankle and Heel, $475
This also, apparently, isn't Petra's first time rocking these almond toe booties featuring tortoise patent trim on the ankle and heel.
The actress previously worked with actor James Franco, who produced this short video of her strutting in the exact same boots: